Your Guide To Matrixyl 3000, Skincare's Fine Line Erasing Powerhouse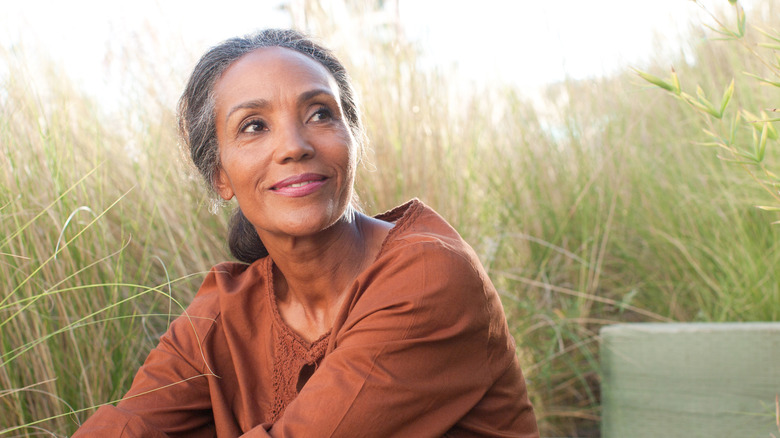 Tom Merton/Getty Images
We may receive a commission on purchases made from links.
With the rapid production of new products practically every week, nailing down the perfect skincare routine is becoming increasingly difficult. The overwhelming amount of things to choose from makes the process hard, especially when looking for anti-aging products. The vast amounts of retinoids, vitamin Cs, and acids to choose from don't make the process any easier. Thankfully, we're here to help you figure out what works best for your skin.
It takes trial and error to perfect your anti-aging routine. The retinol serum you thought would give you a perfect glass complexion may cause skin purging months into usage. On the other hand, your chemical exfoliants can potentially damage your skin barrier. There's an idea that for your skincare to be doing its job, your skin must encounter products that sensitize them. However, Matrixyl 3000 says differently. Although it sounds like a robot from "Westworld" that will use its newfound consciousness to give you perfect skin, it's actually a peptide used in skincare products that will help erase your wrinkles and fine lines.
What is Matrixyl 3000?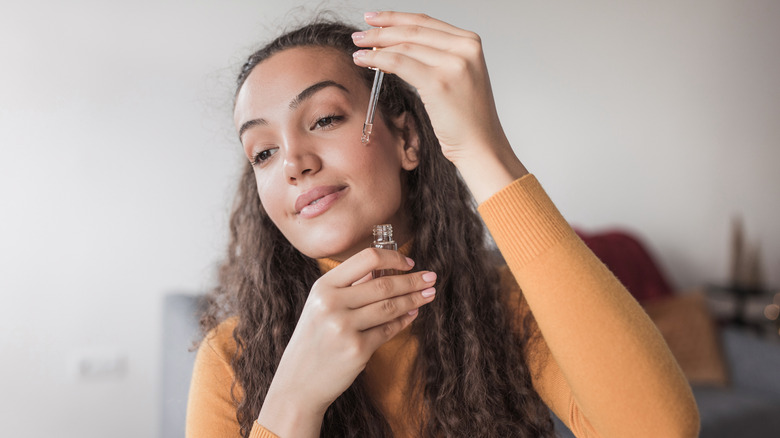 Dobrila Vignjevic/Getty Images
Made from two different types of synthetic peptides, palmitoyl tripeptide-1 and palmitoyl tetrapeptide-7, the trademarked ingredient Matrixyl 3000 works to erase signs of aging. As a peptide, the ingredient is derived from strings of amino acids. Lab-created peptides mimic the ones in our body that create collagen, improve the skin barrier, and serve other functions throughout the body.
With Matrixyl 3000, the two peptides it's composed of are messenger peptides that signal to the cells to strengthen the skin barrier and increase collagen production and elasticity. The fast-acting ingredient smooths over signs of aging and texture, illuminates the skin, boosts hydration, and soothes inflammation. Its gentle nature makes it a great alternative for retinol or acids if you happen to have sensitive skin.
While it's safe for pretty much any skin type, Matrixyl 3000 shouldn't be used in the same routine as other strong active ingredients, like retinoids and chemical exfoliants. It's also best to avoid using vitamin C and Matrixyl 3000 at the same time, as the former can decrease the potency of the latter.
Shop the best Matrixyl 3000 products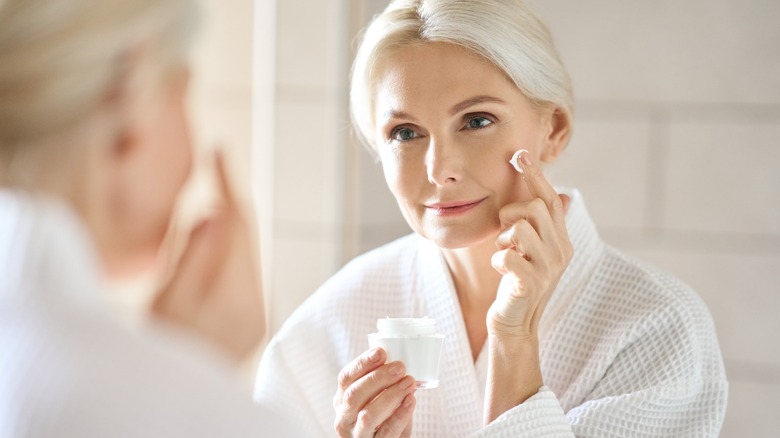 Ground Picture/Shutterstock
The Depology Matrixyl 3000 Collagen Boosting Serum slows down the formation of wrinkles while smoothing out existing ones. Created with hyaluronic acid, glycerin, and aloe vera, the anti-aging serum deeply hydrates the skin while strengthening its barrier. For a more affordable option, try the Timeless Skin Care Matrixyl 3000 Serum. This serum targets sagging skin, increasing elasticity and bounce by adding more collagen to the skin. Also formulated with aloe vera and glycerin, the serum prevents moisture loss from the skin.
Among No7 Beauty's line of Matrixyl 3000 products, its Lift & Luminate Triple Action Night Cream stands out. Formulated with vitamin E and hibiscus and emblica fruit extract, the night cream brightens and illuminates the skin overnight, visibly reducing wrinkles and fine lines within two weeks.
The Asterwood Naturals Matrixyl 3000 + Argireline peptide + Vitamin C serum is a trio of ingredients that refine, brighten, and hydrate your skin. Dubbed the "natural Botox," Argireline is a powerful peptide that keeps moisture in the skin and fades wrinkles that are hard to erase. Made without oils, fragrances, or parabens, the cruelty-free serum solves all your anti-aging needs.