Inside William And Harry's Relationship With Diana's Brother Charles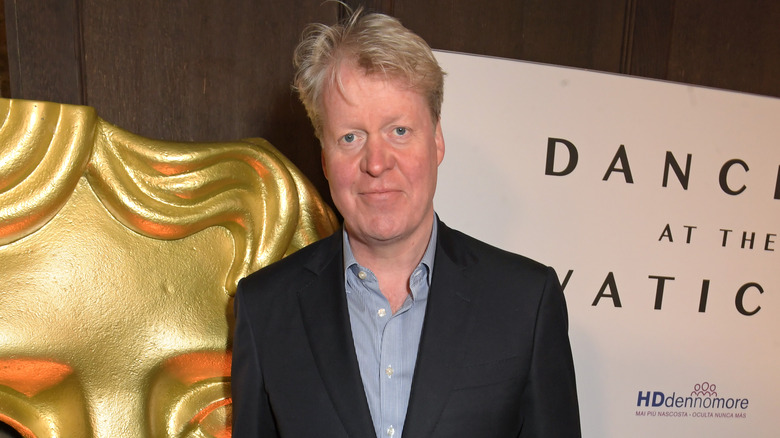 David M. Benett/Getty Images
We may receive a commission on purchases made from links.
If the world stood still when the news of Diana Spencer's death hit the headlines, then it absolutely watched with bated breath as her young sons, Prince William and Prince Harry, walked behind her casket just days later. The image of the two boys — 15 and 12 respectively — following their mother for the last time was, and still is, imprinted on the hearts and minds of royal watchers everywhere. Frankly, one does not even need to be a royal fan to recognize the agony those photographs captured. Walking alongside Diana's boys was their father, King Charles III, as well as their grandfather, the late Prince Philip. Joining them, in a slightly surprising move given his distance from the royal family, was Diana's brother, Charles Spencer, 9th Earl Spencer.
Diana's brother was long in her corner when it came to issues of privacy, security, and her overall well-being. Such dedication carried on after her tragic death in 1997, with Harry and William's uncle extending the same allyship to his nephews. With time, both William and Harry have gone on to get married themselves, start their own families, and carve out very different paths within and outside of the royal family. Charles Spencer, meanwhile, has maintained relationships with both of them, though the natures of which are incredibly different these days. Here is a closer look.
Charles Spencer spoke up for the princes when they were young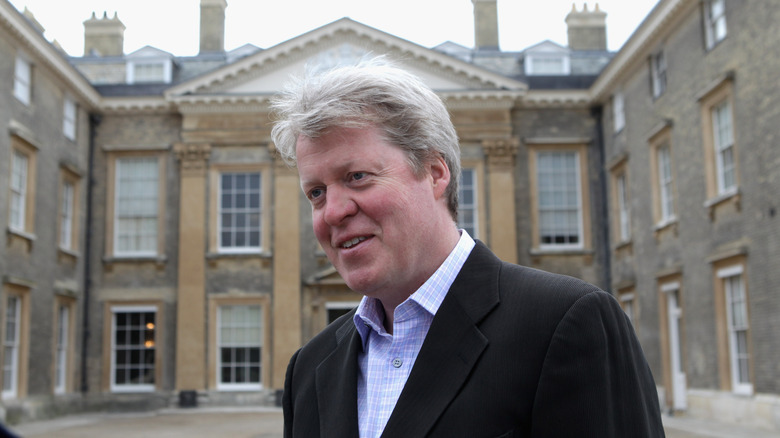 David Rogers/Getty Images
Throughout their early lives and young teenage years, Prince William and Prince Harry were very much in the swing of their lives at school, adjusting to their parents' separation, and largely going about the motions of daily life. That all changed when Diana Spencer died in a car crash in 1997, upending the boys' lives and prompting their family members to step in like never before. Reflecting on this time in his expository memoir, "Spare," Harry recounted his uncle, Charles Spencer, dismissing the notion that Harry and William walk behind Diana's casket. When it was prompted, however, that William walk alone and Harry sit the experience out, the youngest prince objected. It was then that their uncle made it clear he took issue with the idea of both princes walking in the funeral cortege.
"It seemed like a lot to ask for two children. Several adults were horrified," Harry wrote in his pages, adding that his uncle "flew into a rage." "You cannot force these children to walk behind their mother's coffin. It's a barbarity!" Harry recalled his uncle saying as decisions were being made about Diana's funeral.
Ultimately, the 9th Earl Spencer walked alongside his two nephews amid Diana's funeral, ensuring that neither of them were alone in the process. Harry later described the experience as numbing.
William and Harry's uncle pledged his dedication to them in front of the world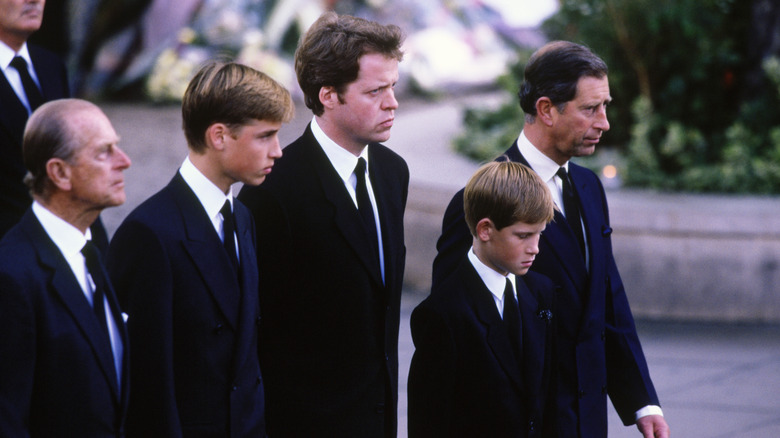 David Levenson/Getty Images
Charles Spencer was not only vocal in private meetings about the well-being of his nephews, but he made a poignant — and controversial — promise to them during his now famous eulogy delivered at Princess Diana's funeral. Though he managed to keep his composure throughout the eulogy, it was far from easy. "In the final paragraph I had run out of energy, almost out of oxygen. I had to punch each syllable out of the base of my stomach," he later told People of that very moment, watching Prince William and Prince Harry grieving in real time. But punch out the words he most certainly did, resulting in a pledging of dedication to Diana's memory and legacy that seemingly criticized the royal family in the process.
"I pledge that we, your blood family, will do all we can to continue the imaginative way in which you were steering these two exceptional young men so that their souls are not simply immersed by duty and tradition but can sing openly as you planned," the 9th Earl Spencer said during his sister's eulogy, essentially making his feelings about the royal family — and the expectations that go along with it — clear. "We fully respect the heritage into which they have both been born ... but we, like you, recognize the need for them to experience as many different aspects of life ... I know you would have expected nothing less from us," he concluded. 
Charles Spencer stood by William and Harry at a 2004 event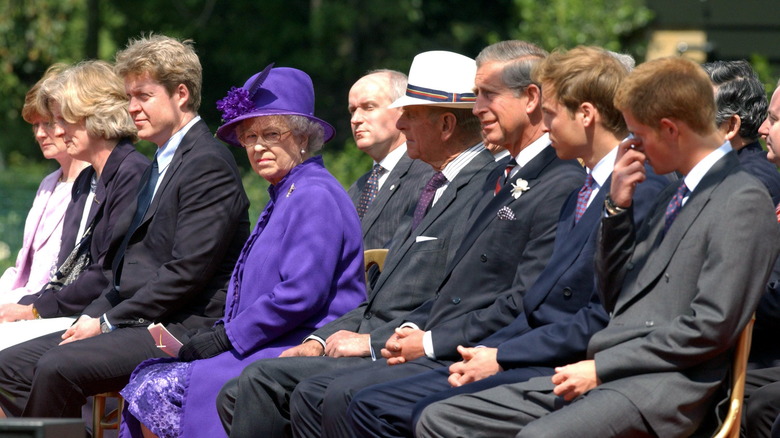 Pool/tim Graham Picture Library/Getty Images
The world watched in shock as Charles Spencer roasted the royal family at Princess Diana's funeral, essentially placing the blame on the establishment for her death and dedicating the Spencer family to the well-being of Prince William and Prince Harry in the process. It was not shocking, then, that it would be years until Diana's brother would cross paths with the bulk of the royal family, but he did just that while supporting his nephews in 2004. In honor of the Princess of Wales, a memorial fountain was constructed in her honor at Hyde Park in London, where she frequently was seen jogging, taking in the sights, and conversing with the public. At the fountain's official opening on July 6, 2004, Charles Spencer joined William and Harry for the occasion, paying tribute to his sister who was taken far too soon. However, he also saw some of the royals he had so drastically alienated just years prior.
Seen talking to Queen Elizabeth II, Earl Spencer kept his game face on, chatting with the monarch for the first time in seven years. He was also joined by his surviving sister, Lady Sarah McCorquodale, who was King Charles III's girlfriend in another life. The atmosphere might have been tense, but Diana's brother put on a united front in order to support his nephews on an emotional day.
The proud uncle was in the audience at Prince William's 2011 wedding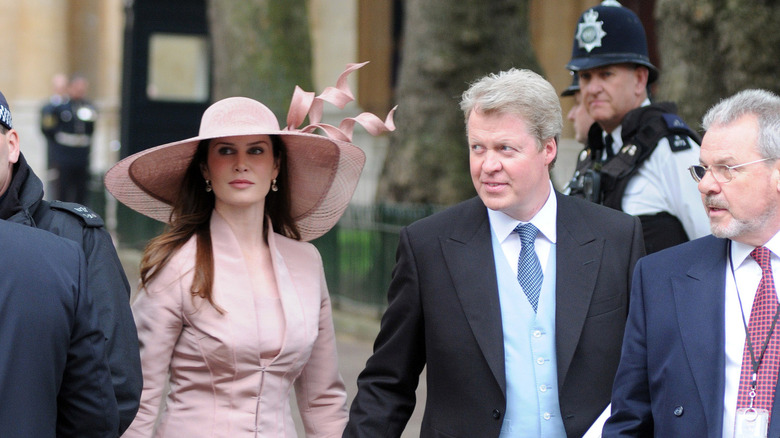 Martin Fraser/Getty Images
It seemed as though the whole world celebrated Prince William and Princess Catherine's nuptials in 2011, but alongside a cheerful crowd was none other than Charles Spencer watching his nephew tie the knot. Joining the nearly 2,000 guests at Westminster Abbey, William's uncle represented the prince's late mother, who was certainly in the hearts and minds of people watching the wedding unfold, presenting a full circle moment in a variety of ways. That's not to say that there wasn't a little bit of drama, however. As it turns out, the 9th Earl Spencer was under the impression that he would be giving a speech amid his nephew's wedding, marking the special occasion. However, palace aides confirmed to the Daily Mail that Diana Spencer's brother would not be making remarks, no doubt due to the ways in which he skewered the royal family during his 1997 eulogy.
Such tension hadn't really calmed down by the 2011 wedding, either. Speaking of the specific seating arrangement at Westminster Abbey, a palace aide told the publication at the time, "The couple have worked tirelessly to get the seating plans just right. They have done all the hard work and I can tell you it has taken months." The chart resulted in William's uncle sitting at quite a distance away from the royal family, who were positioned on the other side of the abbey.
Charles Spencer's royal great-nephew sure looks like a Spencer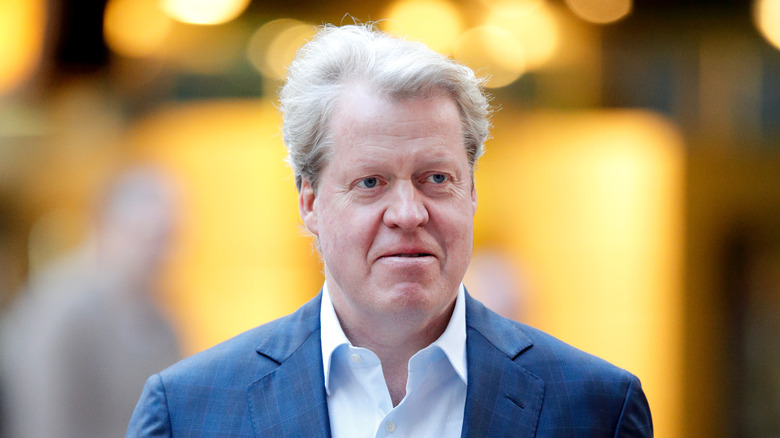 Max Mumby/indigo/Getty Images
Unlike many members of the royal family and those adjacent to them, Charles Spencer is quite active on social media. He regularly posts on Twitter and drops photos of his family from time to time, and so was the case in January 2023 when he posted a picture of his father, Edward John Spencer, on his 99th birthday. The photograph captured his late father when he was just a teenager, and royal fans were quick to highlight the similarities between him and Prince William's eldest son, Prince George.
In the comment section, fans were quick to note the keen resemblance between Charles Spencer, William, Prince Harry, and George. "The male genes are very strong in your family, it's like you and little Prince George are so alike and you can see it also in this picture," one user pointed out. "Incredible likeness with Prince William," wrote another.
Now, this was not the only time royal watchers saw the resemblance. Following the Platinum Jubilee in 2022, for example, fans far and wide took to social media to point out that George could be Charles' doppelgänger. As one Twitter user wrote, "Prince George is like a mini Charles Spencer!" Aw.
Harry's uncle proudly witnessed his wedding to Meghan Markle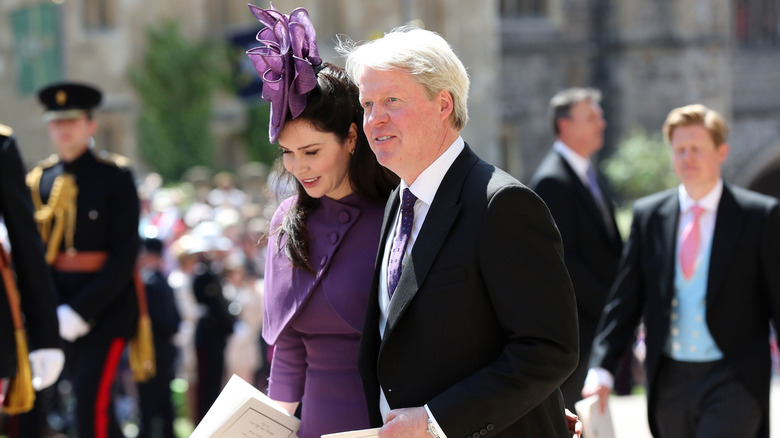 Wpa Pool/Getty Images
More than 20 years after his mother died, Prince Harry celebrated one of the happiest days of his life when he married Meghan Markle. The two tied the knot in a beautiful ceremony, and Charles Spencer was proudly in attendance. He was joined on the big day by his sisters, Lady Jane Fellowes and Lady Sarah McCorquodale, who — as a trio — represented Princess Diana and kept her memory alive on such a profound day. While Earl Spencer and Sarah sat in the pews, Jane additionally read a passage during the couple's wedding ceremony, an aspect of the occasion that Harry and Meghan commented on ahead of the day.
"Prince Harry and Ms. Markle both feel honored that Lady Jane will be representing her family and helping to celebrate the memory of the late Princess on the wedding day," Kensington Palace said in a statement. It was certainly not the first time that Harry and Meghan had spoken about Diana since their engagement, either, as they talked about her influence during their official engagement interview.
Remarking on the two diamonds from Diana's private collection that Harry incorporated into Meghan's engagement ring, the Duchess of Sussex said, "I think everything about Harry's thoughtfulness is — and the inclusion of that and obviously not being able to meet his mom it's so important to me to — to know that she's a part of this with us."
Harry grew exceedingly close to Charles Spencer amid his feud with the royal family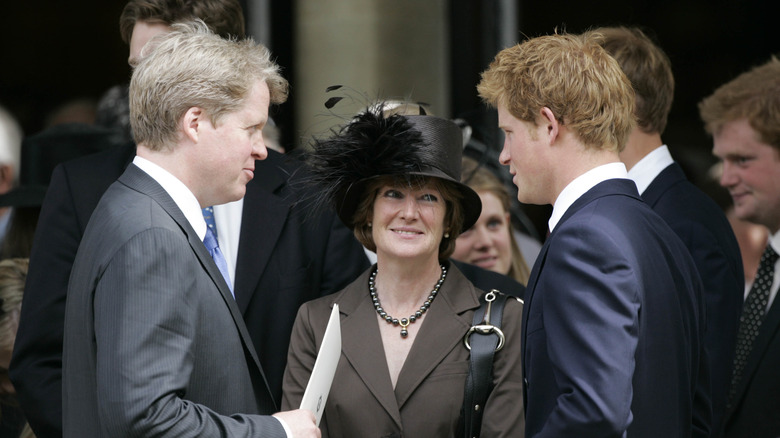 Anwar Hussein Collection/rota/Getty Images
In the shocking eulogy that Charles Spencer gave at his sister's funeral, he was quick to mention the importance of life for Prince William and Prince Harry outside of the royal constrictions. While William has embraced all aspects of royal life and is very much a central part of the firm these days, Harry has carved out a space completely for himself in California, leaving his senior royal title and duties behind in January 2020. What has ensued, meanwhile, is a relentless feud between Harry, his brother, and the royal family as a whole, with Harry adamantly sharing his truth about his time within the constricted environment. Meanwhile, he is said to have grown exceedingly close to his uncle during this time, fortifying their bond as his relationship with the royal family grows colder.
"He clearly has quite a good relationship with Charles Spencer, [Lady Jane Fellowes] and [Lady Sarah McCorquodale] on the maternal side," royal historian Tessa Dunlop told OK! magazine, additionally noting, "That side of the family seems to be better relations." She further pointed out that despite a narrative playing out that Harry did not have any family to rely on, he could indeed lean on the Spencers, as well as Meghan's mother, Doria Ragland.
Charles Spencer was brought into Harry and William's battle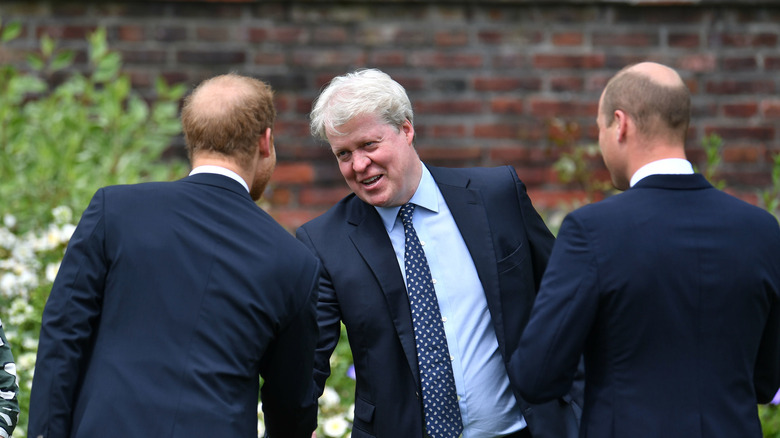 Wpa Pool/Getty Images
As things continued to devolve between Prince William and Prince Harry, more details about their feud behind closed doors began to emerge. In his book "Battle of Brothers: William & Harry — The Inside Story of a Family in Tumult," historian Robert Lacey detailed that amid their ongoing strife, William resorted to dragging Charles Spencer into their feud amid his efforts to get Harry to slow down his relationship with Meghan Markle. After William confronted Harry over the speed of his romance, the Duke of Sussex offered "a brusque and offended pushback," according to an excerpt published by the Daily Mail. "Then, the older prince turned to his uncle Charles Spencer for help," Lacey continued.
"From time to time Diana's younger brother had played something of an honorary godfather to both boys in the years since the death of their mother, and their uncle agreed with William to see what he could do, Lacey's pages read about the faltering relationship between the brothers. "The result of the Spencer intervention was an even more bitter explosion. Once again Harry refused to slow down. Harry didn't blame his uncle ... yet he was furious with his elder brother for dragging other family members into the row." Lacey concluded that such resentments have carried on due to William's decision to bring his uncle into the mix.
Harry, William, and Charles Spencer reunited in 2021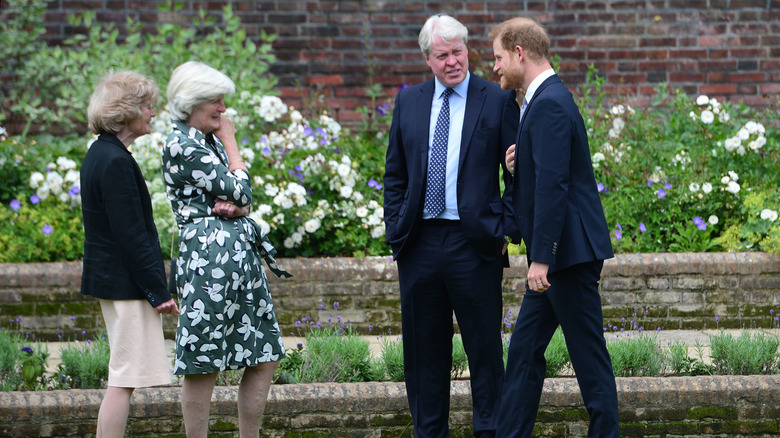 Wpa Pool/Getty Images
Though tensions were incredibly high between Prince William and Prince Harry in 2021, the Duke of Sussex made the trip from California to Great Britain to take part in the unveiling of Princess Diana's honorary statue in the Sunken Gardens at Kensington Palace. The project had been underway for years, and Harry and William reunited for the official event marking its completion. On the day in question, the brothers were joined by their uncle, Charles Spencer, as well as Princess Diana's sisters, Lady Jane Fellowes and Lady Sarah McCorquodale. What transpired was certainly a display of tampered emotions and a unified front, but the fractured family members seemed to get through it in one piece.
When their aunts and uncle arrived at the garden, Harry and William both gave a heartfelt hello. William was seen talking with the 9th Earl Spencer, while Sarah held onto Harry with a tight grip and was even spotted whispering something to him during the event — we definitely wish we were a fly on the wall in that scenario. Further into the 90-minute ceremony, Harry was seen sharing a heartfelt moment with both his aunts and uncle, smiling ear to ear as they most likely reminisced about Diana, her extraordinary life, and her unmatched legacy.
Charles Spencer was integral in a special moment shared between Harry and Meghan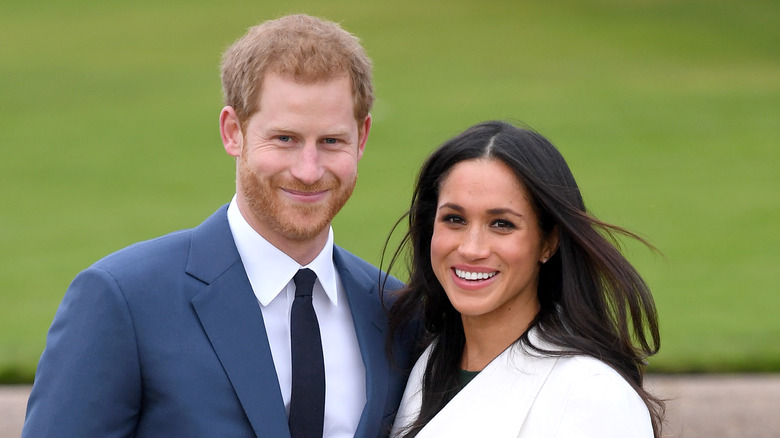 Karwai Tang/Getty Images
Though she spent much of her married life at Kensington Palace, Princess Diana's family home at Althorp was an estate of royal proportions. After her death, Diana was buried on an island in the middle of a lake on the Althorp grounds, allowing her a peaceful resting place surrounded by the beauty of nature and the estate's majesty. As it happens, Charles Spencer was an integral part of a special moment shared between Prince Harry and Meghan Markle early on in their relationship. Welcomed to Althorp by his uncle, as well as Lady Sarah McCorquodale and Lady Jane Fellowes, Harry took Meghan to his mother's resting place for the first time, detailing the special moment in his book, "Spare."
"I led Meg up the path, around a hedge, through the labyrinth. There it was, looming: the grayish white oval stone," Harry wrote. "At long last I was bringing the girl of my dreams home to meet mum."
"Meg gave me a moment, and I spoke to my mother in my head, told her I missed her, asked her for guidance and clarity," the duke continued in his expository pages. "Feeling that Meg might also want a moment, I went around the hedge, scanned the pond. When I came back, Meg was kneeling, eyes shut, palms against the stone. I asked, as we walked back to the boat, what she'd prayed for. Clarity, she said. And guidance."
Charles Spencer was not invited to the coronation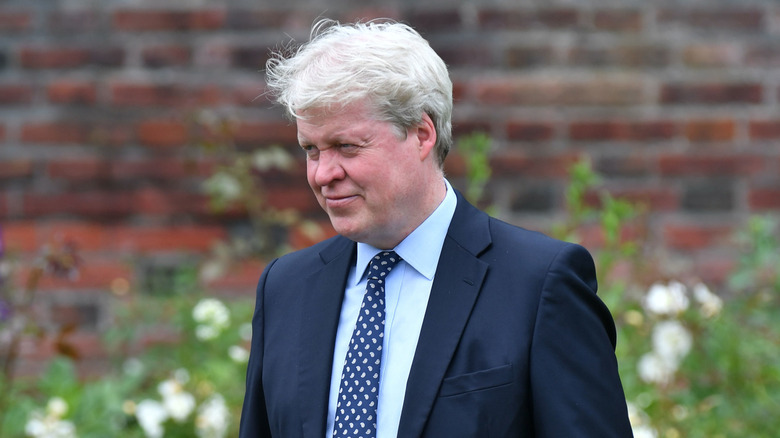 Wpa Pool/Getty Images
Charles Spencer saw his nephews through the aftermath of their mother's death, their teenage years, both of their weddings, Prince Harry's emotional visit with Meghan Markle, and far more important moments over the years. And while his connection to Prince William and Harry is well-established — particularly his relationship with Harry — the 9th Earl Spencer's relationship with the royal family is still a bit icy. When King Charles III's coronation rolled around in May 2023, Princess Diana's brother was not on the guest list, despite his sister's heightened importance within the royal family and the legacy that she left behind. Those in attendance at Westminster Abbey ran the gamut of royal connections, and while William and Harry's uncle could've easily criticized the royal family for the snub, he instead took the high road.
Amid the coronation festivities, Diana's brother paid tribute to Prince Philip by taking part in a charity event in his honor. Charles Spencer kept up a jovial and happy front during what could only have been a difficult time — Diana was, for so long, seen as the future queen of England, not Camilla, Queen Consort, and her influence was certainly felt amid the coronation. Still, her brother kept his cool and did not say anything controversial about his nephews, his former brother-in-law, or the royals as a whole.
Harry was supported by his uncle amid his court appearances in 2023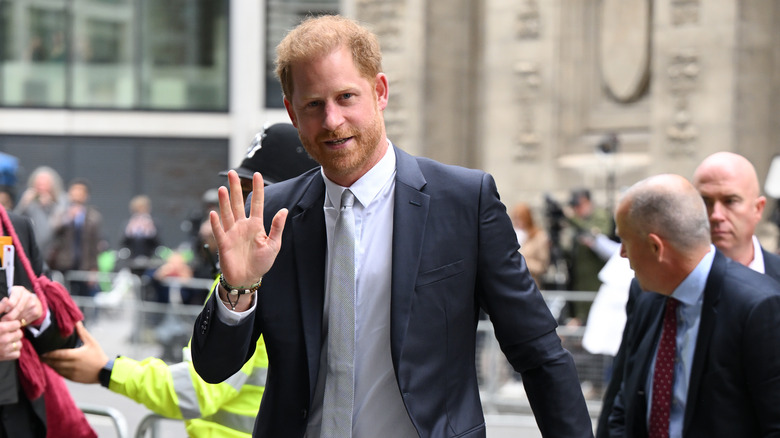 Karwai Tang/Getty Images
As Prince Harry has continued to establish himself outside of the royal family, he has taken aim at the royal rota — the collection of British tabloids that work alongside the royal press offices to curate coverage, often at the detriment of other members of the firm. In his efforts, Harry has found himself at the center of a legal fight against Mirror Group Newspapers, and he traveled back to England in June 2023 to take to the witness stand. As his time in England unfolded and he spoke about the invasive nature of the British tabloid media during his relationship with former girlfriend Chelsy Davy, Charles Spencer quickly came to his defense when a British media personality tried to take a swipe at him on Twitter.
"Is Harry still obsessed with former love Chelsy Davy?" the Mail's Amanda Platell wrote on the social media site amid Harry's testimony. "Harry mentions her 118 times in court evidence, Meghan just five times. No wonder Meg's didn't show up!"
Harry's uncle, meanwhile, was having none of that and he quickly shot back in a Twitter post of his own. "Pathetic, @amandajplatell — you have no shame, and even less credibility," he tweeted, receiving a chorus of comments supporting him and Harry's efforts as a whole. Don't mess with Harry, unless you want his uncle to come after you.