3 Simple Spray Tan Mistakes To Avoid For The Perfect Bronze Glow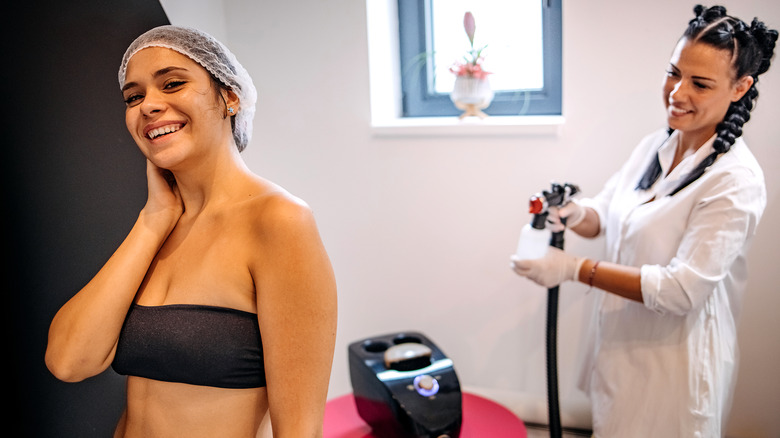 Enigma_images/Getty Images
As summer begins, you may be ready to secure your perfect tan, and luckily, spray tanner comes highly recommended by the Skin Cancer Foundation and the American Cancer Society as a safer alternative to sun tanning. Thanks to advancements in the beauty industry, spray tans are just as effective and can offer beautiful bronze results. Another factor that makes them so desirable is that most self-tanners are DIY-friendly and safe to use, as products such as Coco & Eve Sunny Honey Bali Bronzing Foam are free of parabens, silicones, and any other toxins. For those who are more comfortable with a professional administering the glowy spray, many tanning salons offer this service, providing an even tan within minutes that can last anywhere between seven to 10 days.
Though a very simple process, there are several mistakes people make that can greatly impact the results of the tan. Applying self-tanner to your back is just one opportunity for error. Even if you go to an expert, getting a bad spray tan is possible. Thankfully, these mild hiccups aren't the end of the world. Your summer glow will survive if you avoid these three minor offenses.
Failing to exfoilate before tanning can lead to rough results
Any tanning expert on TikTok or in person at your favorite salon will advise you to exfoliate before tanning. Since exfoliation removes dead skin cells, doing so will ensure you have fresh, silky skin for your tanning session. Too many dead skin cells can build up, clogging pores and creating rough areas on the body. Therefore, the smoother the surface, the more likely the dewy spray will be absorbed evenly when applied. Additionally, when eliminating the top layer of the epidermis via exfoliating, the tanner can appear much warmer, giving a flawless glow.
If you aren't too familiar with exfoliators or maybe have allergies to the artificial fragrances found in many of them, some natural household remedies can do the trick. Combining olive oil, vanilla extract, and sugar can create a gentle sugar scrub that'll gently get rid of impurities before the spray tan. Another promising combination is oatmeal, brown sugar, raw honey, and essential oils, acting as a thick scrub with natural healing properties. It's best if you can complete this vital step at least four hours before being sprayed.
Spraying too close to the skin can cause dripping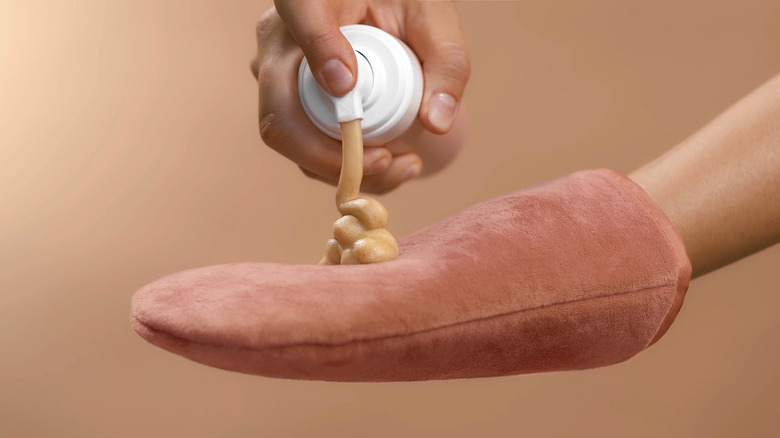 Beauty Stock/Shutterstock
When applying your spray tan at home, one common annoyance is dripping tanner. This occurs mostly with tanner in spray bottles. When spraying too close to the skin, the solution can run down from the desired area. Once it dries, this can cause long lines of discoloration. The problem with this is that once the tanner dries, it can be difficult to correct the uneven line. While this can certainly be annoying, there is one remedy that has proven effective.
Baking soda and lemon work wonders to fix those uneven areas. If you need to balance out your tan, mix both inside a bowl until a paste is created, then rub the exfoliant over the undesirable area. Allow it to sit for a few minutes. After wiping it off, you'll notice that the tanner has noticeably faded, allowing you to then reapply it correctly. Ensure that your spray bottle is not too close to the body during the re-application to prevent this again.
Another tip to prevent dripping tanner at home is to pay attention to what type of products you are using for your body bronzer. When using a water-based self-tanner, you do not need as much solution, as too much can create runs. With oil-based tanner, use the bare minimum solution, as streaks tend to be seen often in thick, oily formulations.
Forgetting to moisturize can make your tan fade faster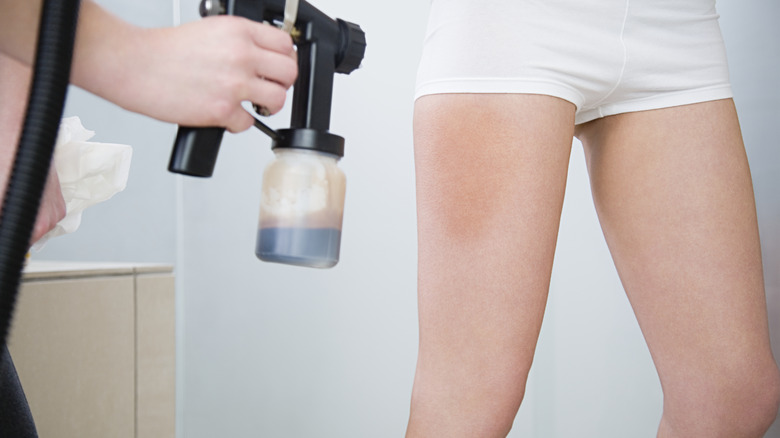 Image Source/Getty Images
Moisturizing is important whether you're applying makeup or any type of skin care product. However, before receiving a spray tan, moisturizing is vital because a lack of moisture in key areas can lead to your tan fading faster. St. Tropez brand ambassador Sophie Evans spoke with Byrdie, offering the best methods for nourishing the skin before having tanner applied.
"Before your appointment, make sure hands, feet, elbows, knees, and any other problem areas are well moisturized. But we never moisturize the whole body, as this will result in a lighter tan," Evans stated. The driest areas on the body, such as those affected by eczema, should receive the most attention. After tanning, Evans suggests applying moisturizer in these areas to blend the tan, making it appear more natural. A great option to nourish the skin before and after a spray tan is the Paula Choice Water-Infusing Electrolyte Moisturizer. This lightweight product works well because it gives the skin a dewy finish, adding more shine.
Whether you choose to self-tan with lotions or a salon spray tan, the before, during, and after care is important. With any beauty regimen, blunders happen but have no fear. If you are new to tanning, having it professionally done at least once can be a great way to learn self-tanning tips for those days at home when you can't make it to your appointment.