Prince Harry Once Opened Up About His Bond With Robin Williams' Son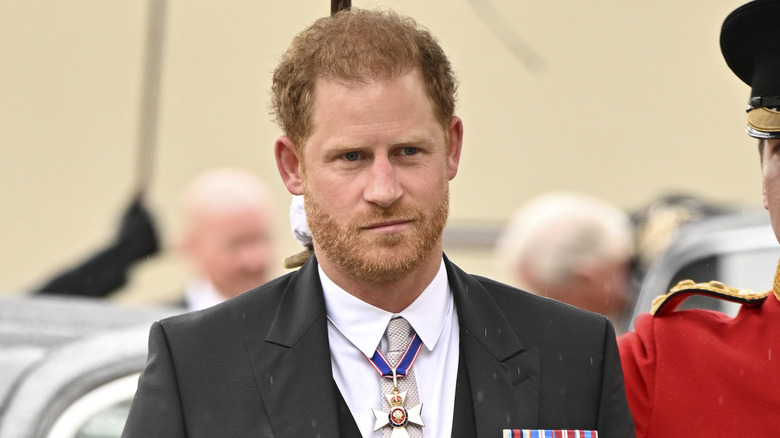 Wpa Pool/Getty Images
Losing a parent at any age is a harrowing and traumatic experience, but having it happen as a child is significantly more emotionally scarring. When Princess Diana tragically died in a car crash in 1997, she left behind two young boys; 15-year-old Prince William and 12-year-old Prince Harry. William spoke about his emotions in a 2017 BBC documentary, admitting, "I still feel, 20 years later about my mother, I still have shock within me."
He continued, "People say shock can't last that long, but it does. You never get over it. It's such an unbelievably big moment in your life that it never leaves you, you just learn to deal with it" (via the Mirror). Similar to his brother, Harry didn't quite process his grief as a child. Until he was about 23, the Duke of Sussex even believed his mother was still alive. For years, he only cried once over her passing, at Diana's burial. 
In an ITV interview, Harry acknowledged that he felt guilty because there were thousands of strangers openly weeping for his mother, but neither of her two children could shed a tear. In his memoir, "Spare," the prince reasoned, "Perhaps I had learned too well, had absorbed too thoroughly the family maxim that crying was never an option — never" (via The Telegraph). As an adult, Harry found solace in people who had similar experiences, including Robin Williams' son, Zak.
How Prince Harry and Zak Williams bonded over their shared grief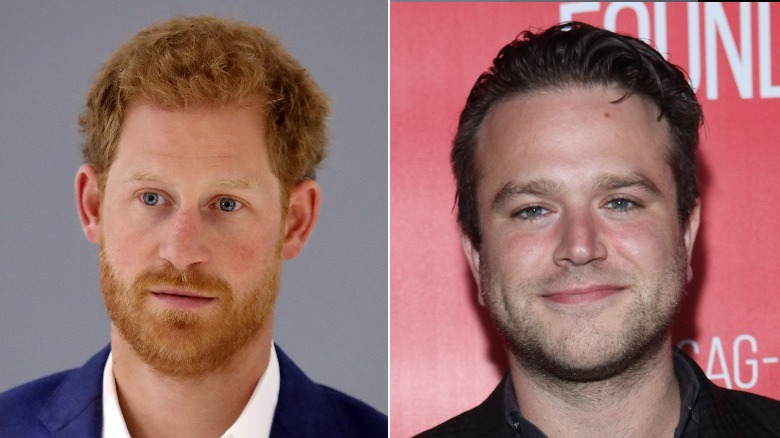 Chris Jackson & Steve Zak Photography/Getty
Zak Williams tragically lost his father, actor and comedian Robin Williams, to suicide in 2014. During a "Good Morning America" interview, Prince Harry opened up about how he bonded with Zak over the experience, noting, "It's remarkably similar." The Duke of Sussex added, "There was one thing that he said in a follow-up conversation, which was his service to others has helped heal him. And I think that was a really key moment for Oprah, myself, and Zak when we were on a separate call" (via People).
The prince's late mother was a well-known humanitarian, so it's only natural that Harry has found relief through helping others. Princess Diana spent time in Africa aiding poverty-stricken children and people with HIV. In 2006, Harry formed a charity called Sentebale in collaboration with Prince Seeiso of Lesotho to help vulnerable, at-risk children and create a safe space for them. Sweetly, it was a way for both princes to carry on their mothers' legacies. 
Harry also took an HIV test live to destigmatize the process and encourage others to get tested. Mere months before her death, Princess Diana risked her life by walking through an Angola minefield to raise awareness for how they were cleared, and in 2019, Harry did the same. As he argued, "I think the passionate element of that — being able to put ourselves in someone else's shoes and being able to help in that healing process, is absolutely critical."
Robin Williams' son strives to create positive change too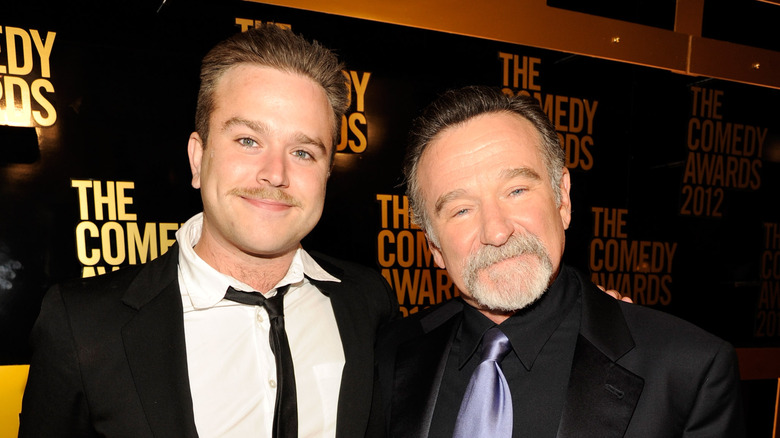 Kevin Mazur/Getty Images
Similar to Prince Harry, Zak Williams found grieving difficult because of being in the public eye. It took him over a year to set healthy boundaries that allowed him to grieve privately. During an episode of "The Me You Can't See," Williams admitted that he couldn't initially prioritize his well-being, which worsened his mental health. Much like the Duke of Sussex, Williams also resorted to substance abuse to cope.
However, with the help of support groups and community service, both men learned to process their grief healthily. As Williams told 18percent.org, "I found great help for me personally at my lowest times in volunteering and doing service work," adding, "After that, I found that being vulnerable and open about my struggles seemed to actually help others. So I just kind of kept on doing it. I love it as I find it healing personally" (via Good Morning America).
Williams is a part of several mental health organizations including United for Global Mental Health, Bring Change 2 Mind, inseparable, and Project Healthy Minds. He also co-founded a mental wellness brand with his wife called PYM, which stands for Prepare Your Mind. In an interview with Finding Mastery, Williams said that after suffering through the ebbs and flows of his substance abuse issues, he found that amino acids naturally helped regulate his mood, so he created a mental health supplement line centered around them.
If you or anyone you know is having suicidal thoughts, please call the National Suicide Prevention Lifeline​ by dialing 988 or by calling 1-800-273-TALK (8255)​.