Awkward Royal Tour Moments That Were Seen By Millions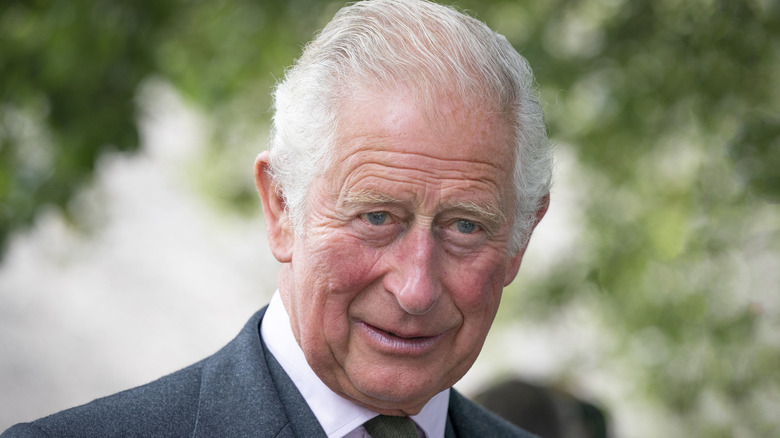 Wpa Pool/Getty Images
We may receive a commission on purchases made from links.
Though the British royal family members are staples on the London scene, they are also international figures. The Commonwealth countries spread across the entire world, and while their roles are largely ceremonial, the royals still hold a tremendous amount of cultural power. When any of them travel abroad, it is an incredibly orchestrated affair equipped with security, thorough plans, and high-profile events. It's not every day that a king or princess comes to your front door, so you best be prepared. Such important visits as of late include the Waleses' trip to Boston for the Earthshot Prize Ceremony and King Charles III's trip to Germany, his first as monarch. These appearances not only re-establish the importance of the crown, but also allow for further diplomatic conversations. While the royals aren't a political body, their international trips certainly push conversations forward.
To say that there have been some royal superstars is an understatement. Diana Spencer was absolutely adored both at home and abroad, and so many crowds gathered to try to get a glimpse of her. Meghan Markle has similar star power, even as she and Prince Harry navigate their post-royal lives in California. Princess Catherine, of course, has the majority of the British public on her side. And while these royal icons have commanded crowds and brought thousands to the streets, not every international visit has been successful. From awkward interactions and fumbles to full-out protests and disapproval of any royal presence, tours abroad haven't been flawless.
Catherine and William's royal tour to the Caribbean started with an awkward photo op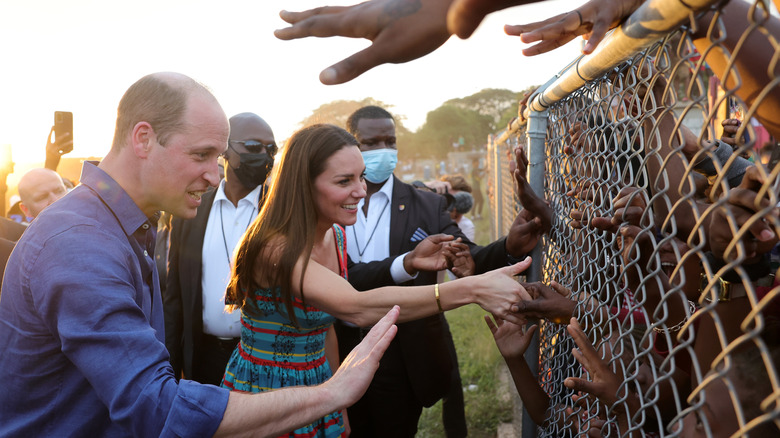 Chris Jackson/Getty Images
Perhaps one of the most talked about royal tours in recent times was Prince William and Princess Catherine's Caribbean trip in March 2022. Traveling to Jamaica, Belize, and more island countries, the royals landed at a time when many former and current colonies of Great Britain were re-evaluating Queen Elizabeth II's role as monarch. Their trip subsequently presented the young royals with an opportunity to change the narrative; such a flip of the script, however, was not accomplished.
In a particularly awkward moment caught on camera, William and Catherine were in Jamaica, saying hello to children who had come out to see them. Sounds harmless, right? The kicker was that the royals were shaking hands through a chainlink fence, presenting a very segregated image to fans and foes alike.
Commenting on their arrival and the optics, writer Velma McClymont told The Guardian, "This was another photo opportunity, and rather presumptuous to assume that Jamaican people were suddenly going to welcome William and his wife with open arms." She continued of William and Catherine's symbolic — and very awkward — visit, "My grandparents could trace generations back to slavery, but they died believing Jamaica was fully independent. Imagine, 60 years later and it's still an extension of the British empire. It's an infant colony, not standing alone."
Diana had an awkward royal visit to India that highlighted her marital issues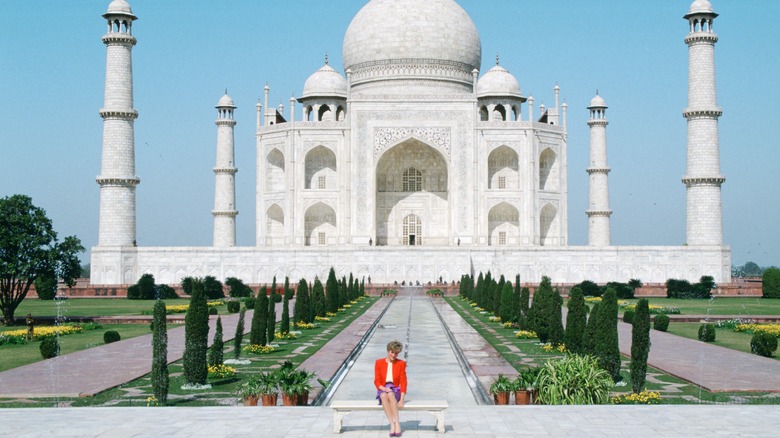 Tim Graham/Getty Images
The most watched royal of her era was, without a doubt, Diana Spencer. The Princess of Wales had a grip on the British public and the international community that few could rival, and yet her personal life was rife with difficulty. King Charles III's ongoing affair with Camilla, Queen Consort, was the worst kept secret in Britain, and despite trying to commit to their roles as senior royals, the cracks in Diana and Charles' marriage quickly began to show. Perhaps the most telling and awkward moment came during their royal tour to India in 1992. Visiting the epic Taj Mahal, Diana made the visit on her own as her husband was at a meeting. While stepping out solo wasn't too huge of a deal, the tense moment came when many realized that Diana was posing for the cameras — by herself — in front of the world's most prominent display of love.
Commenting on the moment in part five of CNN's docu-series "The Windsors," journalist Tina Brown said, "That picture of her as a lonely, neglected, beautiful girl who didn't have anyone to love her back just broke everybody's hearts," before adding, "She knew what she was doing. And it made Charles absolutely crazy."
The photo remains one of the most telling signs of distance between the couple. Diana and Charles would go on to make their separation public just nine months later.
Meghan Markle couldn't keep her composure during an Australia royal tour moment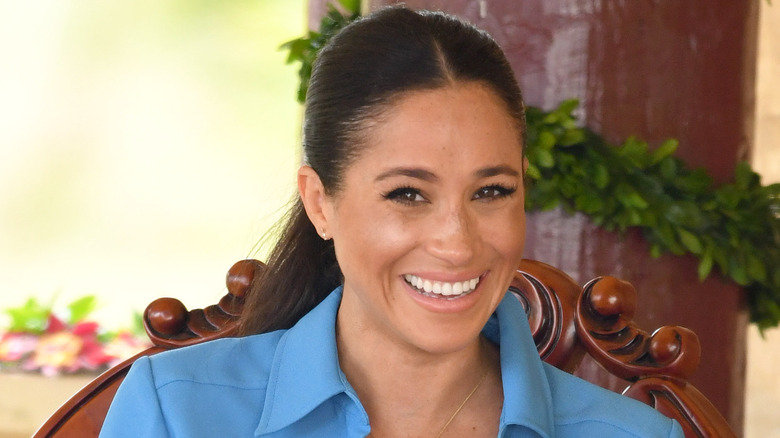 Karwai Tang/Getty Images
Some royal tour moments are awkward because of the tense emotion caught on camera, while others get a bit silly. Meghan Markle's appearance in Australia in 2018 definitely falls into the latter camp, teetering on the edge of hilarious and beyond awkward. The Duchess of Sussex was in full-on mom mode at the time her and Prince Harry's royal tour to Australia rolled around. The couple had just announced her pregnancy with their first child, so naturally, all eyes were on the mom-to-be when she visited children at Tupou College in Tonga. Taking in the sounds of the school's boys' choir, Meghan and Harry were soon treated to a comical song about mosquitoes. In a perfectly awkward and yet hilarious moment, Meghan started laughing.
It's not often that we see royals completely lose it while in public, but Meghan started laughing so hard at the funny lyrics of the mosquito song sung by those sweet boys that she started crying. Meanwhile, Harry giggled alongside his wife, but kept his composure intact. The duchess simply couldn't keep it together, giving royal fans a perfectly relatable moment. After all, who wouldn't laugh about a song completely dedicated to mosquitoes?
William and Catherine's 2014 tour was capped off with an awkward moment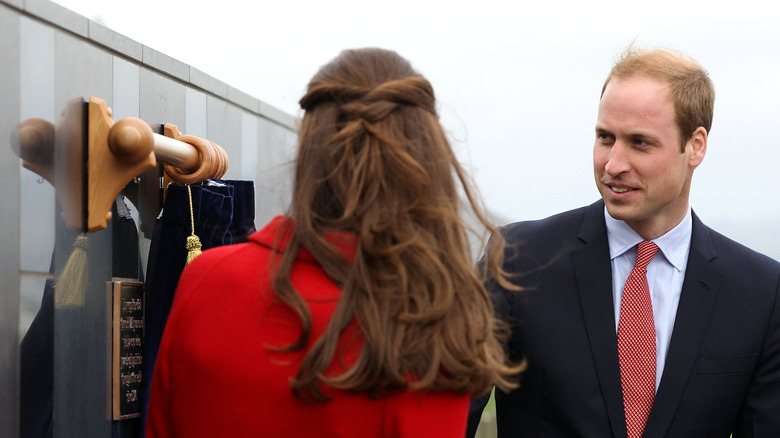 Danny Martindale/Getty Images
Of all the royals, Prince William and Princess Catherine conduct themselves with a cool, calm, and collected approach that is hard to maintain. But even they can experience a fumble. In their earlier years as working royals, William and Catherine traveled to New Zealand on behalf of Queen Elizabeth II. As part of their tour, they visited the Air Force Museum in Wigram and were tasked with unveiling a plaque. Seems simple, right? Well, in a video of the awkward moment captured and circulated on social media, the couple were seen tugging and tugging on the plaque's unveiling curtain, as it simply wouldn't budge.
In the video, the couple were on either side of the plaque, each holding a curtain string that was meant to unveil the dedication. Pulling on one side, William first looked confused as to why the curtain was not cooperating. Catherine then pulled on her side, and what followed was essentially a plaque-curtain tug of war between the couple, resulting in some awkward laughter — and no plaque. Someone in the audience clearly got fed up with the lack of unveiling that they got up on stage, took the string from Catherine, and proceeded to push the small curtain to one side in the most efficient manner. Talk about a moment these two absolutely can't live down.
Queen Elizabeth's visit to the United States was beyond awkward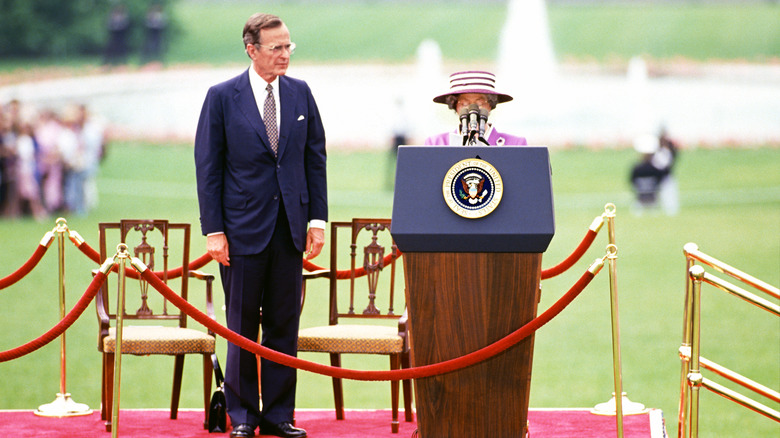 Consolidated News Pictures/Getty Images
The United Kingdom and the United States, for historically rooted reasons, have a somewhat adversarial relationship. It somehow still feels as though Britain sees the States as its problem child that just got bigger and more powerful with time; on the other hand, the tradition, pomp, and circumstance of England may seem a little fuddy-duddy to most Americans. Despite the differences, leaders of both countries have maintained decorum and met on many occasions, with Queen Elizabeth II rubbing shoulders with many U.S. presidents. Some, however, left better impressions than others, and her visit to Washington, D.C. and audience with George H. W. Bush was beyond awkward. 
Speaking to a crowd during the state visit, Bush made his remarks and proceeded to hand the podium to the queen. He didn't, however, adjust its height, and hardly anyone could see the small-of-stature monarch from behind the microphone. When she went to speak to Congress further in her visit, the queen remarked, "I do hope you can see me today from where you are." While the politicians received her statement as a quick quip, the monarch was said not to have even forced a grin. H.W.'s legacy was emboldened years later by his son, George W. Bush, whose own remark in front of the queen suggested she was alive in 1776. Make it stop.
Charles and Diana's 1983 Australia tour peaked in awkwardness during a crowd moment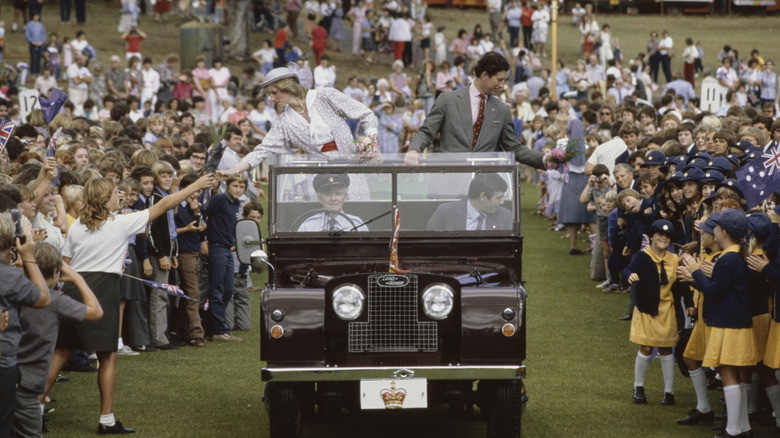 Tim Graham/Getty Images
When King Charles III and Diana Spencer got married, the British public — and the world — were besotted with the princess. People couldn't get enough of her, but this in turn made things awkward between the spouses. Such an issue came to head during Diana and Charles' royal tour to Australia in 1983, when the crowds were so excited to see the Princess of Wales that her husband was left absolutely reeling. As recalled by photographer Ken Lennox, the couple made an appearance at the Sydney Opera House during the stay, which quickly devolved as Diana burst into tears. According to his estimations, it was one of the saddest and most awkward states to capture on-camera.
"I'm about four feet from the princess and I'm trying to get a bit of the opera house in the background and some of the crowd, and Diana burst into tears and wept for a couple of minutes," Lennox said as part of ITV's "Inside the Crown: Secrets of the Royals." "Charles I don't think has noticed [her crying] at that stage. If he has, typical of Prince Charles to look the other way."
Commenting on Diana's popularity at the time, Charles said, "I've come to the conclusion, that really it would have been far easier to have had two wives, to have covered both sides of the street, and I could have walked down the middle, directing the operation."
Prince Harry tricked Usain Bolt during an awkward royal tour moment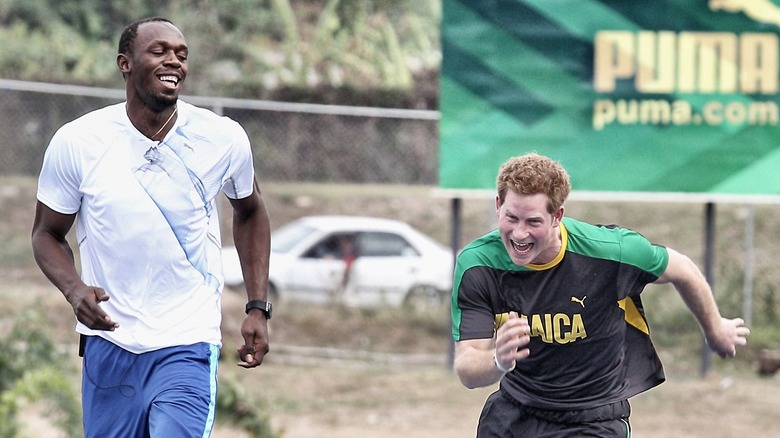 Chris Jackson/Getty Images
Prince Harry has always been known as a bit of a trickster. That was certainly on display when he was on a Caribbean tour in 2012, when he crossed paths with Olympian and all-around track legend Usain Bolt. In a bit of an awkward yet incredibly funny moment shared between the two, Harry and Bolt competed in a race, and Harry left the athlete in the dust... sort of. Harry incidentally jumped the starting gun and got a much needed head start against the world's fastest man, resulting in a chuckle from Bolt and a pat on the back from Harry.
It's clear that the Olympian didn't take it personally, however, because he later reflected on his friendship with Harry in 2017. "He's really cool. He's a really nice guy," Bolt told Hello! Magazine. "I really enjoy hanging out with him. Every now and then we see each other because we travel around so I see him sometimes."
The two later crossed paths when Harry went back to Jamaica for a friend's wedding, bringing then-girlfriend Meghan Markle with him. Clearly, they made a good impression as a couple, because Bolt was instantly taken by the actress. "I think everybody is happy because he's always the wild one of the royal family, but he's really cool. I'm sorry I didn't get to party with him before. She's definitely a nice girl," Bolt said of Meghan.
Charles had an incredibly awkward interaction with a world leader during a royal tour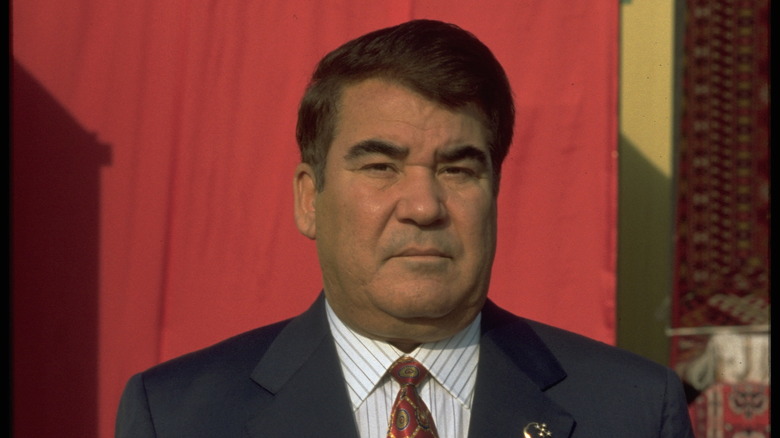 Richard Wayman/Getty Images
This awkward royal tour moment really takes the cake. Back in 1996, King Charles III embarked on a tour of Central Asia, hitting Turkmenistan and crossing paths with President Saparmurat Niyazov. Known for his eccentricities, Niyazov lived in a pink palace, did not allow pop music to be played, banned dogs — we're serious — and had a passion for horses. In fact, on many diplomatic visits, Niyazov tried to give the visiting international guest a steed from his vast stables, a habit that proved to be incredibly awkward for Charles.
Upon meeting Niyazov at the palace, Charles began the dance of avoiding taking home a horse, according to author Robert Hardman. "So when the Prince of Wales arrived in Turkmenistan in 1996, the Foreign Office had one very clear instruction for the new British Ambassador, Neil Hook, and the Prince's officials: no more horses," Hardman explained in his book, "Queen of the World." "Niyazov asked the Prince which horse he most admired. ... Frequently rubbing his back, the Prince lamented that a bad back made riding very painful these days. Time and again, very genially and diplomatically, he made it quite clear that the last thing he wanted was a horse."
Charles' awkward and exhaustive efforts were successful, however, and he left the palace steed-free.
William and Catherine were criticized for an awkward photo op during a royal tour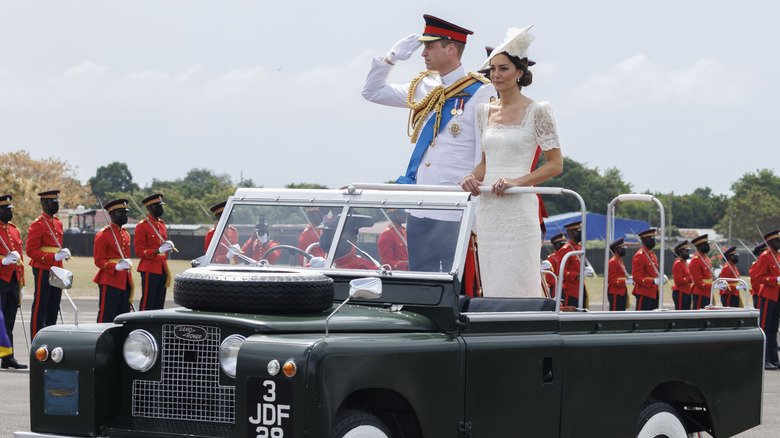 Pool/Samir Hussein/Getty Images
Both during and in its aftermath, the royal tour Prince William and Princess Catherine took of the Caribbean met its fair share of critics. The chainlink fence photo op was just the tip of the iceberg, and the couple were once again thrust into a very uncomfortable spotlight after they inspected the troops presented to them during their stay. Riding in a 1953 Land Rover and standing above the military personnel in all-white attire, William and Catherine were publicly thrown under the bus due to the imperial and colonial motifs their presentation and appearance invoked. Having already faced criticism for not denouncing the slave trade during their tour, the couple were in for an awkward siege.
Commenting on the photo op and the severity of the criticism, author Tom Bower told the Daily Mail of assigning responsibility, "I blame the officials at the Foreign and Commonwealth Office for the disaster. Incompetent, uneducated and lazy, they totally failed to anticipate the problems which William and Kate would encounter. The officials' ignorance exposed the couple to unnecessary embarrassment."
Meanwhile, Robert Hardman assessed that the tour's disastrous moments — the trip being one of the first after the restrictions of the COVID-19 pandemic had been lifted — were the result of the planning office being out of practice. "I think when they get back from this trip, a few questions will be asked," he told the Daily Mail.
Camilla wielded a knife at her husband during an awkward royal tour moment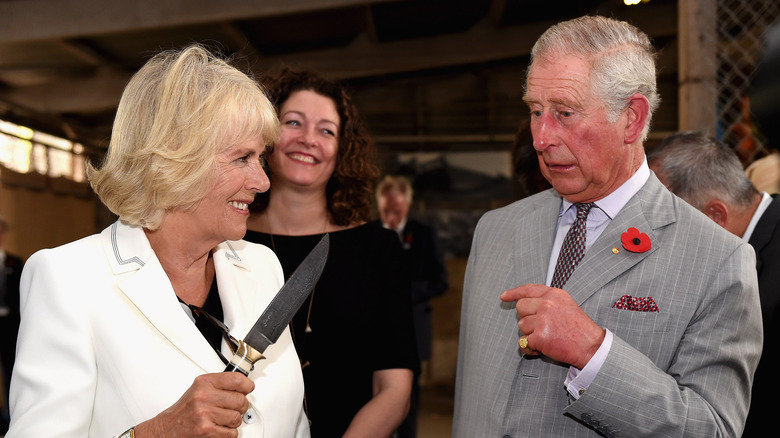 Daniel Kalisz/Getty Images
Though the public image of Camilla, Queen Consort, has been through the wringer, one thing that has rung true about her is her sense of humor. Many friends and acquaintances alike have attested to Camilla's jovial and down-to-earth nature, with author Penny Junor telling Vanity Fair, "She has a delightful personality. She's very approachable, very easy to talk to, warm, friendly, funny. She always has a twinkle in her eye and is a terrible giggler, often reducing [King] Charles [III] to fits of giggles too."
That was certainly on display during Camilla and Charles' royal tour to New Zealand and Australia in 2015. As part of their very first day in the land down under, the couple ventured to the Barossa Valley to take in the local wine scene. Visiting Seppeltsfield Winery specifically, the royals were treated to all the fine curations that the vineyard boasted, including impressive knives made by hand by Barry Gardner. With cameras capturing their every move, Camilla proceeded to pick up one of the large knives and point it towards her husband. Immediately pulling an awkward yet funny face, Charles reacted to Camilla's warning: "Behave yourself," she said. The staff was said to have burst out laughing at Camilla's veiled threat which, given Charles' rather sordid relationship history, proved just as grimacing as hilarious.
An international visit proved challenging for the Queen Mother
While the royal family has certainly tried to modernize with time, there was an era that was far more decorum-oriented than the present day. For generations, the royals were untouchable, and protocol was perhaps the most important aspect of their daily lives. From the way they conducted themselves to how others were expected to behave in their presence, following the unspoken rules was paramount. That memo, however, was certainly lost when Queen Elizabeth The Queen Mother was visited by President Jimmy Carter in 1977. As many know, the Queen Mother stayed in a prolonged state of mourning after the death of her husband, King George VI. She even left court and moved to rural Scotland so she could grieve outside the public eye; when she did return, she assumed the role of Queen Mother and remained a widow for the rest of her life.
Carter's time shared with the Queen Mother exacerbated her sense of grief and dedication to her late husband, as during one of their interactions, the president leaned in and kissed the royal on the lips. Not only did this break protocol in every capacity, but it forced the Queen Mother into incredibly awkward territory. "Nobody has done that since my husband died," she said of the moment after the fact. "I took a sharp step backwards — not quite far enough."
Little Prince George made his feelings clear during a royal tour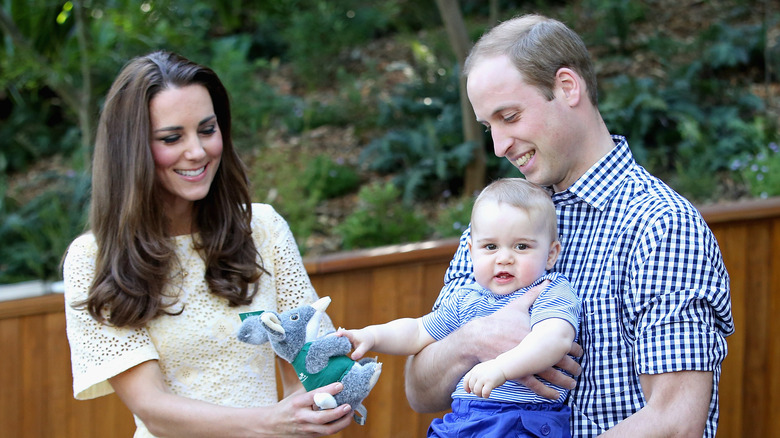 Chris Jackson/Getty Images
When Prince William and Princess Catherine embarked on their 2014 tour of Australia, they brought a very special little one with them — Prince George, who was just eight months old at the time. The entire world was besotted by the adorable baby, who made a number of public appearances throughout their stay, notably joining his parents for a visit to the Taronga Zoo in Sydney. The perfect setting for the little royal, George was captured on camera absolutely intrigued by the species at the zoo, and he even got to meet some koalas and kangaroos! Don't think that it was all fun and no work, though. The tiny prince helped his parents reveal a new plaque for the Prince George Bilby Exhibit — well, as much as an eight-month-old can really assist.
And while the cameras captured George being just about the cutest baby in the world, he made his feelings clear towards the end of the visit when he was presented with a stuffed animal. He promptly chucked the toy onto the floor with a vengeance, prompting mom Catherine to bend over and pick it up, much to the giggles of the audience watching the unveiling. George was clearly at his limit, so mom and dad toured the zoo without him. Still, his hilarious and slightly awkward moment gave lots of royal watchers something to talk about.