Prince Harry Thinks His Relationship With William Would Be A Lot Better If Diana Were Still Alive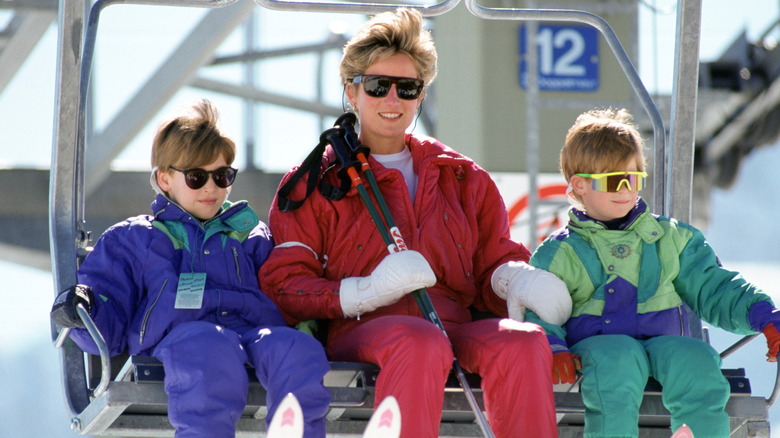 Tim Graham/Getty Images
Prince Harry is pulling back the veil further on his personal life, this time, on his strained relationship with Prince William and its connection to their mother's death. This admission came in the wake of Harry's efforts to promote his memoir "Spare," released on January 10, 2023. The book contains many startling revelations about his personal life inside and beyond Kensington Palace, including the strained relationship with his older brother.
In perhaps the most shocking admission, Harry described a physical altercation that occurred between the two in 2019. Tensions related to the drama surrounding his wife Meghan Markle seemed to bubble over, and words just weren't strong enough. In a promotional interview on "The Late Show with Stephen Colbert," the Duke of Sussex admitted that if their mother, Princess Diana, were still alive, the relationship with his brother would have never reached the state it's in now.
The former Princess of Wales passed away tragically at age 36. The brothers were still school-age at the time of the accident: William, 15, and Harry, 12. In addition to an extremely public funeral, the princes have had to weather plenty of controversies together — ultimately leading to disagreements concerning the royal institution. As Harry took a firm stance against the monarchy, tensions with the king-to-be were further strained, resulting in a royal feud that has only grown bigger over the years.
William and Harry's strained relationship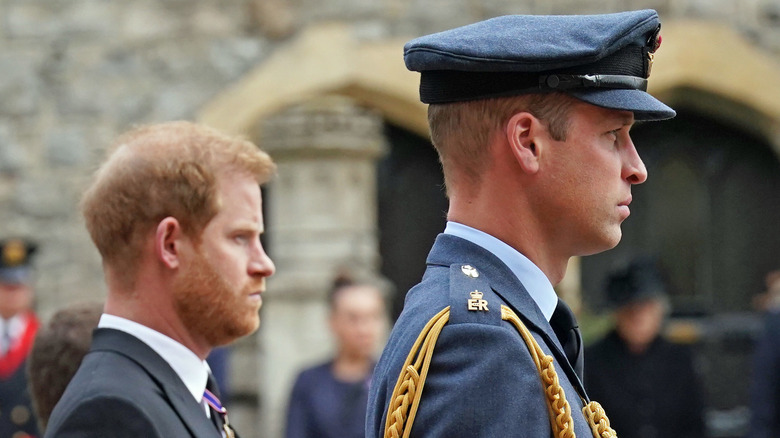 Wpa Pool/Getty Images
The Duke of Sussex has been outspoken about his and William's standing in recent years. While "Spare" provided significant context for the royals' public feud, their brotherhood was not always rocky. The Prince of Wales and his younger brother were very close throughout their childhood. The brothers bonded over the trauma of their mother's death in 1997 — having to grieve publicly while maintaining Princely duties is an experience only the two could relate to.
But since the incident over 20 years ago, it appears that royal politics and marital disagreements have gotten in the way of their brotherhood. In 2020, the Duke and Duchess of Sussex took a step back from royal duties due to intense media harassment and a lack of support from the monarchy. In choosing to relocate their family to California, Harry showed that he was dedicated to supporting his chosen family rather than the Institution.
However, his criticism of the royal Institution was made public in his and Meghan Markle's bombshell interview with Oprah Winfrey in 2021. Since then Harry has continued to share intimate details about life at Buckingham Palace with the public, such as the physical altercation, much to William's disapproval. In response to "Spare," sources told People that William was "most upset" with how Harry painted him in his memoir, and "will be furious about the betrayals of confidences."
Harry still looks to Diana for guidance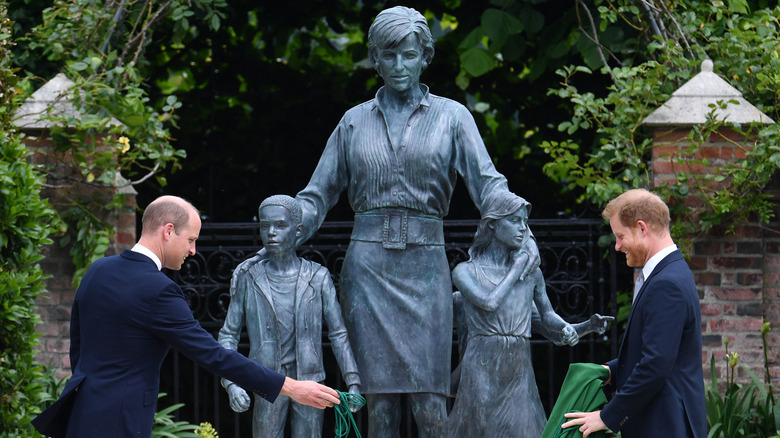 Wpa Pool/Getty Images
Decades after her passing, Harry often references his mother as a defining voice in his life. Despite a rift that has essentially left their relationship beyond repair, Harry still reflects on moments he and his brother shared following Diana's passing. "I detail in the book my brother and I talking at her grave," Harry told Colbert. "And how he felt as though she had been with him for a long period of time and helped set him up with life and that he felt she was now moving over to me. And I have felt her more in the last two years than I have in the last 30."
In reference to the brothers' tension, Colbert asked, "If your mother were still alive, do you ever think about how she might handle this moment?" The Duke responded, "We wouldn't have got to this moment. It's impossible to say where we would be now — where those relationships would be now — but there is no way that the distance between my brother and I would be the same."
In a final heartbreaking revelation, Harry even recounted that he held out hope his mother was still alive in the years following her death. The young prince believed Princess Diana would come back to save himself and William after taking a break from "unbearable" royal life.