Why King Charles Gave Up His Beloved Welsh Home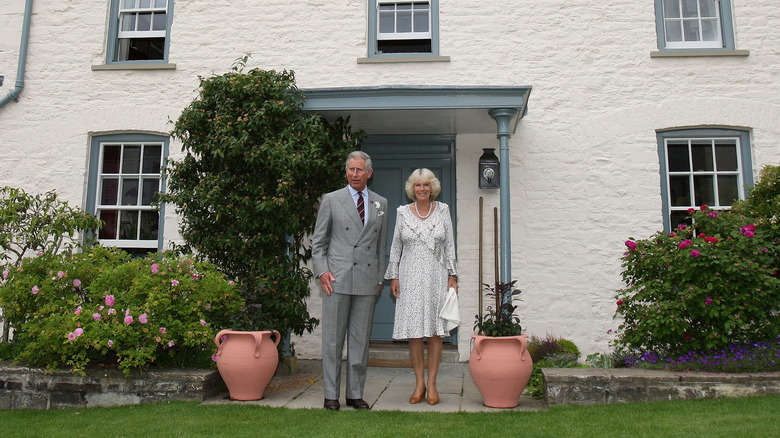 Chris Jackson/ Getty Images
In 1969, King Charles was declared the official Prince of Wales. For more than half a century, Charles held this position. Throughout those 50+ years, he took great pride in the duties that it came with the position. Charles continuously tried to remain involved with the small, coastal country's affairs. And while Charle's history with Wales hasn't gone without controversy, there is no doubt that he was dedicated to his job. To visit frequently, Charles even purchased a country home in 2007 in Carmarthenshire, west Wales. 
However, after his mother, Queen Elizabeth, died in the fall of 2022, Charles said goodbye to his role as the Prince of Wales and became king. After investing lots of time and energy into his Carmarthenshire estate and the Welsh community, King Charles officially decided to discontinue his lease with the property since unfortunately, he will no longer be able to visit Wales as frequently while taking on the duties of king.
It took King Charles 40 years to find his Welsh home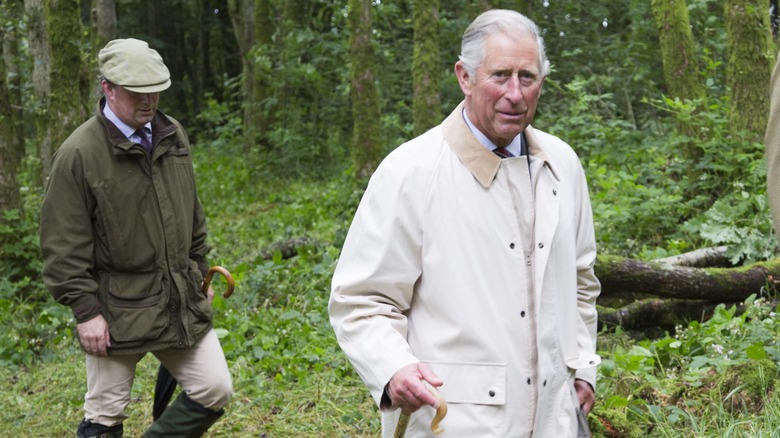 Anwar Hussein/ Getty Images
King Charles plans to say his goodbye to his home in Wales, and we imagine it will be a sad one. The British figure spent 40 years of his position as prince looking for a property before landing on Llwynywermod. The 13th-century manor is located on almost 200 acres of land beside the beautiful green grass of Bannao Brycheiniog National Park. Yahoo! News reported that in an interview with the Visit Wales Tourist Board, Charles remarked that he decided on the property "after a long search lasting some 40 years! Several houses and sites were explored until, finally, we came across Llwynywermod."
Once Llwynywermod was selected, Prince Charles had the architect Craig Hamilton and interior designer Annabel Elliot make his vision for the home come to life. Hamilton transformed the farm into a full-on manor equipped with a house, three cottages, and a barn. Meanwhile, Elliot brought homey warmth to the interior using a mixture of Welsh antiques and designer pieces.
What will happen to Llwynywermod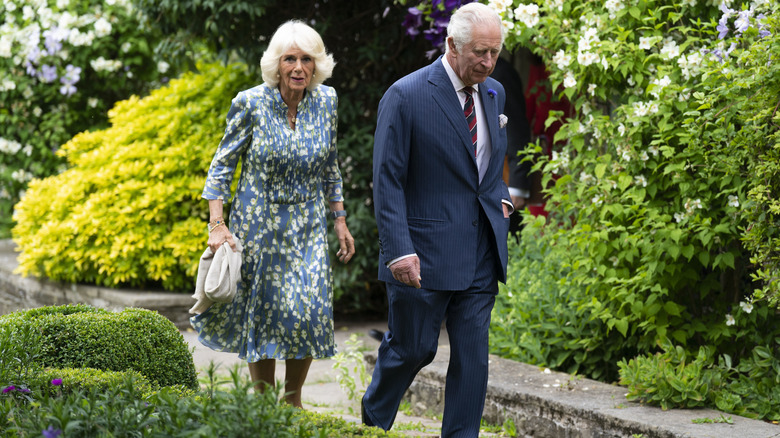 Wpa Pool/ Getty Images
Llwynywermod has been in the hands of the royal bloodline for centuries, originally belonging to William Williams, a relative of Anne Boleyn. The Duchy of Cornwall purchased Llwynywermod for King Charles in 2007. For anyone unfamiliar with this British enterprise, the Duchy of Cornwall manages 129,604 acres of estate in the U.K. As tradition follows, the Duchy is appointed to the king or queen's eldest son. Now that King Charles has taken the throne, the Duchy of Cornwall is in his son Prince William's hands, as the current Prince of Wales.
A spokesperson for William and Catherine, Princess of Wales, informed People that the royal couple has decided to spend nights in local hotels and bed and breakfasts rather than take over the property in Carmarthenshire. To keep Llywynywermod as one of King Charles III's U.K. homes after taking the throne, Charles has been paying the lease himself. However, at the end of the summer of 2023, the property will likely be made available to the public for rent.