Donald Trump And Marla Maples' Inspiration Behind Daughter Tiffany's Name Is Fairly Obvious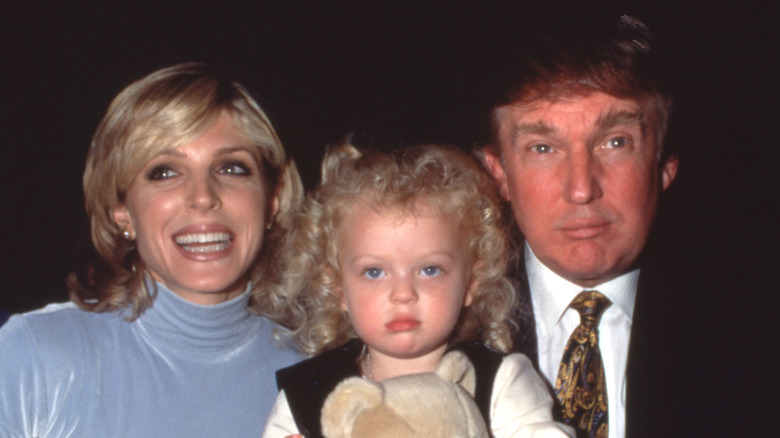 David Allen/Getty Images
Donald Trump's adult children with his first wife, Ivana Trump, have been heavily involved with his political career in the past. Ivanka acted as a senior advisor in his presidential administration, Eric was also an advisor and campaign manager, and Donald Jr. is currently the executive vice president of their father's organization. Then there is his daughter Tiffany, the only child with his second wife, Marla Maples. She has lived a relatively lowkey life besides the occasional appearance with her half-siblings and father during his presidency. Though she doesn't always speak to her controversial family, Tiffany is just as luxurious as her older sister, with a name to match.
When Trump and Maples had Tiffany, they wanted to give her a simple yet memorable name. Since Trump had business dealings with one of the most well-known jewelry brands around, it is pretty obvious how this beauty ended up with such a majestic identity.
Tiffany Trump is named after the iconic Tiffany & Co. jewelry brand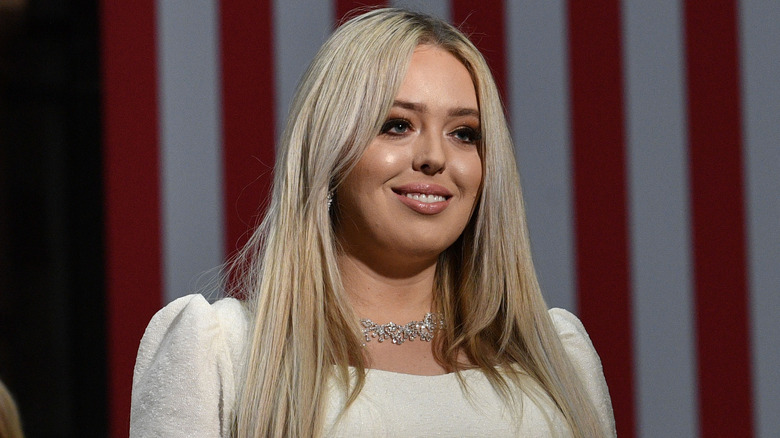 Bloomberg/Getty Images
When Donald Trump was gearing up to build his famed Trump Towers on 5th Avenue in New York City, he chose the location adjacent to the famous Tiffany & Co. flagship store. The businessman-turned-politician completed the 58-story skyscraper in 1982. When his fourth child, Tiffany Trump, was born on October 13, 1993, it was only fitting that Trump and his former wife, Marla Maples, named their bundle of joy after the jeweler.
Considering that the name Tiffany spiked in popularity in 1988, it's safe to assume that Trump already had his daughter's name in mind years before she was conceived. Unfortunately, her parent's marriage didn't last long after Tiffany made her debut into the world. Trump and Maples separated in 1997 before divorcing in 1999. However, that did not stop Tiffany from reaping the benefits that come along with being born into the Trump family. With a $1 million alimony payment to Maples and $100,000 annual child support, until Tiffany turned 21, she went on live a privileged life, aligning with the jewelry company she is named after.
Tiffany Trump has lived up to her glamorous name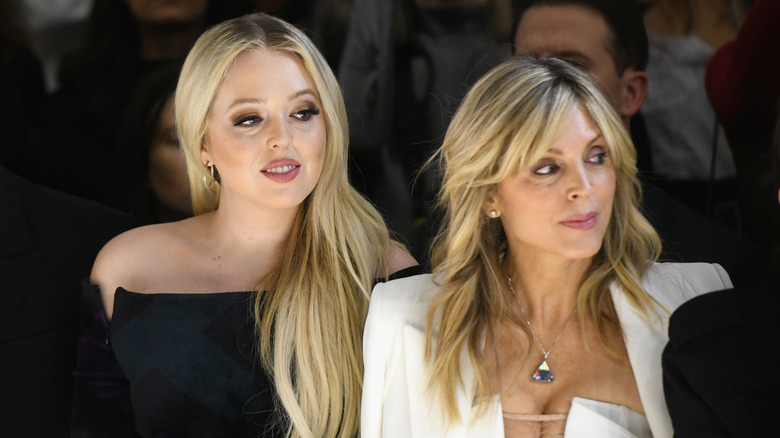 Noam Galai/Getty Images
Tiffany Trump may not be a star of the White House, but that has not stopped her from being an it-girl in her social circle. In 2011, she interned at Vogue, even having lunch with renowned Editor-in-Chief Anna Wintour. Her love for fashion expanded beyond the publication, appearing at New York Fashion Week, and rubbing elbows with several Hollywood A-listers. She even stunned on the catwalk in 2016, walking in designer Just Drew's show. After her runway debut, she famously attended a New Year's Eve Playboy party while her family rang in the new year at a black-tie event.
Aside from showing up at star-studded events, her November 2022 wedding was one fit for a queen. During her Mar-a-Lago Beach House ceremony, she and her husband, Michael Boulos, opted for blue accents and arrangements throughout, paying homage to the iconic Tiffany & Co. adopted hue. Her sister Ivanka, as well as several other family members, followed the blue theme.
As Ivanka takes a step back from the spotlight amid their father's legal issues, many are speculating that the elusive daughter will step up and involve herself more in her father's new presidential campaign. The position may be posed for the law school graduate, but there is a good chance she may simply enjoy playing the background and basking in her designer lifestyle.