The One Thing About Ben Affleck That Brings Tears To Jennifer Lopez's Eyes
Matt Winkelmeyer/Getty Images
Jennifer Lopez and Ben Affleck's relationship shows they got their happily ever two decades after they first laid eyes on one another. Affleck nearly broke the internet when photographs of him outside of Lopez's home in 2021 were posted by Page Six. "Security picks him up at a nearby location and drops him off after spending a few hours at her house," a source told the outlet in April that year, on the heels of J.Lo's split from her fiance Alex Rodriguez. While Lopez and Affleck tried to keep their apparent rekindling on the down low, Lopez took their romance redo public in July, sharing an Instagram photo of the two locking lips while on a boat celebrating her birthday. 
Lopez and Affleck have picked up where they left off in 2004 when they broke off their first engagement. Not willing to let one another go this time around, the two wasted no time getting married. They exchanged vows in Las Vegas in July before having a larger, more extravagant wedding in Georgia a month later: one expert revealed what their wedding was really like. Perhaps unsurprisingly, Lopez hasn't been shy about sharing her second chance at love with Affleck and has given quite a few candid interviews about their incredible love story. There is one thing about Affleck, however, that brings tears to her eyes and it's seeing him as a father.
Jennifer Lopez thinks Ben Affleck is a fantastic father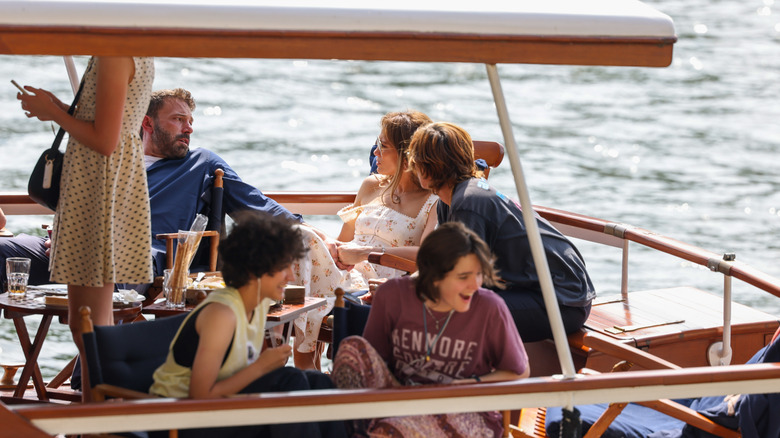 Charley Gallay/Getty Images
The major difference in Ben Affleck and Jennifer Lopez's relationship in 2023 is that they both have kids. Lopez is a mom to twins, Max and Emme, with her ex-husband Marc Anthony, while Affleck has Violet, Seraphina, and Samuel with his ex-wife, Jennifer Garner. And, seeing Affleck as a dad makes Lopez emotional. "It brings tears to my eyes, he is honestly the best dad I have ever seen," Lopez said during an interview on "The View," per Us Weekly. "He's such a brilliant guy anyway, and you can tell that when he had his kids he must have read every book and everything that you could possibly learn about children, and he applies it. He's present, and that's all you can ask, for a present, loving dad who shows up every single day, and that's who he is," she added.
During a sit-down on Today, Lopez shared that her husband is also a great stepdad to her kids. "They love Ben," she told Hoda Kotb. "He's a wonderful, wonderful father, and father figure to them as well, you know, cuz he has his own three beautiful children, and then there's us. He's fantastic. He really steps up to the challenge of what that is and what means and they love him. They love him. And they appreciate him. And so do I," she added.
Ben Affleck has changed his life to ensure he can spend time with his kids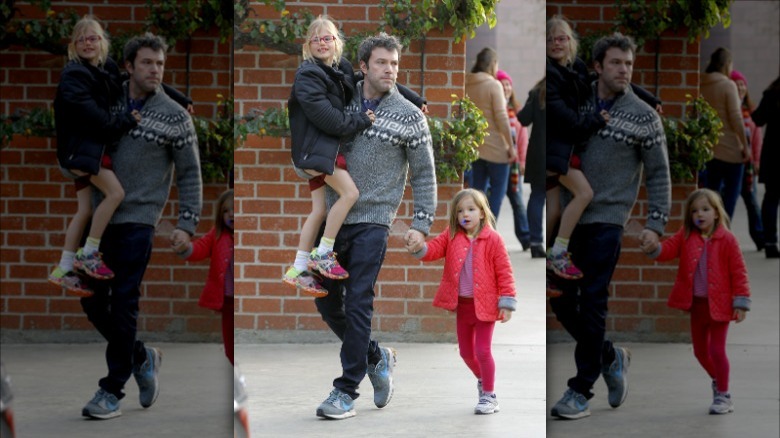 Bauer-griffin/Getty Images
To prove Jennifer Lopez's point about Ben Affleck being a great dad, he's openly admitted to changing his schedule around and not taking work that will have him out of the country for an extended period of time because he wants to be able to spend time with his kids. In fact, in 2022 he teamed up with his longtime pal Matt Damon to start a production company, according to Deadline.
One of the reasons for the decision is so that Affleck can ensure he's around — and his work is on his terms. "I'm divorced. I share custody. I don't want to go to Austin and New Orleans and Georgia anymore and not see my kids. It just doesn't work. These years are too important. If I miss them, I'll regret it for the rest of my life. And then I thought, 'OK, well, if I'm in Los Angeles and I'm in an office and I'm doing this work, I can step out for the basketball game or the jazz performance.' So I protect those things," Affleck told The Hollywood Reporter.