The Viral Hack For Cleaning Tarnished Sterling Silver Will Have Your Jewelry Looking Brand New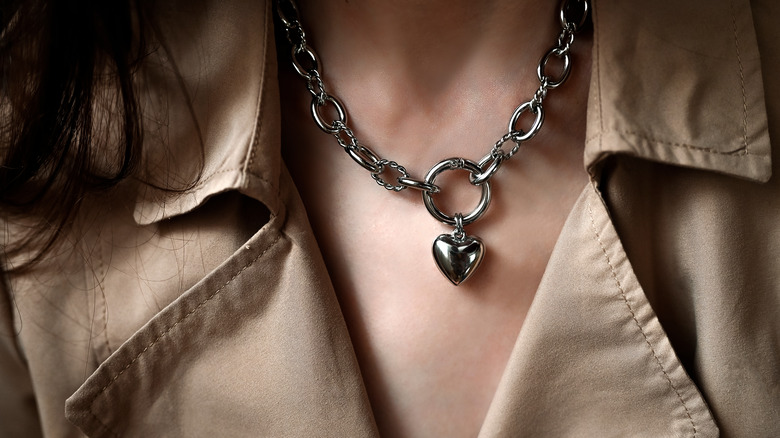 Uladzimir Cyargeenka/Getty Images
Nothing is more irritating than pulling out the necklace you want to add to complete your ensemble and finding it tarnished. Since you don't have time for jewelry cleaning, you throw it in a drawer of your jewelry box and head out. However, eventually that drawer of tarnished silver jewelry is going to fill up and demand your attention. 
Thankfully, cleaning your silver jewelry doesn't have to be an arduous task. In fact, like most tasks, TikTok has a few hacks to save you time and money. Rather than pulling out the polish, exposing yourself to chemicals, and wasting your Saturday bringing Aunt Ruby's sterling silver necklace back to its full glory, it's as simple as running to your pantry for materials abundant in your kitchen.
You can make silver jewelry cleaning a lot easier with only three simple ingredients and a few easy steps for cleaning all your silver, from your sterling silver serving platter to your favorite rings. You'll also learn how to tackle heavily tarnished silver with a few additional ingredients and a bit of elbow grease. 
Clean tarnished silver with these simple steps
When it comes to hacks, TikTok is where it's at. The app's users literally have a hack for absolutely everything under the sun, including using a little bit of aluminum foil, baking soda, and boiling water to get your sterling silver necklaces and rings sparkling again. 
To try out this satisfying hack, grab about a cup of baking soda, a roll of aluminum foil, and something to soak the jewelry in, like a glass baking sheet or bowl. It's important to make sure that your silver can be fully submerged in the solution. With your materials at the ready, roll out enough aluminum foil to completely cover the pan or bowl, secure it down to the receptacle, and add your jewelry. Make sure you have enough boiling water to fully cover the jewelry or tableware; then, it's time to add the baking soda. How much baking soda you use is going to depend on what you're de-tarnishing and how badly it's tarnished, but one cup per gallon of water is a good starting point.
As soon as all the ingredients are in place, sit back and watch all that tarnish just come right off. Wait about 20-30 minutes and pull out the silver, rinse, and dry it off. If you need a little more cleaning power for heavily tarnished pieces, you can also add a little white vinegar and salt to the mix, according to our next TikTok hack. 
Variations of this TikTok hack to try
For necklaces, charms, and silverware with light tarnish, the baking soda and aluminum foil hack can work wonders. However, for larger pieces or those with heavy tarnish, it's going to take a little more cleaning power to get them glittering than what baking soda and aluminum foil can offer. Try adding white vinegar and salt to the mix to get a bit of extra oomph.
For this TikTok tarnish-blasting hack, you'll need a cup of boiling water, a tablespoon of salt, a tablespoon of baking soda, and half a cup of white vinegar. You'll follow the instructions from before about lining your bowl or pan with foil and placing your jewelry. Pour the water, baking soda, and salt over the jewelry, and add the white vinegar to the mixture. The fizz is totally reminiscent of elementary school science fairs. Let it sit for ten or more minutes and rinse. If the silver is still heavily tarnished, allow it to sit a little longer for an hour or more, then polish it. 
In addition to removing the tarnish, make sure to keep your jewelry safe from the elements like sun and water. It's also good to keep it in a lined case. If tarnish happens, make your life easier and your jewelry brighter by trying a fun TikTok hack to add a little bit of sparkle to your life. It's simple, easy, and even fun! Plus, it made the list of Marth Stewart's best tips and tricks.