Jennifer Aniston Had A Surprising First Impression Of Justin Theroux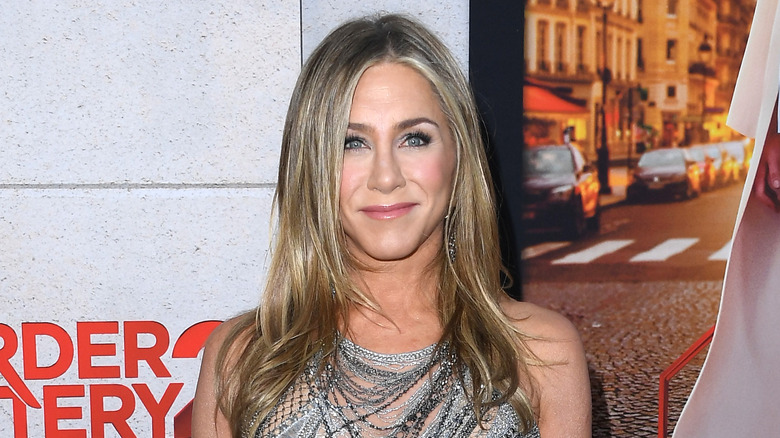 Steve Granitz/Getty Images
First impressions are tricky. Sometimes you get lucky reading a book by its cover, while other times you don't. For A-list actor Jennifer Aniston, her first impression of her ex-husband Justin Theroux was surprising. The "Just Go With It" star told PopSugar in 2012, "I thought he was so sweet and very nice. I remember thinking he was very dark. At first, you think he could be like a serial killer, but he's the nicest person in the world." 
The pair met in 2007 on the set of "Tropic Thunder," which was directed by Ben Stiller, a mutual friend of the two actors. However, they didn't start dating until after they starred in the 2012 movie, "Wanderlust." The comedy featured Aniston, Paul Rudd, Justin Theroux, and Malin Åkerman in the lead roles. There were rumors of a possible romance on the film's set, even though Theroux was seeing costume designer and producer Heidi Bivens at the time. 
However, Aniston denied the rumors in 2012, telling Lara Spencer of ABC's "Good Morning America," "Nothing happened on that movie. I mean, that was sort of — that's what is a rumor. I mean, it's again, it's the easy rumor. But nothing happened. We were just friends, great friends, on the movie." The actor continued, "I've known Justin for a long time ... we met when he was shooting 'Tropic Thunder.' He is really cute." And that wasn't all she thought.
Aniston 'started to sweat' just looking at Theroux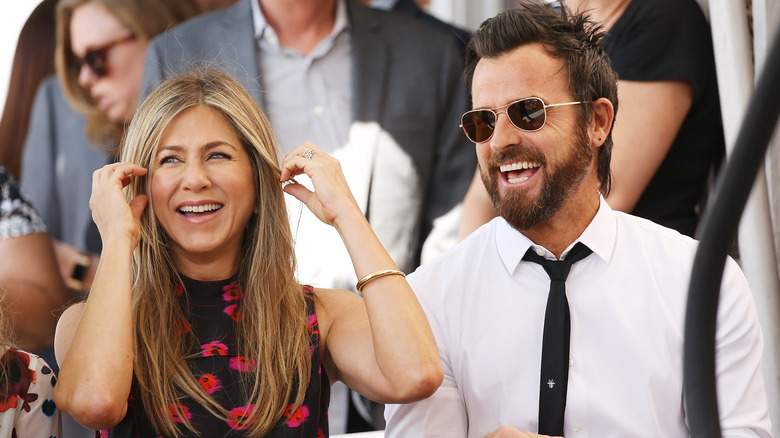 Michael Tran/Getty Images
It seems Jennifer Aniston had other thoughts flitting through her head the first time she met Justin Theroux on the set of "Tropic Thunder." The action comedy, "Tropic Thunder," a satirical film that nevertheless came under fire for antisemitic themes, the use of blackface by Robert Downey Jr's character, and its depiction of disabled people, was co-written by Theroux.
As far as first impressions go, actor and filmmaker Theroux made "The Switch" star feel hot — literally. Aniston, sharing the details about her initial musings, told E News in 2015 that the first time she met Theroux, "He was wearing black, black, black, and I started to sweat just looking at him."
However, there was a reason for his look and demeanor. "I remember thinking, Isn't he hot? But he was actually really quiet," shared Aniston in the February 2015 issue of InStyle magazine (via USA Today). "I later came to find out that he was just exhausted because he had been writing nonstop, like a little hamster on a wheel. This was his one night off, and he had no personality, but he was very sweet and very overdressed. I was like, 'You must be really shvitzing up a storm in those jeans and combat boots.'"
Theroux was unrecognizable on the set of Wanderlust
Justin Theroux is known to completely immerse himself in the characters he plays, and perhaps this is why Jennifer Aniston had a hard time recognizing the actor on the set of "Wanderlust." Theroux played Seth, the long-haired, full-bearded, charismatic leader of a Georgia free-love commune that Aniston's character Linda Gergenblatt becomes intrigued by.
Discussing the movie and what she thought of Theroux, sitting alongside co-star Paul Rudd, the "Cake" actor told PopSugar, "I didn't recognize him as Seth when we were at the camera test because there was a beard and there was no Justin there. But that's what so — I think — amazing about him. He can wear looks. He can do the different looks and he just disappears."
Aniston and Theroux dated for a while before getting engaged in 2012 and eventually tying the knot in 2015. But the pair announced their split in February 2018 in a joint statement that read, "This decision was mutual and lovingly made at the end of last year. We are two best friends who have decided to part ways as a couple, but look forward to continuing our cherished friendship" (via People). Given their preference for privacy, it's not surprising that Justin Theroux refuses to talk about his ex-wife. Despite going their separate ways, the pair have remained friendly, even spending Thanksgiving together in 2019.