Rosie O'Donnell Once Trashed Whoopi Goldberg's On-Set Behavior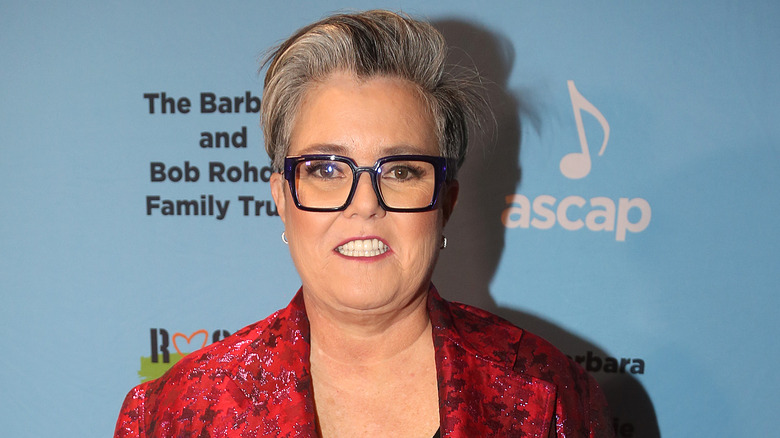 Bruce Glikas/Getty Images
"The View," which began airing on ABC in 1997, has a reputation for arguments that go a bit too far. From Rosie O'Donnell's and Elisabeth Hasselbeck's infamous on-air yelling match to Joy Behar and Whoopi Goldberg walking out on guest Bill O'Reilly, there's no shortage of drama on the daytime talk show. As co-creator and former host Barbara Walters once told ABC News, "Feuds seemed to be fueling the ratings."
In its 25-plus years on air, "The View" has cycled through over 20 hosts, including Disney star Raven Symoné, actor Rosie Perez, and even Candace Cameron Bure of Hallmark Channel fame. "'The View' is an institution and incomparable platform for women of different backgrounds to share their opinions and insights ... " one of the show's current hosts, Ana Navarro shared with ABC. For Rosie O'Donnell, however, the environment was neither fulfilling nor friendly, and she took her leave twice, once in 2007, and a second time in 2015. Her most recent exit was at least in part due to on-set tension with Whoopi Goldberg. 
Rosie O'Donnell says The View was her worst television experience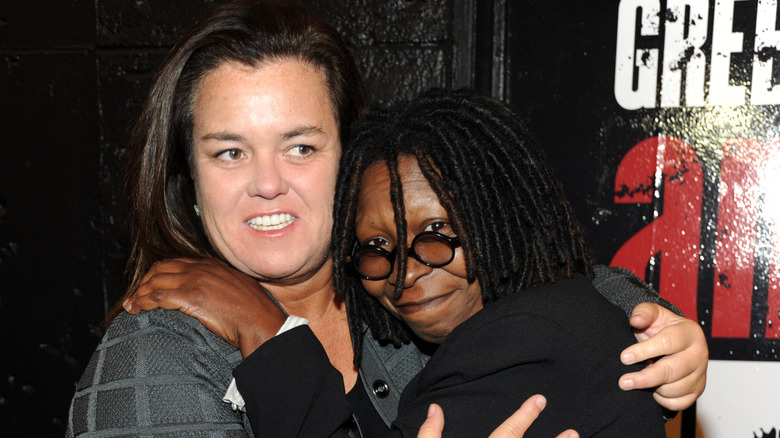 Kevin Mazur/Getty Images
In 2014, Rosie O'Donnell returned to co-host "The View" for a second season — she had previously appeared on the show from 2006 until 2007. As the "A League of Their Own" star told Brooke Shields on an episode of the "Now What?" podcast, she didn't expect to butt heads with fellow comedian and co-host Whoopi Goldberg, but the tension between them was undeniable. "Bill Cosby was a big topic [at the time], and I wanted to discuss Bill Cosby and Whoopi did not," O'Donnell recalled. This wasn't their only source of conflict, however ... O'Donnell had previously criticized Goldberg for defending defamed director Roman Polanski who was charged with sexually abusing a minor in 1977. Eventually, O'Donnell decided it was time to make her exit yet again.
"Whoopi Goldberg was as mean as anyone has ever been on television to me, personally — while I was sitting there," the "Sleepless in Seattle" actor told Ramin Setoodeh, the author of "Ladies Who Punch: The Explosive Inside Story of The View," per People. According to O'Donnell, "[Goldberg was] Worse than Fox News," and her time on "The View" limited her creatively, forcing her to discuss lipstick shades rather than global politics (as she would have preferred). Despite their complicated history, Rosie O'Donnell still has respect for her former co-host. Still, it's unlikely they'll ever join forces on a talk show again. 
Rosie O'Donnell also roasted Donald Trump on The View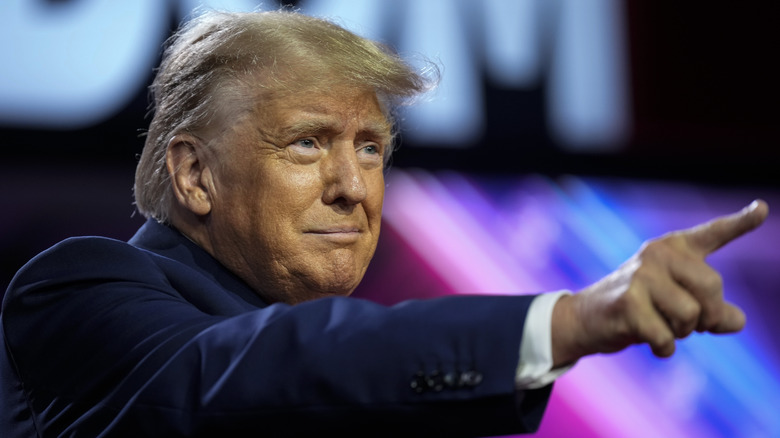 Drew Angerer/Getty Images
Way back in 2006, long before Donald Trump announced his presidential candidacy, Rosie O'Donnell made her stance on the business mogul-turned-reality host pretty clear. Live on "The View," she publicly lambasted the future president, pointing out his questionable romantic history and alleged bankruptcy ... "My memory of it was she took over the stage and went crazy on him," Joy Behar, one of the talk show's former hosts, told Ramin Setoodeh, adding, "She pulled her hair over and made comments about his infidelities and his money, which probably really freaked him out" (via Vanity Fair).
As for Trump's response? He threatened lawyers and went after O'Donnell's appearance. Even in the early 2000s, the "Celebrity Apprentice" host was already known for his fragile ego, especially when criticized by women. "She got him, and he could not control himself," remembered Joy, continuing, "He could not stop talking about Rosie O'Donnell, calling her every name in the book, going after her physicality." Unfortunately, O'Donnell received very little support in the midst of all this turmoil — even Barbara Walters, long-time host and co-creator of "The View," was little help. O'Donnell accused her of catering to Trump, and the pair got into a yelling match in the dressing room. Although the argument created tension between the two women, they were able to mend their relationship prior to Walter's death in 2022. It seems that arguments, both onscreen and off, were part of the fabric of this daytime talk show.