A Look At Missy Elliott's Decades-Long Friendship With Janet Jackson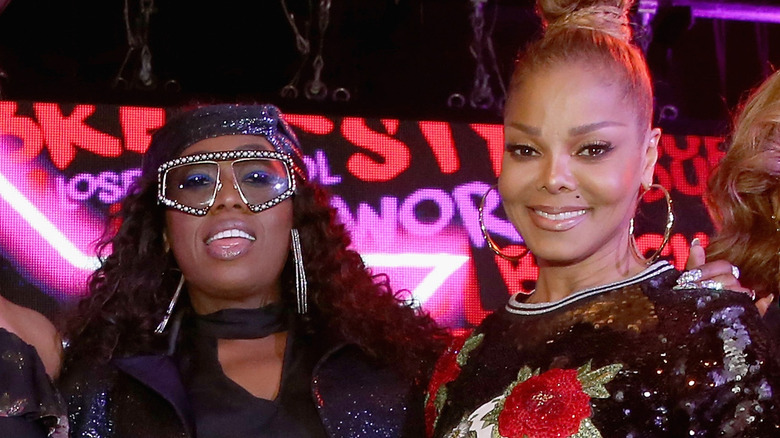 Bennett Raglin/Getty Images
Janet Jackson and Missy Elliot first paired up with the remix of Jackson's song "Go Deep" in 1998. They went on to record additional songs and remixes together over the years, including "BURNITUP!" and "Son of a Gun (I Betcha Think this Song is About You.)"
The untold truth about Missy Elliott is that before the two met, she was a huge fan of Jackson, who appeared on the TV shows "Good Times" and "Fame" in her youth. Elliot would write fan letters to Jackson and hope to see her and her brother Michael show up. "I used to get my mother to get 25-cent stamps," she told People. "I said, 'They're gonna come pick me up — her and Michael are gonna pick me up from school.' I used to visualize them in a limo pulling up to my school. To now be friends with her and to have her say that she's proud of me means the world to me."
The two musicians have been friends ever since they started working together in 1998. Here's a glimpse at this unexpected friendship.
A grand gesture of friendship
Last summer, Janet Jackson demonstrated how much her friendship with Missy Elliott meant to her by hopping on a flight to come to support her friend. In an Instagram post, Elliott shared how difficult things have been the past two years, namely, going through isolation during to the COVID-19 pandemic. She missed her friends and family and said she hoped to see Jackson that year. Jackson told her she'd be there. Elliott appreciated her saying that but figured she was just saying that to be kind. She did not expect what happened next.
A few days later, Elliott got a text from Jackson saying "I'm here." She was elated. "I began to tear up because she flew all the way from London and spent two days with me," Elliott wrote in an Instagram post. "We cut up and laughed for 2 days straight! I sure needed that just to laugh & feel at peace."
Words of encouragement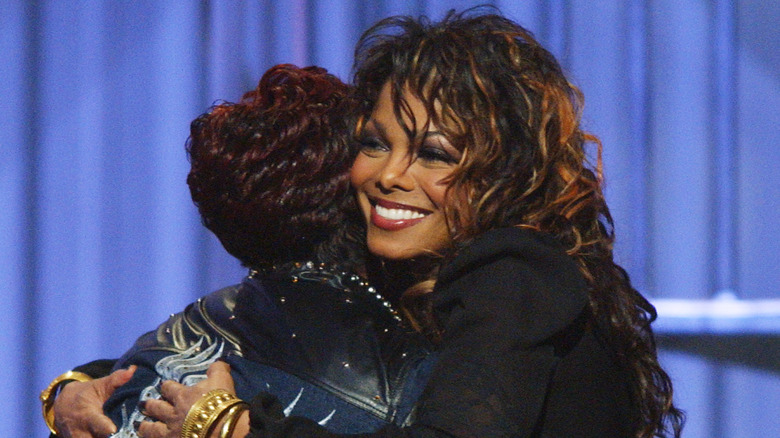 Michael Caulfield Archive/Getty Images
Janet Jackson had a stunning transformation but didn't leave her friends behind. Missy Elliott and Janet Jackson's friendship takes place on and off the stage. Jackson's State of the World Tour started in 2017 and was later extended and on the last night of the part of the tour that took place in 2017, Jackson surprised her fans by bringing Elliott on to join her. Additionally, Jackson shared her deep appreciation for her friendship with Elliott during the 2020 Back Women in Music event, per Essence. "Creativity is a beautiful thing," she said during her speech. "And when creativity flows so freely from a musical genius, all we can do is express gratitude. I am so grateful for Missy's beautiful soul."
Elliott was selected for the 2023 Innovator Icon Award in early June. Before she received it — and before Jackson's surprise visit — Elliott shared that Jackson had shared some encouraging words. "Janet said that she is proud of me," Elliott told People. "You have to understand — the majority of us look at the Jacksons like royalty. To have Janet Jackson say that she's proud of you — that speaks for itself."