Queen Camilla's Dior Ascot Ensemble Might Be A Subtle Dig At Meghan Markle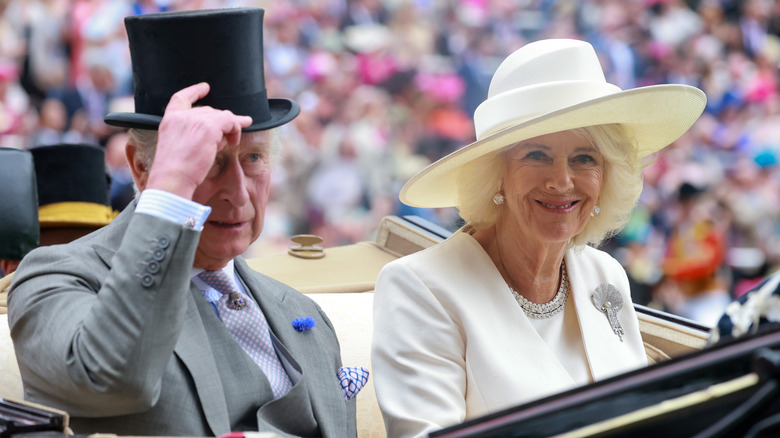 Chris Jackson/Getty Images
The Ascot Racecourse, which was founded in 1711 by Queen Anne, hosts a special series of races every June that is presided over by the reigning king and queen. Known as Royal Ascot, the five-day event is attended by approximately 300,000 visitors who arrive dressed to the nines and is considered the fashion event of the British summer season.
The first day of Royal Ascot 2023 began with the usual procession, where King Charles and Queen Camilla entered the arena in a horse-drawn carriage. Beside gray-suited Charles, Camilla was a striking figure dressed entirely in soft shades of cream, with a dress and coat made by Dior topped with a Philip Treacy hat. The queen's fashion sense excited many royal observers, including the Daily Mail, who even suggested her choice of designer was Camilla's way of subtly mocking Prince Harry and Meghan Markle.
In recent weeks, rumors swirled that the Duchess of Sussex had been in the midst of negotiating a deal worth millions with the French fashion house. Yet, just before Royal Ascot, Women's Wear Daily confirmed with a spokesperson that Dior never had any intention of hiring Meghan as a brand ambassador. Was Camilla's Royal Ascot attire meant to be a subtle put-down of the Sussexes, or something else entirely?
Camilla's choice of accessory referenced previous queens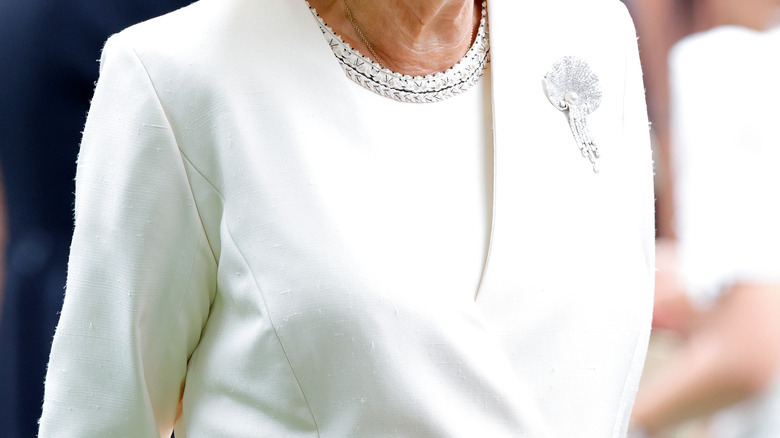 Max Mumby/indigo/Getty Images
Keen observers noted that Queen Consort Camilla Parker Bowles also wore a Courtauld Thomson Scallop-Shell brooch to complement her white-on-white outfit. The spectacular pin features a single pearl surrounded by diamonds with an additional fringe of bejeweled threads beneath (via Hello! magazine). The stunning piece previously adorned outfits worn by both Queen Elizabeth II and the Queen Mother.
In fact, the latter wore this special heirloom, a gift from the sister of designer Lord Courtauld-Thomson, to celebrate her 100th birthday. Queen Elizabeth, meanwhile, inherited the brooch when her mother died in 2002, and following her own passing in 2022, the luxurious jewel found its way to Camilla.
Seen through this historical lens, her fashion selections for the first day of Royal Ascot were meant as a tribute to the late monarch, whose love of horses — she started riding at age three — was well-known. This kinder, gentler interpretation of Camilla's intentions was solidified by a second fashion decision made for the royal horse-racing event.
It's important for royals to always dress the part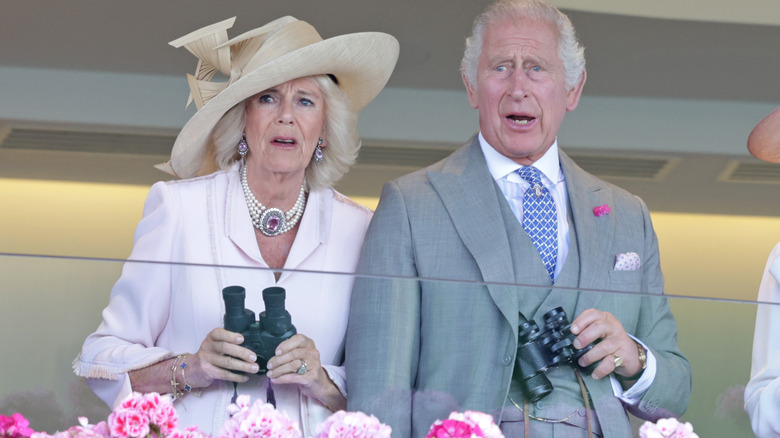 Chris Jackson/Getty Images
On day two of Royal Ascot 2023, Queen Camilla repurposed a look that she'd previously worn to Prince Harry and Meghan Markle's 2018 wedding, per People. Camilla even accessorized the familiar pink coat dress, designed by Anna Valentine, with the same multi-strand pearl necklace that she'd worn for the royal nuptials. This can only be interpreted as a respectful nod to the Sussexes. 
Camilla's life after meeting then-Prince Charles is difficult for most of us to imagine — bottomless glasses of champagne, globe-trotting, and endless black-tie events. Fashion, if not foremost on her mind, must be a constant concern. A recent interview in British Vogue revealed that the queen consort relies on a much-needed stylist, Jacqui Meakin, who also clothed the Queen Mother. 
While she attends royal shindigs, Camilla mostly makes public appearances on behalf of around 100 charitable organizations for which she serves as president or patron. As the official royal website states, "Her Majesty's charity work is varied, but several themes prevail; health and well-being, promoting literacy, the arts, animal welfare, and supporting survivors of rape and sexual assault." She must dress tastefully, always appropriately, yet without obvious repetition.