The 2 Most Important Factors That Can Make Or Break Your Mascara's Quality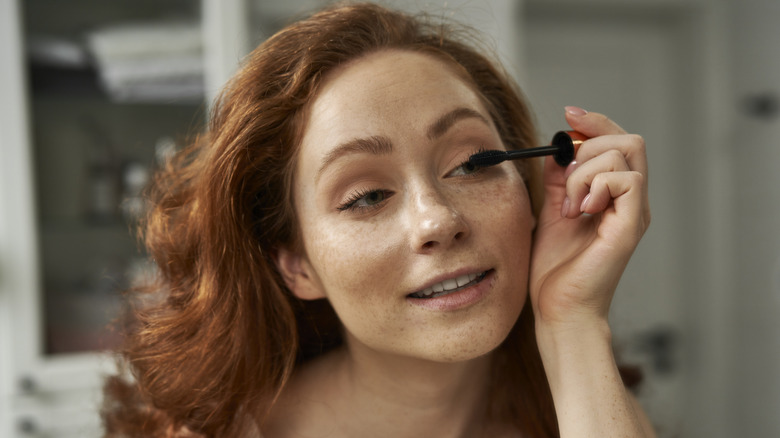 Gpointstudio/Getty Images
Finding a good mascara can honestly feel like looking for a needle in a haystack. There are so many brands and formulations on the market these days. It's not only overwhelming to walk down the makeup aisle, but it can get expensive if you continue to try products that don't work for you.
While it's popular amongst social media stars and celebrities to get their lashes done professionally for a longer, fuller look, most people can't afford these appointments on a regular basis. This leaves many people searching for the perfect mascara that will elongate those lashes, while also making them look thick but not clumpy. In actuality, preventing clumpy mascara is easier than you think.
There are many campaigns designed to entice buyers toward their product. However, consumers have started questioning the authenticity of major advertisements and turning toward social media reviews for more trusted results. With so much confusion about what is best within the beauty world, it's helpful to narrow things down and focus on the two most important factors in any mascara you buy: the specific formula and the lash wand applicator.
Know the look you are trying to achieve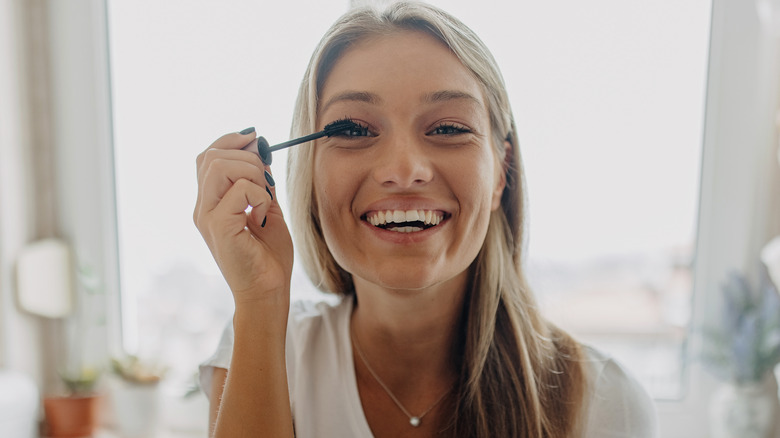 Supersizer/Getty Images
According to TZR, the thickness and consistency of a mascara formula are just as important as the type of brush you are using to coat your lashes. Celebrity makeup artist Allan Avendaño explained to TZR that the mascara formula is what ultimately determines the look of your lashes but the brush is necessary for creating that end result. Since different mascaras are formulated based on things like volume, length, or fullness, their brushes will also have specific purposes during the application process.
With many people also learning about what it means to be a conscious consumer, the ingredients used within each formulation are something buyers are also concerned about. While prioritizing non-toxic products and shopping with cruelty-free brands is based on personal convictions, these values can leave some shoppers with even fewer products to choose from.
Luckily, most brands still have a wide variety of mascaras to pick from based on your goals. For example, a super thick, dense brush with an hourglass shape will likely be necessary for volume because the goal is to coat all of your lashes in that thick formula. On the other hand, if you are looking to create more length and definition, your mascara formula will likely be lighter and the brush itself will be smaller and thinner, so it can focus on separating your individual lashes.
Understand the basics of marketing
With so many options to choose from, it's common for buyers to check out social media reviews before spending their money on a new product. However, this trust in influencers can also be problematic. TikTok makeup guru Mikayla Nogueira faced massive backlash in January of 2023 when she posted a sponsored video of herself using L'Oréal's telescopic lengthening mascara. Fans suspected that in between clips, Nogueira put on fake eyelashes in order to make the mascara appear more effective than it actually was.
According to The Cut, the entire debacle became known as "lashlighting," which was the internet's way of accusing Mogueira of gaslighting them into thinking her lashes were real. Interestingly, other makeup influencers came to the defense of the mascara itself, saying that it really is a great product.
Of course, many marketing photos are for looks and don't depict the exact product you will receive. Therefore, it's important to take pictures and reviews of mascara with a grain of salt. Every face is different and the same mascara can look drastically different based on unique features and the natural look of your lashes. Simply understanding what you are trying to achieve with your mascara will help you pinpoint the brush and formula that will best meet your needs.