Julia Roberts' Complicated Relationship History Explained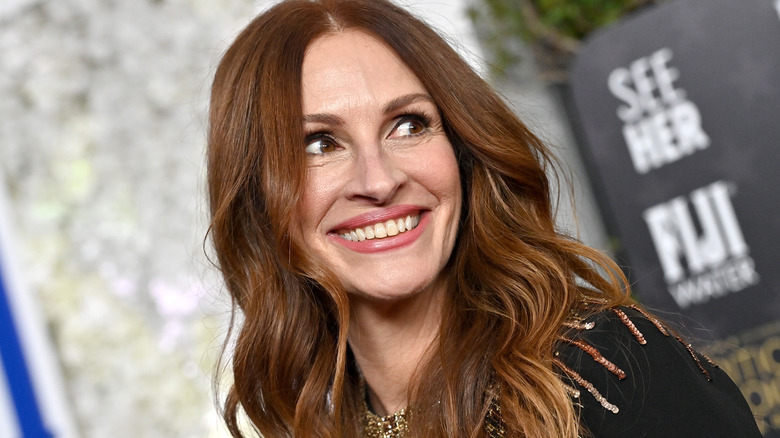 Axelle/bauer-griffin/Getty Images
Julia Roberts has long maintained a rarified position in Hollywood — she's one of the few women to wear the media-granted title of America's Sweetheart. She first enchanted viewers in 1988's "Mystic Pizza," then stole their hearts entirely two years later in "Pretty Woman." More hit movies followed, with highlights including: flirting with Hugh Grant in the rom-com "Notting Hill"; holding her own opposite Oscar-winners Sally Field, Shirley MacLaine, and Olympia Dukakis in "Steel Magnolias"; charming moviegoers all over again in "My Best Friend's Wedding"; and winning an Oscar for portraying a real-life activist in "Erin Brokovich."
Since Roberts first skyrocketed to fame in the '80s, fans have watched her date some of the world's biggest stars. Roberts has been married twice; the first marriage ended after only two years, but the second one has taken root. In 2022, she and her husband Danny Moder celebrated their 20th wedding anniversary. The couple also shares three kids: twins Hazel and Phinnaeus and their younger son Henry. 
Still, Roberts' journey to true love has been a long and winding road. Here's a breakdown of the actress' complicated relationship history.
Rumor has it she hooked up with rocker Billy Idol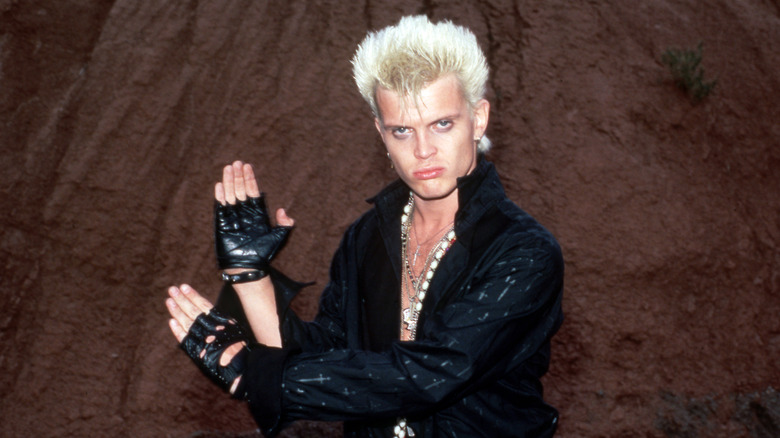 Icon And Image/Getty Images
Digging into the annals of Julia Roberts' dating history, the earliest famous name that emerges is Billy Idol. The British rockstar — whose '80s hits included the likes of "White Wedding" and "Rebel Yell" — reportedly met Roberts on a flight. According to reports, Idol wooed her before the plane landed, resulting in the two having a brief fling. 
At least that's the apocryphal rumor that has somehow managed to survive for decades, even briefly referenced in a profile on Idol in the Daily Mail. For his part, Idol's reminiscences of his romantic past certainly leave the door open for the story to be true. "I've been lucky with ladies," he told the outlet. "Lots of one-night stands, obviously."
However, neither Roberts nor Idol has ever publicly addressed whether an affair actually took place (or whether they became members of the Mile High Club before their plane touched down). Still, until either party confirms or denies the gossip, it's more fun to assume that it happened. 
Julia Roberts dated a much-older Liam Neeson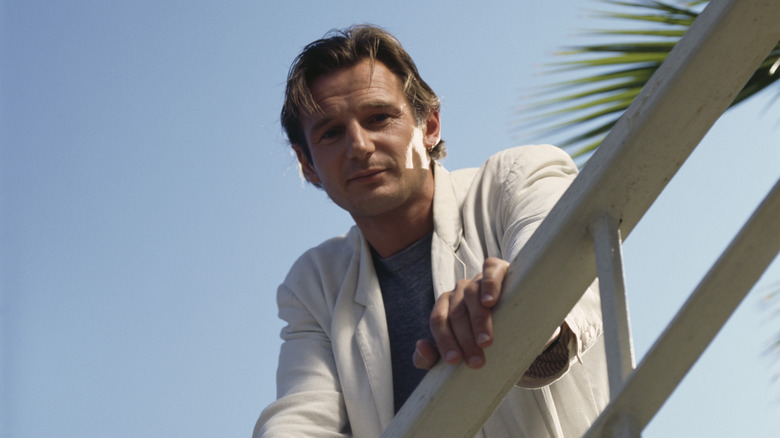 Nancy R. Schiff/Getty Images
Julia Roberts was just 19 when she reportedly began dating 35-year-old Liam Neeson in the late '80s. Despite their considerable age difference, Roberts' romance with the star sparked like wildfire after they met on the set of her first ever movie, the 1988 film "Satisfaction."
According to celebrity biographer Kitty Kelley — whose unauthorized biographies on the likes of Frank Sinatra and Nancy Reagan have spawned both headlines and controversy — the fact that Roberts' father died when she was just 10 years old could be one reason behind her attraction to Neeson. "You don't have to be Dr. Freud to figure that one out," said Kelley in the 2017 TV special "The Kitty Kelley Files: Julia Roberts." "I mean, all of us would fall in love with Liam Neeson, but for someone who never really had a father figure that she could look up to and admire ... He was her first leading man, but he was also her first big love affair." 
According to Tyler Johnson of The Hollywood Gossip, Roberts and Neeson dated for two years. "They embarked on a relationship that lasted for quite some time," he said in an interview for the special. Kelley added, "Liam Neeson was great with Julia Roberts," while also noting that, for a young Roberts, "This would start a pattern with other leading men."
The actress dated her Steel Magnolias co-star Dylan McDermott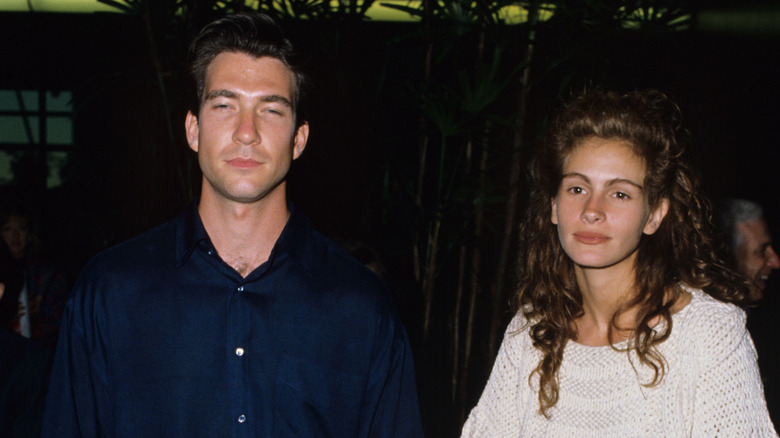 Steve.granitz/Getty Images
Roberts' standout performance in 1988's "Mystic Pizza" led her to be cast in 1989's "Steel Magnolias," the biggest film she'd starred in yet. Among her co-stars was actor Dylan McDermott, who played her character's husband. The movie was a turning point for Roberts; not only did her performance earn her an Oscar nomination, but she also began a serious relationship with McDermott. 
Their romance began in 1988 and lasted for about two years, with the two keeping the relationship low-key — so much so that neither has ever spoken about the other in a public forum. According to reports, however, their relationship was steadily progressing, and when McDermott popped the question, Roberts said yes. 
Even though they were reportedly engaged for most of the two years they were together, the stars never made it to the altar. One major reason had to do with Roberts' 1990 movie "Flatliners" — as it turned out, she abruptly called off the engagement with McDermott when she wound up falling for one of her co-stars. 
Roberts nearly married Kiefer Sutherland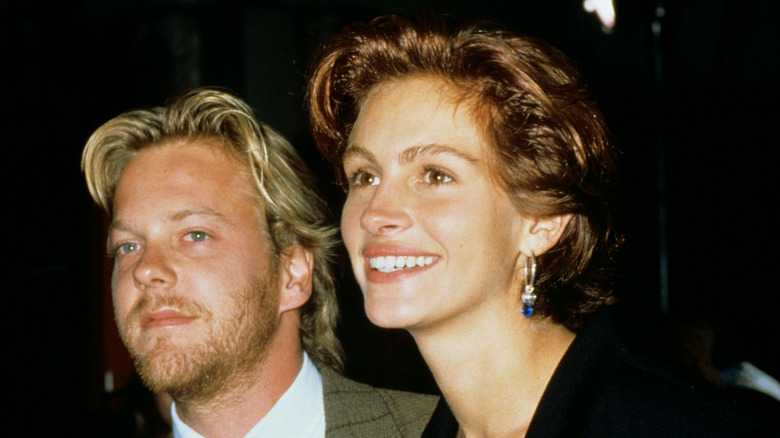 Steve.granitz/Getty Images
While working on "Flatliners," Julia Roberts fell in love with her co-star Kiefer Sutherland. That was inconvenient for them both at the time, given that Roberts was engaged and Sutherland was married. However, the pair eventually got engaged themselves and set a wedding date, with the ceremony scheduled to take place on a Hollywood soundstage in front of 150 A-list guests.
But three days before the wedding, the couple called it off. "It has been mutually agreed upon that the wedding has been postponed," announced Roberts and Sutherland in a joint statement to People. Not everyone, however, agreed that the decision was mutual. "It was Julia who called the wedding off," an insider told the outlet. "She has wanted to do it for some time but didn't know if she could find the courage." In an interview with Entertainment Weekly later that year, Roberts insisted the situation was far more nuanced than had been reported. "I feel like Kiefer, for whatever reasons, tried to make it seem like he was the victim of the situation," she said. "But he shouldn't try to make himself look better by taking shots at me."
Sutherland later came to realize his former fiancée had made the right call. "I commend Julia for seeing how young and silly we were, even at the last minute, even as painful and as difficult as it was," Sutherland told Rolling Stone in 2006. "Thank God she saw it."
Her romance with Jason Patric had an unclear timeline
Steve.granitz/Getty Images
When the media reported on Julia Roberts and Kiefer Sutherland canceling their wedding days before it was supposed to take place, it was also mentioned that Roberts had flown to Ireland with actor Jason Patric, who was also Sutherland's best friend at the time. In fact, People printed that on what was supposed to have been her wedding day, she was spotted (sans engagement ring) having lunch with Patric. If it wasn't immediately apparent that the two were romantically involved, it certainly became clear after the Daily Mail claimed they were "practically making love" during the flight to Dublin. 
Roberts was asked about Patric in a 1991 interview with Entertainment Weekly — but she refused to offer any comment. "I choose at this moment not to speak about Jason for the reason that it is far more dignified and deserving of respect than to put it out there and to allow people to give their opinion on it at lunch," she declared. Ultimately, the relationship didn't last long, and the two split up the following year.
Years later, Patric weighed in on being one corner of this infamous Hollywood love triangle. "They had a relationship that ended and I was with her for a little while and it ended," he told Vulture of Sutherland and Roberts. "They've both been subsequently married several times and I think they're fine."
Roberts married singer Lyle Lovett — but it didn't last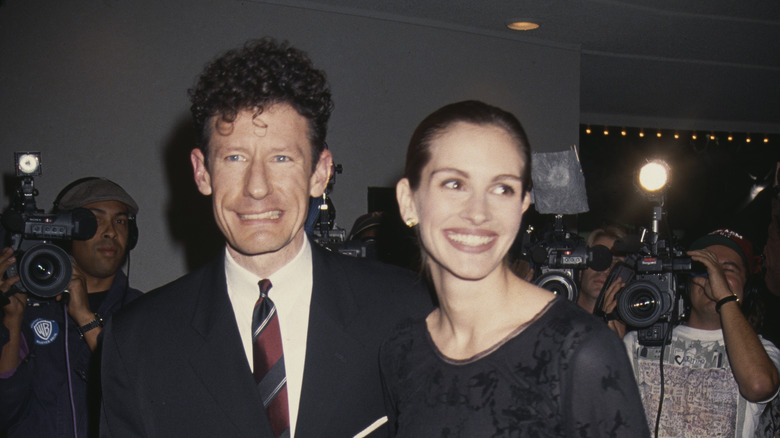 Michael Ochs Archives/Getty Images
Julia Roberts and country singer Lyle Lovett began dating in early June of 1993 and stunned everyone when they tied the knot just a few weeks later. Unlike her planned-but-canceled wedding with Kiefer Sutherland, there was no Hollywood glitz about the modest ceremony, which took place in the small town of Marion, Indiana. And for Roberts' part, she was too busy to take any time for a honeymoon. After the wedding, the actress returned to Washington, D.C., to resume filming on "The Pelican Brief." That December, Lovett admitted they still hadn't had a honeymoon. "But our life is like one giant honeymoon," he told People, also revealing that they'd never spent seven full days together before tying the knot. 
A year after their wedding, some surprising aspects of their lives hadn't changed since getting married — most notably, the two maintained separate residences in different states.
In the spring of 1995, after less than two years of marriage, the couple announced they were separating. "We remain close and in great support of one another," they said in a joint statement, as reported by The Associated Press (via Marie Claire Australia). Reflecting on the brief marriage in 1998, Roberts told the New York Daily News, "Mistake, no. Miscalculation, yes." She clarified, "Too many great things came out of it. We're bound like no other. We have this great shared experience that never had any nasty moments." 
The star had a rumored romance with Daniel Day-Lewis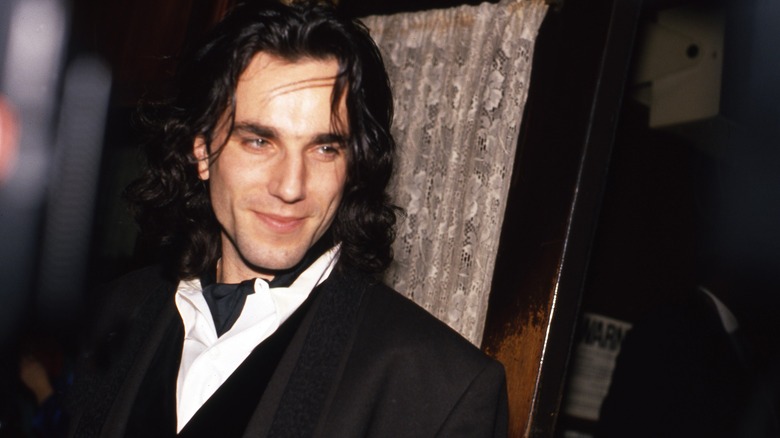 Catherine Mcgann/Getty Images
In a 1993 feature about Julia Roberts marrying Lyle Lovett, People published a list of the actress' famous exes, including Oscar-winning actor Daniel Day-Lewis (stating that the pair "reportedly" dated). A piece in the Daily Mail provided a bit more insight, placing the timing of the rumored romance after her relationship with Jason Patric but before she met Lovett. The article also alleged that her romance with Patric ended when he accused her of sleeping with Day-Lewis. However, the piece noted that "friends" of Roberts' (albeit the ones who dished about her to tabloids) insisted her relationship with Day-Lewis was strictly platonic, although they had engaged in some flirtation.
Day-Lewis' 1994 interview with The Baltimore Sun also references the rumor that he dated Roberts, though he didn't say anything revealing. Given that neither has ever confirmed or denied that they dated, the rumor remains just that. However, Roberts' deep admiration for Day-Lewis as an actor has never come into question. Producer Ed Zwick revealed in an essay for Air Mail that when Roberts was initially attached to the film "Shakespeare in Love" she had insisted that Day-Lewis play opposite her as William Shakespeare. Alas, Day-Lewis was already committed to another project and was unable to accept the part. However, Roberts was apparently undeterred, sending the actor roses along with a note that read, "Be my Romeo." In the end, though, neither actor starred in the movie. 
Roberts briefly dated Matthew Perry after guest starring on Friends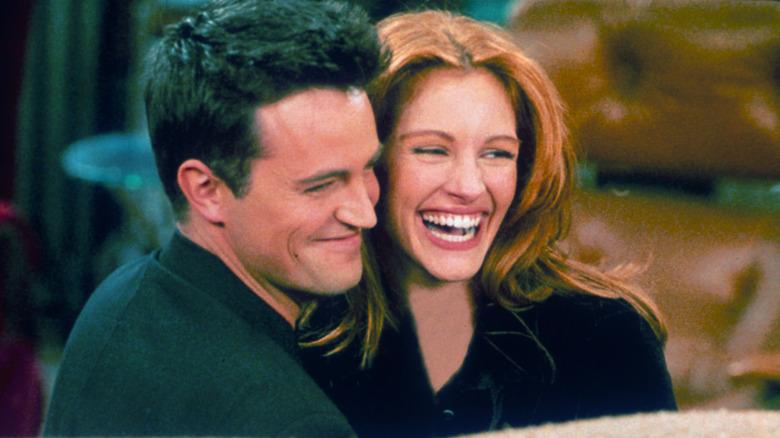 Getty Images/Getty Images
In 1996, Julia Roberts guest starred in a two-part episode of "Friends." Speaking with The Hollywood Reporter, the show's creators and writers recalled that star Matthew Perry contacted Roberts and enticed her to appear. She agreed — but only if she could be in a storyline involving his character, Chandler Bing. There was another condition. "She wrote back to him, 'Write me a paper on quantum physics and I'll do it,'" said series co-creator Kevin S. Bright. 
In his 2022 memoir "Friends, Lovers, and the Big Terrible Thing," Perry shared that he did just that. "The following day, I sent her a paper all about wave-particle duality and the uncertainty principle and entanglement, and only some of it was metaphorical," he wrote. As staff writer Alexa Junge told THR, that exchange led to a good amount of flirting between the two via fax. "She was giving him these questionnaires like, 'Why should I go out with you?' And everyone in the writers' room helped him explain to her why." Writer Jeff Astroff also confirmed the stars began dating not long after shooting the episode.
However, after just two months together, Perry became overwhelmed with fear that Roberts was going to dump him. "So instead of facing the inevitable agony of losing her, I broke up with the beautiful and brilliant Julia Roberts," he wrote. "I can't begin to describe the look of confusion on her face."
She enjoyed a brief dalliance with fitness trainer Pat Manocchia
Pat Manocchia is the founder of La Palestra, a New York City-based health and fitness facility. He's also a top personal trainer, whose celebrity clients include Jerry Seinfeld and Howard Stern. In 1996, he dated Julia Roberts.
During a 2010 appearance on Stern's radio show, Manocchia confirmed that he dated some famous women, including Mary Louise Parker and Julia Roberts. During the conversation, he also revealed his secret to wooing notable actresses. "Frankly? Because I didn't give a s*** that they were celebrities," he explained.
Eventually, however, Manocchia came to realize that the glamor of dating a celebrity was typically accompanied by a significant level of hassle. "That's a tough lifestyle ... having to walk outside and think that someone's got a camera on you all the time just sucks," he admitted. Another difficulty in his relationship with Roberts proved to be the disparity in their respective financial situations. "If someone has $50 million in the bank and you've got $5,000, it's not an equal relationship," he explained. "If she decided she wants to move to California, she's moving to California."
It was love at first sight with Benjamin Bratt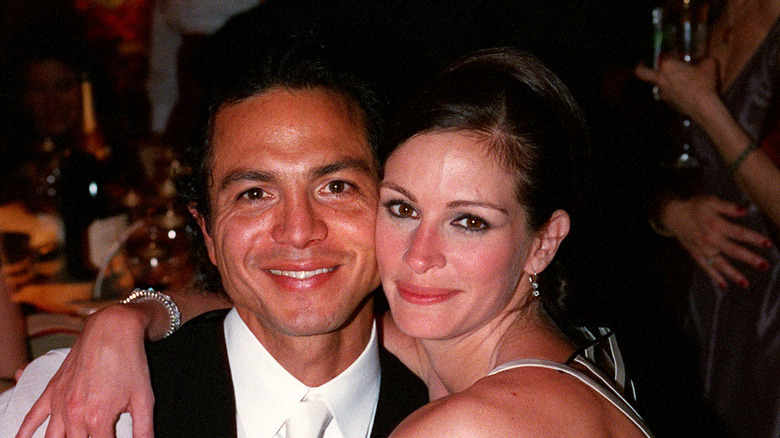 Getty Images/Getty Images
Julia Roberts first encountered fellow actor Benjamin Bratt in 1997. "We met in a restaurant," she told Vanity Fair, recalling, "He walked in, and I looked up at him, and it was like something hit me over the head with a bat." The two began dating and weren't shy about gushing about each other in interviews. "All that I have to say about Julia couldn't possibly fit into one or two sentences," Bratt told People in 1998. "We're just ecstatically happy," Roberts said during an appearance on Oprah Winfrey's talk show. "We're drunk with joy 24 hours out of the day. We're sickening." 
By August 2000, however, cracks appeared to be forming in what had seemed to be a picture-perfect Hollywood romance. An Insider told New York Magazine that the relationship was in a rocky patch. "At this point, they haven't seen each other in months. It's not necessarily over, but it's certainly hit a crisis point."
In 2001, outlets reported the two had split. Bratt told Vanity Fair in 2002 that he blamed the breakup on the immensity of Roberts' celebrity and his inability to cope with it. "When you live your life at that level of fame, it gets beyond your control," he explained.
Julia Roberts has a lasting love with her second husband Danny Moder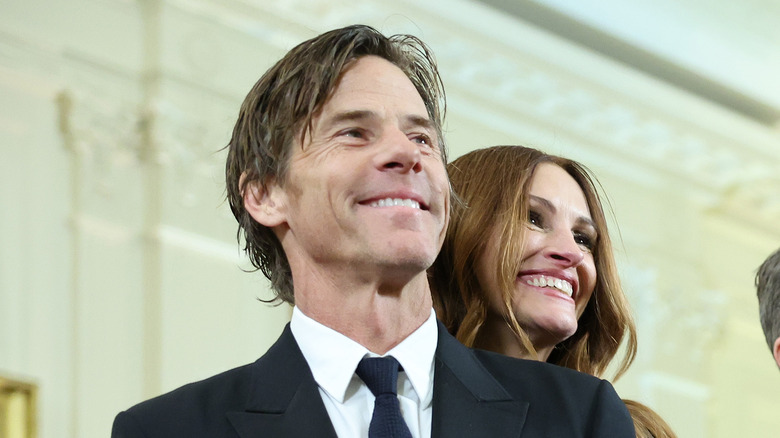 Kevin Dietsch/Getty Images
Julia Roberts was still involved with Benjamin Bratt when she met camera operator Danny Moder while filming "The Mexican" in 2000. At the time, Moder was married, but he subsequently got divorced. He and Roberts tied the knot on July 4, 2002, in a ceremony at Roberts' ranch in Taos, New Mexico. The following year, during an interview with Oprah Winfrey, she opened up about her husband. "He makes me feel my most comfortable self," she said. "I don't alter myself in any way."
The couple wasted little time when it came to starting a family. In November 2004 they welcomed twins, son Phinnaeus and daughter Hazel. Three years later, the couple welcomed a third child, Henry.
Unlike Roberts' first marriage, this one has stood the test of time, lasting two decades and counting. During a 2018 appearance on Gwyneth Paltrow's "The Goop Podcast," Roberts opened up about what's kept her and Moder together all these years. "He truly, to this day, to this minute is just my favorite human," she said. "I'm more interested in what he has to say or his point of view just than anybody. Really, we're so lucky in that way. We just really, really like each other and we just enjoy each other's company."