Harvey Weinstein Was Once The Center Of A Fight Between Angelina Jolie And Brad Pitt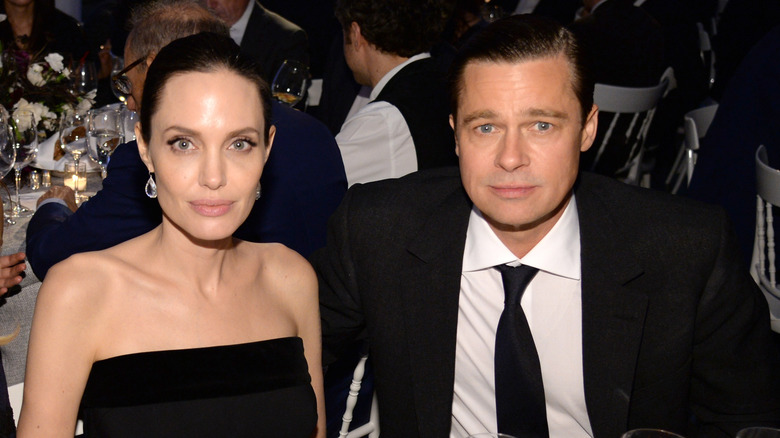 Kevin Mazur/Getty Images
Behind the flashing lights and overflowing champagne, Hollywood has notoriously been known to harbor dark secrets. One of which involves convicted criminal Harvey Weinstein. He has used his power and influence as a producer for over three decades and assaulted young women who are just starting out in Tinseltown.
One of these young women was actor Angelina Jolie. She detailed her experience with Weinstein in an email to The New York Times in 2017. Jolie wrote: "I had a bad experience with Harvey Weinstein in my youth, and as a result, chose never to work with him again and warn others when they did . . . This behavior towards women in any field, any country is unacceptable." Jolie was just 21 years old when she starred in the 1998 movie produced by Weinstein titled "Playing by Heart." According to Jolie, the producer attempted to sexually assault her in a hotel room while filming the aforementioned movie. She told The Guardian, "It was beyond a pass, it was something I had to escape." 
This unfortunate experience was enough for the "Maleficent" star to never work with the producer again. So when her then-husband Brad Pitt continuously worked with Weinstein on a number of projects, Jolie opened up about how his actions have hurt her — which of course turned into a fight between them. 
Jolie was hurt that Pitt continued to collaborate with Weinstein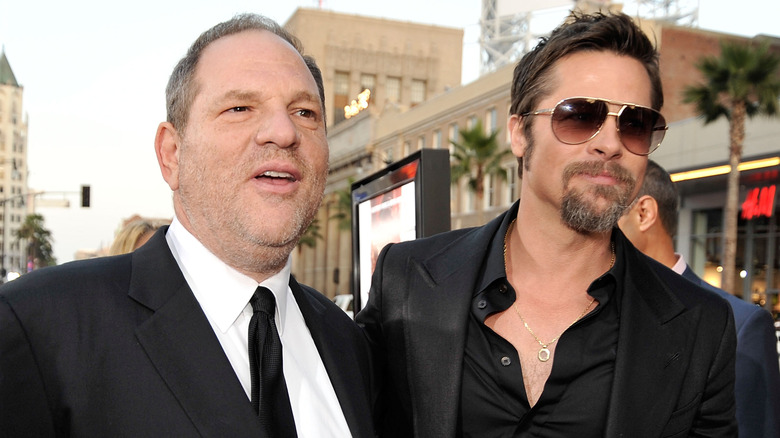 Kevin Winter/Getty Images
Angelina Jolie shared that Brad Pitt's decision to pursue collaborations with the sexual predator felt like the "Fight Club" star seemingly minimized her sexual assault. In an interview with The Guardian, she revealed, "We fought about it. Of course it hurt." She added that Pitt was even happy to work with Weinstein despite his knowledge of the said assault. 
Pitt has worked a lot with Jolie's abuser, one of Pitt's biggest movies was the 2009 World War II drama "Inglourious Basterds," which was directed by Quentin Tarantino and co-produced by the Weinstein Company. In another instance, according to Jolie, Pitt reached out to Weinstein to be a producer for the 2012 film "Killing Them Softly," which was eventually distributed by the Weinstein Company. 
As a result, Jolie purposely stopped attending promotional events for these films. She even gave up the chance to work with Oscar-winning director Martin Scorsese in the 2004 biographical film "The Aviator" due to Weinstein's involvement. "I was asked to do 'The Aviator,' but I said no because he was involved. I never associated or worked with him again. It was hard for me when Brad did," she shared with The Guardian. It's not clear if this was one of the reasons why the ex-power couple decided to part ways but after being together for almost 12 years, they officially called it quits in 2016, citing "irreconcilable differences." The divorce has resulted in some of Pitt and Jolie's messy moments.
Justice has finally been served — the downfall of the former movie magnate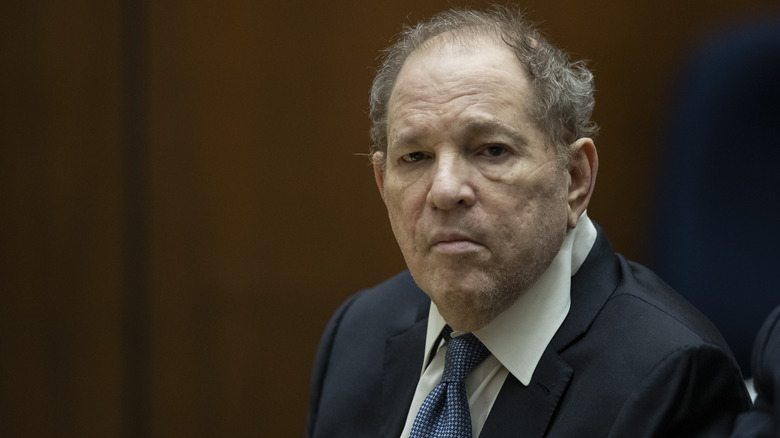 Pool/Getty Images
Angelina Jolie is one of the 87 women who accused Harvey Weinstein of sexual harassment and assault. USA Today published the complete list of Weinstein's accusers, which include Gwyneth Paltrow, Cara Delevingne, Eva Green, Salma Hayek, Lena Headey, Lupita Nyong'o, and many more. 
These allegations only came to light in 2017 when The New York Times published an investigative piece that detailed allegations of sexual harassment against Weinstein. In 2020, Weinstein was found guilty of criminal sexual acts in the first degree and third degree rape in New York. This resulted in a 23-year prison sentence. Another criminal conviction was given to Weinstein in 2022 after a Los Angeles jury found him guilty of rape and sexual assault. The latest court decision may add up to 24 years on top of Weinstein's current sentence.
In Hollywood, women are more often the victims of abuse by men in power, so much so that a survey conducted by USA Today with the Creative Coalition, Women in Film and Television, and the National Sexual Violence Resource Center revealed that 94% of women in the film industry have experienced some form of sexual misconduct. 
If you or someone you know is struggling with sexual abuse, sexual violence, or any form of sexual misconduct, help is available. Get in touch with RAINN through their National Sexual Assault Hotline at 800.656.HOPE and online.rainn.org y rainn.org/es.