What Anna Kendrick Has Said About Her Steamy Scene With Blake Lively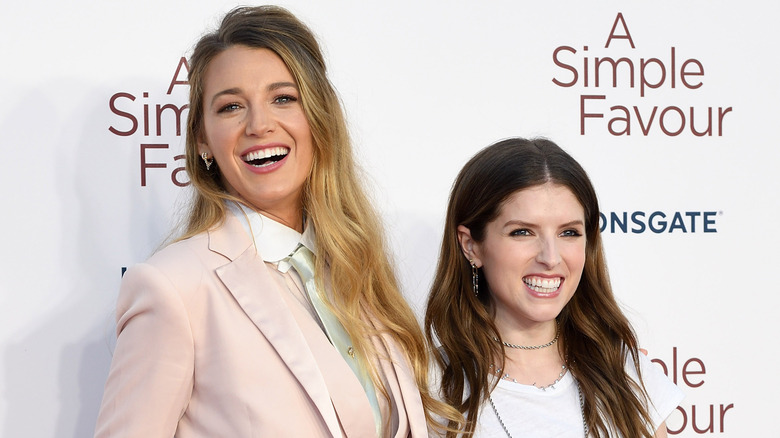 Karwai Tang/Getty Images
From that rain storm make-out in "The Notebook" to that famous upside-down moment in "Spider-Man," some on-screen kisses are hard to forget. In fact, the MTV Movie Awards has dedicated an entire category to steamy smooches since 1992. "Going back to 'Gone With the Wind,' screen kisses are a part of the landscape and a part of the tapestry, [they're] how people remember their favorite films," Doug Herzog, former head of original programming at MTV, told The Ringer, adding, "We hit on a vein that mattered to the audience. That was always MTV's secret sauce."
For the past 30 years, winners of "The Best Kiss" award have included "Twilight" power couple Kristen Stewart and Robert Pattinson (they took the trophy four years in a row) and Jennifer Lawrence and Bradley Cooper. In real life, the "Silver Linings Playbook" co-stars dreaded kissing one another. Over the past couple of years, the Netflix show "Outer Banks" has been dominating the category. 
Although Blake Lively and Anna Kendrick weren't nominated for the kiss they shared in 2018's "A Simple Favor," it was one of the year's most talked about smooches. According to Kendrick, it was also one of the mintiest.
In any kissing scene, minty breath is a must
What's the secret behind the best on-screen kisses? Gum. In "A Simple Favor," cheery vlog mom Stephanie (played by Anna Kendrick) befriends classy corporate mom Emily (Blake Lively). The two develop a friendship riddled with sexual tension and mystery, and in one scene they even share a kiss. Speaking with Pride Source, Kendrick explained that she and Lively were both conscious about their breath on set. "I mean, all I'm ever thinking about in [kissing] scenes is, who has gum? Who has a mint?" laughed the "Into the Woods" star, adding that her costar took care to freshen up before the make-out session. "[We] were the mintiest, freshest two people to have ever kissed in the history of America," she joked. Throughout her years in Hollywood, Kendrick's other on-screen kissing partners have included Ryan Reynolds (yes, Lively's husband), Skylar Astin, and Chris Pine.
In the wake of filming, the co-stars even joked about their relationship status on Instagram, Lively writing, "[Anna Kendrick] is the hotter, female[r] version of my husband [Ryan Reynolds] . . . so, would it reaaaally count as cheating?" Anna Kendrick responded, joking, "So glad we're finally taking this relationship public. I let Ryan have Deadpool, he can give me this."
There was alleged tension between Anna Kendrick and Blake Lively during filming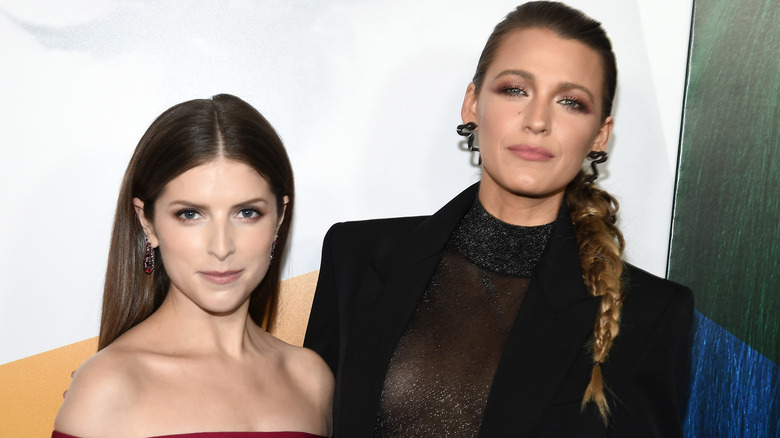 Steven Ferdman/Getty Images
Although Blake Lively and Anna Kendrick had previously met through Ryan Reynolds, "A Simple Favor" marked their first collaborative project. During press junkets for the film, rumors surfaced that there was on-set tension between the two actors. Speaking with BuzzFeed, Lively revealed that she was an hour and a half late to the first day of filming — no one on the crew warned Anna Kendrick. "That was the day I decided I hate you," the "Pitch Perfect" star joked, adding, "We were all talking sh** about you."
As an unnamed Lionsgate employee told @celebritymemoirbookclub in an Instagram DM, "They HATED each other. The studio even had to talk to them about making it look like they liked each other on press tours because it was starting to get obvious." Although neither actor has publicly spoken about the claims, their co-star Henry Golding said there's no truth behind them. "I think they got on pretty reasonably well . . . definitely no friction that I noticed," he said on "Watch What Happens Live." 
More than likely, rumors of a feud can be traced back to Kendrick and Lively's shared sarcastic sense of humor — in one interview, the former jokingly snapped, "Don't touch me," scooting away from the latter in mock annoyance (via YouTube). What's more, the pair are in talks to collaborate on "A Simple Favor" sequel, although an exact timeline has yet to be announced.