The Complete Evolution Of Jane Seymour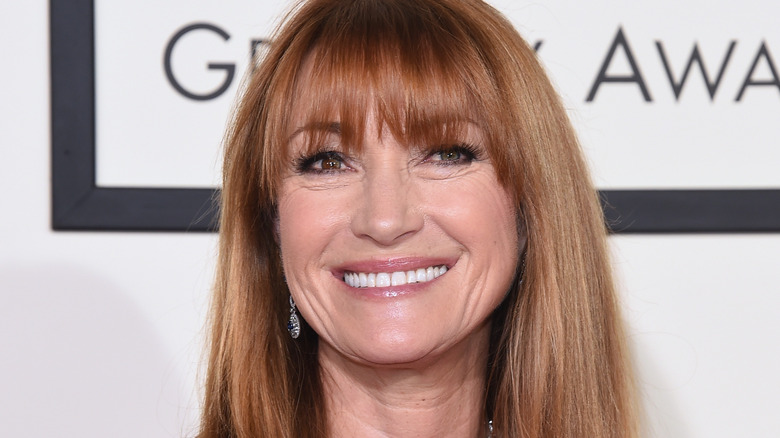 Jason Merritt/Getty Images
Although she first rose to fame as the Rapunzel-locked English rose who shared the name of Henry VIII's third wife, there are many layers to the enchanting Jane Seymour. Throughout the years, the multifaceted actor has proved herself a force to be reckoned with. As at home in lush period dramas as she is in the DC multiverse, Seymour is the rare star who can adapt to diverse and disparate genres as well as the changing cultural climate. Having aged gracefully — she has repeatedly sworn off aesthetic treatments and plastic surgery — the actor's career resurgence in middle and older age proves that life really does begin at 50 (and 60, and 70, and any other age, for that matter).
But life has been anything but smooth sailing for the iconic star. For all her achievements in acting, writing, and philanthropy, Seymour has had to endure some harrowing hardships along the way, including one particularly traumatic event that almost curtailed her career completely. All the while, however, the star has been able to reflect on those bumps with humor and pathos. "It's life," she told The List back in 2022. "Let's face it, sometimes something terrible happens and then for no reason, you laugh about something and you can't believe you did. Then, you go back to actually caring about what's really happened."
From Bond girl to Dr. Quinn and — of course — that unforgettable scene in "Wedding Crashers," let's take a look at the complete evolution of Jane Seymour.
Jane Seymour's altruistic upbringing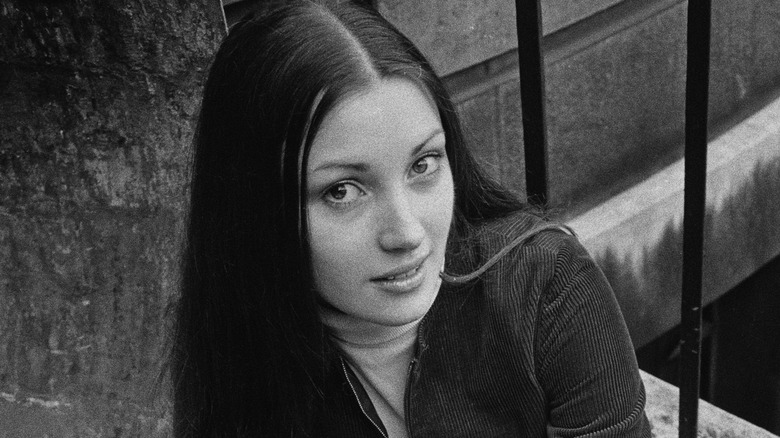 Michael Stroud/Getty Images
Joyce Frankenberg, as Jane Seymour was then known, was born in London to a middle-class family. Growing up, she witnessed the horrors of war firsthand due to the pervasive impact of her parents' wartime trauma. "I'm the child of two people who went through the Second World War and saw some horrific things," she told The Guardian in 2013. 
Her mom, Mieke, was a Dutch nurse who moved to Indonesia as a young woman. When World War II broke out, she spent three and a half years in a concentration camp in Japan. Her father, John, was a Jewish OB-GYN whose relatives had fled to the U.K. from Russia due to the antisemitic pogroms. Many of John's relatives were murdered in the Holocaust; his aunt Jadwiga's husband and children were killed in Poland, and she died by suicide as a result.
Despite the trauma Mieke and John carried with them, they were able to utilize their horrific experiences to instill their children with fundamental familial values. For instance, Seymour learned about the importance of altruism from a young age. "Because of the camps, my mother and the other survivors decided that their homes, if they ever had children, would be homes to one another," she told The Guardian in 2014. "So as a young kid we didn't have very much money but we would ... go around the Netherlands and spend time with young people whose parents had also been in the camp."
If you or anyone you know is having suicidal thoughts, please call the National Suicide Prevention Lifeline​ by dialing 988 or by calling 1-800-273-TALK (8255)​.
Richard Attenborough gave Jane Seymour her first role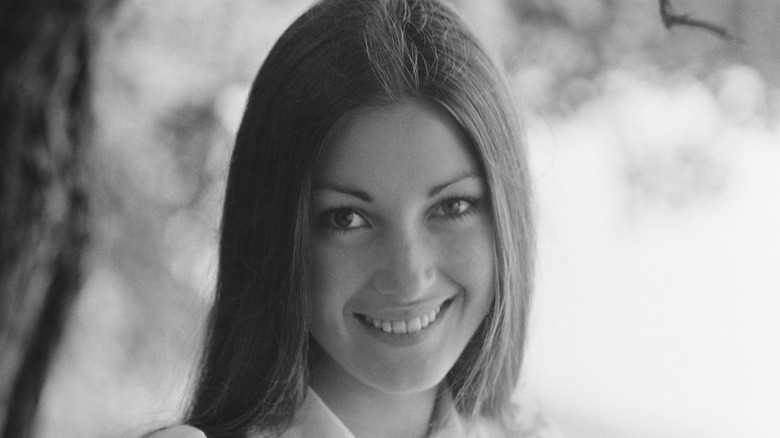 David Cairns/Getty Images
From a young age, Jane Seymour aspired to become a ballet dancer. At 13, she began dancing as a chorus girl in "The Nutcracker" and later scored pantomime roles. But her career unexpectedly ended up heading in a different direction when her choreographer spotted her star potential, encouraging her to audition for the 1969 film "Oh! What a Lovely War." Seymour was 17 at the time and looked upon the prospect of starring in a Richard Attenborough film with cynicism. "And at the crack of dawn, I'm in there," she recalled to Entertainment Weekly. "I get to sing a bit, dance a bit. Next, next, next. ... After two callbacks, I made it to the final call of 12 girls, and Richard Attenborough was there, and he picked me out as one of the six or seven."
And the choreographer wasn't the only one who noted Seymour's star power. Attenborough's agent was on set when the up-and-coming performer, who played a chorus girl in the film, immediately caught his eye. "Dickie's agent said, 'Who's that girl, three from the left?'" she said. "And [Attenborough] said, 'Oh yes, she's really good.' And he said, 'No, she's going to be a star. I want to represent her.'"
To be a star, however, the erstwhile Joyce Frankenberg decided that she should adopt a stage name. Accordingly, she believed a name of the regal variety would prove more marketable. And thus, a budding star was born.
Becoming a Bond girl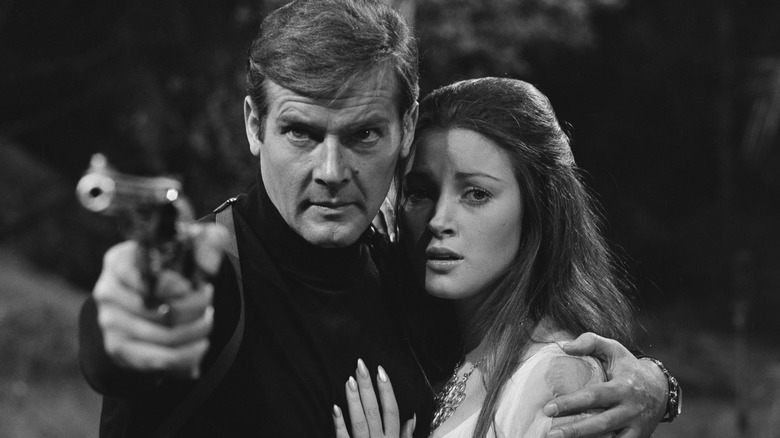 Express/Getty Images
Of all the Bond girls, Jane Seymour's Solitaire is arguably the most problematic. A virgin who can predict the future due to the power of her so-called purity, Solitaire shows that the 007 franchise has come a long way since 1973, with the likes of Léa Seydoux putting a multifaceted spin on the Bond girl in recent years. For all its dated innuendos, however, "Live and Let Die" did propel the then-unknown 22-year-old Seymour into the Hollywood big leagues. As for suddenly being branded a Bond girl? "At the time, coming from obscurity, it was a very nice thing. It meant I had a job," she told The Guardian in 2022.
Looking back on the role, Seymour acknowledges it was rather misogynistic. As such, she said the franchise could never get away with such sexist characterizations now. "My character is a virgin, and she has superpowers, because of her virginity, to read the future with tarot cards," she mused in an interview with The Independent. "Then, once Bond has had her, she's lost that and therefore she's no longer useful to anyone. She is discarded."
Unfortunately, life soon imitated art, and Seymour's induction into Tinseltown left her vulnerable to the advances of predators. The young actor was sexually harassed by a producer who lured her to his home. "It's not just Hollywood — it's every career where there is a woman, and a man has seniority," she told The Guardian.
Jane Seymour's close but tragic bond with Christopher Reeve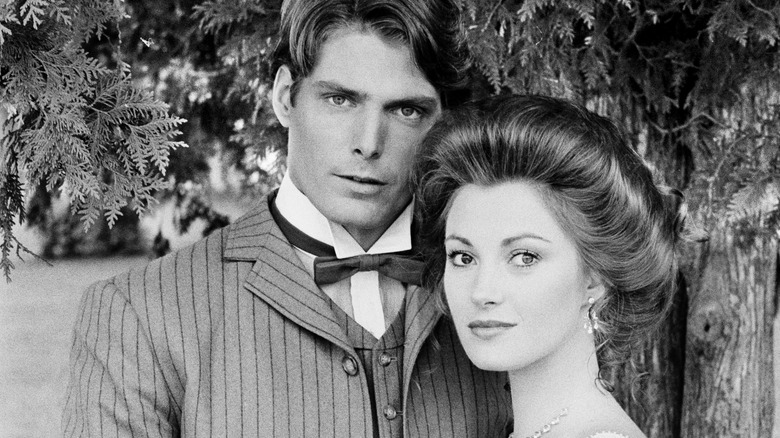 Derek Hudson/Getty Images
Following her sexual harassment ordeal, Jane Seymour returned to the U.K. and took a break from Hollywood. During this time, she appeared in British TV dramas such as "The Hanged Man" (1975) and the Dickens adaptation "Our Mutual Friend" (1976). In 1980, she returned to the big screen in America, starring alongside Christopher Reeve in the romantic tearjerker "Somewhere in Time." This would prove the start of a beautiful friendship, with Seymour and Reeve hitting it off immediately. "Apparently I was his choice," she told The Lady. "When we started working together, we really connected in a really wonderful, magical way and our love for one another and our friendship lasted until the day he died."
Appearing at the TCM Classic Film Festival (via Entertainment Weekly) in 2022, Seymour revealed that she and Reeve fell passionately in love when making the film but kept their dalliance a secret. Their whirlwind romance came to an end when Reeve confessed that his ex-girlfriend, Gae Exton, was pregnant with his son. He told Seymour that it was only right for him to reconcile with Exton and help her raise their child. "I then had to put my big-girl pants on," Seymour said of having to continue filming "Somewhere in Time" despite her heartbreak.
Although the end of the romance devastated Seymour, she remembers Reeve fondly. "I have to believe that I will one day see him somewhere in time," she reflected.
She became a household name with Dr. Quinn, Medicine Woman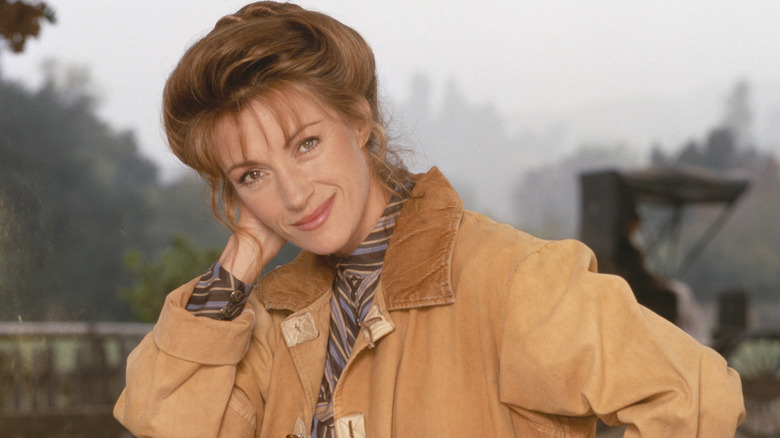 Michelle Neese/Getty Images
What was so special about Saturday night in the early '90s? As Homer Simpson would say, "A little show called 'Dr. Quinn, Medicine Woman.'" But the role for which Jane Seymour remains most famous emerged out of necessity.
At the time, she was in the midst of an ugly divorce from her husband and business manager, David Flynn. "I was with him for 10 years, we had two children," she told The Guardian in 2022. "What did I learn from that? I learned that absence makes the heart wander. Not mine, but his. It wandered a lot." Though Seymour can joke about the situation now, it was no laughing matter when she first discovered that Flynn had squandered all of her hard-earned money, leaving her bankrupt and desperate for work. "I lost everything. I was like $9 million in the red, with lawsuits from every major bank, including the FDIC," she told Entertainment Weekly. "I was penniless, homeless ... And so I called my agent and said, 'I will do anything.'"
So, in 1993, the then-42-year-old jumped at the opportunity to star as the titular doctor in the CBS drama. Chatting with Ability Magazine, she said that she viewed Dr. Quinn as a vital female role model, a pioneering protagonist fighting against the sexism and racism of the Wild West. The show ran for six seasons before its cancellation in 1998, with Seymour winning a Golden Globe in 1996.
This is why charity work is so important to Jane Seymour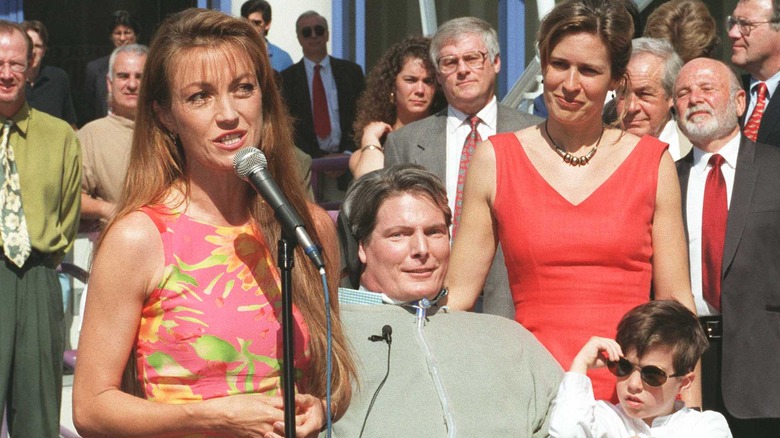 Albert Ortega/Getty Images
Having been raised by altruistic parents who endured systemic oppression and trauma, Jane Seymour has long been an advocate for marginalized communities. Following her traumatic divorce from David Flynn, Seymour found comfort and purpose in remembering the valuable lessons her mother imparted. "I was in a deep, dark tunnel," she told Deseret News. "But I was reminded of a teaching from my mother that if you turn to help someone else, a solution would work itself out."
When her friend and former lover Christopher Reeve was paralyzed following a horse riding accident in 1995, Seymour supported his mission to raise awareness of spinal-cord injuries. Moreover, she has been actively involved with UNICEF for decades, voicing their public service announcements in the '90s and traveling to El Salvador to deter mothers from feeding their babies contaminated formula. She reunited with her Bond co-star Roger Moore (also a lifelong charitable ambassador) for her UNICEF missions. Additionally, she worked with the American Red Cross and founded the Open Hearts Foundation, a poverty relief charity, with her fourth (now-former) husband, James Keach, in 2010.
And in the wake of COVID-19, she has continued her charitable endeavors, offering philanthropic support to marginalized communities impacted by the pandemic. "I wanted to raise money for all the women and children who were having real problems because of COVID," she told Closer. "There were food shortages and battered women who had nowhere to go."
The star is also a published author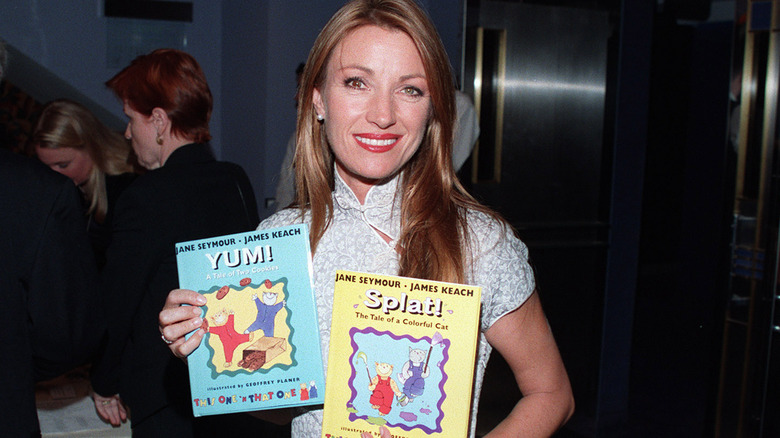 Steve Azzara/Getty Images
Romanticizing one's life is more than a TikTok fad: Jane Seymour was writing about the novel concept back in 1986 when she penned her first book, "Jane Seymour's Guide to Romantic Living." Thereafter, she wrote several other self-help books, including 2001's "Two at a Time: Having Twins: The Journey Through Pregnancy and Birth" and 2008's "Open Hearts: If Your Heart Is Open, Love Will Always Find Its Way In."
Having overcome numerous obstacles in her personal and professional life, Seymour was drawn to the self-help genre. In her aforementioned 2022 sit-down with The Guardian, she made it clear she's not purporting to be an authority on such matters, but merely wanted to offer support to those struggling as she did. "I'm not trying to preach anything to anyone, but people ask me how I've managed to move on," she explained. "You have to learn to accept and forgive yourself and others, and then move forward and don't live in the past or the blame game."
Additionally, Seymour penned a number of children's books with her former husband James Keach. Chatting with The Lady, she said that writing is ultimately a therapeutic outlet. "Art infuses my life and enables me to communicate every aspect of the human condition as I have been exposed to," she stated. "However, my proudest achievement is in being able to continue to do all of these things while raising an amazing family of very creative, loving, and thoughtful children."
Jane Seymour the supervillain
In 2004, Jane Seymour added the superhero genre to her eclectic acting resume. She was cast in Season 4 of "Smallville" as the villainous antagonist Genevieve Teague. By her own admission, the actor had never paid any attention to the genre prior to accepting the role.
But her work on the series was poignant considering that her ex-lover, Christopher Reeve, had an iconic stint as Superman. "I didn't know anything about 'Smallville,'" she admitted to Entertainment Weekly. "I knew pretty little about Superman ... except for Chris Reeve constantly writing me notes and telling me about how miserable it was to be flying around on wires and how the suit gave him spots and was itchy." Soon enough, however, she came to embrace the role, revealing that she had great fun on set and loved working with co-stars Jensen Ackles and Michael Rosenbaum.
In an interview with The Houston Chronicle, she elaborated on what it was like to play a supervillain, a markedly different character from the morally upstanding roles that made her famous. But Seymour insisted that playing Genevieve was hardly out of her comfort zone. "I've been taking some things recently that are quite different from what I'm known for doing," she explained. "Not that I wasn't known for doing these things before Dr. Quinn — I've been playing these evil vamps for many, many years — but with selective memory on the part of the networks, they've forgotten that I did that."
Her unforgettable turn in Wedding Crashers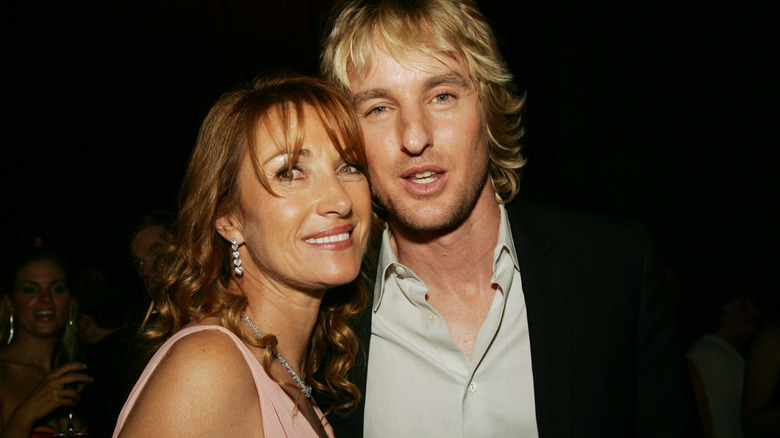 Evan Agostini/Getty Images
Few can forget Jane Seymour's iconic performance as the sultry mother of the bride in "Wedding Crashers." The role famously saw a nude Seymour attempt to seduce a hapless Owen Wilson, cementing her status as a riotous comedic actor. Chatting with Entertainment Weekly, she said she found the script hilarious but was initially concerned the role would alienate her primetime TV stans. But the opportunity was too good to pass up, and producers were intent on casting no one other than the erstwhile Dr. Quinn. "The funny part was that the producer and the director, they said, 'Oh, we love your work ... you were in James Bond,'" she mused. "And I'm thinking, 'I'm in my 50s, and the only credit they can think of for me is James Bond. What do they think I was doing, hiding under a rock all these years?'"
Although many have long assumed Seymour, who was 54 at the time, went nude in the film, this is inaccurate. "People are convinced they've seen my boobs in 'Wedding Crashers,' but they haven't," she explained to You Magazine. "That was all about Owen Wilson's brilliant acting and his crazy hands. I was never actually naked."
Although the role resulted in fans dubbing Seymour the "boob lady," she has conceded that the film ultimately changed the course of her career for the better. "After that, everyone just decided, 'Oh! She's actually funny!'" she told Today.
Although Jane Seymour relocated to the U.S., she feels very British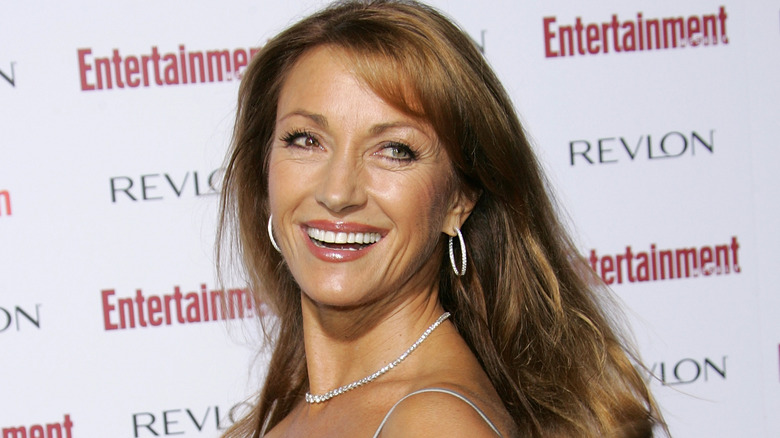 Toni Anne Barson Archive/Getty Images
In 2005, Jane Seymour became an American citizen. At the time, she told reporters (via the Los Angeles Times) that making the U.S. her home just made sense, considering the opportunities the country afforded her and that she spends the majority of her time across the Atlantic. She also attributed the decision to her desire to vote and further participate in U.S. politics. Now she lives an idyllic life at her California home, "watching pelicans and dolphins and whales and sunshine," as she told The Independent.
But relocating to the States doesn't mean that Seymour has relinquished her heritage. "I tell people I'm an 'Ameri-Brit,'" she told The Lady. "I feel very British ... I have a passion for everything British. So, even though I don't live there full time, that doesn't mean it doesn't infuse my life on a daily basis."
Prior to moving to the U.S. full time, she owned a historical manor house in the quaint British city of Bath, which she sold in 2007. The manor was of much contention when cheeky British singer Robbie Williams, who was renting the property in the early 2000s, claimed it as his own on "MTV Cribs." The MTV crew also accessed Seymour's valuables, which she'd attempted to hide away. "They wore all my clothes and my jewelry and had a big old party," she told You. Williams later apologized for the fiasco.
Finding love in her 60s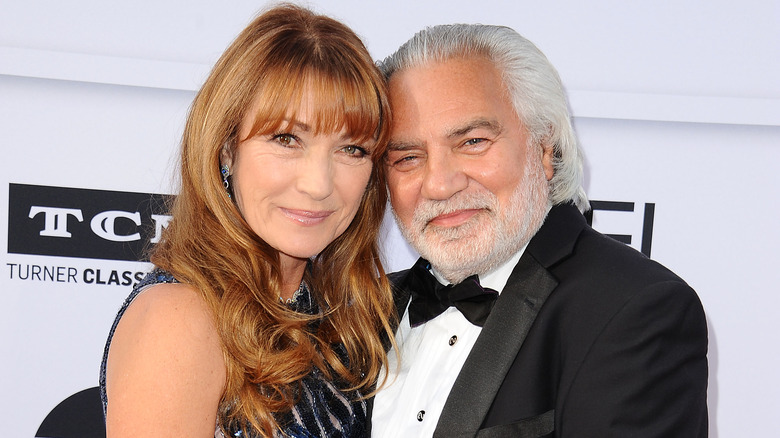 Jason Laveris/Getty Images
After 20 years together, Jane Seymour and James Keach announced their divorce in 2013. As David Flynn did, Keach cheated on Seymour. 
Opening up about the divorce to Yahoo! Life, the actor put a positive spin on a painful situation. "Every time I've gotten divorced, I have had to develop a new lust for life," she revealed. "I've had to figure out a way that I find myself again ... And I've had to pick myself up and just say, 'OK, Jane, what are you gonna do now?'"
At 63, Seymour found love again when she began dating producer David Green, a fleeting figure in her life since the '80s, but with whom she didn't reconnect until she separated from Keach. Chatting with Hello!, she recalled their adorable meet cute, in which Green showed up at her house with a mutual friend. "He came over for breakfast to see her and the next thing I knew we were having long conversations," she said. Soon, breakfast turned into lunch and the loved-up twosome spent the day chatting away, bonding due to their shared values and life experiences. Although she's found love again, Seymour has made it clear that she does not intend to make Green hubby No. 5.
Jane Seymour made her Singaporean theater debut in 2016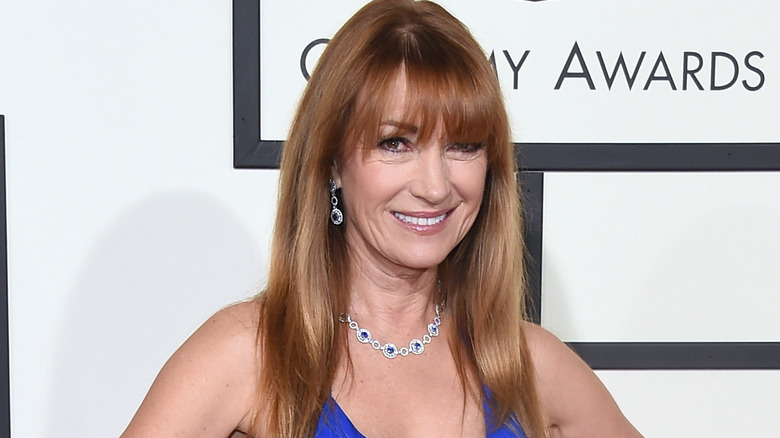 Jason Merritt/Getty Images
The 2010s would provide Jane Seymour with ample new career opportunities. In 2013, she had a supporting role in rom-com "Austenland," in which she acted alongside her sister, Annie. Then, in 2016, she once again proved her adeptness at farce by appearing in the Wayans brothers' parody flick "Fifty Shades of Black." In an otherwise reproving review, The Irish Times pinpointed Seymour's performance as a racist matriarch purporting white victimhood as one of the few highlights of the film.
That same year, Seymour embarked on a new adventure in the Singaporean theater. Continuing with her sexy older woman roles, she appeared in Noel Coward's "The Vortex" at Jubilee Hall, playing Florence, who has an affair with a much younger man. Seymour relished the opportunity to return to the theater, having last appeared on stage back in 1980, in "Amadeus" on Broadway alongside Ian McKellen and Tim Curry.
In an interview with The Peak Magazine, the acting vet was asked whether she could identify with Florence, but she replied staunchly in the negative. Rather, she viewed the play as a salient parable for our modern, youth-obsessed society. "I took on the role because the urge to stay young is very much today's message," she explained. "Women will do anything to stay young, as will men. ... But [Florence is] ahead of her time and I think it makes us all question the ways that we approach aging and raising our children."
At 67, she posed for Playboy to inspire other women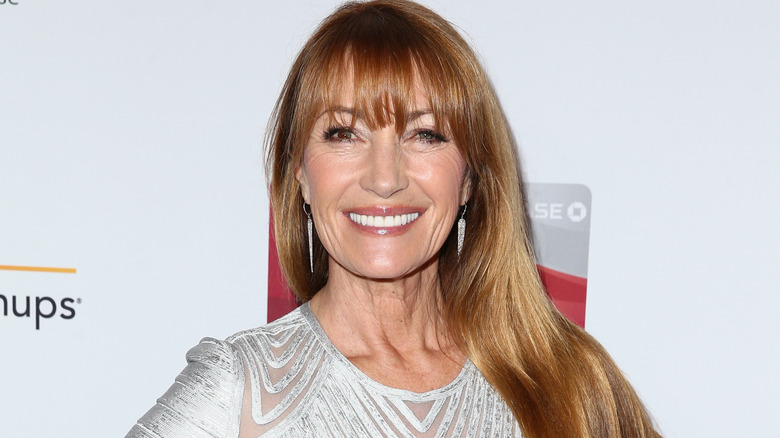 Rich Fury/Getty Images
Forever intent on breaking boundaries and confronting ageism head-on, Jane Seymour became the oldest woman to pose for Playboy in 2018. At 67, she featured in a tastefully shot spread, wearing a silky negligee under a fluffy jacket. For Seymour, the photoshoot was thoroughly liberating, as she hoped to impart her message of age positivity onto readers. "I feel much sexier now than I ever did when I was younger," she told the outlet. "Then, I was like, 'Oh gosh, I'm supposed to be sexy.' What is that?! There's an enormous freedom in having lived as long as I have."
Discussing her surprise decision to appear in the racy publication, the actor told You that she wanted to inspire older women who may feel discarded and vilified by society. "I thought maybe I could empower other women to feel that just because you've turned 40, it doesn't mean you don't exist any more," she told You. "And since I didn't even need to take my clothes off, I just thought: 'Why not?'"
Considering the trauma she suffered at the hands of predatory execs, there's something undoubtedly empowering about Seymour reclaiming her sexuality in her late 60s by choosing to pose for Playboy. And "choice" is the key word for Seymour. "The only reason I've ever told that story is that women should have a choice," she told Playboy regarding her experiences of harassment.
Jane Seymour is enjoying a career resurgence in her 70s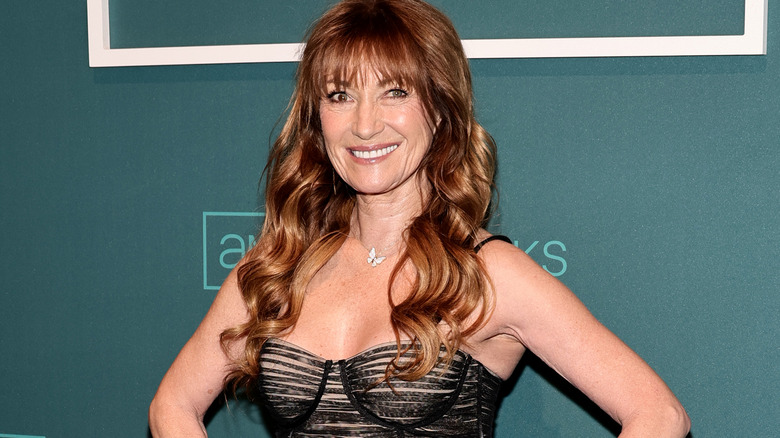 Jamie Mccarthy/Getty Images
Now in her 70s, Jane Seymour is proof that youth is in the eye of the beholder. The actor can be seen in series "Harry Wild" as the titular literature professor turned amateur homicide detective. Long gone are the days in which older detectives donned Colombo raincoats or the solemn, grizzled countenance of Lennie Briscoe: Harry is a glam PI with a killer wardrobe to boot. Seymour loves the role, a rare depiction of an effervescent septuagenarian who refuses to acquiesce to retirement. "You don't really have someone my age starring in their own show playing a very irreverent, intellectual, kind of out there, sexy, fun woman," she told Hello!
In her 2022 chat with The Guardian, Seymour joked that the old adage of women no longer finding work in Hollywood past a certain age is true, but only for women decades younger than herself. "It's 40, actually," she quipped. "Clearly, they open up again when you're 70. ... There is a major audience out there for material that includes people who are older."
Having also starred in "The Kominsky Method" as an enchanting ex who steals grieving widower Alan Arkin's heart and as a comically youth-obsessed 85-year-old in "B Positive," things are only looking up for the formidable star, who scoffs at the notion of growing old.