The Benefits Of Using Grapefruit Oil On Your Hair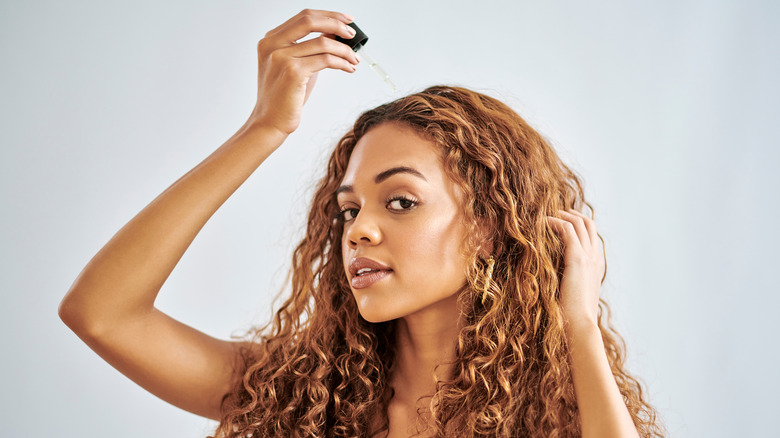 Delmaine Donson/Getty Images
We may receive a commission on purchases made from links.
Tart and sweet with a slightly bitter aftertaste, grapefruit is mainly associated with quick breakfasts and aromatherapy pick-me-ups. While its light, aromatic scent is an instant mood-booster, it also comes with health benefits for more than just our minds. Packed with vitamin C, grapefruit has surprising effects for your skin.
Not only does it reduce signs of aging and sun damage, but it can help to decrease cellulite. Its benefits also extend to the scalp. Aside from the sweet scent it lends to your shampoo, grapefruit oil is also great for overall hair health. Extracted from the cells found in the rinds and peels of grapefruit using the cold-pressing method, the essential oil is commonly found in products from face washes to shampoos.
Since citrus has anti-inflammatory and antibacterial properties, it can help to reduce dandruff, reduce inflammation on the scalp, and promote hair growth. Read ahead to see how to use grapefruit oil for better hair health.
How to use grapefruit oil for hair health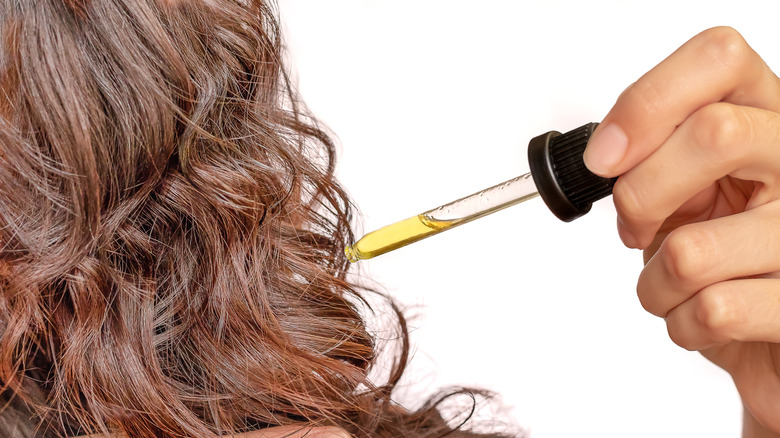 Lucia Izquierdo /Getty Images
Like most essential oils, it's safest to dilute grapefruit oil to mitigate the risk of irritation or reactions. You can combine it with a carrier oil like jojoba or avocado oil and place it on your scalp to reduce dandruff. Massage the mixture onto your scalp and leave it on for about 30 minutes. Afterward, shampoo and condition as normal.
As a common brightening ingredient, vitamin C can also give you shiny, lustrous strands. You can create a DIY hair mask using grapefruit, rosemary, lavender, and coconut oils. Not only will it hydrate your hair thanks to the coconut oil, but it promotes hair growth and delivers glossier hair. Apply it after shampooing your hair and leave it on for 30 minutes.
In between wash days, spritz a combination of grapefruit oil and water onto the scalp to increase growth and also scent your strands. If you're not the DIY type, there are plenty of hair products formulated with grapefruit oil for your buying pleasure.
Shop the best hair products with grapefruit oil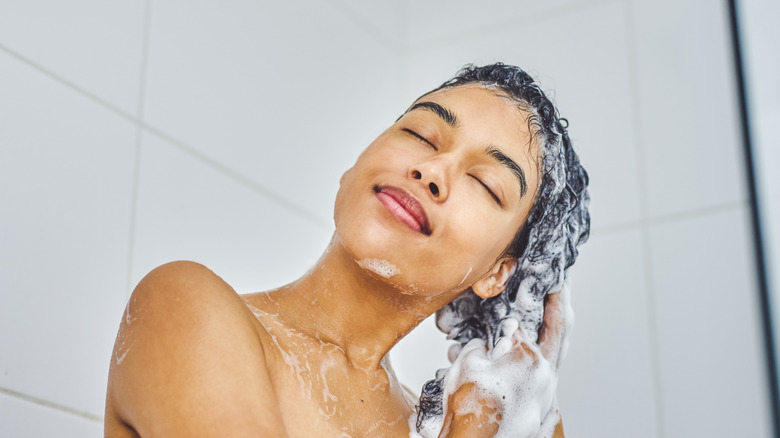 Moyo Studio/Getty Images
The Beautycounter Daily Shampoo is the perfect wash day mood booster. The sweet-smelling shampoo contains the antibacterial and growth-promoting properties of grapefruit oil alongside the hydrating benefits of vitamin B5. The refreshing shampoo repairs damaged split ends and comes in a recyclable aluminum bottle.
For a more affordable option, try the Neutrogena Clarify & Shine Shampoo. Created for oily scalps and hair, the clarifying shampoo gently exfoliates the scalp to cut through build-up and dandruff. As a pH-balanced shampoo, it maintains the scalp's natural barrier while providing shinier hair. Follow up with the Ethique Too Delicious Conditioner Bar. Perfect for dry and damaged hair, it's formulated with shea and cocoa butter, as well as hemp seed oil. While grapefruit oil helps to restore the hair, the vanilla leaves your strands with a light, pleasant scent.
Afterward, use the JVN Complete Nourishing Shine Drops. The lightweight oil helps with frizz control and dullness while protecting hair from UV rays using hibiscus extract.