Melania Trump Once Slammed This Food Network Star Over Son Barron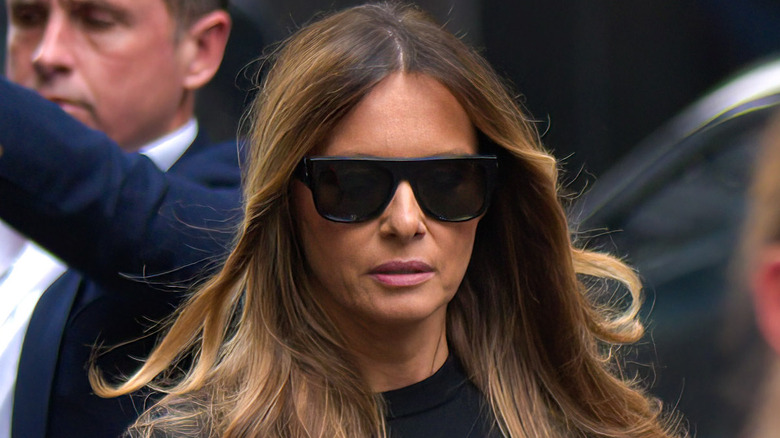 James Devaney/Getty Images
Melania Trump's relationship with her son, Barron Trump, is a close one. With their family being in the public eye, she often has to shield him from the media on top of typical day-to-day things. It's not an easy job for a mother, especially during the times Melania was also handling the responsibilities of the first lady.
When it comes to the press attacking Barron, Melania told Fox News, "It does make me angry because children should be off limits." Barron was only ten years old when his father, Donald Trump, was inaugurated. "I protect him, and I want to give him as normal a life as possible," she continued. "This is not a normal life, but I like to protect him and give him the childhood he deserves."
Melania sure does protect her only child, including publicly defending him from the backlash Barron faces from Donald's political opposition. From TV hosts to law professors, they've all been on the receiving end of Melania's motherly wrath.
John Henson joked about a teenage Barron Trump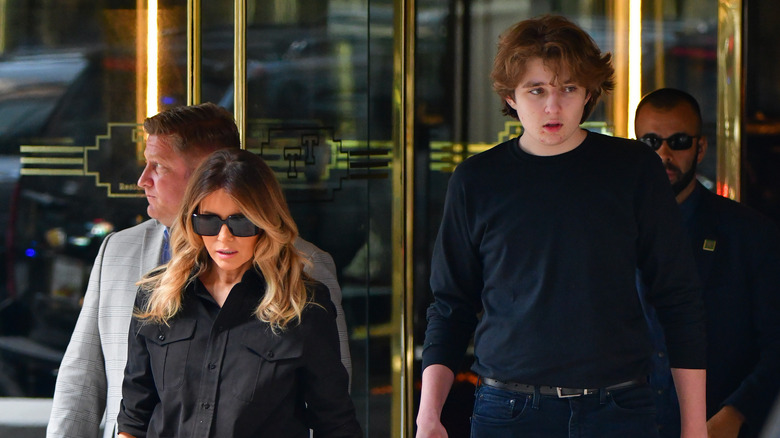 James Devaney/Getty Images
Food Network star John Henson turned Father's Day into a political attack when he publicly tweeted about Barron Trump. His post implied the former president's youngest child may not be his. In June 2020, when there were certainly bigger issues to worry about like COVID, the "Halloween Baking Championship" host wrote: "I hope Barron gets to spend today with whoever his dad is," (via The Independent). 
Stephanie Grisham, Melania Trump's spokeswoman, quickly responded on behalf of the former FLOTUS. "Sadly we continue to see inappropriate and insensitive comments about the President's son," she said in a statement. Grisham added, "As with every other administration, a minor child should be off limits and allowed to grow up with no judgment or hate from strangers and the media." 
The tweet has since been deleted, but Henson defended his comment. He responded to critics by writing, "With respect, I think you dissecting it is the issue. The joke was aimed at Trump and the mere mention of Barron's name doesn't mean it's at his expense. Although I respect your right to take issue with it." Barron was 14 years old at the time, and it wasn't the first instance Melania had to defend him from adults.
Melania Trump also called out Pamela Karlan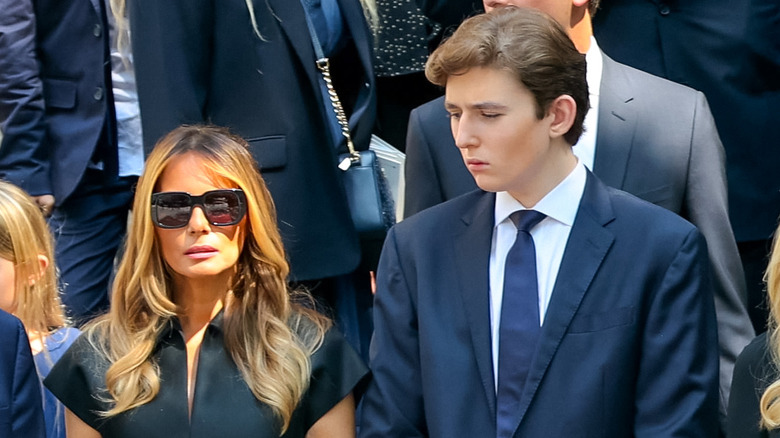 Jose Perez/bauer-griffin/Getty Images
Stanford Law professor Pamela Karlan made a huge mistake mentioning Barron Trump in her House impeachment testimony. She pointed out, "The constitution says there can be no titles of nobility, so while the president can name his son Barron, he can't make him a baron," (per C-SPAN). The noble title is not why Donald and Melania Trump's son was named Barron, but that didn't stop Karlan from making the dig at his expense. 
The legal scholar later apologized for her remark, although some regarded it as insincere, as she added, "I wish the president would apologize obviously for the things that he's done that's wrong, but I do regret having said that." Melania responded in a tweet calling out the professor: "A minor child deserves privacy and should be kept out of politics." 
She added, "Pamela Karlan, you should be ashamed of your very angry and obviously biased public pandering, and using a child to do it." You know what they say — mess with mama bear, and you get the claws.