Alessandra Ambrosio's Daughter Is Growing Up To Be Her Twin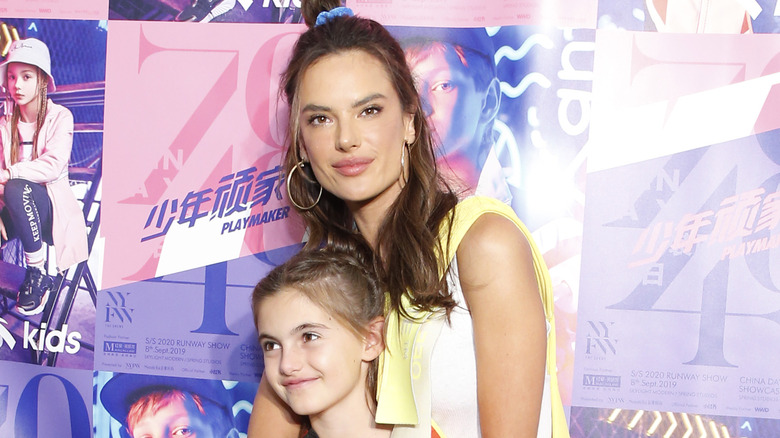 John Lamparski/Getty Images
Fans of fashion and modeling will know all about Alessandra Ambrosio. She is one of the world's top models, and is celebrated for her beauty and dedication to her career (there's a reason she's worked steadily in the industry for years). But she is also a mother to two children: a daughter, Anja Louise, and a son, Noah Phoenix. Anja is growing up to be absolutely gorgeous and a replica of her mother, but great genes are not the only thing to know about her. Anja is her own person — and her existence has influenced her mother in many ways, including changing her approach to her work.
In a 2016 interview with Net-a-Porter's The Edit (via ExtraTV), she admitted to avoiding specific shoots now she has children. "I used to be 100 percent comfortable on lingerie shoots — then I had a child, and it was more of a mental shift than anything else," she confessed. "Somehow, it felt a bit weirder to be in lingerie once I was a mother..." 
Here's what you should know about Anja Louise Ambrosio Mazur, and how she's growing up to be her mother's twin.
Anja has graduated from middle school
Alessandra Ambrosio has two children with her ex-partner, Jamie Mazur; Anja was born in 2008, while Noah Phoenix was born in 2012. Anja has already graduated middle school; indeed, Ambrosio's eldest is no longer a child. And now that Anja has reached her teenage years, many changes will undoubtedly be happening in her life. But if there's one thing that seems to be consistent, it's the fact that she's looking more and more like her famous mama. 
It's even more apparent when the world sees these two women celebrating milestones together. In June 2023, Ambrosio took to Instagram to share a video reel of her daughter's middle school graduation. In it, you can see the school celebration and Anja looking gorgeous while wearing a white sundress. Ambrosio accompanied the reel with a heartfelt caption. "And in a blink of an eye ... she's is in high school!!! Proud of u my baby girl," she wrote.
She's been attending music festivals since she was just a kid
Frazer Harrison/Getty Images
Coachella is celebrated for more than just music; it's also known for how it showcases fashion, style, and the arts. Unsurprisingly, it attracts some of the most famous and attractive people in the world — and Alessandra Ambrosio is a regular attendee. "I have always used Woodstock style as inspiration mixed with classic items and current fashion trends as well as unique artisan pieces," she told Vogue. "Coachella is all about expressing your personality, and there is no wrong way to dress as long as you are loving it and it feels comfortable."
But is it kid-friendly? Ambrosio appears to think so, because her daughter has attended the event since she was a little girl. In 2014, TMZ reported that Anja attended the festival with her mom; at the time, she was just five years old. Two years later, Ambrosio posted several photos from the festival alongside her daughter. And in 2017, the model shared a video of her daughter singing onstage at Coachella. Anja sang a version of the song "Sara" by Fleetwood Mac, and her mama could not have been more proud. "My angel rocking @coachella #AnjaLouise #proudmommy #coachellachild #devendrabanhart and on the guitar @jamieamazur," she captioned the video, also referencing her then-partner, Jamie Mazur.
Alessandra Ambrosio will encourage Anja to pursue her dreams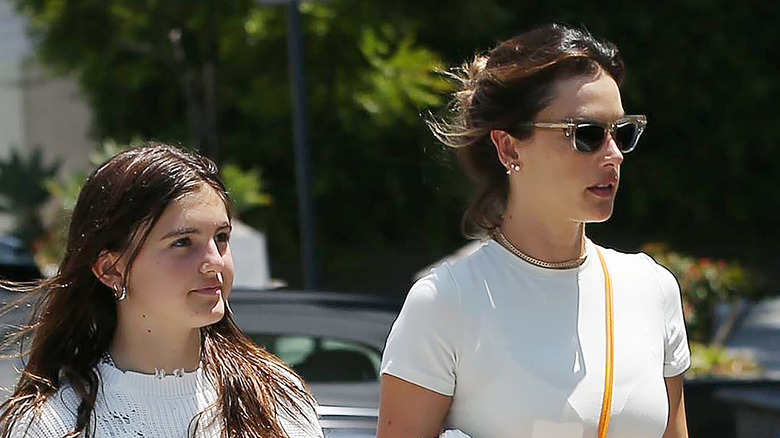 Mega/Getty Images
Alessandra Ambrosio is raising two children, and is clearly doing it to the best of her abilities. Her social media accounts give the world a glimpse into their lives, and she appears to be a proud and dedicated mother. As Anja grows up, fans are noticing more and more just how similar she is in appearance to Ambrosio, and it is entirely possible that she may eventually wish to follow in her footsteps and pursue a career in modeling. 
Ambrosio has worked with some of the world's most prestigious brands, including landing the highly-coveted gig as a Victoria's Secret Angel from 2004 until 2017. But is modeling something that she'd be supportive of Anja doing, or have years of working in the industry made her jaded? "I want my children to do what they love, and if that's modeling, then I would be there every step of the way to support them," she told Harper's Bazaar in a 2018 interview (via People). "Right now, they're enjoying being kids, learning about the world, and exploring."
Anja's appearance won't be her only asset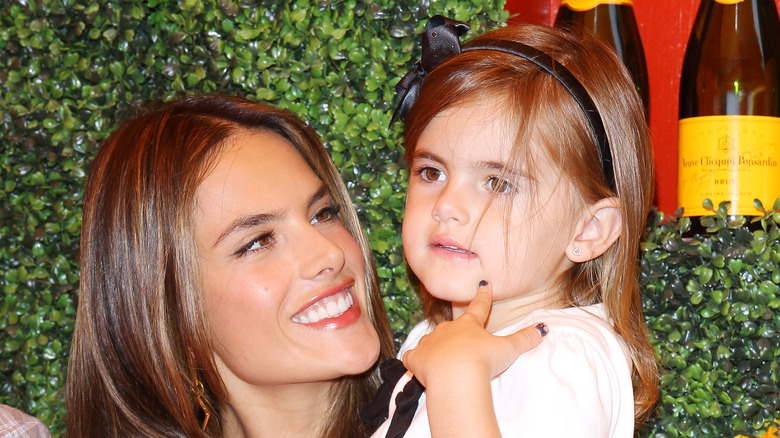 Michael Tran/Getty Images
Alessandra Ambrosio grew up with strong female role models, and her mother encouraged her to pursue her dreams and to believe in equality. "When I was growing up, my mother instilled in me that women can do anything," she told Harper's Bazaar in a 2018 interview. "She taught me to believe in my dreams and to fight for them. Seeing her dedication to my sister and me, I've learned the importance of family and hard work." This approach has also inspired how she is with her children, and she is the first to acknowledge that appearances are not everything.
Ambrosio's dream was to become a model, which she has achieved after years of working steadily in the industry. But modeling also has a bit of a reputation, with some believing it sets unrealistic standards for beauty. "Every woman has a different metabolism and different genetics, so rather than compete with one another, concentrate on yourself and be the best you can be," Alessandra Ambrosio told Self in a 2014 interview. She will likely pass this message of encouraging body acceptance and positivity on to her daughter, Anja.
Anja looks just like her mom, and Alessandra loves it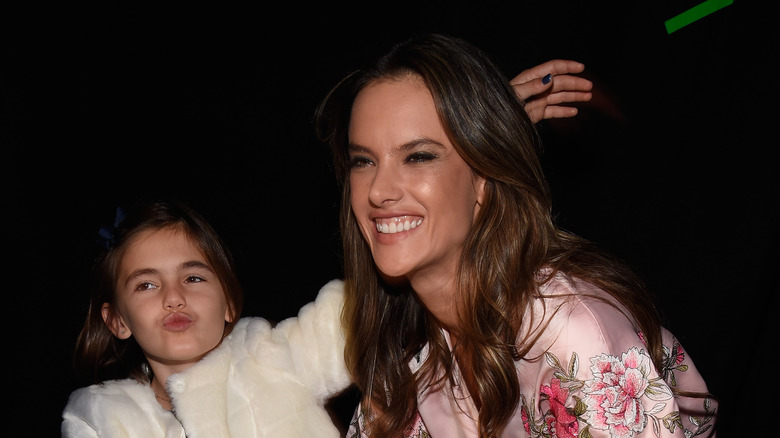 Kevin Mazur/Getty Images
How does Alessandra Ambrosio feel about having a mini-me? It turns out she couldn't be happier.
"It's the best thing, I feel like since she was born, you know, it was interesting because I looked at her, and she looked like me as a baby, and now, you know, like she does look like me, but she has her own personality," she told AccessOnline in a 2019 interview. But she also noted qualities about her daughter Anja that make her an individual, saying, "She's super energetic, and she's just got her own personality, and it's amazing for me to see my daughter, you know, being who she is and whatever makes her happy." Ambrosio is encouraging of who her daughter is, and it sounds like she will be supportive of her regardless of the direction she chooses for her life.
Motherhood has been a beautiful experience for the model, changing her in many ways. In an interview with OK! Magazine in 2009, following the birth of her daughter just five months earlier, Ambrosio discussed the changes in her life since becoming a mom. "I'm not thinking about me that much anymore. Every time I look, I'm looking for my daughter, you know?" she said. "If I'm in a store, I'm looking at baby clothes. It's so much cuter to find things for her than to find things for me. That's one thing."
As a kid, she was obsessed with L.O.L. dolls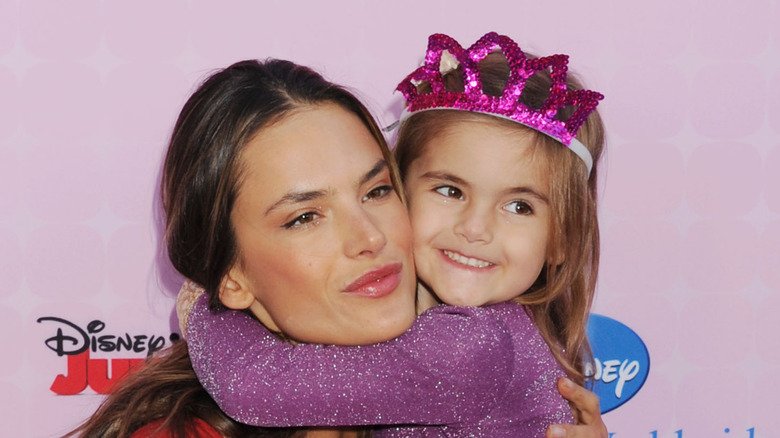 Jeffrey Mayer/Getty Images
Anja is not a child anymore, but when she was younger, she was a fan of the hugely popular L.O.L. Dolls. So much so that Alessandra Ambrosio took her children to the 2019 premiere of "L.O.L Surprise! Winter Disco Movie." While there, the model also had an opportunity to chat with AccessOnline and provide a glimpse into their relationship.
"I'm here cause I know my daughter loves the L.O.L., she's always been a big fan, you know, like the whole thing of opening them," Ambrosio said about their attendance at the event. The model values her ability to spend time with her children, and she appears to appreciate every moment. 
Ambrosio has previously discussed the important changes that came with motherhood and how the simplest moments are sometimes the most meaningful. She told OK! Magazine in 2009 that the best thing about being a mother was being with her daughter. "Just spending time with her and seeing her grow up," she said. "Every day, she does something different, and that's what is amazing."
Education and discipline are important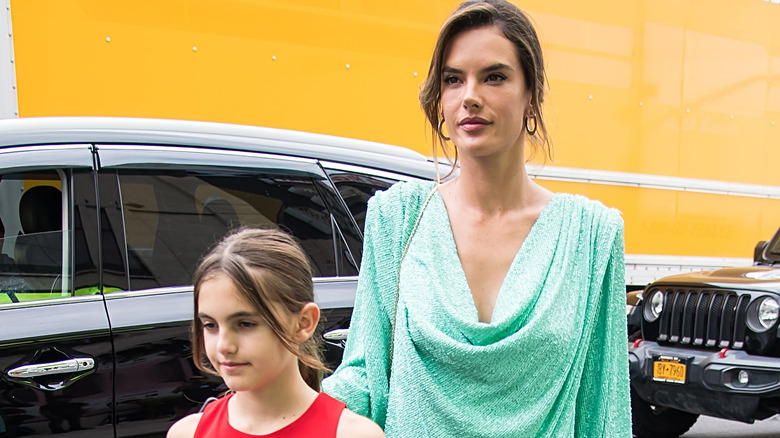 Gilbert Carrasquillo/Getty Images
Alessandra Ambrosio is celebrated for her beauty, and her dedication to fitness and eating well has also earned her praise. While she's made money from her appearance, it's not the only important thing in her life, and she's raising her daughter, Anja, to be a well-rounded and balanced individual. It is no secret that Anja, like her mother, is considered by many to be conventionally attractive — but it is also important to emphasize her other qualities.
"Having a perfect body isn't everything. I want my daughter to be nice, have a good education and be disciplined," Ambrosio told Self in a 2014 interview. "That's what makes people like her. A perfect butt doesn't make an amazing person. It's about feeling confident." Fortunately, it seems that Anja's parents balance each other out. In an interview with Cosmopolitan (via Daily Mail), the model acknowledged that she was more serious, while Anja's father, Jamie Mazur, was the "goofy one."
Anja has a great sense of humor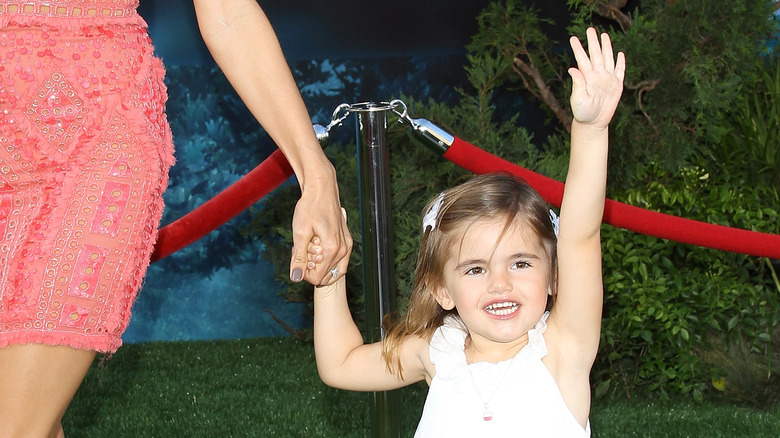 Michael Tran/Getty Images
Anja may look like her mother, but there are many things she does or has done that set her apart. She is her own person, which Alessandra Ambrosio has acknowledged and even shared a bit about. In a 2019 interview with AccessOnline, she said she loved being with her children, "seeing them growing, flourishing their personalities."
And it sounds like Anja has quite a strong personality. Speaking with Elle Canada in 2016, Ambrosio admitted that her daughter is quite the comedian, typically daring her parents to do silly things (like throwing away their phones) and consistently making them laugh.
"My daughter," Ambrosio replied to a question from the publication about who made her laugh. "She just cracks me up all the time. Even on the way to the show in the back of the car she was playing Truth or Dare with me and my publicist. We're all playing along."
Anja's mom has encouraged an active lifestyle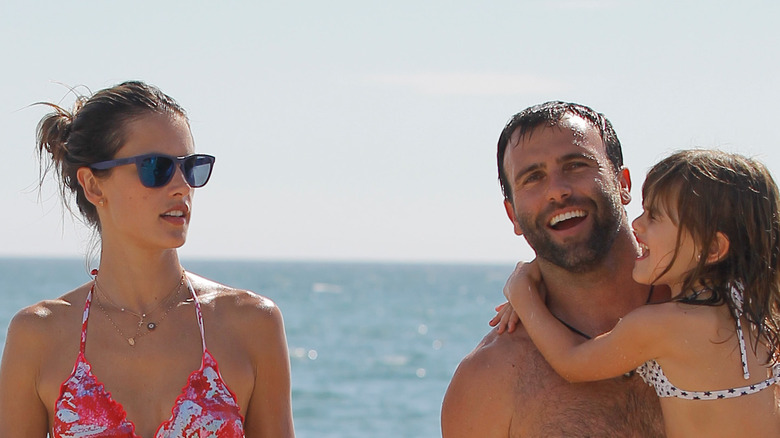 Bauer-Griffin/Getty Images
Over the years, Alessandra Ambrosio has advocated for women to love their bodies instead of trying to achieve a specific shape. This includes her comment to Self, saying, "Accept what you have and make the most of it." Still, an active lifestyle is important to the model, and she's made sure that her children get out of the house and enjoy the fresh air, too. This is made easy by California's great (and consistent) weather.
"We love going to the beach, hanging in Malibu and playing volleyball. I like to entertain in my house. I have some nice Brazilian barbecues, so [I love] just being in the pool," Ambrosio told People about her family's lifestyle and how they like to spend their downtime. "Here in California, it is just so easy. We like going rollerblading and biking, all kind [sic] of things!" Despite having a demanding career, Ambrosio is a dedicated mom. She told Harper's Bazaar how her children are her "number-one priority," and her schedule reflects this.
She has starred in some memorable campaigns with her mama
Like her mother Alessandra Ambrosio, Anja is also showing an interest in the modeling profession. She and her mom have even collaborated on projects together, including the swimwear line Gal Floripa, with photos taken in Mexico. Ambrosio commented on the collaboration, which included a mini collection titled Gal Mini Collection.
"Gal Floripa is all about embracing our femininity and celebrating bonds between women, and there is nothing stronger than mother-daughter connection, so in celebration of that, we decided to create a collection for mothers and daughters," Ambrosio said (via People). She also shared a photo of herself and her daughter in the collection on Instagram. She captioned it with a sweet comment on their relationship, writing, "MOM & DAUGHTER. A bond like no other ..."
Being able to work with her daughter is something Ambrosio likely values, because she's spoken about how important spending time with her children is. "Whenever there is a break in my schedule, I like to take the kids back home to be with my family," she told Cosmopolitan (via Daily Mail). "Growing up, I was always inspired by my mum with everything that she did, working and taking care of us."
Anja's father is businessman Jamie Mazur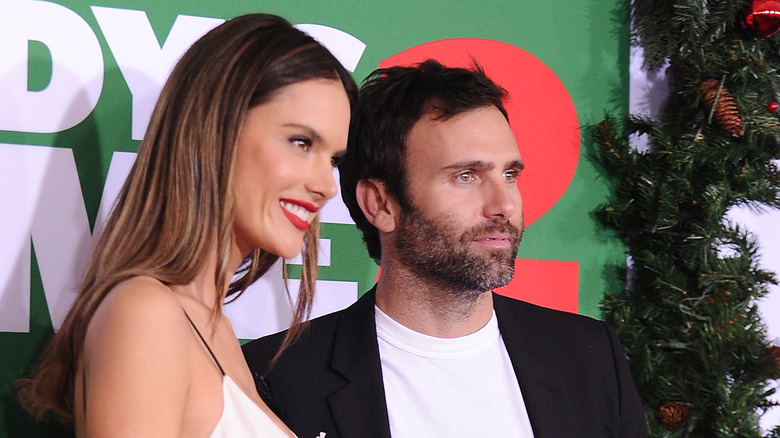 Jason Laveris/Getty Images
Alessandra Ambrosio and Jamie Mazur never made it down the aisle, but they were in a long-term relationship. During their time as a couple, they had two children and became engaged in 2008 (the same year their first child, Anja, was born). Unfortunately, their relationship didn't last.
"They [have] been trying to keep their split on the down low, but Alessandra has been out and about ready to mingle and hasn't been taking Jamie to anything," an insider told Us Weekly at the time of their split. But when they were together, they were happy and committed as they took on their new roles as parents. Mazur is a businessman by profession, but he also embraced fatherhood. This is something Ambrosio has spoken about lovingly.
"It's amazing to see Anja — everything she does with him is pretty incredible," she told People. "I'm always watching them, and it's just too cute. They hug each other, then they fall, both of them. It's the cutest thing to see."
Alessandra wants her daughter to know her Brazilian heritage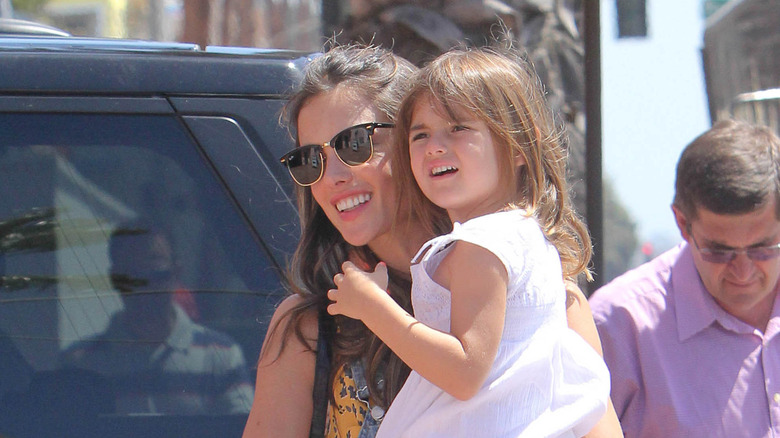 Smxrf/star Max/Getty Images
Alessandra Ambrosio has enjoyed worldwide success thanks to her modeling career, and has lived in the United States for many years. But she was born in Erechim in the State of Rio Grande do Sul in Brazil, and her heritage is something she's proud of. She also wants her children to embrace this part of them. In a 2009 interview with OK! Magazine, she spoke about how she intended to raise Anja to experience both countries and their cultures.
"I'm going to raise her both places. Half Brazil and half American, that's how it goes," Ambrosio said at the time. "In Brazil, there's this thing where people are really happy. Whatever they go through in life, they're really happy, and that's one thing I want her to feel like. Here in America, people are very professional. They're serious, and that's another thing I want her to have."
She is already following in her mom's footsteps
Alessandra Ambrosio's daughter, Anja, is already following in her mom's footsteps and has worked as a model. In addition to appearing in a swimwear line with her mother, they collaborated on the campaign for American clothing company Jordache's 40th anniversary. At the time, Anja was just 9 years old. 
Speaking of working with her daughter, Ambrosio said in a statement (via Fashion Network): "I really enjoyed standing on the side and watching her do her own thing as well. I think the final images really show the bond we have as well as how much fun we have spending time with each other."
Anja appears to share her mother's interest in fashion, and the pair have attended multiple fashion shows together. This included a trip to Paris, France, in 2016 to sit in the front row of a show featuring one of the most prestigious brands out there, Balmain. Her mother was walking the runway, which marked a very special occasion. Sharing a video with her Instagram followers, Ambrosio spoke about her daughter's attendance in the caption. "My little girl watching me for the first time with Uncle @matmazzafera," she wrote.