The One Beauty Product Elizabeth Taylor Kept With Her At All Times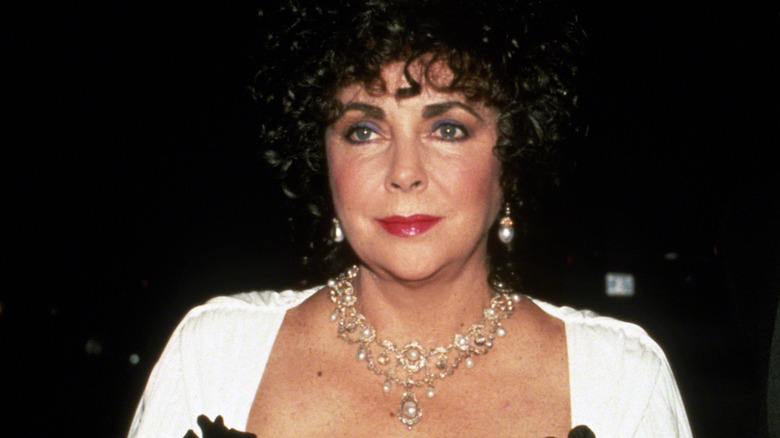 Images Press/Getty Images
You can't mention old Hollywood without Elizabeth Taylor. She symbolized femininity, strength, and beauty — much like the characters she brought to life on the big screen. Taylor was a trailblazer. She was the first celebrity to negotiate a $1 million acting contract, the first with a popular fragrance (White Diamonds, anyone?), and the first woman social entrepreneur. Taylor was also an activist fighting the HIV/AIDS epidemic. Her exceptional contributions were even recognized by Queen Elizabeth II, who named her a Dame Commander of the Order of the British Empire.
Under all that talent and spark, the movie star was also a lover of beauty. Taylor had a massive jewelry collection, her larger-than-life hair was iconic, and her makeup was always on point. But her favorite beauty category was undoubtedly her lip products. 
Taylor famously said, "Pour yourself a drink, put on some lipstick, and pull yourself together." Clearly, a perfect pout was important.
Elizabeth Taylor couldn't live without lip gloss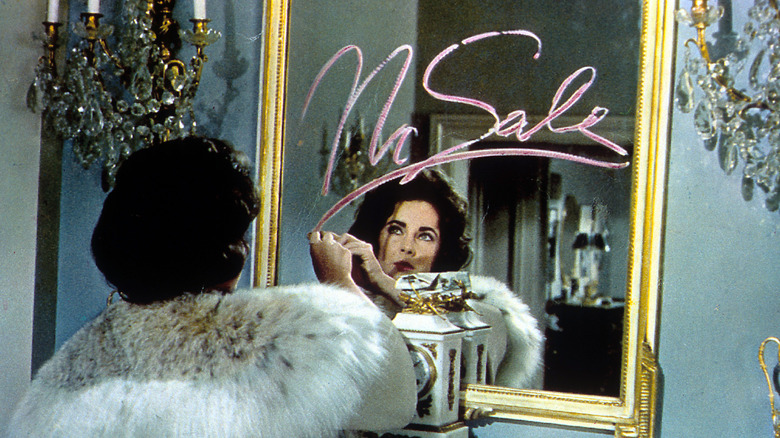 Archive Photos/Getty Images
Remembering the Hollywood star's red lip, it is no surprise it meant as much to her as it did all of America. Elizabeth Taylor rocked bold makeup looks, and her kisser always fit the bill. Eliza Carson, the late icon's granddaughter, shared with Southern Living, "I remember her always having face cream by her nightstand, along with several lip glosses, a comb, and small mirror at all times within arm's reach."
Skincare, beauty, and haircare were all close by — Taylor knew what she was doing. "She had a lot of makeup," her former makeup artist Francesca Tolot told The Hollywood Reporter. "Her assistant would be buying new makeup all the time."
While it's hard to choose between her blue eyeshadow and her classic red lipstick, Carson revealed Taylor wouldn't be so stumped. "If my grandmother could only have two things getting ready, it would definitely be lip gloss and earrings," she said. Fortunately, we know her favorite brand and shade of red.
Get Elizabeth Taylor's lip look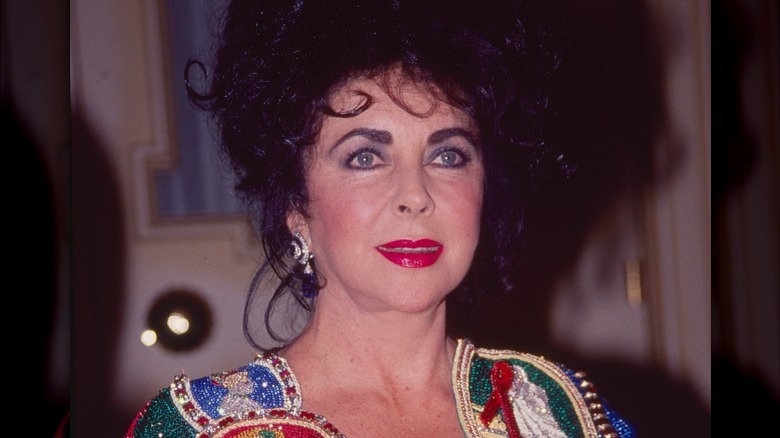 Sonia Moskowitz/Getty Images
Most celebrities have professional makeup artists drawing on their faces, but not Elizabeth Taylor. She didn't just wear makeup — she loved it, even the application process. The beauty queen would spend half an hour perfecting her lip look. That is dedication.
"I remember she was using a lot of Elizabeth Arden lipsticks. She had a huge collection of lipsticks," Francesca Tolot, Taylor's former makeup artist, spilled to The Hollywood Reporter. Tim Mendelson, who was Taylor's personal assistant, shared a similar sentiment with the publication, saying, "She loved a shined lip."
Taylor favored Elizabeth Adren lipstick in the color Rouge, and later fell for MAC's Ruby Woo. She would line her lips using a pencil in the matching shade of her gloss or pigment, and after her look was complete, she'd take a bath to let the steam set her makeup. All you'd need is matte gray eyeliner, full brows, frosty eyeshadow, and rosy blush to capture Taylor's full glam look.