The Sex And The City Star Who Almost Landed The Role Of Monica In Friends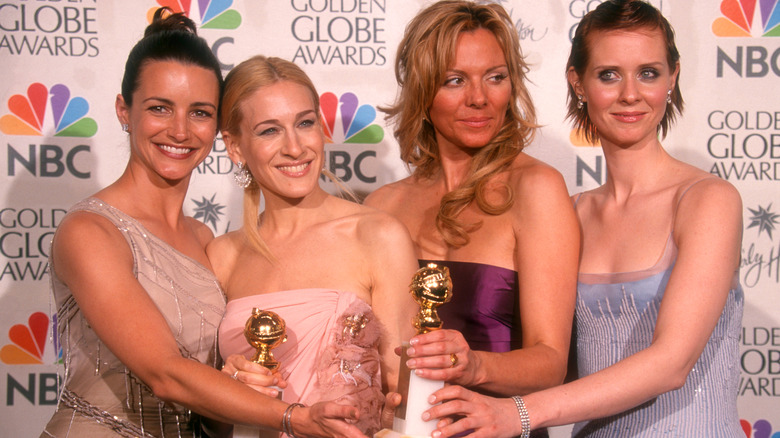 Ron Davis/Getty Images
"Sex and the City" is one of the most beloved television shows of its time. The series starred Sarah Jessica Parker as Carrie Bradshaw, a writer living in New York City and looking for love alongside her three best friends, Samantha Jonas (Kim Cattrall), Miranda Hobbs (Cynthia Nixon), and Charlotte York (Kristin Davis). The four women offered up very relatable qualities that gave viewers a sense of commonality while watching the show. However, the cast could have been so much different if Davis would have landed the role of Monica Gellar on "Friends" when she auditioned for the series before falling into the role of Charlotte.
"Sex and the City" fans absolutely loved Charlotte for so many reasons, including her positive outlook on life, her relentlessness to never give up on finding the love of her life, the way she supported her friends, and the class and strength she exhibited during the difficult times in her life. However, Davis was nearly cast in the role of Carrie before Parker became available. In June 2023, Davis revealed during the "And Just Like That...The Writers Room" podcast that after reading the scripts she didn't believe she was a good fit for the part, and was happy to become Charlotte to Parker's Carrie.
Of course, that wasn't the first time Davis didn't get cast in a role that she was up for.
Kristin Davis auditioned for Friends in the 90s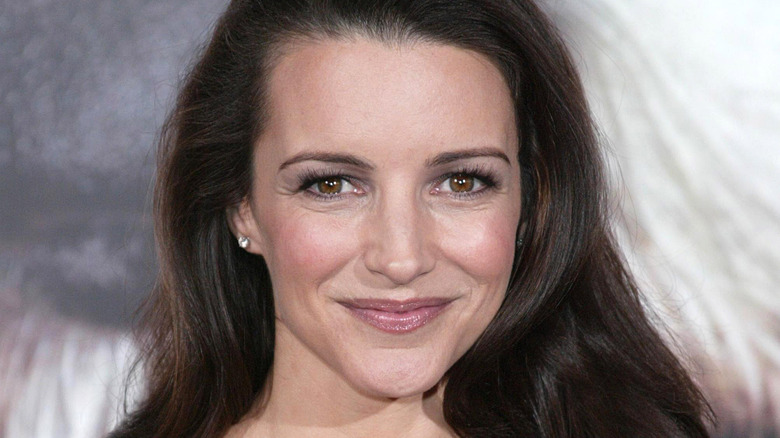 Everett Collection/Shutterstock
During a 2021 interview on "The Late Late Show with James Corden," Kristin Davis admitted that she auditioned for the role of Monica Gellar on "Friends," a part that later went to Courteney Cox. While Davis was one of many who was considered for the series, she has some interesting ties to the show and Cox herself. "I think I was about one of like 8,000 young ladies who read for Monica," Davis told the late-night host. Although Davis didn't get the role, she did find out that Cox had gotten it when the actor asked her to go car shopping with her.
"Courteney and I were in the same yoga class at the time. And we used to hang out. The rest of us were like unemployed actors, waitress types, and we would hang out after class, and one day Courteney was like, 'Hey guys, do you want to come car shopping with me?' We were like, 'Wow, car shopping.' And she said, 'I did this pilot. I'm feeling really good about it. I think I'm going to buy a Porsche!' We were like 'Wow! Is she for real?' And it was 'Friends.' And it did go very well," Davis told Corden.
However, David did go on to play a member of an iconic friend group living in New York for "Sex and the City" — as well as appear as a guest star on "Friends."
Kristin Davis guest starred on Friends during Season 7
Although Kristin Davis didn't end up playing the iconic Monica Gellar on "Friends," she did get make an appearance on the seventh season of the show. Her character, Erin, had a fling with Matt LeBlanc's Joey and ended up befriending both Phoebe (Lisa Kudrow) and Rachel (Jennifer Aniston). Even though David was a more experienced actor and had hit it big with "Sex and the City" at the time, she still revealed that she was nervous to appear on the hit NBC sitcom.
"Sex and the City was in production, but I was nervous to be the tiny character of Erin, losing sleep, partly because of the live audience, but partly because you're in this world that has been created that is so alive and so specific and you're trying to make sure you're fitting yourself in there properly," Davis told "Today." However, she did admit that she had a lot of fun working with the "Friends" cast and getting to sit in the iconic Central Perk coffee shop with the gang — plus knowing that "ER" was filming next door. "The thing I remember most was the cohesion between the cast and they had kind of bonded together as a group. That was really great to see, and obviously, I learned a lot from that," she added.
Although Davis would have made a fantastic Monica, fans likely couldn't imagine anyone else playing Charlotte on "Sex and the City."