Kate Middleton Wows In Wimbledon White (But She Did Make One Tiny Tennis Mistake)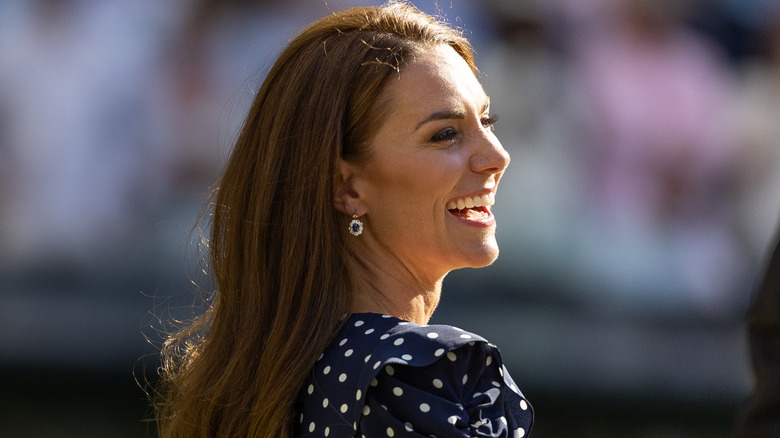 Simon M Bruty/Getty Images
Being royal isn't just wearing crowns and living in palaces. There's work involved as well, and one aspect of the British royal family's work is their royal patronages. Having a member of the royal family as a patron can help bring publicity and prestige to an association or organization. The patronages for the most part seem to overlap with at least some personal interests of each royal family member, so it makes sense that Catherine, Princess of Wales is royal patron for the All England Lawn Tennis and Croquet Club (AELTC). The previous royal patron for the club was none other than Queen Elizabeth II.
The AELTC is based at Wimbledon in London; the same place where the world's oldest tennis tournament is played — it's been held there since 1877. And Kate as well as her husband William, Prince of Wales have frequently attended the Wimbledon tournament, sitting in the Royal Box near center court, and Kate always has great Wimbledon looks. On the day before the start of the 2023 Wimbledon tournament, Kate headed to the court and she fit right in with her immaculate tennis whites. Though she did make one tennis mistake while she was there, noticed by none other than tennis great Roger Federer.
Kate Middleton trained like a Wimbledon ball girl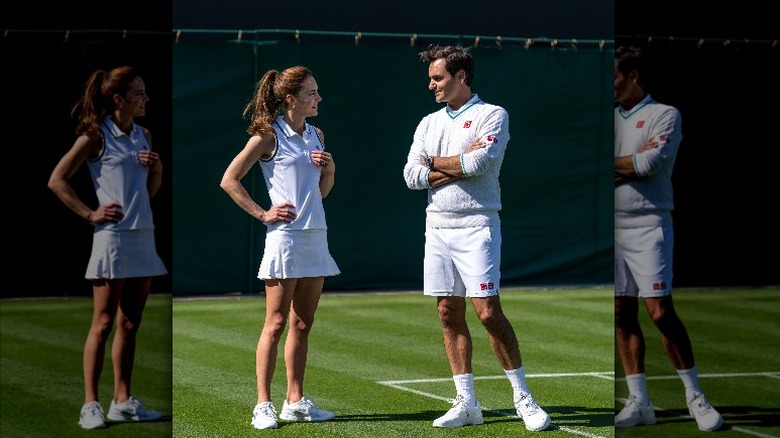 Handout/Getty Images
Catherine, Princess of Wales joined Roger Federer at the world-famous courts of Wimbledon in London the day before the 2023 tennis tournament kicked off, and she definitely looked the part. Kate was wearing a white sleeveless polo and a short, white tennis skirt. She finished the look with a pair of pristine white sneakers. Kate was there along with former pro tennis star Roger Federer, and she got to see the behind the scenes work that goes into being a ball boy and ball girl at the renowned tennis tournament.
She wasn't just dressed for the part, Kate got to work. During her time at Wimbledon, she got some lessons from the ball boys and girls on how to do the job, and at one point, as Kate was standing in formation as a ball girl, she caught the ball with just one hand (via YouTube). The ball girl next to her says "Good catch," but Federer asks if she's "allowed to do that." The ball girl next to Kate explained that catching the ball before it's made a bounce is a no-no. Whoops!
Kate, as one of the most athletic royals, did get a chance to play a bit of tennis with Federer and get some tips on her serve. She held her own it seemed, with Federer even calling one of her shots "amazing."