Melissa McCarthy's First Meeting With Barbra Streisand Was Very Unusual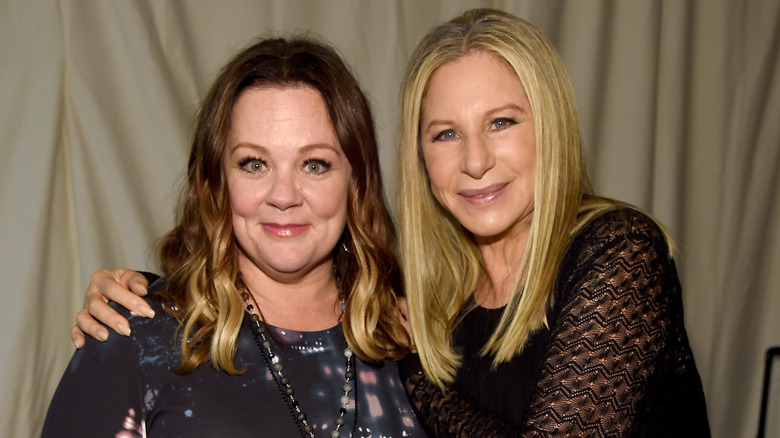 Kevin Mazur/Getty Images
Showbusiness can be a small world, often connecting stars who may come from different parts of Hollywood and across different generations. Sometimes meetings between showbiz pros even surprise those on the inside. This was the case when "Bridesmaids" actor Melissa McCarthy met EGOT legend Barbra Streisand.
Streisand's career began in the early 1960s on Broadway and she started releasing music shortly thereafter. Film roles and handfuls of awards followed, solidifying her as one of the biggest stars of the 20th and 21st centuries. She is the only artist who has had a No. 1 album in each of the past six decades. Her much-revered career and sophisticated music could make her seem close to royalty. However, when McCarthy first met her, she quickly proved to be just as normal and silly as the rest of us. In that first meeting, McCarthy told Entertainment Weekly that Streisand was eating lunch meat in a pair of leggings. The "Little Mermaid" star could hardly picture the legend doing something so comically ordinary.
Barbra Streisand invited Melissa McCarthy to record a duet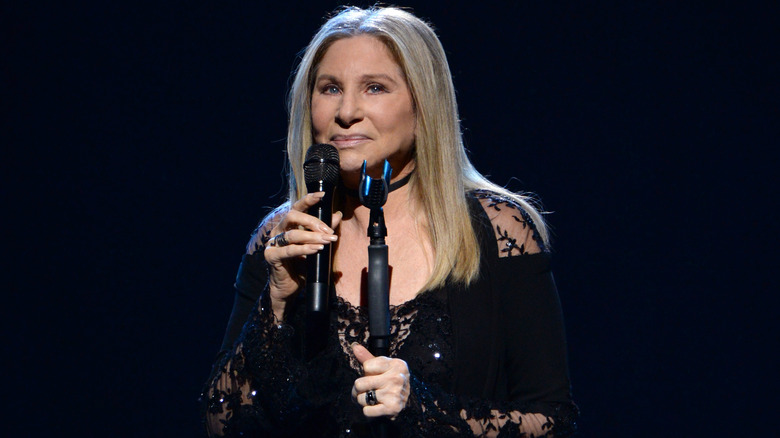 Gustavo Caballero/Getty Images
In 2016, Barbra Streisand released the album "Encore: Movie Partners Sing Broadway," which featured duets with multiple film stars including Alec Baldwin, Antonio Banderas, and Melissa McCarthy. After finding out that she was not being pranked and Streisand actually did want her to sing with her for the album, McCarthy was "super nervous," but Streisand quickly dispelled those nerves. "When someone who you think you should be curtseying to keeps eating lunch meat, it really kind of levels the playing field. It was really charming. I was like, 'You're really pounding lunch meat.' She's like, 'Yeah,'" McCarthy told Entertainment Weekly. "None of this is what I expected."
On "Encore: Movie Partners Sing Broadway," Streisand and McCarthy sing "Anything You Can Do" from the Broadway musical "Annie Get Your Gun." The track begins with the two pretending to compete over the lead role in an upcoming film. Streisand explained that they changed the lyrics "so they could be for somebody who is very funny" (via YouTube). One line states, "In any comedy, I can be crasser."
Melissa McCarthy had previously never recorded music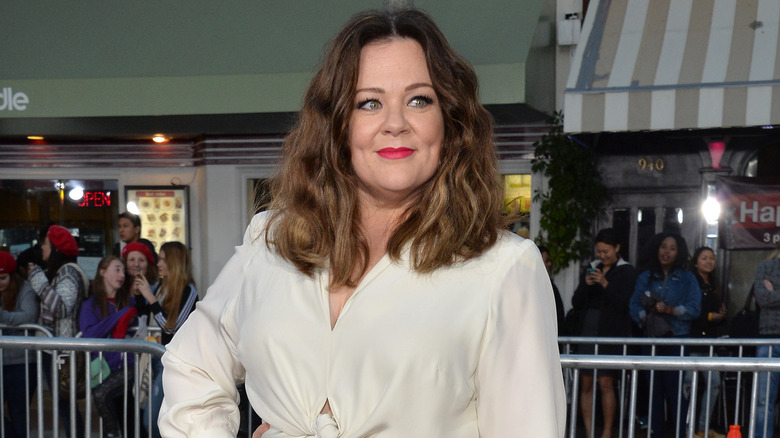 Jaguar PS/Shutterstock
Barbra Streisand is a fan of Melissa McCarthy. In a YouTube video offering a behind the scenes look at the recording of "Anything You Can Do," she referred to McCarthy as "the greatest woman comedy star." McCarthy does have an Emmy Award for her guest appearance on "Saturday Night Live" in 2017 and another for the sitcom "Mike and Molly" in 2011. But McCarthy had never been in a recording studio before recording "Anything You Can Do." Streisand easily showed her the ropes.
McCarthy was able to see first hand how down to earth and funny Barbra Streisand is in her personal life. Though Streisand's music and films like "A Star is Born" are definitely dramatic, Streisand brought the comedic part of her personality to the 2012 comedy film "The Guilt Trip" where she starred alongside Seth Rogen. Streisand plays a somewhat overbearing mother who accompanies her son on a business trip across the United States. Perhaps Streisand and McCarthy would be a formidable comedy film duo as well.