The Secret To Dolly Parton's Successful Marriage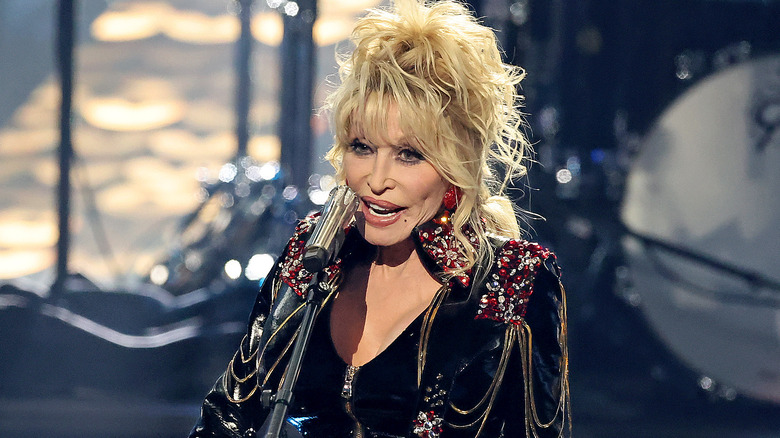 Amy Sussman/Getty Images
Dolly Parton is a tiny woman yet everything about her is big: her hair, her smile, her boobs, her self-deprecation. She often shares humor on Twitter about her looks: "It costs a lot of money to look so cheap!" She's also tweeted: "It's a good thing I was born a girl, otherwise I'd be a drag queen."  The joke's on us, of course, because the woman is a complete class act. She's a talented and enduring professional who's starred in movies, written books, and changed country music. She's also held together a marriage of more than 50 years while stoking her superstar career.
So who's the husband who sparked a romance that's lasted for more than half a century? Carl Thomas Dean is a reticent businessman, according to The U.S. Sun. While Dolly traveled the world's stages, he quietly built a successful asphalt company in Nashville, Tennessee, the town where he was born and raised. 
Dolly describes him for the Evening Standard as a "homebody. He doesn't give a damn for show-business or this Dolly Parton business." In her many public appearances, she usually appears alone and says little more than that about her husband. The country music icon is always careful to not betray Carl's privacy, still, she also hasn't hidden the secret to their marital success.
The secret sauce is . . . sauciness?
What many Dolly Parton fans appreciate most are her quips. "I'm not offended by all the dumb blonde jokes because I know I'm not dumb . . . and I know I'm not blonde," she dishes to the Evening Standard. Dolly may be witty or hokey, depending on your point of view, but it's her husband's unique sense of humor that keeps her laughing, her website explains. 
Jokes, she explained to ET Canada, are the essence of their enduring marital bond: "We both have a warped sense of humor." Two people who share the ability to laugh can find a way past any problem, including times when things that cannot be unsaid are said, she noted. Luckily, her own marital arguments have never taken such an awful turn, as the country music legend recalled.
Dolly also believes the many ways she and Carl differ — work, interests, and lifestyles — also contribute to the longevity of her marriage. "I can't stay home 'cause I'm a gypsy. I love to go everywhere, do everything, meet everybody," she told the Evening Standard. Being apart most of the time, she and her hubby appreciate one another more when they do find the time to get together, she added. Though they are opposites, they still share many things they both love to do.
The spark was clean clothes
The couple met on the first day Dolly Parton was in Nashville. She was standing outside Wishy Washy Laundromat when her future husband drove past, according to her website. "My first thought was 'I'm gonna marry that girl,'" Dean told Entertainment Tonight. "My second thought was, 'Lord she's good lookin.' And that was the day my life began." 
The pair dated for a couple of years before saying their "I do's." Only three people — the preacher, his wife, and Dolly's mother — attended the ceremony that took place on May 30, 1966, in Ringgold, Georgia, the country star told Local 3 News. On occasion, the couple returns to this town of just under 3,500 people in an RV camper. On these modest trips, she neglects the glitz and glam that she's known for to avoid getting much attention, she explained. "I put on a little makeup for my husband, I usually have my own hair, just put it up in a little scrunchy."
Though this woman famous for more than one stunning transformation has a humble love story, she does enjoy her spice. The Mirror reports that both Dolly and Carl love to flirt. It's innocent fun, the "9-to-5" star says, and neither gets jealous of the other. Dolly refers to their relationship as "open . . . But not sexually. And I would kill him if I thought he was doing that." The country singer and her long-time love do not have children.