A Look At King Charles' Relationship With His Niece Zara Tindall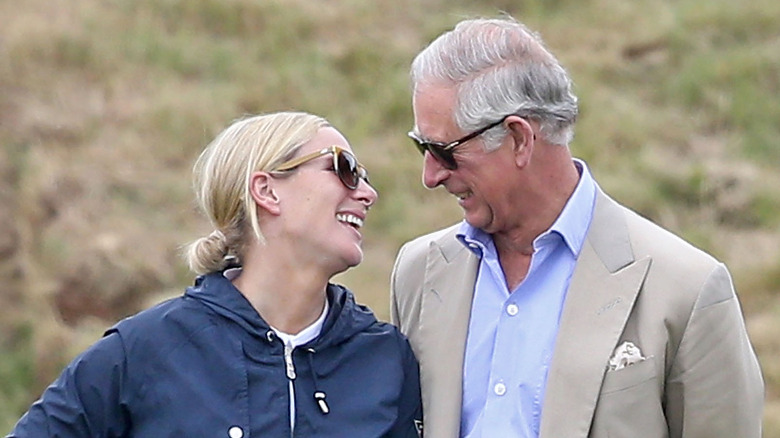 Chris Jackson/Getty Images
King Charles III isn't known to be much of a hugger. While there have been a few times when King Charles broke royal rules and protocols, the monarch rarely seems to show public displays of affection these days, even with his wife Queen Camilla. However, even though he's a stickler for this protocol, there are two notable people that get King Charles to bend his "no PDA" rule.
The first is, of course, his grandson Prince Louis. The youngest child of William and Catherine, Prince and Princess of Wales, has a way of winning hearts by just being himself. The King of the United Kingdom is not immune to the prince's adorable antics. Per People, the grandfather and grandson were all smiles and hugs as Prince Louis sat on King Charles' knee at Queen Elizabeth's Platinum Jubilee.
The other person that always gets a bright, genuine smile from King Charles? His lovable niece, Zara Tindall. Even though the daughter of Princess Anne isn't constantly in the news like her cousins, after witnessing these adorable moments between the king and his niece, we have a feeling Zara still tops the list of her uncle's favorite relatives.
Zara's laidback nature puts King Charles at ease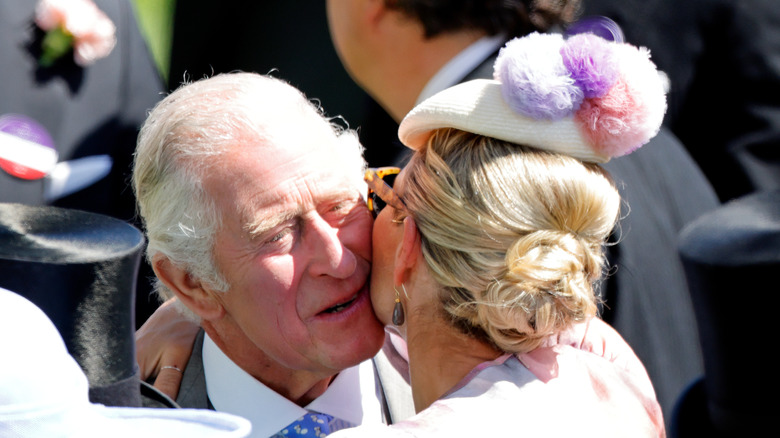 Max Mumby/Indigo/Getty Images
Zara Tindall, who is 21st in line to the throne, is known for her more relaxed approach to being a royal celebrity. Like her mother Anne, Princess Royal, she focuses more on family and athletics, particularly her Olympic equestrian career, instead of the glitz and glamour that comes with being part of the royal family (via Tatler).
Talking with The Sunday Times, Zara admitted she was pleased with her mother's decision to not give her and her brother Peter royal titles. "I'm very lucky that both my parents decided to not use the title and we grew up and did all the things that gave us the opportunity to do," she shared.
Without a constant spotlight on her, Zara's sociable and charming personality has been allowed to thrive. That could be the reason why so many family members, especially her uncle Charles, automatically gravitate to the beaming athlete. Body language expert Judi James told Express that Zara is the one royal that "brings out some of the best body language in Charles." The two are often seen hugging and smiling at one another, looking completely at ease even with the cameras flashing away. It's rare to see an easygoing King Charles, and we love knowing it's his niece that gets this reaction from him.
Zara is incredibly protective of King Charles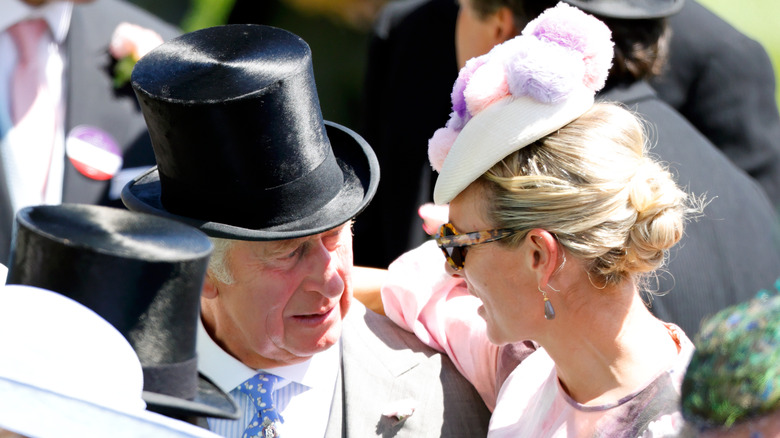 Max Mumby/indigo/Getty Images
It's hard to wrap our heads around the relationship between King Charles and his niece Zara Tindall. You have to admit, they make an odd pair of friends. King Charles is considerably more formal and, as body language Judi James describes him, "hands-off" and "stuffy-looking." On the other hand, James finds Zara to be on the opposite end of the personality spectrum, being "the most spontaneous and gloriously-gregarious-looking royal adult." It shouldn't make sense for these two to be the best of friends, but they just work. James believes that Zara feels "protective" of her uncle. "In terms of showing that affection in public, she just goes for it, taking the lead in a way that makes her look rather protective of him," the body language expert claims.
When Zara sees her uncle, she exudes what Royal Insider also describes as protective behavior. At the 2022 Royal Ascot, Zara was seen giving Charles an affectionate kiss on the cheek before slinging her arm over his neck. It's almost like the two were in a sports huddle. She appears to have used the moment to have a private conversation with her uncle, like she was checking to see how he was doing. It was a very touching moment to witness, and whenever it happens, it's like the cameras aren't even there for these two. We don't believe it's a publicity stunt, as you just can't fake the genuine care we see from this royal duo.