Maria Shriver Reportedly Didn't Like Patrick Schwarzenegger's Miley Cyrus Romance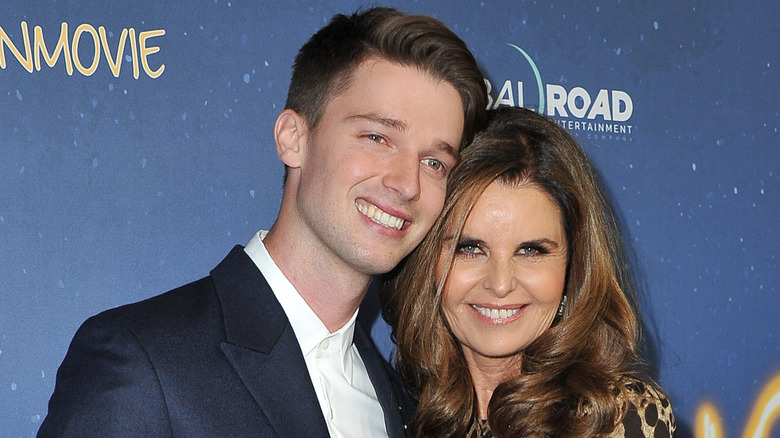 Allen Berezovsky/Getty Images
It's safe to say that Miley Cyrus' life has been a wild ride. She stepped into the world of show business at the young age of nine, with an appearance on her father's TV show, "Doc." Shortly after, Cyrus became a household name after playing Miley Stewart in Disney's mega-hit show, "Hannah Montana." Like most child actors, fame didn't exactly sit well with her. The actor and singer revealed to Marie Claire that she developed body image issues because "I was told for so long what a girl is supposed to be from being on that show."
Cyrus continued, "I was made to look like someone that I wasn't, which probably caused some body dysmorphia because I had been made pretty every day for so long, and then when I wasn't on that show, it was like, 'Who the f*** am I?'" In a podcast interview for Spotify's "Rock This with Allison Hagendorf," Cyrus acknowledged that she went through an identity crisis because she felt that nobody cared about her when she wasn't a star, similar to her character. So, she underwent a stunning transformation and rebranded herself as a rebel with a cause. 
Cyrus ditched the blonde wig for a buzz cut and changed her musical sound to match her more liberated state of mind. And while her change of style drew attention, so did her love life. Among several other high-profile relationships, Cyrus dated Patrick Schwarzenegger, Arnold Schwarzenegger and Maria Shriver's son. But his mother wasn't on-board with it because of Cyrus' public image.
Maria Shriver didn't approve of Miley Cyrus' wild lifestyle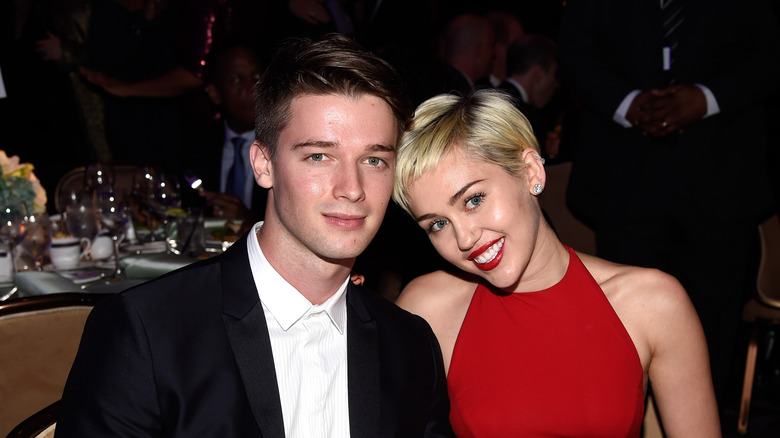 Kevin Mazur/Getty Images
When Miley Cyrus rebranded herself, her image revolved around breaking all the rules, and Maria Shriver reportedly wasn't a fan. An insider informed Page Six that Shriver disliked Cyrus enough to cancel a visit to her son, Patrick Schwarzenegger, because she didn't want to be around the "Malibu" singer. They said, "Patrick is anti-drugs, but Miley doesn't give a [bleep]," adding, "She and Patrick were heard fighting about it ... There's no way Patrick can be linked to drug use; his family is American royalty."
In December 2014, Cyrus and Schwarzenegger had a pretty wild night at Miami's adult entertainment club, E11EVEN. The couple spent a whopping $10,000 in one night, smoking and partying until 6 a.m. Cyrus also reportedly made out with Paris Hilton, and TMZ captured a video of her dancing with an adult performer. And as a mother, Shriver naturally wasn't too pleased. After the pair's first night in Miami, she seemingly called out their behavior by tweeting a video that showed the ill effects of binge drinking.
Shriver wrote, "Worth showing yr kids & talking to them about who they are & will be this weekend." However, her ex-husband, Arnold Schwarzenegger, shared a different sentiment. He described Cyrus as a "fantastic person," during an interview with Howard Stern, noting, "We had little kids in the house ... She went out every day to buy gifts for them, she played with them, played with her phone, and showed them things," (via Bustle). 
Patrick Schwarzenegger and Miley Cyrus' romance was short-lived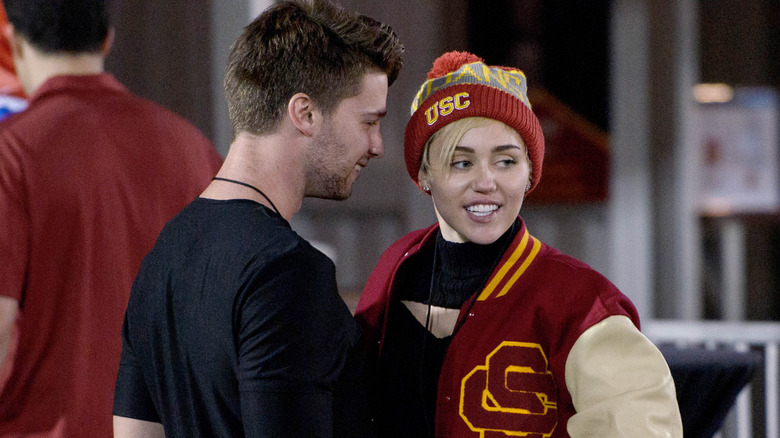 Brm/star Max/Getty Images
Even before they started dating, Patrick Schwarzenegger reportedly had a crush on Miley Cyrus. They went on a couple of dates after her 2010 breakup with Liam Hemsworth and really hit it off, but they didn't start seeing each other properly until November 2014. Although it initially started as a fling, the two gradually developed deeper feelings, but alas, they couldn't make it last. In April 2015, they called it quits after five months of dating. Many believe Schwarzenegger cheated on Cyrus because he was spotted getting too close to another woman during a Cabo vacation just a month prior. 
However, the actor took to Twitter to deny the allegations, explaining that the mystery woman was a friend's girlfriend. And yet, a source also told Hollywood Life, "Miley wasn't convinced Patrick was trying hard enough to win her heart back after the spring break scandal, so she got p****d." They added that Cyrus initially decided on a break to see how Schwarzenegger would react, so she evidently found the results disappointing. 
Another insider clarified to People that their lives were too different to sustain a relationship. In the Howard Stern interview, Arnold Schwarzenegger opined, "I think Patrick had a wonderful experience and had a great relationship, and then the whole thing eventually fell apart." Years later, the exes attended the same party and ignored each other, which led many to wonder where Cyrus and Schwarzenegger really stand today.