Why You Should Never Transfer Sunscreen Into Travel-Sized Containers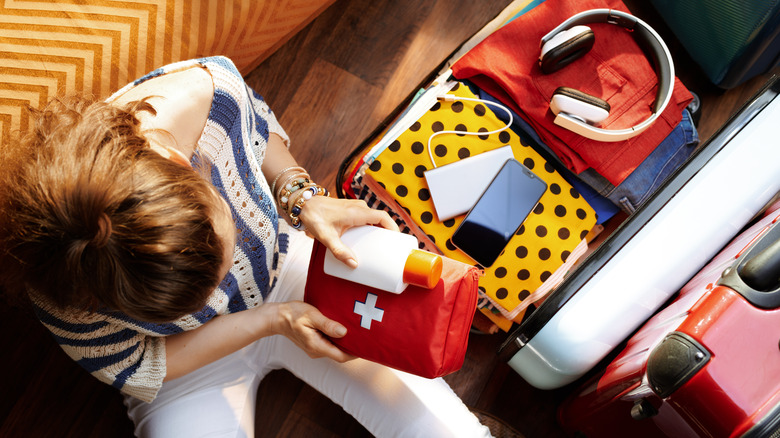 Alliance Images/Shutterstock
We may receive a commission on purchases made from links.
Bringing your beauty products along with you when traveling can be a hassle. While products like facial moisturizers and serums already come in TSA-approved liquid sizes, some cosmetics are larger and need to be decanted if you want to bring them on board in a carry-on.
As it is of ultimate importance to apply sunscreen regularly (yes, even if you're just chilling in the shade), you may feel tempted to transfer yours to a TSA-friendly container when getting ready for a vacation. While decanting is a great way to bring, let's say, your perfume with you without getting it seized by airport security, other products might not be as convenient to transfer to a travel-sized container.
Contrary to popular practice, sunscreen is one of those cosmetic essentials that you should never decant. As sunscreen is made up of many effective ingredients that obviously provide protection from the sun, it's vital to understand how these chemicals work on their own to avoid messing with your favorite bottle of sunscreen.
Transfering sunscreen can alter its composition
Every sunscreen has certain ultraviolet filters that block or absorb the UV radiation from the sun. These chemicals are mostly not compatible with plastic, which is why you should think twice before decanting sunscreen into bottles not designed for the product. "They can often react with plastics or soak into it. This means what's left in the sunscreen lotion will be different, and how it spreads on the skin will change. So you might not end up with the same level of protection as before," Michelle Wong, a cosmetic chemist, shared in a conversation with Well+Good.
The container you transfer the sunscreen into can further mess with its efficiency as it was not designed with delicate sunscreen ingredients in mind, says Wong. "The light can break down some of the ingredients or cause separation of the emulsion, which means the sunscreen might not protect as well as it should," she explained.
Other than messing with its effectiveness, you can contaminate your sunscreen if you transfer it to a different package, plain and simple. The other container could still — even after your best efforts at cleaning it — have leftover microbes that can alter the chemical makeup of the sunscreen. So skip the decant and go for a sunscreen that's already in TSA-friendly packaging.
Travel-sized alternatives to decanting your sunscreen
A sunscreen stick will rid you of all worries when flying with just a carry-on, and if a stick doesn't suit you, there are also powder sunscreens as well as sunscreen mists available. It's important to choose the right sunscreen for your face, so consider your skin's type and any sensitivity issues you might have.
The VT Cosmetics Essence Sun Pact has an SPF of 50+ and is perfect for reapplying sunscreen when you have makeup on. If you don't like the compact edition, the Mineral Sunscreen Powder by Brush On Block is a great powder option too. A sunscreen spray like Coola's Organic Scalp Spray and Hair Sunscreen Mist can even replace a hat when out and about in the sun, and it smells nice. Sunscreen sticks are a crowd favorite, though, and for all the right reasons. They're easy to apply, store, and carry around with you wherever you go (including on the plane), and there are so many to choose from. Neutrogena's Ultra Sheer Dry Touch Mineral Sunscreen Stick is travel-friendly and great for sensitive skin, as is the Protect + Soothe Mineral Sunscreen Stick by Aveeno.
In the case that you prefer the good old lotion texture for your sunscreen, those come in travel-sized packaging too. Sun Bum's Sunscreen Lotion has a high SPF of 70 and is vegan and hypoallergenic, while the UV Sheer Face Sunscreen from EltaMD promises to even out your skin tone while providing sun protection.