Rumors About The Night Before Charles And Diana's Wedding Tell A Heartbreaking Story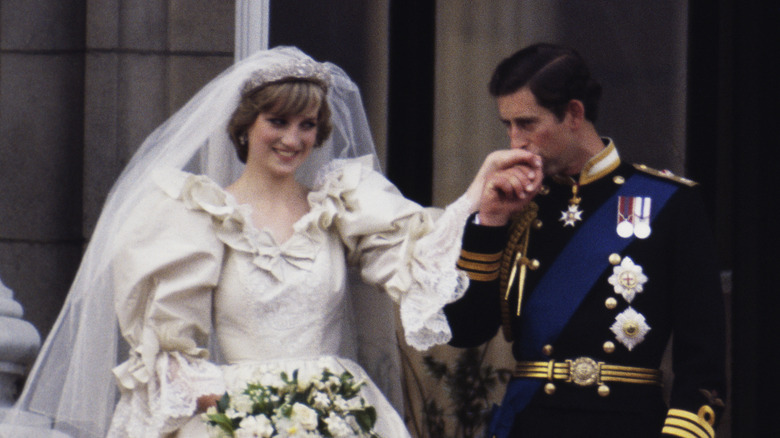 Princess Diana Archive/Getty Images
The British monarchy has always been a fascinating case to study. The modern world has witnessed the rise and fall of most European monarchies, yet the House of Windsor has stood the test of time. From national duties, and overseas visits, to prestige alone, the life of a royal may be dreamlike to many, but to the royals themselves, it's akin to living a luxurious life without freedom. Such was the case for King Charles III and the state of his love life.
In the 2017 book titled "Prince Charles: The Passions and Paradoxes of an Improbable Life," it was revealed that the then-Duke of Cornwall wept the night before he got married to then-Lady Diana (the late Princess Diana) because of his conflicting feelings for former girlfriend Camilla Parker Bowles (now Queen Camilla). It did not help that Charles reportedly gave Camilla a personalized bracelet that same night, while Camilla gave Charles cufflinks in return.
As if the gift exchange between the former lovers wasn't heartbreaking enough, it was revealed by astrologer Penny Thornton that Charles told Diana his real feelings the night before their wedding. "One of the most shocking things that Diana told me was that the night before the wedding, Charles told her that he didn't love her," (per People Magazine) Thornton said in the ITV documentary "The Diana Interview: Revenge of the Princess." 
A marriage tainted by controversies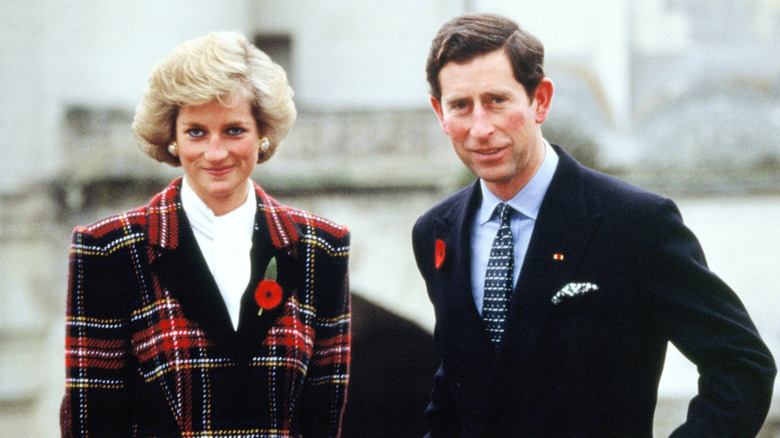 Georges De Keerle/Getty Images
Although King Charles III and Princess Diana's 1981 wedding at St Paul's Cathedral in London was a global phenomenon, with millions of people witnessing the event in person, and on television and radio, the union was seemingly doomed from the start.
Despite this, the pair still went ahead with the wedding and the newlyweds even embarked on their honeymoon aboard the Royal Yacht Britannia for a 14-day cruise. But the honeymoon itself signified a rocky start for the two. In the 2007 biography, "The Diana Chronicles," by Tina Brown, the author mentioned how King Charles confided in a friend and said he wasn't too fond of his first night with his new wife. "That first night was nothing special ... It was pleasant enough, of course. But she really was painfully naive," Charles said, as reported by Reader's Digest. Brown further claimed, "Charles had enjoyed women who led him, mastered him, and mothered him. He was used to being served, not required to seduce."
Despite these reports, Charles and Diana continued their marriage and had two children together, namely Prince William Arthur Philip Louis (born 1982) and Prince Henry (Harry) Charles Albert David (born 1984). Charles and Diana's marriage was marred with never-ending infidelity rumors, scandalous phone conversations, and Diana's battle with bulimia and depression. After 11 years of marriage, the royal couple decided to separate in 1992, with the divorce finalized in 1996.
A love affair that persisted over the years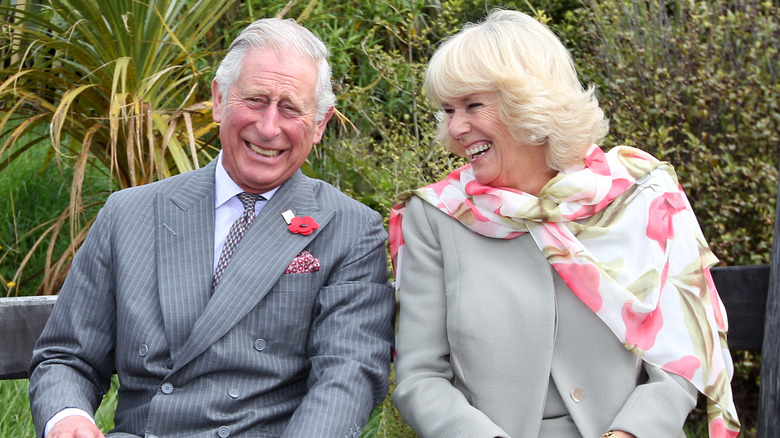 Rob Jefferies/Getty Images
King Charles III and Queen Camilla's relationship timeline started after dating in 1971. Two years after, they broke up because Charles had to be relocated overseas for the Royal Navy. Camilla went on to marry Brigadier Andrew Parker Bowles in 1973.  In 1986, reports circulated that Charles and Camilla got back together, despite being in their own respective marriages. Princess Diana was even aware of the affair, which she made clear during an interview with BBC "One's Panorama" in 1995. When asked if Camilla was a factor in the "breakdown of the marriage," she replied, "There were three of us in this marriage, so it was a bit crowded." (via YouTube)
Camilla ended her first marriage in 1995, with Charles' divorce finalized in 1996. Almost a decade later, Charles and Camilla tied the knot on April 9, 2005, through a civil ceremony at Windsor Guildhall. They went on to serve the royal palace. The then Duchess of Cornwall became president of over 90 charities that helped different advocacies such as health and well-being, and support for rape and sexual assault survivors, among others. While Charles continued supporting Queen Elizabeth II to ensure the palace's sustainability. 
However, after the death of Queen Elizabeth II on September 8, 2022, Charles was set to rule the British monarchy. The coronation of King Charles III was held on May 6, 2023, granting Camilla the title of Queen Camilla.