What These Famous News Anchors Looked Like Before They Made It Big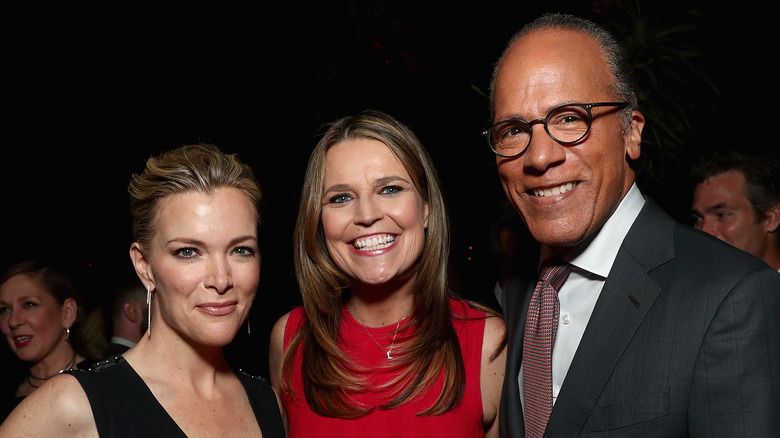 Todd Williamson/Getty Images
Aside from modeling, singing, and acting, very few jobs require as much attention to appearances as television news anchoring. Since the profession began in the 1940s, news anchors have become accustomed to adapting their style in order to present the most professional on-air personas possible.
Whether it's their choice of wardrobe, hairstyles, makeup, or overall demeanor, news anchors carefully curate their appearances to create an impression of authority, credibility, and relatability. As these on-air personalities progress in their careers, they may experiment with different fashion choices, adapt to changing trends, or even redefine their image entirely. These transformations can result from personal growth, shifts in the media landscape, or an intentional effort to connect with an evolving audience.
News anchor veterans and up-and-coming media legends alike have undergone significant transformations throughout their careers. Scroll down to discover some of the world's most renowned news anchors' most noteworthy glow-ups from over the years.
Diane Sawyer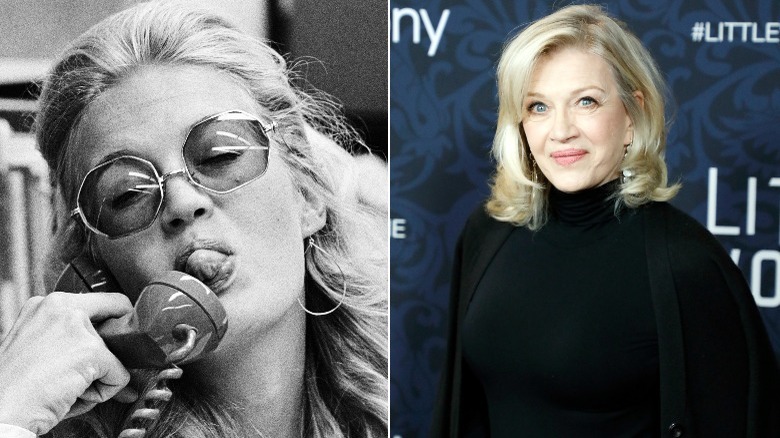 Taylor Hill/Getty & David Hume Kennerly/Getty Images
Diane Sawyer began her career in the world of broadcasting with a remarkable trajectory. As a senior in high school, Sawyer won the America's Junior Miss pageant in 1963. After graduating from college in 1967, she kicked off her career as a weather forecaster and news reporter for WLKY in Kentucky. After just two short years at the station, Sawyer moved to Washington, D.C., and shifted to a career in politics. Between 1970 and 1978, Sawyer held multiple positions within the White House, and eventually became the staff assistant for President Richard Nixon. After Nixon's resignation in 1974, Sawyer continued to work alongside the former president to aid him in writing his book, "RN: The Memoirs of Richard Nixon." After the completion of the book, Sawyer returned to journalism and became a reporter for CBS News in 1978. Since then, she has anchored for programs such as "60 Minutes," "20/20," "Good Morning America," "ABC World News," and more.
Over the years, Diane Sawyer's appearance has subtly evolved, but she remains a timeless beauty. Known for her poised demeanor and professional attire, Sawyer has maintained a sophisticated and polished image throughout her career. Easily recognized by her signature sideswept, shoulder-length locks, you'd be hard-pressed to find anyone in the United States who hasn't seen at least one interview she conducted. Even today, over five decades after her television debut, Diane Sawyer continues to exude an air of grace and professionalism, embodying the essence of a true broadcasting icon.
Katie Couric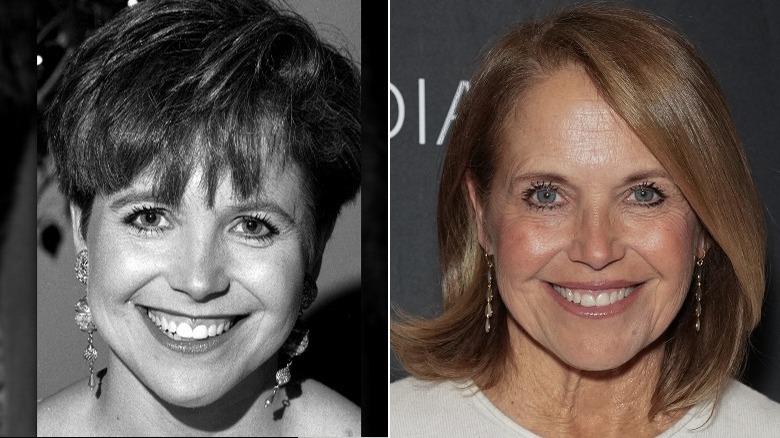 John Nacion/Getty & Tim Chapman/Getty Images
At the start of her career, Katie Couric sported a fun, short hairstyle and a killer smile. Born and raised in Arlington, Virginia, the former cheerleader was destined for news anchor stardom. After graduating from the University of Virginia in 1979, Katie Couric kicked off her broadcasting journey as a radio host, working for a news radio station in Washington, D.C. Her early days in radio allowed her to hone her skills as an interviewer and connect with audiences through her engaging personality.
Couric's talent and charisma soon caught the attention of network executives, leading her to transition to television. She worked for various small news organizations until 1989, when she joined NBC News as a correspondent and eventually became the co-anchor of the popular morning show, "Today." Couric's infectious energy and relatable approach endeared her to viewers, and she quickly became a familiar face in millions of households across the nation.
Today, Couric maintains a polished and stylish appearance. Couric's classically modest fashion choices convey an air of maturity and professionalism. And although her style has evolved since her career began, she's still known for her dazzling smile all these years later.
Brian Williams
In his younger years, Brian Williams exuded an air of youthful charm with a clean-cut and well-groomed appearance. Even despite his slightly crooked nose as a result of a break during a high school football game (which he joked about with a viewer on the NBC News Facebook page), Williams has always been considered very handsome.
Williams' career began in 1981 as a news anchor at KOAM-TV in Kansas, where he honed his skills and developed a strong foundation in delivering news to viewers. Williams' early career demonstrated his commitment to journalism, as he navigated the challenges of breaking news stories and connecting with audiences on a local level. By 1987, he had moved up to work for WCBS in New York.
Williams' talent and relentless pursuit of excellence caught the attention of network executives, leading him to join NBC News in 1993 as a correspondent. From there, he climbed the ranks and ultimately became the anchor of "NBC Nightly News," one of the most prestigious positions in broadcast journalism. His ascent to national recognition was a testament to his exceptional reporting skills, authoritative presence, and ability to connect with viewers on a broader scale. The beginning of Williams' career laid the groundwork for the distinguished path he would follow, earning him a well-deserved reputation as one of the industry's most respected news anchors.
Robin Roberts
Before her long career in journalism, Robin Roberts was a star athlete. On the Southeastern Louisiana University Lady Lions women's basketball team, Roberts became (and still is) one of the highest-scoring players in the school's history. Most images of Roberts during this time period show her in her basketball uniform with her long, curly hair pulled back into a low ponytail.
Since then, Roberts' style has evolved immensely. Now known for her short, elegant haircut, Roberts has a reputation for impeccable style sense. The broadcasting MVP's fashion sense seems to have evolved since her college days, having traded in her jersey for more polished outfit choices.
In 1990, Roberts joined ESPN and made a significant impact covering major sporting events and anchoring popular shows like "SportsCenter." Her sports journalism prowess and ability to connect with audiences laid the foundation for her future success. Roberts publicly came out as gay in 2013, making her one of only a handful of openly LGBTQ+ news anchors. Throughout her career, Roberts has demonstrated an unmatched dedication to her craft, solidifying her place as one of the most respected and influential figures in the world of broadcast journalism.
Anderson Cooper
Anderson Cooper embarked on his early career with a remarkable drive and passion for reporting. The son of actor Wyatt Emory Cooper and socialite Gloria Vanderbilt, Cooper graduated from Yale University in 1989 with a degree in political science. As a reporter for networks such as ABC and CNN, his relentless pursuit of truth and willingness to immerse himself in challenging situations became evident during his coverage of significant events such as conflicts in Myanmar, Hurricane Katrina, and the Indian Ocean tsunami of 2004. Cooper's compelling storytelling and fearless reporting set him apart, earning him widespread recognition and respect in the world of journalism.
Since the early days of his career, Anderson Cooper has undergone a noticeable transformation in his appearance. Initially recognized for his boyish charm and clean-cut image, Cooper has evolved into a seasoned journalist with a distinguished and mature presence. Over the years, his style has shifted from a more traditional and formal look to a more relaxed and contemporary aesthetic. Cooper's once clean-shaven face now occasionally sports a neatly trimmed beard, lending him a more rugged appearance. Additionally, his wardrobe has evolved, with a preference for well-tailored suits and a sophisticated yet approachable sense of fashion. As he has aged, Cooper's demeanor and appearance have matured as well, reflecting the growth and experience he has gained throughout his extensive career.
Lester Holt
As a young man, Lester Holt attended California State University and majored in government, though he never actually graduated. It wasn't until 2015 — decades into his career as a reporter — that the institution granted him an honorary degree. 
Holt began working as a reporter and anchor for various local news stations in 1981. After nearly two decades of reporting for local stations, MSNBC hired him in 2000. Since then, he has been a leading anchor for the network, most notably on the "NBC Nightly News" program. Holt's exceptional reporting and calm demeanor have led him to become one of the most trusted and respected figures in broadcast journalism.
At the start of his career, Holt rocked a mustache along with his signature short, curly hair. While he still looked very professional back in those days, his appearance has evolved over the years, giving way to a very different, more mature style. Characterized by his clean-shaven face and signature round eyeglasses, the news veteran is one of the most recognizable faces on television today.
Mika Brzezinski
Mika Brzezinski has made noticeable changes to her appearance since she began her career in 1990. Initially known for her youthful and fresh-faced look, Brzezinski has evolved into a polished and confident media personality. Brzezinski has experimented with different haircuts and styles over the years, adapting her look to match evolving trends and her professional image. Additionally, her wardrobe has shifted from more casual and conservative attire to a more sophisticated and fashion-forward style, often featuring tailored suits and elegant dresses. As her career has progressed, so too has her appearance, showcasing her evolution as a prominent figure in the media landscape.
As a young journalist, Brzezinski's first role was as an assistant on "World News This Morning" at ABC. Shortly thereafter, she began working as a reporter for local news stations until 1997 when she accepted a position as an anchor for CBS News. As part of this role, Brzezinski ended up reporting from Ground Zero during the September 11, 2011, attacks. Her work during that time solidified her profile as a journalist, and she went on to become a contributor for programs such as "CBS Sunday Morning," "60 Minutes," and a co-host for "Morning Joe."
Megyn Kelly
Megyn Kelly has undergone subtle transformations in her appearance throughout her career. When she first burst onto the national media scene, Kelly sported a more conservative and traditional look, characterized by her signature blonde hair, professional attire, and minimalistic makeup. Her style reflected a conventional news anchor image, exuding a sense of authority and credibility. In 2004, she joined Fox News Channel as a correspondent and rose to prominence as the anchor of programs such as "America's Newsroom", "America Live," and "The Kelly File." Kelly's professionalism allowed her to cover multiple high-profile events, including the August 2015 Republican presidential debate featuring Donald Trump. In 2017, she made a significant career move by joining NBC News and hosting the morning show "Megyn Kelly Today." However, the show faced controversies, and Kelly departed from NBC in 2018.
Megyn Kelly's experimentation with different styles has also met with some controversy. Over the years, she caused a stir in the news industry by wearing more glamorous and revealing outfits while on air. More recently, Megyn Kelly's appearance has continued to evolve, reflecting her desire to break away from her previous mainstream news anchor persona. As the current host of the SiriusXM program "The Megyn Kelly Show," she has adopted a more casual and relaxed style. Overall, Megyn Kelly's evolving appearance showcases her ability to adapt to changing times while maintaining her distinct personality and journalistic expertise.
Tucker Carlson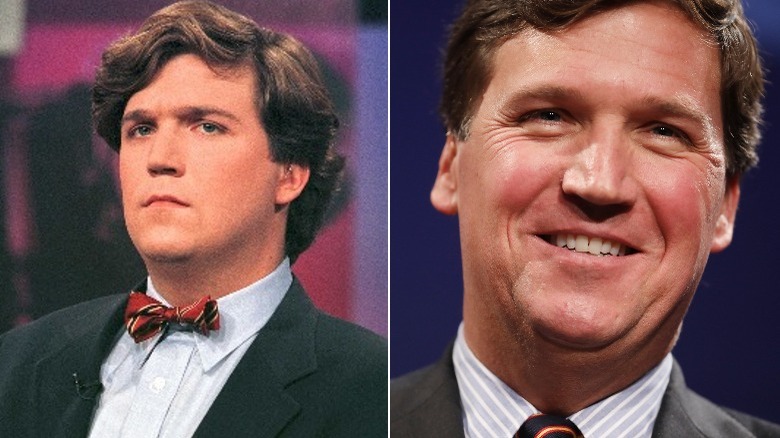 Chip Somodevilla/Getty & Richard Ellis/Getty Images
Tucker Carlson, the prominent conservative political commentator and former television host, has made subtle changes to his appearance as he's aged. When he first entered the media landscape, Carlson conveyed a much more boyish look, wearing suits and bow ties while on air. According to The New Yorker, his affinity for bow ties began when he was a boarding school student as a child.
In recent years, Carlson has embraced a more casual approach to dressing, occasionally opting for open-collar shirts and blazers to convey a sense of informality and approachability. He has also embraced a more rugged and slightly disheveled look, with a slightly unbuttoned shirt and loosened tie, adding to his appeal as a relatable figure. Overall, Carlson's evolving appearance mirrors his ideological shifts and the changing landscape of his audience, showcasing his ability to adapt and resonate with viewers seeking a distinct voice in the media atmosphere.
Throughout his career, Carlson has worked at a wide variety of news organizations, including CNN, MSNBC, and Fox News. From 2016 to 2023, Carlson was the host of his own show on Fox, "Tucker Carlson Tonight," before he was the network dismissed him in April 2023. Since then, Carlson has relaunched his show on Twitter, renaming it "Tucker on Twitter."
Chris Wallace
Widely renowned as one of the best interviewers of our time, Chris Wallace has enjoyed one of the longest and most accomplished careers in journalism. He began his career in 1975 as a reporter for WNBC-TV in New York. In those days, young Wallace sported a full head of dark hair and an occasional thick mustache. In 1989, after 14 years with NBC, Wallace joined ABC. As a senior correspondent, Wallace stayed with ABC until 2003 until he moved to Fox News to host "Fox News Sunday with Chris Wallace." He stayed with the network until 2021, when he left to host the CNN show "Who's Talking to Chris Wallace?"
Although he is known for his somewhat aggressive interviewing style, Wallace exudes a friendly demeanor. His no-frills ensembles almost always include a perfectly pressed suit, a red tie, neatly combed hair, and glasses. The son of infamous "60 Minutes" reporter Mike Wallace, Chris has managed to make a name for himself throughout his five-decade career as one of the most recognizable faces on television.
Savannah Guthrie
When it comes to the evolving appearances of famous news anchors, Savannah Guthrie's glow-up may be the most noticeable. As a young woman, Guthrie sported short, brown locks and fairly minimal makeup. In fact, during a 2017 on-air segment with her "Today" co-hosts, a clip from Guthrie's very first broadcast on "NBC Nightly" was shown to celebrate her 10-year anniversary with the network. Poking fun at herself in the clip, Guthrie stated that her "hair and makeup must have been off that day." These days, Savannah rocks mid-length, highlighted hair, stunning makeup looks, and modest yet fashionable attire.
Guthrie graduated from the University of Arizona with a degree in journalism in 1993. In the early days of her career, Guthrie began working as a reporter for various local TV stations. Her ability to simplify complex matters for viewers quickly garnered attention and admiration. Guthrie's talent and poise eventually led her to join NBC News in 2007, where she initially served as a legal correspondent. By 2012, she had landed her current position as a co-host of the "Today" show. Throughout her career, Guthrie has demonstrated a natural aptitude for storytelling and a genuine connection with her audience, establishing herself as a trusted and respected journalist.
Rachel Maddow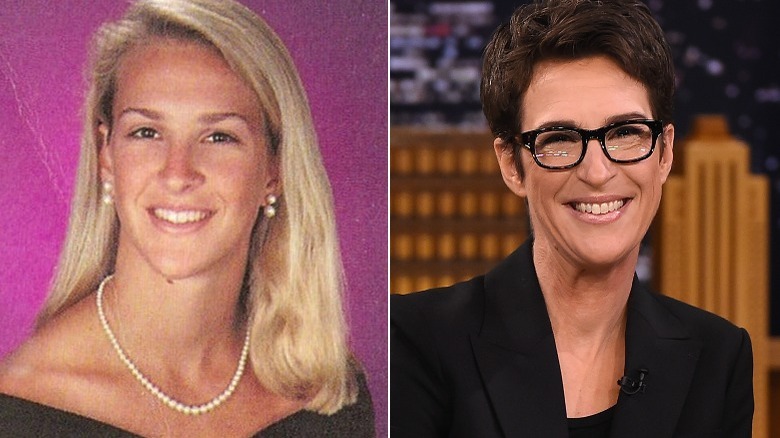 Theo Wargo/Getty & Robin Platzer/Getty Images
As a teenager, Rachel Maddow was unrecognizable compared to her appearance today. In her high school yearbook photo, Maddow is pictured with long, blonde hair — a sharp contrast from her current short, dark brown hair. It wasn't until she attended college that she began to form the signature look that we all recognize today. As a Rhodes scholar at Oxford University, Maddow ditched the long locks and instead opted for a shorter haircut. Today, as the host of "The Rachel Maddow Show," Rachel always appears very comfortable in her own skin while wearing a professional blazer, fresh-faced makeup, and the occasional pair of thick-rimmed glasses.
As a young professional, Rachel began working as a host for the radio program "The Dave in the Morning Show" on Massachusetts radio station WRNX in 1999. In the years following, Maddow went on to host multiple radio programs before launching "The Rachel Maddow Show" on MSNBC in 2008. In addition to being a television host, Rachel has also produced the historical podcasts "Bag Man" and "Ultra" and even moderated the Democratic presidential primary debate in 2019. Her keen insight, meticulous research, and ability to present complex issues in a relatable manner has led many to regard her as one of the most trustworthy news reporters of our generation.