You Can Use Retinol Under Your Eyes, But There's A Catch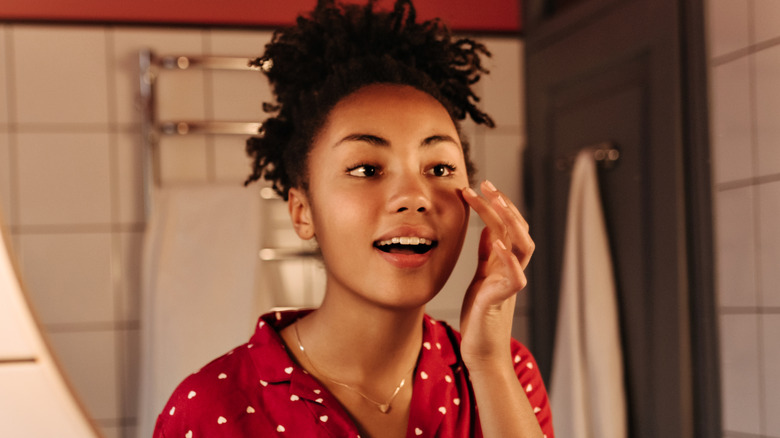 Look Studio/Shutterstock
We may receive a commission on purchases made from links.
Even if you know nothing about skincare, you've probably heard about retinol. It is a bit of a magical ingredient in the cosmetic industry. This vitamin A derivative increases skin cell turnover and collagen production for plump and younger-looking skin. Retinol also unclogs pores and chemically exfoliates, which helps fight acne. From hyperpigmentation to large pores, retinol can answer several skincare needs.
This anti-aging vitamin is a strong active ingredient, so it can be too harsh for people prone to irritation or allergies. But don't worry, there is an array of retinol alternatives to try if you have sensitive skin. Because retinoids are so powerful, it's a bit intimidating to put around your eyes. We're certainly not trying to lose our sight fighting wrinkles. However, dermatologists are confident that there is a safe way to use retinol for this delicate area. And if crow's feet or dark circles plague your under eyes, retinol can be especially helpful.
Use retinol formulated for around your eyes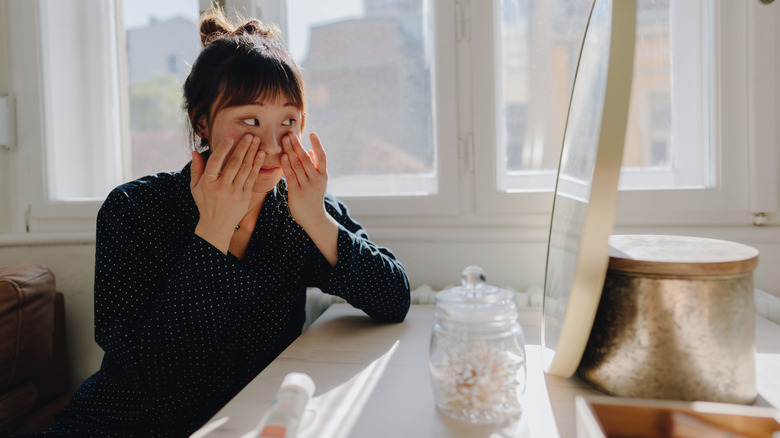 Aleksandarnakic/Getty Images
The skin around your eyes is sensitive, so you have to be careful applying retinol. Dermatologist Adam Friedman told Byrdie, "As the skin is thin here; its ability to absorb and do its thing is greater and therefore the potential for irritation is slightly greater." But as the Pimple Popper Dr. Sandra Lee explained to In Style, "Yes, the skin around the eyes is the most delicate skin on the face, but that doesn't mean we can't apply retinol there."
It is all about choosing the right retinol. You want to avoid using a general serum around your eyes. Instead, opt for creams specifically formulated for the eye area. These products are usually more hydrating with a lower retinol concentration. You can use your eye cream every evening, but it is best to start slow. Overuse is a common mistake to avoid with retinol. Dr. Lee advised, "If you experience a lot of irritation, dial it back and try applying every other night. And always wear sunscreen."
Dr. Friedman offered similar advice. He suggested, "Take the proper precautions — moisturizer to damp skin and use sun protection." If you're looking for a retinol that will take care of under-eye bags and wrinkles, there are some great options too.
Retinol eye creams to try
The Inkey List's Retinol Eye Cream targets fine lines and wrinkles for only $13. It is a slow-release retinol product to ease the risk of irritation and can also be used around the mouth. You can expect results after six weeks of using the moisturizer nightly.
RoC Retinol Correxion Eye Cream is hypoallergenic, non-comedogenic, and dermatologist tested. For $30, it can help improve puffiness, lines, and discoloration. Dermatologic surgeon Dr. Anna Guanche uses it and said in her testimonial, "RoC Retinol Correxion Eye Cream is the first thing I apply during my nightly routine! I have personally found a reduction in the appearance of fine lines and puffiness around my eyes without causing irritation. I love this product!"
For a luxurious splurge of $71, there is Dr. Dennis Gross' Advanced Retinol + Ferulic Triple Correction Eye Serum. It is made using retinol, bakuchiol, rambutan, and ferulic acid. It can be used for an under-eye makeup primer or as part of your night skincare routine. But remember, it is best to patch test any new product, and you only need a pea size amount with retinol eye creams. Be consistent, and you should see results in a few weeks.