Justin Theroux Has One Dating Rule After Splitting From Jennifer Aniston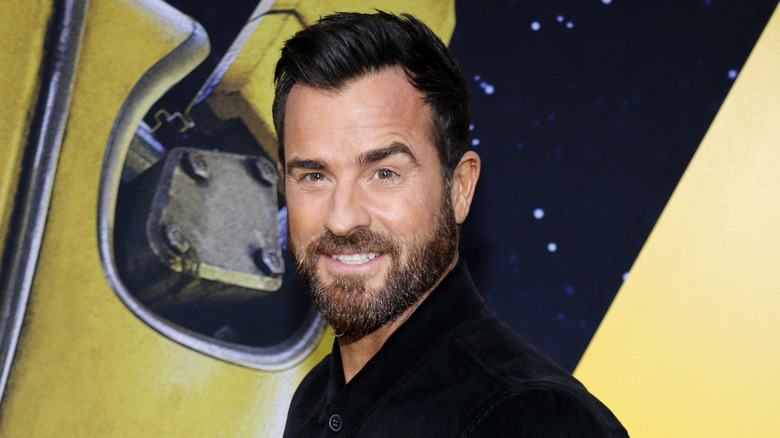 Tinseltown/Shutterstock
Justin Theroux has been working steadily in the entertainment business for decades. He's been an actor, director, writer, and producer on numerous projects and boasts impressive credits including "Lady and The Tramp," "Stars Wars: The Last Jedi," "The Leftovers," "The Girl on the Train," "Parks and Recreation," "Six Feet Under," "Sex and the City," and many, many more. Theroux also knows a thing or two about dating in Hollywood since he's been involved in some high-profile relationships in the past, most famously with "Friends" star Jennifer Aniston. 
Since then, Theroux has changed his outlook on dating other people in the spotlight. In the past, the "Zoolander" star has been involved with costume designer Heidi Bivens, artist and director Petra Collins, and actor Emma Stone, but it was his marriage to Aniston that earned Theroux the most attention. The actors met in 2007 before reconnecting in 2010 when they shot the movie "Wanderlust" together. 
A year later, the couple was seen publicly for the first time. They got engaged in 2012 but didn't tie the knot until 2015. Sadly, by 2018 the stars had split. During their relationship, there were plenty of rumors that revolved around Aniston's own dating history as well as the couple starting a family together. Now, Theroux says he tries to keep his relationships out of the spotlight as a result.
He wants his relationships to remain private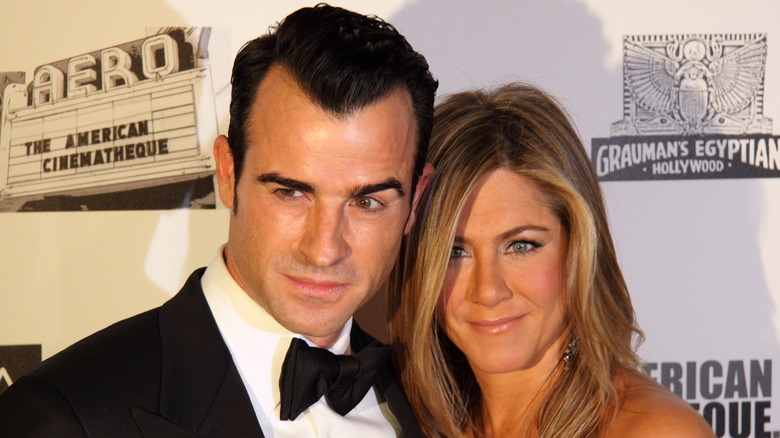 Serge Rocco/Shutterstock
Justin Theroux and Jennifer Aniston ended their marriage in 2018, and they have both moved on with their lives in the intervening years. However, Theroux hasn't forgotten what it was like to be in a relationship that was reported on and speculated about on a regular basis. Since splitting from Aniston, the actor has made a new rule for himself after deciding that he no longer wants to date anyone in the public eye so that his relationships can stay as private as possible.
During a May 2023 interview with Esquire, Theroux opened up about wanting to keep his romances private from now on. "There's something to, once you're out of that, where I want all of my relationships to exist within the four walls of whatever room we're in," he said, admitting that he tries not to let online comments about himself hit home. Likewise, "I'm not trying to be evasive, but I talk to Jen — I don't talk about Jen. People will always want to gossip and say things, but you have to find that balance."
Theroux continued, "And having been in a public relationship, it's much more fun not being in a public relationship." Although the "Wanderlust" star may be set on no longer dating another celebrity or high-profile person, that doesn't mean he doesn't cherish the time he and Aniston spent together. In fact, the couple are still close friends despite their divorce.
Justin Theroux and Jennifer Aniston are still close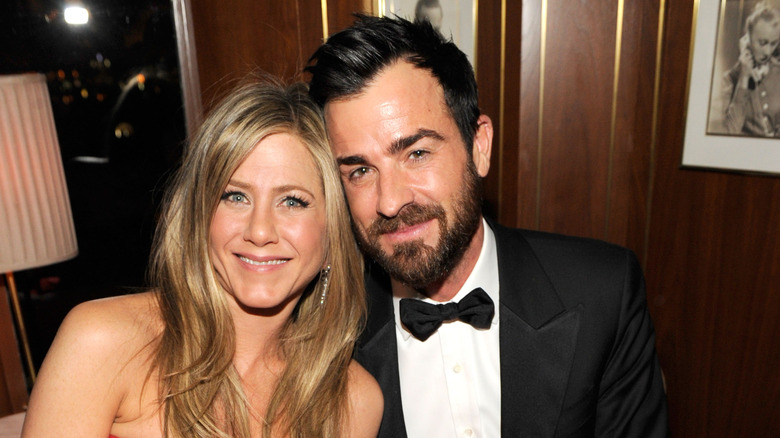 Kevin Mazur/vf13/Getty Images
When Justin Theroux and Jennifer Aniston separated, the celebrity couple released a joint statement sweetly describing themselves as "best friends" and confirming that they would continue to be exactly that despite their split (via Us Weekly). And it seems that they made good on that promise. Since their divorce, Theroux and Aniston have been seen together publicly on several occasions. Theroux even attended his ex-wife's Thanksgiving celebrations. 
"We don't talk every day, but we call each other. We FaceTime. We text," the actor told Esquire in 2021 of his ongoing relationship with Aniston. "Like it or not, we didn't have that dramatic split, and we love each other. I'm sincere when I say that I cherish our friendship. We can not be together and still bring each other joy and friendship. It would be a loss if we weren't in contact, for me personally," Theroux added. 
For her part, Aniston has also remained friends with her other famous ex-husband, Brad Pitt, who was seen attending the star's 50th birthday party in 2019. They also winningly reunited at the 2020 SAG Awards, to the delight of fans. It seems that there is no bad blood between Theroux and Aniston. However, the actor understandably doesn't want another high-profile relationship after being under a constant spotlight with the "Friends" star.