Ashton Kutcher Told Mila Kunis He Loved Her For The First Time After 'Too Much Tequila'
Steve Granitz/Getty Images
Hollywood is full of broken and fleeting relationships. Despite this, actors Ashton Kutcher and Mila Kunis seem to be the real deal. Kutcher and Kunis, who got together in 2012 and married in 2015, have two children, Wyatt Isabelle Kutcher and Dimitri Portwood Kutcher. However, both Kutcher and Kunis have said that their relationship was not serious at first, but within a few months, that quickly changed. In September 2022, Kutcher revealed how he went about confessing his love for Kunis.
Speaking to Kenny Chesney on "Our Future Selves," Kutcher's Peloton series, he explained (via TikTok), "The first time I told my wife that I love her was while listening to 'You and Tequila,' I might have had a little too much tequila." Kutcher recalled, "I showed up drunk at her house, at like two in the morning, and I just started screaming, 'You and tequila make me crazy,' and I told her I love her, and she's like, 'Don't say it if you don't mean it. Are you gonna love me in the morning when you wake up from this hangover?'"
Kutcher added that he meant what he had said to Kunis. She later told Entertainment Tonight that this story was true and that she knew she loved him then. With this in mind, Kutcher and Kunis have a love story for the ages that began when they first met on the set of "That '70s Show" in 1998.
Ashton Kutcher was Mila Kunis' first kiss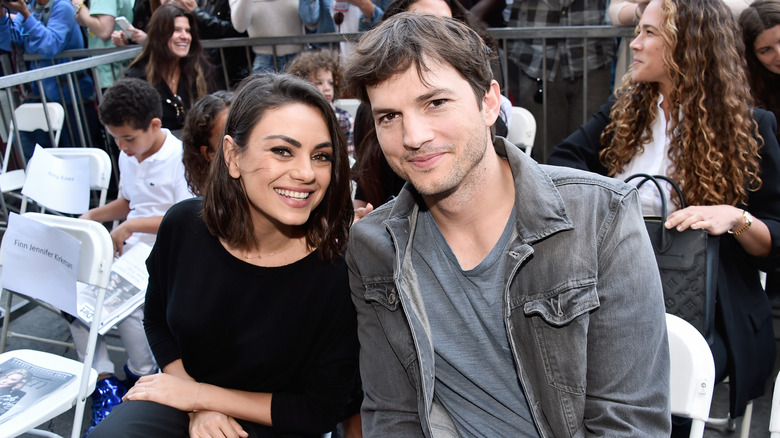 Alberto E. Rodriguez/Getty Images
"That '70s Show" aired from 1998 until 2006. Mila Kunis portrayed Jackie Burkhart and Ashton Kutcher played one of her love interests, Michael Kelso. Although Kutcher left the show in 2005, the hit series made him and Kunis stars. It also planted the seeds for their future relationship. People reported that Kunis revealed in 2001, long before the two were an item, that kissing Kutcher on "That '70s Show" was her first kiss ever. The two first kissed for an episode that aired in 1998 when Kunis was 14 and Kutcher was 20.
Discussing this moment with People, Kunis said, "I was like, 'Oh, he's so cute, it's the Calvin Klein model!' " She added, "Then I was like, 'I have to kiss him?' I was so nervous and uncomfortable. I had the biggest crush on him." Kunis went on to say, "Ashton was so nice, he just made jokes and gave me funny little compliments. He made me laugh."
Kutcher spoke about their first kiss in 2017 on "The Howard Stern Show" and said (via People), "It was really weird. I was like, 'Isn't this illegal?' It was really awkward." Kutcher noted, "She was 14! She was like my little sister." Despite being costars for years, the truth about Kunis and Kutcher's relationship is that they did not develop feelings for each other until years after "That '70s Show" ended.
The actors were previously in other high-profile relationships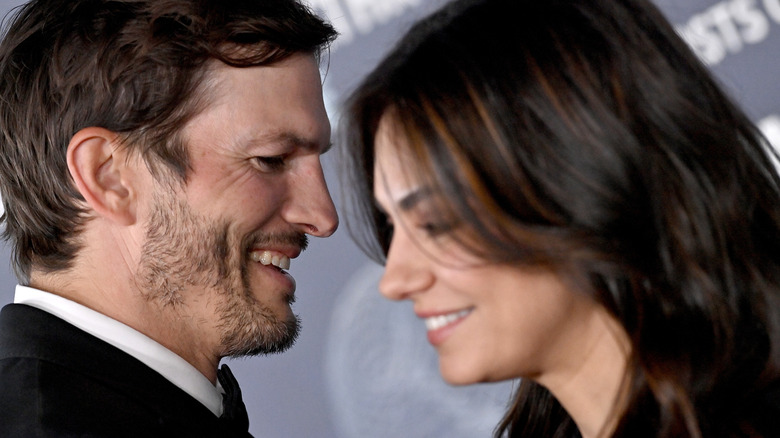 Axelle/bauer-griffin/Getty Images
Before Ashton Kutcher and Mila Kunis became one of the biggest couples in the entertainment industry, the two made headlines for their previous relationships. Notably, Kutcher was married to legendary actor Demi Moore from 2005 until 2011. The marriage reportedly ended due to Kutcher's infidelity. Kunis was with Macaulay Culkin from 2002 to 2011. Not long after the respective demise of each of their relationships, Kutcher and Kunis crossed paths at the Golden Globe Awards in January 2012. On an episode of the podcast "WTF with Marc Maron," Kunis told Maron that she saw Kutcher and felt attracted to him but didn't realize who he was at first. After this encounter, the two became friends with benefits but quickly decided to make things official. In a 2023 interview with Esquire, Kutcher opened up about their relationship.
He said, "The thing about Mila that made our relationship accelerate was that I had always admired her." Kutcher added, "Her talents, her skills, her gifts. But I knew that she didn't need me. And she knew that I didn't need her." He also said, "We already knew all of each other's dirt." While Kunis does not use social media, this hasn't stopped Kutcher from regularly posting pictures of his wife. In June 2023, Kutcher uploaded a photo of Kunis on Instagram with a caption that said, "I'm the Luckiest man alive."