Royals Who Competed In The Olympics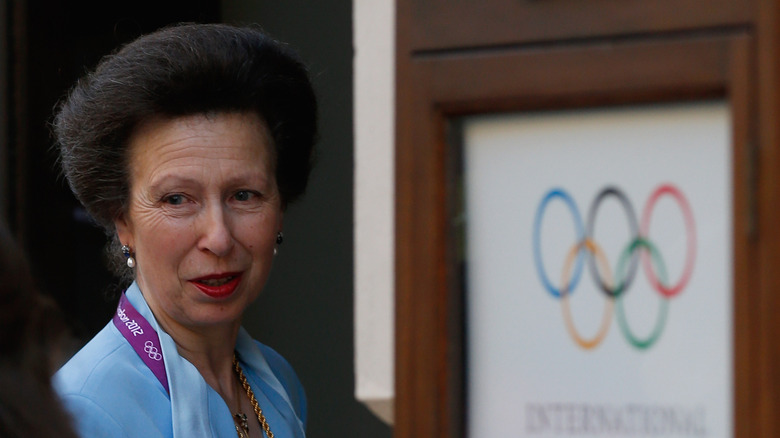 Daniel Berehulak/Getty Images
When most people think about royalty, the image that emerges is typically one of privilege and luxury, jewel-encrusted crowns, and meals served on fine gilt-edged china, consumed with silver utensils within a grand palace. Yet, there's another aspect of royalty that's long co-existed amid that wealth and opulence — a tradition of athleticism and competition. Over the years, various royals have displayed their passion for their favorite sports; Queen Elizabeth II, for example, was a keen follower of horse racing who not only bred her own thoroughbreds but also started every morning by reading the Racing Post. Her husband, Prince Phillip, played polo until retiring from the sport at age 50. 
During the Olympics, royals are often seen cheering on the teams of their respective nations. But occasionally, royals have demonstrated such a high degree of skill in those sporting pursuits that they've risen to the top, going on to represent their countries by competing in the Olympic games. Of course, the sports in which royals have distinguished themselves over the years have tended to reflect their regal standing, typically such endeavors as sailing and equestrian events. There have also been a few occasions when Olympic athletes subsequently marry into royalty after already having made their mark as Olympians. To find out more, keep on reading for a look at royals who competed in the Olympics.
Princess Anne was the first British royal to compete in the Olympics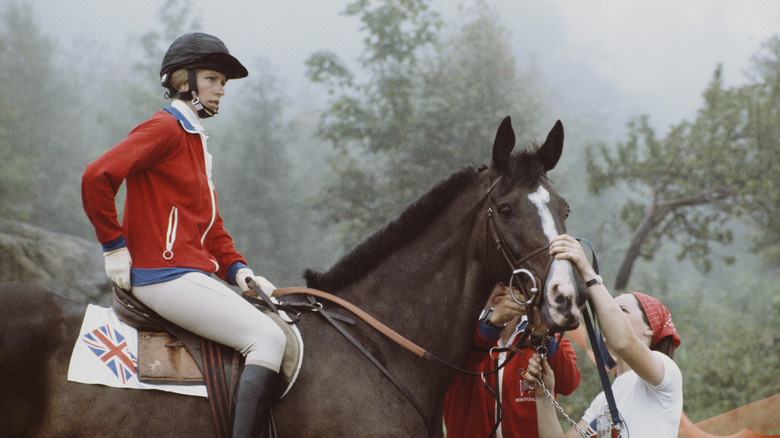 Getty Images/Getty Images
Princess Anne inherited her mother's passion for horses but took it to the next level by becoming one of Britain's top equestrians. In 1971, she was named BBC's Sports Personality of the Year, the first royal to ever receive that honor. She was just 21.
She went on to compete in the 1976 Olympic Games in Montreal. Riding a horse named Goodwill that Queen Elizabeth II bred, Princess Anne made history as the first member of Britain's royal family to ever compete in the Olympics. While she may not have won any medals, she continued to carry the experience of being an Olympian with her. Her association with the Olympics expanded significantly beyond participating as an athlete. In 1988, she was appointed as a member of the International Olympic Committee and served as director of the organizing committee that was instrumental in London hosting the Games in 2012. That year, she was presented with the Olympic flame in Athens and carried the burning fire back to England for its 8,000-mile relay journey throughout the nation.
"I do remember from my own Olympic journey the anticipation and excitement," Princess Anne said in a video message to British athletes competing in the 2020 games in Tokyo. "I know that you have all worked incredibly hard for this moment ... this is your Olympics ... savor it, and above all, enjoy it."
Captain Mark Phillips won gold in 1972 and silver in 1988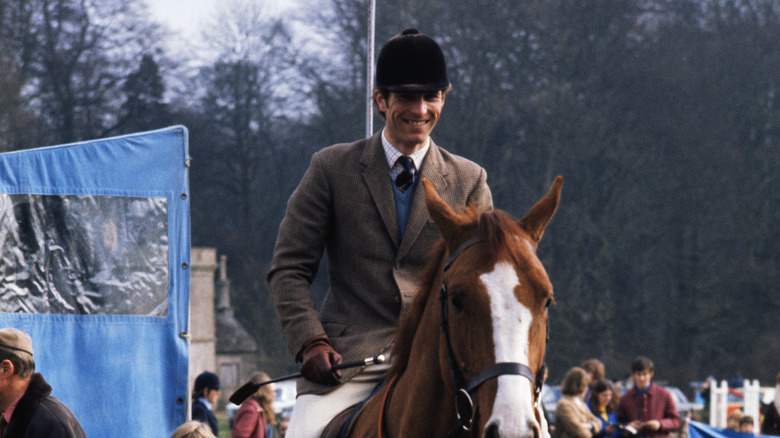 Bettmann/Getty Images
Princess Anne wasn't the only Olympian in the family; her husband, Captain Mark Phillips, became involved in the Olympics long before his wife did. He was selected as a reserve member of Britain's equestrian team for the 1968 games, although he didn't compete that year. He finally received his opportunity four years later at the 1972 Olympics in Munich, where he not only won a gold medal, but also reportedly met Princess Anne (they wed in 1973, and divorced in 1992). Phillips was chosen for Britain's Olympic team a second time, for the 1988 games in Seoul; unfortunately, he wasn't able to compete, forced to withdraw after his horse unexpectedly sustained a pulled muscle. However, he still came home with a silver medal, earned on behalf of the entire team.
Following his retirement from competition, Phillips utilized his expertise by designing equestrian courses. In 1994, he was hired to train the American equestrian team, serving as the team's Chef d'equipe until stepping down from that role after the London Games in 2012. 
"You can try too hard, you can get distracted," he told Country Life in 2012, reflecting on the intense pressure that athletes face during the Olympics. "Part of an Olympics is walking away saying: 'I've done my best.' If it's a case of 'if only,' you've got to live with that for a long time."
Zara Tindall won a silver medal at the London Olympics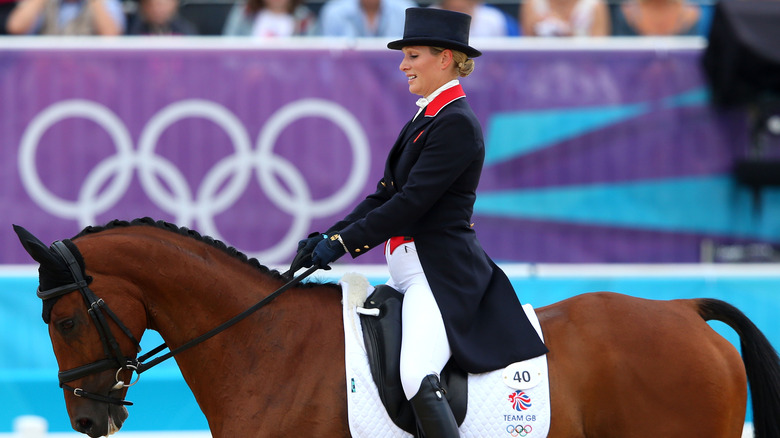 Alex Livesey/Getty Images
Given that both Princess Anne and Captain Mark Phillips competed in the Olympics as equestrians, it shouldn't be too surprising that their daughter followed suit. Zara Phillips (who now goes by her married name, Zara Tindall) carried on her parents' tradition of excelling at equestrian events and was invited to join Britain's team for the London Olympics in 2012. 
While she came in eighth place in the individual competition, her team captured the silver medal. Making the moment even sweeter, Zara and her teammates received their medals from none other than Princess Anne. "Whatever you do, don't ask me what it was like to have my mother present me with the medal," she said at a subsequent press conference (via Hello!). "Obviously it was amazing."
Zara's grandmother was likewise thrilled. As royal protection officer Richard Griffin told Sky News, Queen Elizabeth II was too nervous to watch Zara compete, so instead decided to distract herself by enjoying a picnic on the grounds of Balmoral Castle in Scotland, where she was staying at the time. Eventually, her curiosity got the better of her, and she asked Griffin to contact his colleagues to find out how Zara had done. That was when she learned her granddaughter won a silver medal. "I remember the Queen just grabbed me and we were dancing around in circles on this hill in Scotland," Griffin recalled.
Princess Charlene of Monaco was a champion swimmer who competed in 2000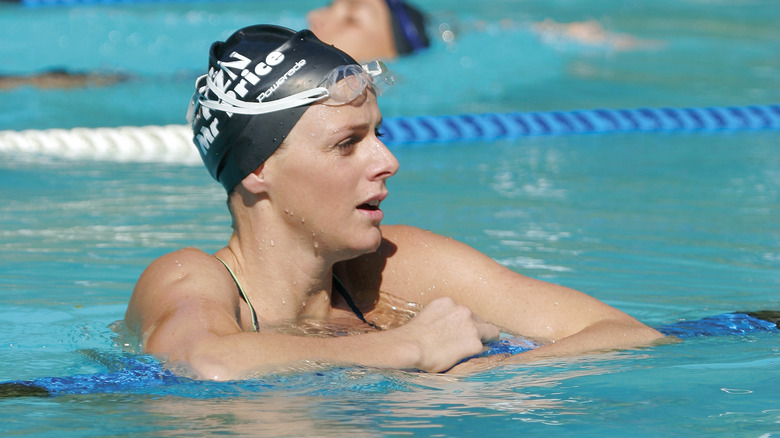 SAPhotog/Shutterstock
Prior to becoming Princess Charlene of Monaco when she married Prince Albert in 2011, she was known as Charlene Wittstock and was already something of a celebrity in her own right. A champion swimmer since childhood (not too surprising, given her mother was a swimming instructor and former competitive diver), the future royal won numerous competitions as a teenager in her native South Africa.
As an adult, she represented her home country at the Commonwealth Games in 1998 and again in 2002. She took home three medals at the Swimming World Cup in 2002. She was invited to join South Africa's swimming team and competed in the 2000 Olympics in Sydney, where the South African team took fifth place. After that, unfortunately, a shoulder injury displaced her from competition for 18 months while she recovered. She trained for the 2008 Olympics but ultimately didn't qualify. Charlene retired from competitive swimming in 2007.
It was swimming that led her to meet her future husband, who watched her at a 2000 competition in Monaco and became so besotted that he asked her out. "It was incredibly flattering," Princess Charlene told Vogue in 2011. "After seeing me swim, Albert asked my management for permission to take me out. We spent the whole evening laughing and talking."
Prince Albert of Monaco competed in five consecutive winter Olympics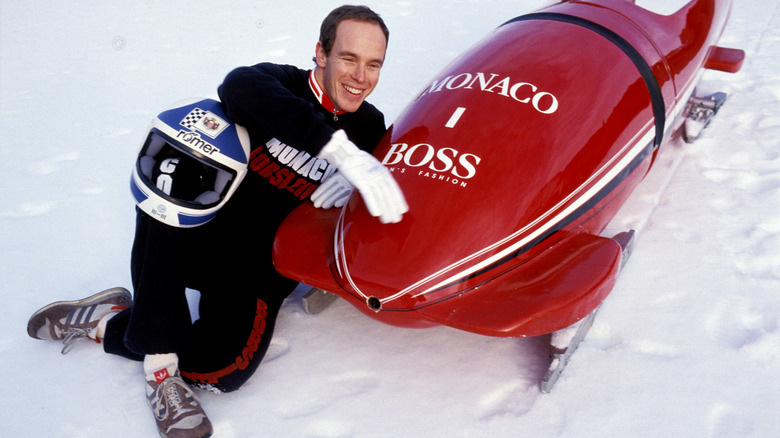 Julio Donoso/Getty Images
When Prince Albert wooed his future wife, one thing they immediately had in common was the fact that they were both Olympians. Albert competed not once but in five different Winter Olympic Games as a member of Monaco's bobsled team. After first competing at the Calgary Games in 1988, he continued that tradition four more times, marking his final appearance at the 2002 Games in Salt Lake City. 
Despite his royal pedigree, Albert was reportedly anything but formal during his five Olympic forays. As columnist Jim Caple wrote for ESPN in 2002, the prince had been given the nickname "Freak Daddy" by his fellow bobsledders. "He's just like everyone else," Irish sledder Peter Donahoe told ESPN. "I didn't even realize he was the prince until someone told me."
If the notion of a European prince nicknamed "Freak Daddy" racing a bobsled down a snow-covered mountain during the Olympics sounds like something right out of a movie, that didn't escape Prince Albert. In 2015, The Hollywood Reporter reported that Albert was turning his story into a film, to be titled "Royal Ice." "It's a very unique and personal story," said Albert in a statement about the biopic, which was said to dramatize the difficulties he overcame (including the disapproval of his father, Prince Rainier) in spearheading efforts to form what came to be Monaco's first bobsled team. As of 2023, the film has yet to be made.
King Felipe of Spain joined the Olympic sailing team for the Barcelona Olympics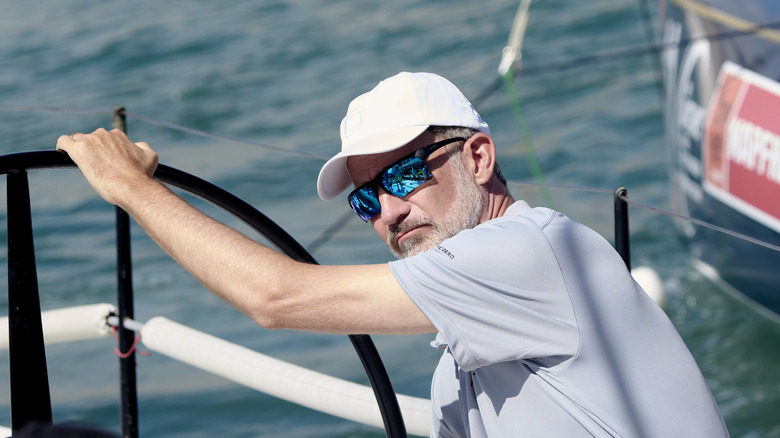 Carlos Alvarez/Getty Images
Spain's King Felipe VI comes from a family of sailing enthusiasts. His father, King Juan Carlos, competed in the Dragon class sailing event during the 1972 Munich Olympics, ultimately winding up in 15th place. In addition, Felipe's mother, Queen Sofía, and uncle, King Constantine of Greece, were members of the Greek sailing team in the 1960 Rome Olympics (then-Princess Sofia was a substitute). 
Prior to becoming king himself in 2014 after his father's abdication, Felipe followed that family tradition by landing a spot on Spain's Olympic sailing team. He competed in the Soling class during the 1992 Barcelona Games and also served as his country's flag bearer in the opening ceremony's traditional Parade of the Nations. Then-Prince Felipe didn't win a medal but did receive an Olympic diploma, awarded for the team's sixth-place finish. 
While he only represented his country in the Olympics that one time, Felipe remained an avid sailor. In 2019, he and fellow monarch King Harald of Norway were among the 14 boats representing eight different countries to participate in the Copa del Rey regatta, held off the coast of Mallorca.
Sheikha Maitha bint Mohammed bin Rashid Al Maktoum of UAE competed in the 2008 Olympics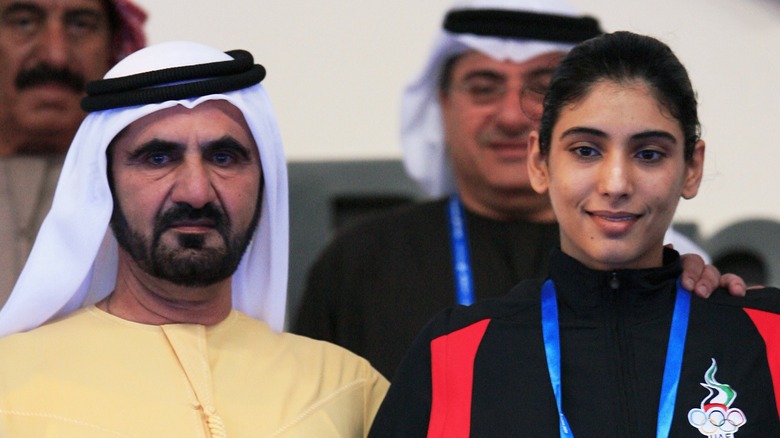 Jamie Squire/Getty Images
Sheikha Maitha bint Mohammed bin Rashid Al Maktoum is the daughter of His Highness Shaikh Mohammad Bin Rashid Al Maktoum, emir of Dubai and vice president and prime minister of the United Arab Emirates. She's also an accomplished athlete, skilled at both polo and martial arts, specifically karate and Taekwondo. Her abilities at the latter were at such a high level that she was selected to represent UAE at the 2008 Olympic Games in Beijing. While she didn't earn any medals, she ultimately finished in a respectable seventh place.
Even though the Middle Eastern royal had extensive experience fighting in various international championships prior to going to Beijing, competing on the Olympic stage was a new and daunting experience. "I have carried the UAE flag at many championships before, global and regional," she said in an interview with Sport360. "But doing the same in Beijing is a different feeling, something completely different."
Admitting that she's fiercely competitive, Sheikha Maitha took her seventh-place finish in stride. "I've learned a lot and next time I'll try to close the gap," she added. "I'm pretty hard-headed. It doesn't bother me at all. I'm pretty used to it. I'm a tough girl. Don't worry."
Equestrian Princess Haya bint Hussein represented Jordan at the 2000 summer games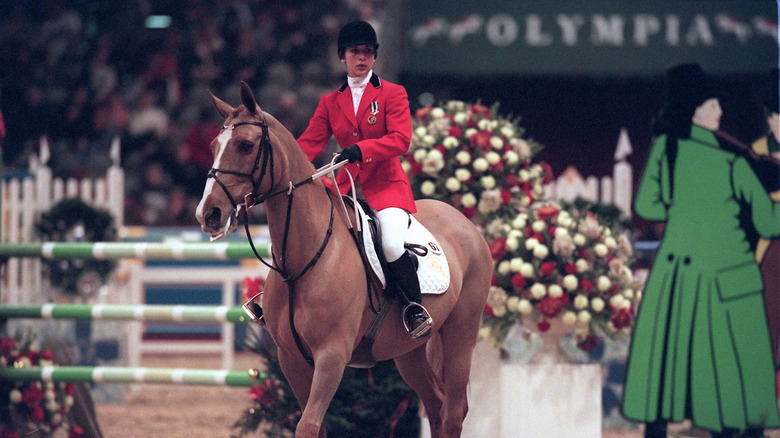 Tim Graham/Getty Images
Princess Haya bint Hussein, daughter of Jordan's King Hussein (who died in 1999) and Queen Noor, has been a lifelong equestrian. When she won a bronze medal at the 1992 Pan-Arab Equestrian Games, she was the first Arab woman to ever compete in the sport at an international level and the first woman to represent Jordan. She went on compete in the 2000 Summer Olympics in Sydney as a member of Jordan's equestrian team and also served as her country's flag bearer. 
Her involvement in equestrian activities didn't end with the Olympics. In 2006, she was elected president of the Fédération Équestre Internationale (FEI), a position she held until resigning in 2014. Through that role, she was also a member of the International Olympic Committee, stepping down when she ceased being FEI president.
While competing in equestrian events has become a perfectly normal occurrence for British royals, the same couldn't always be said for their Jordanian counterparts. "It was very different from now, but sport was a thing the lower classes did," she told Tatler of how radical her equestrian obsession was in her country's culture. She credited her father for helping her break down the barriers and lay the groundwork that led her to the Olympics. "He had to fight hard to allow me to compete internationally rather than just do my royal duties," she said.
Iñaki Urdangarin competed in several Olympic Games before marrying into Spain's royal family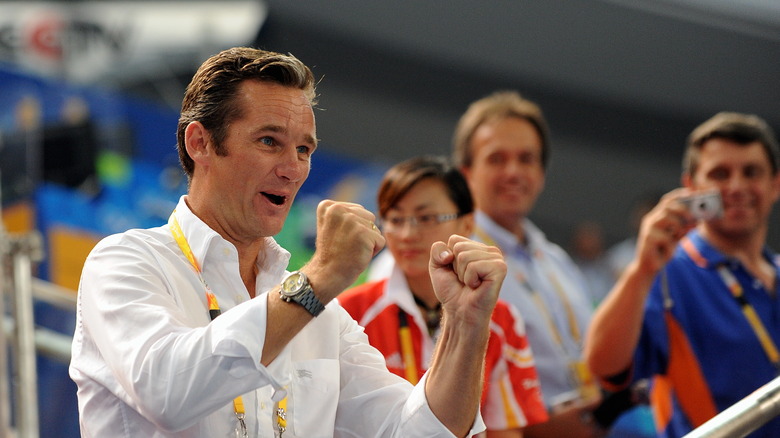 Christian Liewig - Corbis/Getty Images
Iñaki Urdangarin joined Spain's royal family when he married Infanta Cristina, daughter of King Juan Carlos and Queen Sofia, in 1997, at which time he was granted the title Duke of Palma. Before meeting his future ex-wife (the couple separated in 2022; as of June 2023, they have yet to finalize their divorce), Urdangarin was a professional handball player; he was just 18 when he joined FC Barcelona Handbol, playing for the team until his retirement in 2000.
Urdangarin first competed at the Olympic level at the 1992 Summer Games in Barcelona, where the Spanish handball team came in fifth place. He was also part of Spain's team for the 1996 Olympics in Atlanta and the 2000 Games in Sydney, with Spain earning a bronze medal at each. 
The Olympics played a large role in the athlete meeting the royal in the first place. According to Royal Central, the first time they laid eyes on each other was during a celebration in Atlanta after he and his team won the bronze medal. When the handball player first glimpsed Cristina, he was apparently unaware he was eyeing a princess. "Who is that blonde?" he reportedly asked. 
Infanta Cristina of Spain competed in sailing at the 1988 Olympic Games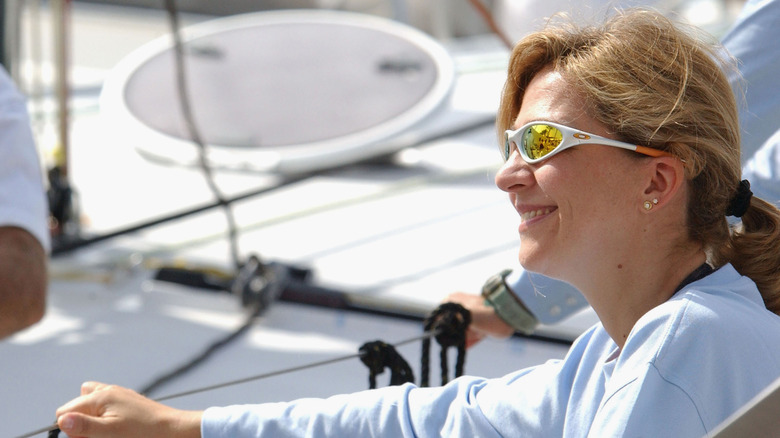 Carlos Alvarez/Getty Images
When Infanta Cristina first met Iñaki Urdangarin at the 1996 Olympics, she no doubt let him know that she was once an Olympian in sailing. For Cristina, sailing in the Olympics is pretty much a family tradition, given that her brother, King Felipe, both parents, and uncle all competed in sailing events in various Olympic Games. 
Infanta Cristina gained her Olympic experience at the Seoul Games in 1988 as a member of the Spanish sailing team. Unlike her husband, she didn't bring home any medals. Despite her obvious prowess at the sport, Cristina never pursued competitive sailing beyond that single Olympics appearance. Instead, she decided to set her sights on higher education. She went on to study political science at Complutense University of Madrid, which ultimately led her to attain a master's degree in international relations from New York University — becoming one of the few female Spanish royals to become educated to such a high degree. 
Prince Bira of Siam competed in four different Olympic Games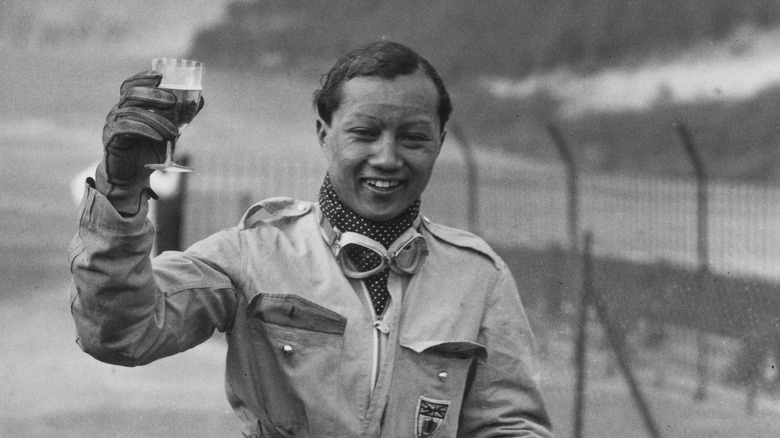 Hulton Archive/Getty Images
These days it's known as Thailand, but up until 1939, the country was known as Siam and was ruled by a monarch. At the time of the name change, the country introduced a constitutional monarchy, much like that of Britain, to replace the existing system of absolute monarchy.
Born in 1914, Prince Birabongse Bhanutej — known as Prince Bira — lost both his parents as a child and wound up spending much of his time growing up in England. While living in London, he and cousin Prince Chula become enamored with car racing, and in the mid-1930s, they founded their own racing team, White Mouse Stable. Over the years, Prince Bira gained a reputation as a skilled driver, competing in numerous Formula 1 races throughout Europe over the next two decades. 
He was also a skilled sailor, which brought him to compete on Thailand's Olympic sailing team four different times: in 1956, 1960, 1964, and 1972. During his first Olympic outing, his team came in dead last. In 1960, he finished the race in 19th place, out of 26, and then 21st out of 22 in 1964. Prince Bira ended his Olympic career the way he started; in 1972, he once again finished in last place, as he had in 1956.