Jane Fonda Says Jennifer Lopez 'Cut Open' Her Face While Filming A Movie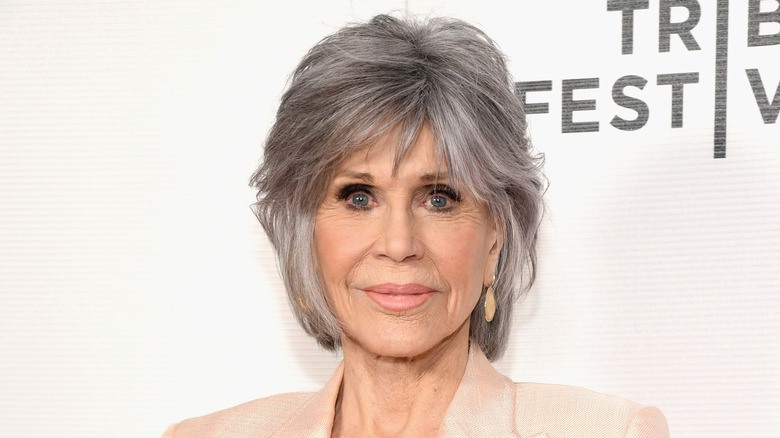 Gary Gershoff/Getty Images
From Hilary Swank, who got slashed in the head while filming "P.S. I Love You" (2007), to Hugh Jackman, who has been candid about the injury to his nose caused by a weapon-like hat while performing in "The Music Man" on Broadway, workplace injuries are no rare thing among actors.
Jane Fonda joined other A-list actors detailing their accidents in an appearance on "The Drew Barrymore Show," revealing that her injury was caused by Jennifer Lopez on the set of the 2005 romantic comedy "Monster-in-Law." Fonda played Viola Fields, the overbearing soon-to-be mother-in-law of Charlie, played by Lopez. According to Fonda, Lopez cut her open above her eye while the duo was filming a slapping scene together.  
The scene in question is one of the most memorable ones in the movie. In it, Fonda's character is seen wearing a wedding dress while getting ready for her son's nuptials. Obviously irate about it, the bride-to-be Charlie confronts Viola, and the two end up having a slapping match. Recalling the filming of the scene, Fonda shared, "Well, Jennifer, as per Jennifer, she had this enormous diamond ring. So when she slapped me one of the times, it cut open ... across my eye, my eyebrow. ... And you know, she's never apologized."
Jennifer Lopez remembers being 'mortified' when she accidentally injured Jane Fonda
While Jane Fonda said the "Monster-in-Law" scene got a big laugh at the theatre (via The Hollywood Reporter), Jennifer Lopez recalled being "mortified'" when she saw the "purple blister that was sticking out of" her co-star's eye during the scene. 
Lopez addressed the incident on YouTube in 2019, saying, "We talked about how we were going to do this over and over again. I was so afraid to hit Jane Fonda in the face or hurt her in any way." She continued, "Really, her character was very much like her and my character at the time was very much like me. I was so afraid of her and she was brave and like, 'Just hit me, don't worry about it. It's going to be fine.' And I was like, 'No, I don't want to hurt you.' And she was like, 'Just got for it.'" 
Lopez detailed how the scene started off with poking one another before it moved on to slapping. "And the scene took on a life of its own in a way that we never imagined. I don't even think we were supposed to slap each other. I just remember afterward, Jane had a blood blister at the top of her eye. My nail went up into her eye. I was mortified. I was like 'Oh I'm so sorry.' ... And she didn't care. She's such a gangster b****. I just love her."
Jane Fonda has another filming incident she can never forget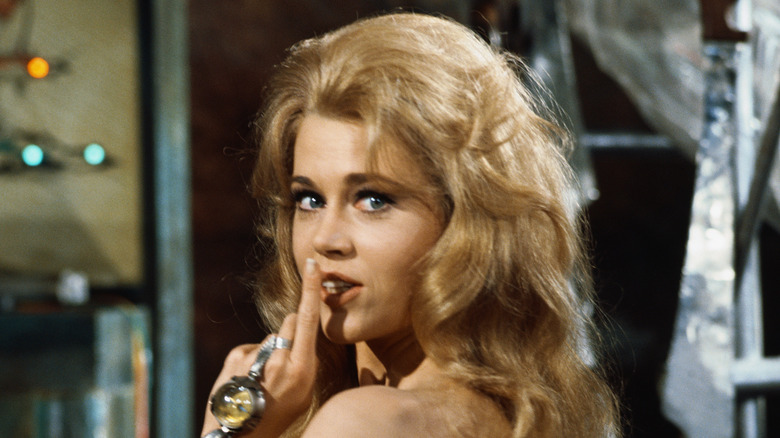 Bettmann/Getty Images
Jennifer Lopez cutting her eyebrow open is not the only incident Fonda recalled on "The Drew Barrymore Show." The "This is Where I Leave You" actress, who said she hates "being naked in front of anybody," found it particularly challenging to film a strip tease for the 1968 science fiction film "Barbarella," directed by her then-husband Roger Vadim. 
"The movie opens with me doing a strip tease in space, taking my space — astronaut — costume off. And then I'm totally naked," explained Fonda. She revealed that she got drunk to help her through the scene, adding, "My husband had promised me that my various private parts would be covered by the titles of the movie. He lied ... He didn't really do that."  
The "Book Club" actress continued, "Anyway, just before the end of this horrible experience, a bat — of all places — flew between me and the camera. We had to do the whole thing over again the next day. We didn't know that this had happened until we saw the rushes ... So I had to do the whole horrible thing over again with a hangover."