Alyson Stoner's Iconic Dance For Missy Elliott Almost Didn't Happen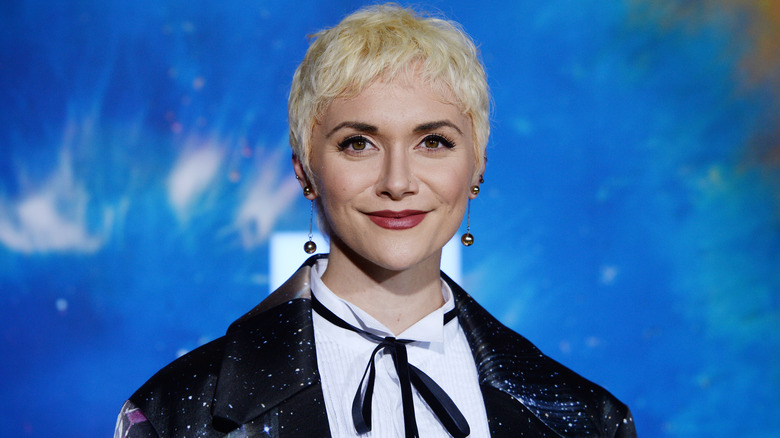 Amanda Edwards/Getty Images
Alyson Stoner is a professional dancer, singer, and former Disney star best known for their roles in "Camp Rock," "Cheaper by the Dozen," and the energy-packed "Step Up" film franchise. If you've been following Stoner's transformation from child star to adulthood, you'll probably remember when they reunited with rapper Missy Elliot on stage at the 2019 VMA Awards. Stoner first appeared as a background dancer in Elliot's 2002 "Work It" music video at just 9 years old. Her confidence and hip-hop-style dance moves absolutely stole the spotlight, so it was only right for Elliot to invite them back for her performance.
Almost 17 years later, '90s kids were hit with nostalgia when they recognized Stoner at the 2019 VMAs as the little girl from Elliot's music video. Social media went ablaze, as audiences at home applauded their crisp dance moves then and now. One fan tweeted, "​​Alyson stoner performed with missy Elliot last night and honestly that was iconic music history. IYKYK."
But Stoner recently shared that their cameo in the iconic music video almost didn't happen because of a sibling's extracurricular activities. They told TMZ, "I actually didn't almost go to the audition. My sister, I think, had a scrimmage. My parents said, 'We've spent too much time focused on Alyson.' I think the scrimmage got canceled. I ended up going [to the 'Work It' audition]."
The dancer and actor has had an impressive career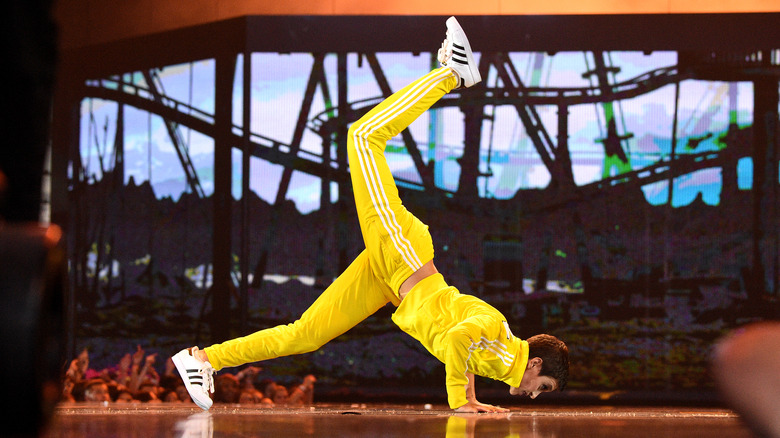 Kevin Mazur/Getty Images
It's no surprise that something as small as a scrimmage might have gotten in the way of Stoner's big break — she was a child star, after all. As a young person in show business, Stoner shared that she was even guarded against adult language and innuendos during the "Work It" video shoot. "We got on set and thankfully they used the edited version, so I didn't even know what I was dancing to," she explained to TMZ.
"Work It" eventually went on to go 3x multi-platinum (via RIAA), launching Stoner into childhood stardom and eventually, more dance-focused roles. Stoner's lengthy tenure across Disney and Nickelodeon made for memorable roles on-screen and in voice acting. They contributed to childhood favorites such as "That's So Raven," "Phineas and Ferb," "Drake and Josh," and "The Suite Life of Zack and Cody."
In their teenage years, Stoner returned on-screen to Disney for two "Camp Rock" films, alongside Disney veterans Demi Lovato and the Jonas Brothers. They also nabbed a recurring role in the "Step Up" film franchise, playing Channing Tatum's spunky sister Camille. Since then, Stoner has pursued their own musical career and other voice-acting roles.
Alyson's journey as a queer actor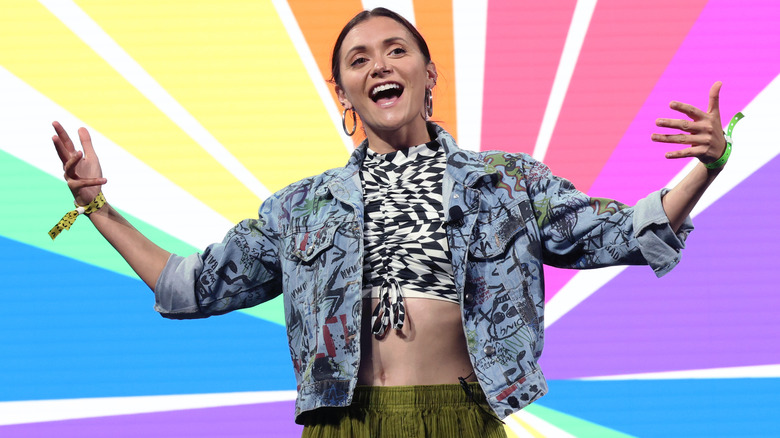 David Livingston/Getty Images
Stoner first revealed the truth about their sexuality in 2018. The actor penned an intimate letter for Teen Vogue about their experience falling in love with a woman for the first time. Grappling with their sexuality came against criticism from their community, church members, and even industry advisers.
"Some people in the industry warned me that I'd ruin my career, miss out on possible jobs, and potentially put my life in danger if I ever came out," Stoner wrote in Teen Vogue. Despite these warnings, they eventually came to accept that they were attracted to "men, women, and people who identify in other ways." After coming out as queer and eventually identifying with they/them pronouns, the "Step Up" star said their career was impacted significantly.
Sitting down on the podcast "I'm Literally Screaming with Spencewuah," Stoner heartbreakingly admitted that their role on a popular children's show was terminated due to bigoted concerns about child safety. Since then, they have chosen to keep their personal life — from beliefs to dating history — incredibly private. However, Stoner is an outspoken advocate for LGBTQ+ rights and accessibility, even creating an online community called Movement Genius.