10 Times Queen Camilla Was Spotted Wearing Queen Elizabeth's Jewelry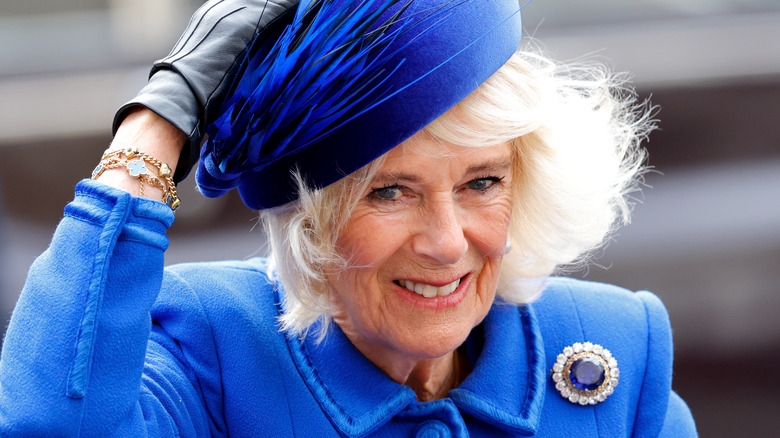 Max Mumby/indigo/Getty Images
When regular folks lose a loved one, being bequeathed even just one special item from their beloved is already a big deal. But when a royal dies, troves of treasures are passed on to their progeny, often worth incredible amounts of money. Queen Elizabeth II's personal collection was reportedly worth anywhere from $1.2 to $5.8 billion. As stylist Miranda Holder said to Express, "The Queen was known for her incredible personal collection, and great thought went into selecting the perfect statement piece, to fit the occasion, much to the consistent surprise and delight of everyone around her."
That collection is now in the hands of the living royals, namely Camilla, Queen Consort. Per Holder, "Camilla's fashion sense has always been slightly on the quirky side, and she has used flamboyant features such as dramatic feathers on her hats to communicate her fun-loving personality to the world." Since inheriting pieces from one of the most expensive collections of jewelry in the world, the Queen Consort has incorporated accessories of her late mother-in-law's into her wardrobe, proving that she can use more than just feathers and hats to express herself (though to be fair, it wouldn't really be that hard to incorporate the Queen's jewelry into one's wardrobe). 
Whether she's paying homage to the former monarch or mixing and matching one of her pieces with a personal accessory, the Queen Consort has found plenty of occasions to wear the passed-down pieces. Here are 10 times Camilla was spotted wearing Queen Elizabeth II's jewelry.
At King Charles's coronation, Queen Camilla wore a crown with Queen Elizabeth's diamonds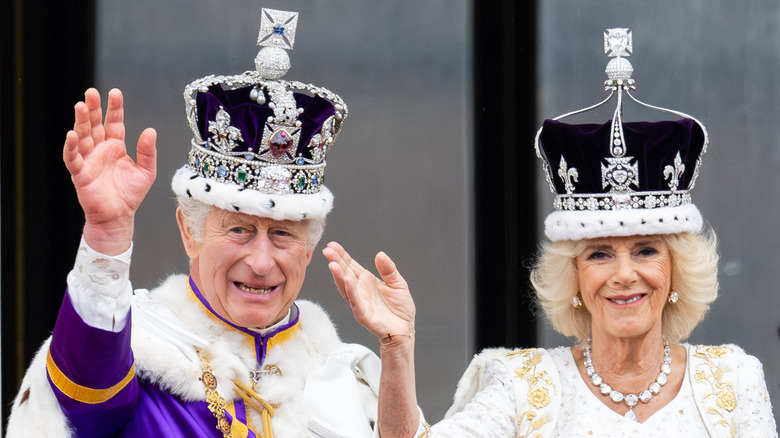 Samir Hussein/Getty Images
What better occasion for Camilla, Queen Consort, to wear pieces of Queen Elizabeth's personal jewelry collection than for King Charles's coronation? Prior to 2022, the public was unsure whether Camilla would be named Queen Consort, but ahead of her Platinum Jubilee, Queen Elizabeth II declared, "It is my sincere wish that, when that time comes, Camilla will be known as Queen Consort as she continues her own loyal service." Given her clear blessing, it only made sense for Camilla to honor her late mother-in-law by donning some of her jewels. And don them, she did.
At the royal coronation, all eyes were on Camilla's crown, and not just because it sat atop her head. The piece had some serious carat weight. Camilla wore Queen Mary's crown, a piece that had previously been kept at the Tower of London. Per the royal website, "This [was] the first time a Queen Consort's Crown has been re-used since the 18th century, when Queen Caroline, consort of George II, wore Mary of Modena's crown." But plenty of alterations were made to the crown, including swapping some of the jewels for diamonds from Queen Elizabeth. Several stones that the late Queen had worn as brooches were repurposed and placed on the crown for Camilla to pay homage to the former monarch. Camilla wore a used crown instead of having a new one made "in the interests of sustainability and efficiency."
Queen Camilla wore the Coronation Necklace at King Charles's coronation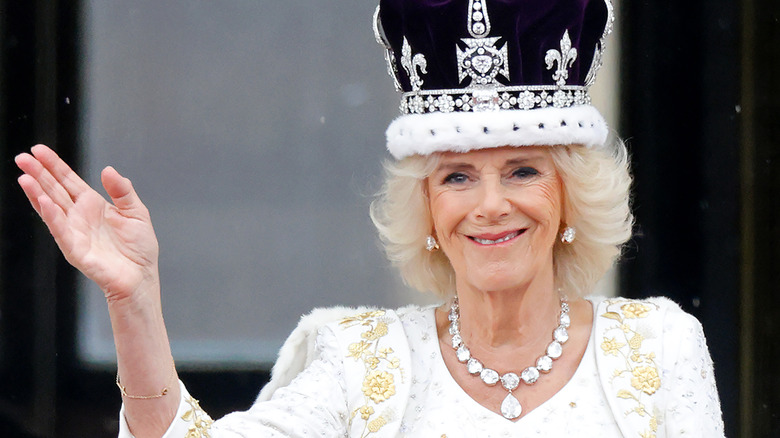 Max Mumby/Indigo/Getty Images
The crown Camilla, Queen Consort, wore to her husband's coronation must have been heavy, but the necklace she wore might have been heavier. Camilla sported what's aptly known as the Coronation Necklace for the special occasion, and there's as much history to the piece of jewelry as there are carats (and it certainly has lots and lots of carats). 
The necklace is made up of 26 diamonds. While the total carat weight isn't certain, the center stone, the Lahore Diamond, is 22.48 carats on its own. Though carat weight isn't the only factor that determines the price of a stone, generally speaking, the higher the carat, the pricier the gem. Thus, it should come as no surprise that the Lahore Diamond is reportedly worth $12 million.
And where does the Coronation Necklace get its name? It's not hard to guess: Many a British royal has worn the necklace for a royal coronation. Aside from Camilla, Queen Elizabeth II was the most recent royal to wear the Coronation Necklace at her own coronation in 1953, and she wore the accompanying Coronation Earrings as well. Before that, her mother, the Queen Mother, wore the necklace along with the earrings for her coronation. It's an incredibly special necklace to the firm, signifying years of service to the state by the same family.
On a trip to Ireland, Queen Camilla wore Queen Elizabeth's brooch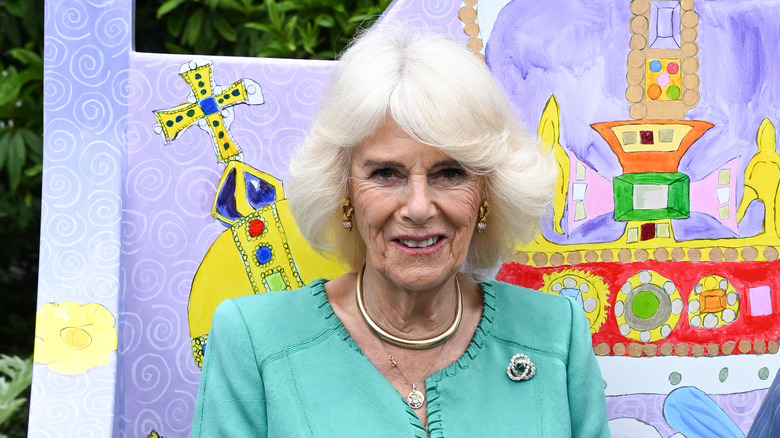 Pool/Getty Images
Queen Elizabeth II loved a good brooch. Camilla, Queen Consort, has proven to be fond of the accessory, too, often wearing her own, as well as adorning her tops with brooches from her late mother-in-law. 
While in Ireland with her husband, King Charles III, Camilla was spotted in the Emerald and Diamond Celtic Knot Brooch, a piece that Queen Elizabeth II was gifted by Queen Mary. The brooch features an emerald as the center stone and is surrounded by a knot of diamonds. Queen Elizabeth II memorably wore the brooch in 2014 for a state dinner with the President of Ireland.
As noted, Camilla has a collection of her own unique brooches, too, many of which are shaped like insects. One of her famed brooches resembles a moth, and another one is shaped like a butterfly. Camilla wore several different brooches while mourning Queen Elizabeth II, including her insect pieces, and royal experts theorized why the Queen Consort might have chosen those particular bits of jewelry. "Perhaps it is being worn to honour the Queen's 'onward journey' into the next life, whilst acknowledging her husband and his transformation of ascending to the throne as King," stylist Miranda Holder said to Express.
Queen Camilla wore Queen Elizabeth's sapphire tiara twice in two weeks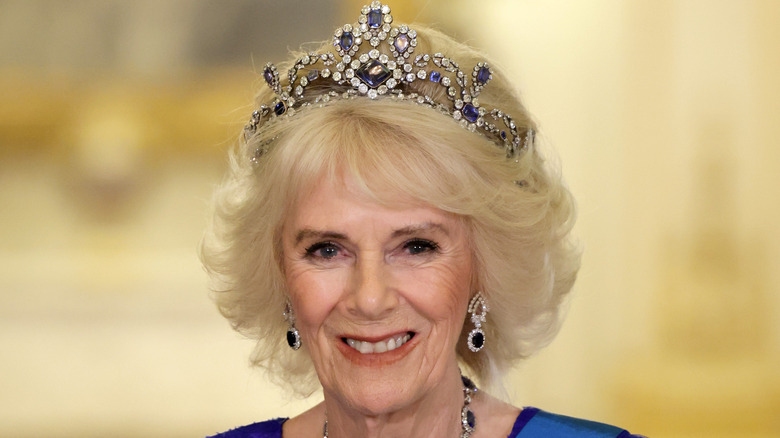 Chris Jackson/Getty Images
The British royal family is known for their sapphires. Princess Catherine was famously given the sapphire and diamond engagement ring, a piece that had previously belonged to her late mother-in-law Princess Diana and was inspired by Queen Victoria's wedding brooch. Queen Elizabeth II was photographed in Queen Victoria's wedding brooch on multiple occasions, but that wasn't the only sapphire piece she wore. 
The queen was also fond of a sapphire parure called the King George VI Victorian Suite. Like many pieces of royal jewelry, the King George VI Victorian Suite was altered multiple times throughout the queen's reign as monarch, and some pieces were even added to the set. One of the more recent times Queen Elizabeth II wore the King George VI Victorian Suite was during an official visit to China, in which she paired it with a white gown and a blue sash. She had also previously worn the jewels while visiting Singapore in the late '80s.
Just months after Queen Elizabeth II's death, Camilla, Queen Consort, sported the King George VI Victorian Suite — minus the designated earrings — carrying the family's longstanding tradition of wearing blue jewels. Camilla kept her look monochromatic at the event, a state dinner to welcome South African President Cyril Ramaphosa, by wearing a royal blue dress and a blue sash. Two weeks later, she wore the tiara along with its matching bracelet and necklace at a reception, paired with a black gown by Anna Valentine.
Queen Camilla wore the Greville Tiara at quite a few events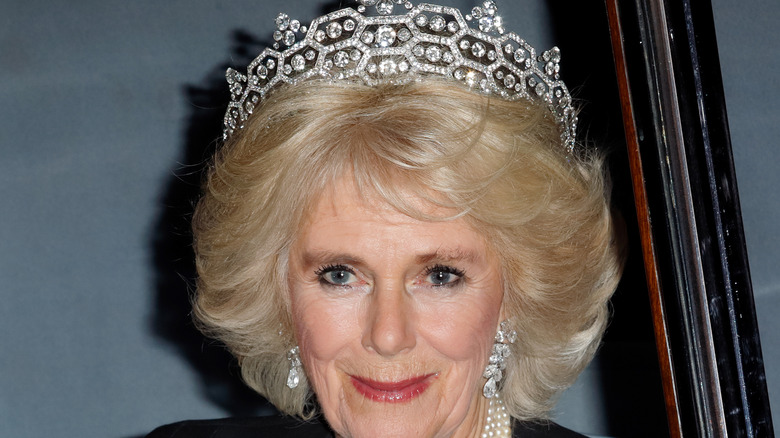 Max Mumby/indigo/Getty Images
For obvious reasons, Camilla, Queen Consort, has more access to Queen Elizabeth II's jewelry now than ever before, but she wasn't left totally empty-handed while the late monarch was still alive. The Queen Consort wore some pieces of her mother-in-law's during the latter's lifetime, like the Greville Tiara, which Camilla donned quite a few times. 
One notable time Camilla wore the Greville Tiara (also known as the Boucheron Honeycomb Tiara) was at the 2017 Diplomatic Reception at Buckingham Palace. That evening, she paired the headpiece with earrings and her signature necklace, which features four strands of pearls and a large diamond clasp. The Diplomatic Reception is one of the biggest events of the year for the royal family. Per the royal website, "The Diplomatic Reception, which takes place annually, sees The [King] and other members of the Royal Family welcome over 500 members of the Diplomatic Corps in the State Rooms at Buckingham Palace." 
The Queen Consort seems to be quite fond of the tiara, donning it for many special occasions. Camilla also wore the Greville Tiara in October 2019 for the State Opening of Parliament, an event that "marks the formal start of the parliamentary year," per the parliament's official website. Other times she's sported the sparkler include a trip to the Netherlands in 2013, the Commonwealth Heads of Government Meeting in 2013, and again for the same meeting in 2015. 
Queen Camilla sported some of Queen Elizabeth's jewelry at a state dinner in Germany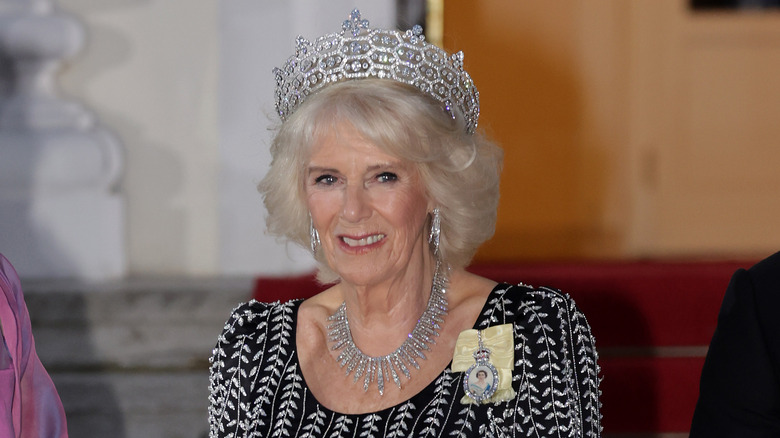 Chris Jackson/Getty Images
The British royal family is particularly busy, visiting countries around the world for various purposes. For the royals themselves, the trips are full of official business, but for onlookers like us, it's an opportunity to gaze upon whatever beautiful items they choose to wear. 
In late March of 2023, King Charles and Camilla, Queen Consort, took a trip to Germany, and Camilla took some of her late mother-in-law's jewels with her. Camilla arrived at a state dinner wearing the City of London Fringe Necklace, a piece that Queen Elizabeth II received as a present on her wedding day back in 1947. The necklace is marked by its lines of diamonds that, per its name, resemble fringe. The late monarch wore it on several occasions throughout her lifetime, pairing it with a variety of stunning tiaras.
For Camilla's trip, she also wore the famed necklace with the Boucheron Honeycomb Tiara. This headpiece was originally commissioned for the Honorable Mrs. Greville, a socialite who was friends with the royals in the 1920s. Upon her death, Greville left the tiara, and lots of other jewels, to the Queen Mother. Upon the Queen Mother's death, the tiara was left to Queen Elizabeth II, but she never wore it in public. The tiara seems to be having a bit of a renaissance now, though, and we'll stay vigilant to see if Camilla wears it again.
While on a state visit to Germany, Queen Camilla wore Queen Elizabeth's floral brooch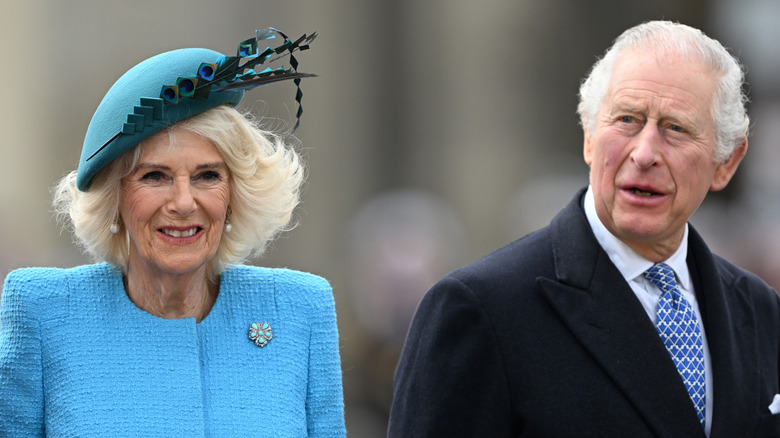 Samir Hussein/Getty Images
Queen Elizabeth II certainly loved her brooches, and though the love isn't genetic, it must be contagious. As it turns out, other royals such as Camilla, Queen Consort, and Princess Catherine are fond of them, too. 
"Brooches have long been a glamorous favourite of the working Royals, as a glittering means to communicate layered messages to their subjects, or indeed each other," stylist Miranda Holder said of the favored accessory to Express. And while the Queen Consort and the Princess of Wales certainly have impressive collections of brooches, theirs still seem to pale in comparison to what Queen Elizabeth II had amassed. Her collection was so large, there are reportedly pieces she wore that were never photographed.
Whether Queen Elizabeth II intentionally kept certain pieces private or not is unknown, but Camilla seems to be doing her best to right that wrong (at least it's wrong in our eyes — we need to see these jewels!) by sporting previously unseen pieces, like the unnamed floral brooch she wore while on a state visit to Germany in 2023. She wore the brooch, which was given to Queen Elizabeth II by her mother in 1942, with a blue top and pearl earrings. She completed the look with a lovely peacock hat. Camilla's entire trip to Germany was marked by her tributes to her late mother-in-law via her jewels, boding well for what inherited pieces she might wear in the future.
Queen Camilla wore the Russian Sapphire Cluster Brooch for the Commonwealth Day festivities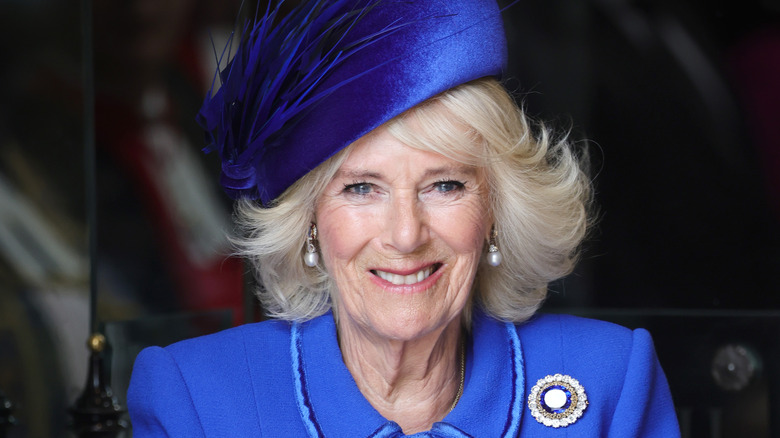 Chris Jackson/Getty Images
Jewels are a good investment, and no family seems to agree with that statement more than the Windsors. Members of the royal family have long been known for their fabulous jewels, and the modern members are keeping longstanding traditions alive by wearing pieces that have belonged to their family for decades, sometimes centuries. 
For Commonwealth Day in 2023, Queen Consort Camilla accessorized her blue ensemble with the Russian Sapphire Cluster Brooch. This piece of jewelry is said to have come from the Imperial Russian Court of the 1840s and was gifted to Princess Marie of Hesse upon her wedding. It reportedly made its way to Queen Mary after being made into a set for Empress Maria Feodorovna. Others theorize that the Bolshevik family sold the brooch, eventually coming into Mary's possession. 
What we're certain of is that Mary, the Queen Mother, and Queen Elizabeth II all wore the historic brooch. Some of Elizabeth's most notable outings in the brooch include a visit to the Vatican to speak with the pope and for the Chinese State Banquet at Buckingham Palace. 
For her royal portrait, Queen Camilla wore pearl earrings that belonged to Queen Elizabeth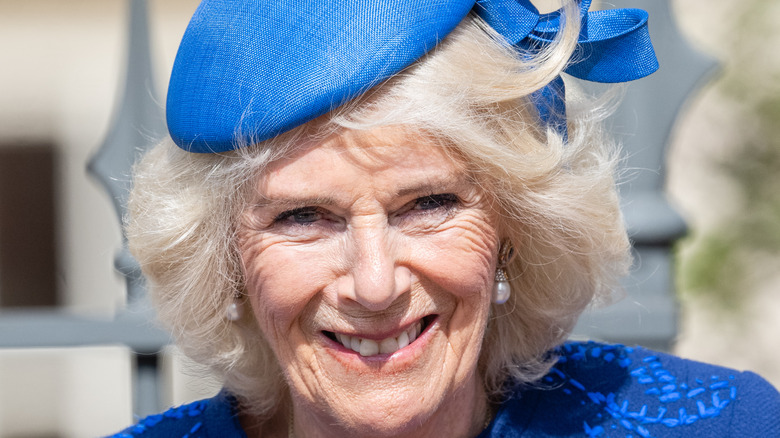 Samir Hussein/Getty Images
Royal portraits were once a huge ordeal. The subjects would have to sit for hours at a time while an artist painted their likeness on a canvas. In the modern world, the royals employ photographers instead, and they release royal portraits for nearly all major events, such as weddings, baptisms, or coronations. On the day of King Charles's coronation ceremony, he, Camilla, Queen Consort, and the working members of the royal family posed for official portraits. Because the portraits were taken on the same day as the coronation, Camilla's photographs showed her wearing a crown with jewels that used to belong to Queen Elizabeth II.
But that wasn't the only royal portrait of the Queen Consort to feature stones from her late mother-in-law. Camilla wore a pair of pearl earrings that once belonged to Elizabeth in her royal portrait that was released just before her husband's coronation ceremony. The jewelry choice is said to be an homage to the late monarch (as she was known for her love of pearls), but it's also a continuance of a longstanding royal tradition. Many a Windsor has been seen in pearls throughout history, particularly at funerals. "It's all about the suppression of color, and also pearls are not glittery or brash. By choosing them, you are being low-key and respectful," jewelry historian Vivienne Becker told Vogue of the fashion choice.
For the Trooping the Colour ceremony, Queen Camilla wore Queen Elizabeth's brooch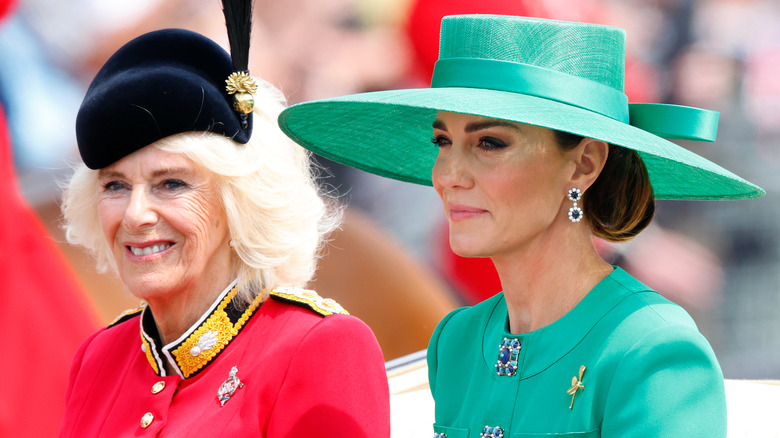 Max Mumby/Indigo/Getty Images
Camilla, Queen Consort, didn't get as dressed up for the 2023 Trooping the Colour as she does for, say, a state dinner, but that didn't stop her from wearing a dazzling accessory from Queen Elizabeth II's collection for the event. "Queen Camilla wore a brooch with military significance as well, opting for the Grenadier Guards brooch that once belonged to the late Queen Elizabeth II. The brooch includes diamonds, sapphires, and rubies which make up the royal cypher of King George VI, who made Elizabeth the colonel of the guards in 1942," The Royal Jewelry Vault shared on Instagram.
While the Trooping the Colour isn't quite as formal as some events that the royals attend, it's still marked by tradition and pageantry. Per the royal website, "Over 1400 parading soldiers, 200 horses and 400 musicians come together each June in a great display of military precision, horsemanship and fanfare to mark the Sovereign's official birthday." Citizens join in on the fun, too, watching the parade in person, and the BBC airs the event live for those who are unable to attend.
The Queen's jewelry collection was so massive that it's possible we won't see some pieces worn by the Queen Consort for years, if ever. And while Camilla inherited some of her mother-in-law's pieces, Majesty Magazine editor-in-chief Ingrid Seward expects "The Princess of Wales as the future Queen receiving the lion's share," per Express.