Inside Rod Stewart's Relationship With His 8 Kids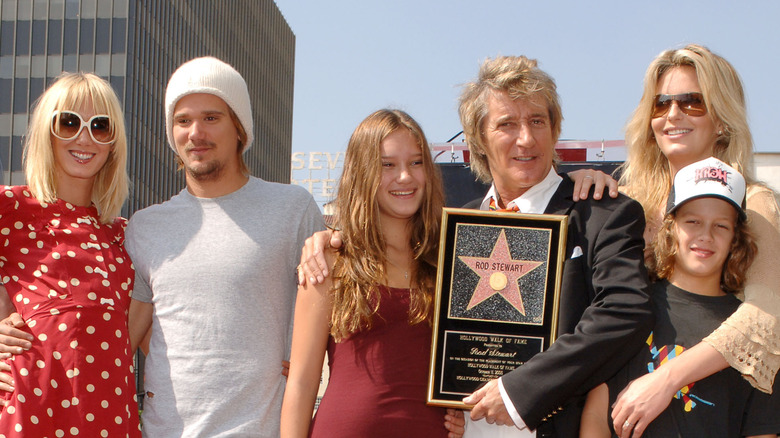 L. Cohen/Getty Images
Rod Stewart has an impressive career, and while it appears he has no intention of retiring anytime soon, his life is full in respects other than work. He is a father to eight children, and his blended family includes kids of various ages whom he shares with five different women (he is still married to his third wife, Penny Lancaster). The "Forever Young" musician has a bond with each of his kids, although he is the first to admit that who he is as a father has changed tremendously. He has gone from working nonstop to support his family and get out of debt to being financially secure and having more time for the simple things.
In an interview with Rolling Stone in 2018, he was asked when he was the happiest, and his answer was "now." He also spoke about his family. "I have the most gorgeous wife, and I have eight wonderful children, and two little ones. It's just fabulous," he said. "They'll be home from school in a minute. They're all gonna jump in the pool, and I can't wait to get in there with them. This is the most wonderful period of my life."
Meet Rod Stewart's eight children and discover his relationships with them.
Rod Stewart is careful not to assume his kids are the same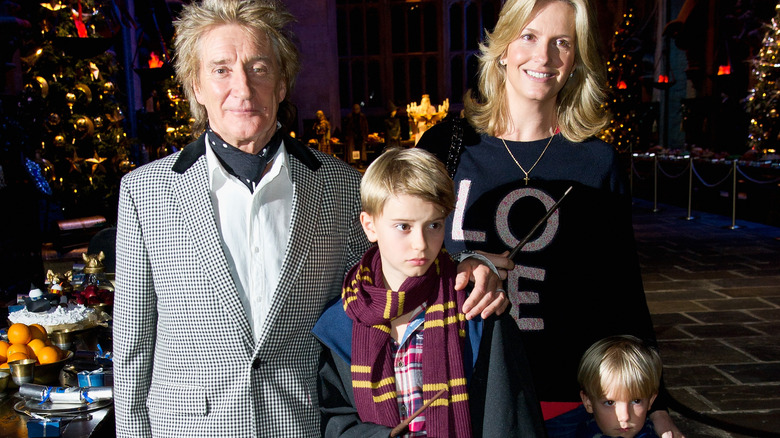 Eamonn M. Mccormack/Getty Images
Being a parent to one or two children is challenging, but Rod Stewart has an extra-large brood. He is a father to eight kids who range widely in age, with his eldest daughter, Sarah Streeter, born in 1963, and his youngest son, Aiden Patrick Stewart, born in 2011. The musician is the first to admit he has become a better dad with age. But he is also aware that being a father to so many children, some adults and others teenagers, requires him to be incredibly versatile.
"I have to be several different fathers because of the different age groups of my kids," he told People magazine in 2021. "You really have to treat all of them as individuals with individual problems." The realization that each of his children needs something different from him and he cannot take a blanket approach to being their father is important. It also indicates how committed the musician is to being a good parent.
Sarah Streeter was adopted but has reconnected with Rod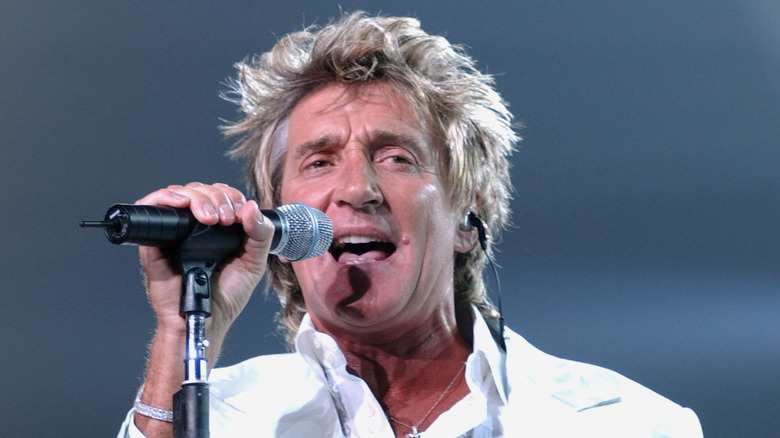 Denise Truscello/Getty Images
Rod Stewart became a father for the first time in November 1963 when he and his ex-girlfriend, Susannah Boffey, had a daughter. At the time, they were not ready to be parents and put her up for adoption. "She was put up for adoption when I was 17 or 18, I think," Stewart told "The Joy Behar Show" of the decision. "I was absolutely stone broke ... and so she was put up for adoption."
Decades later, Sarah Streeter — as she came to be named — was able to reconnect with her biological father (although she only learned of her parentage when she was 18). Streeter has spoken about their relationship, telling The Mirror in 2018 that it took time for them to become closer because of her father's star status. However, they are now at a place where he's just Dad.
They initially got in touch in the '80s but could not form a lasting bond. Their reconciliation would happen after the death of Streeter's adoptive parents. Her adoptive mother passed away in 2007. "Since her mum and dad have died, we've tried to come together and be close together, and it's working out pretty well," Stewart told People. "I never felt like I was her dad because I didn't take her to school, change her nappies, there was no paternal thing there, but I'm trying."
Kimberly Stewart spends a lot of time with her dad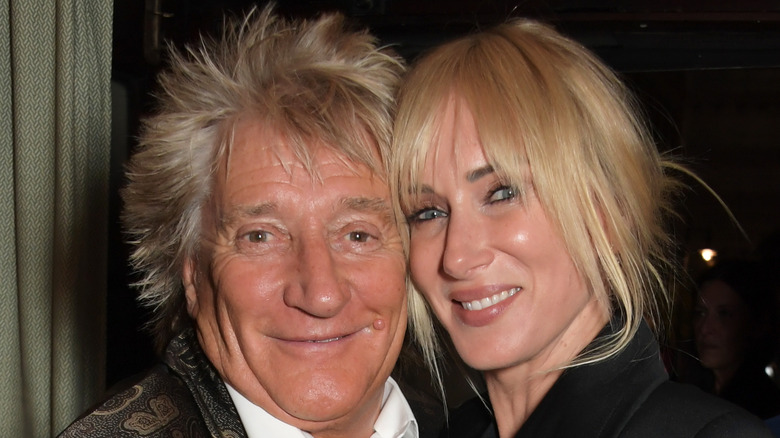 David M. Benett/Getty Images
Kimberly Stewart is arguably Rod Stewart's most famous child, and there was a time when she was known for her wild ways. These days, her life is vastly different, and she has a daughter, Delilah Genoveva Del Toro, whom she shares with her ex, actor Benicio Del Toro. Delilah was born on August 21, 2011. This means in addition to being a father, Rod became a first-time grandfather when Delilah was born. Interestingly, she was born the same year as his youngest child, Aiden, born on February 16, 2011.
"I honestly never, ever thought that I could love anything as much as I love her," Kimberly told Hello! of having her daughter. "I had her at the right time. I got all the partying out of my system and I just wanted to be with her. I've been a stay-at-home mother since she was born, and I've loved every second."
But what is Kimberly's relationship with her father like? If social media is anything to go by, they appear to have a close bond and have regularly traveled together, including on family trips to Puerto Rico and Italy.
Sean Stewart has a more private relationship with his dad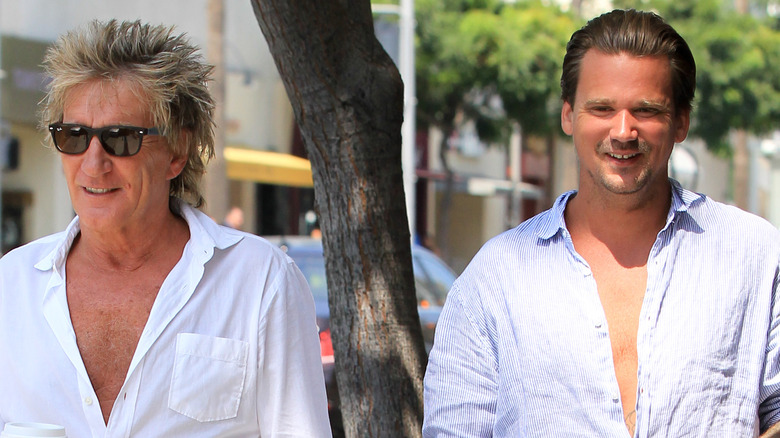 Bauer-griffin/Getty Images
Sean Stewart is Rod Stewart's third child and his second with his ex-wife Alana Stewart. Sean was born on September 1, 1980, and is part of a blended family, but his full sibling is Kimberly Stewart, who is just one year older than him. He has worked on several television projects, including MTV's "The Hills" and as a producer on "Sons of Hollywood." He is also interested in fashion and created his own clothing brand, Dirty Weekend. But what is his relationship with his famous father like?
Rod has admitted to becoming a better, more present father with age. He also told Life magazine, "[I] was not the best of fathers in my 30s and 40s. I became a much better dad in my 60s." Sean appears to have a more private relationship with his father. And so he hasn't spoken extensively about their bond or his childhood, but he has shared photos of himself and the "Hot Legs" musician on social media. This includes sweet throwbacks, and one caption, he referred to Rod as his homie.
Ruby Stewart is a musician who did a duet with her famous dad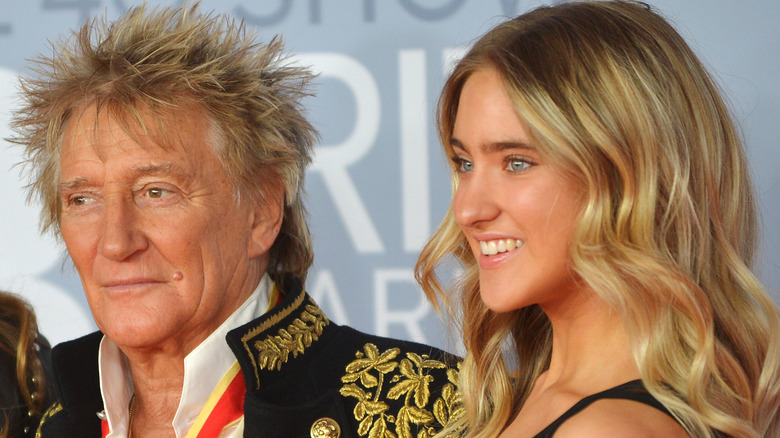 Jim Dyson/Getty Images
Ruby Stewart is Rod Stewart's fourth child. She was born on June 17, 1987, to the musician and his now ex-girlfriend Kelly Emberg. In some ways, she is perhaps most like her father because she made a career for herself as a musician. She even collaborated with Rod for a duet of "Forever Young," joining him onstage for a performance in Chile in 2014 — fans of Rod will recall this song was originally released in 1988 on his "Out of Order" album.
This moment was likely a powerful bonding experience and something special to reflect upon for years to come, but it's not the only time they have shared a stage. Ruby also joined her father onstage in the United Kingdom when he played a show at what was then known as Greenhous Meadow. They have a close bond, and perhaps Ruby understands her father's profession most because she understands the hard work that goes into it.
"It's been really so much fun to see my parents in their careers. My dad taught me everything I know about music," she told Express & Star. "I love my parents and they're so very supportive."
Renee Stewart has spoken about growing up in an artistic family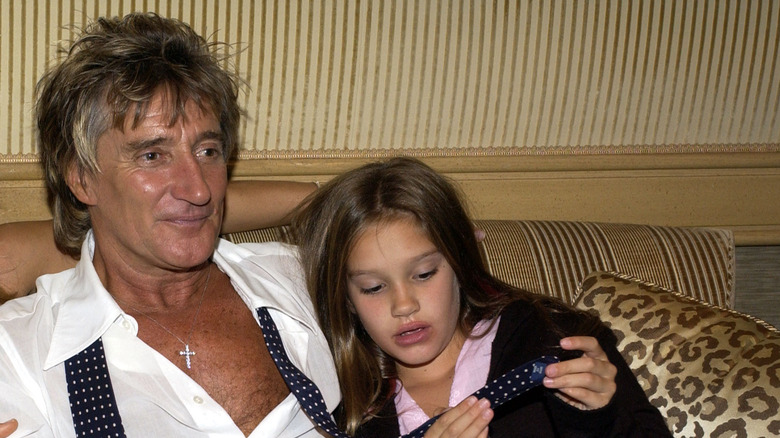 L. Cohen/Getty Images
Renee Stewart is Rod Stewart's fifth child and his first with ex-wife Rachel Hunter. Renee was born on June 1, 1992, and unlike her musician and model parents, she chose to become a dancer. She is serious about her profession and graduated from the London Contemporary Dance School. But she's not shying away from the limelight either, having appeared in Sia's music video for her song "Pin Drop."
Still, she's not drawn to stardom and doesn't have a collection of celebrity BFFs. "I've never really fallen into the idea of hanging out with celebrities," she said in an interview with Hello! Fashion Monthly. "I don't think I've purposefully done it ... I just hang out with all my friends from school."
She's not trying to distance herself from her famous family. "I'm proud of where I come from — I grew up in such an artistic family — but of course you want to build your own identity," she said. "I think that's important for any human being." Renee also reflected on her childhood, referring to it as "happy and normal."
The age gap between Rod Stewart's kids means they haven't always been close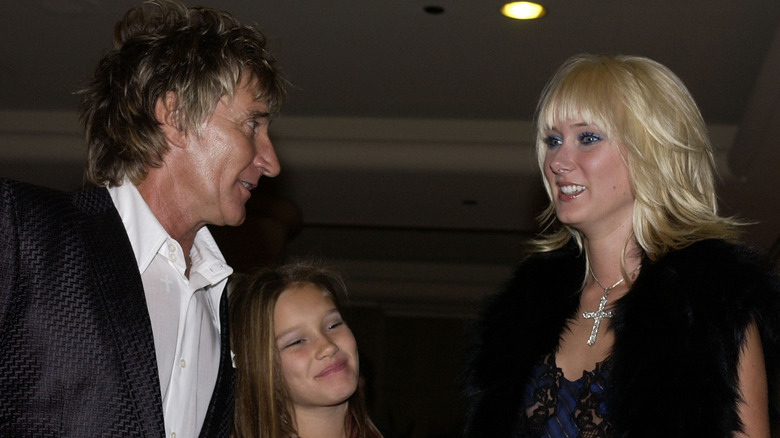 Chris Weeks/Getty Images
There is a significant age gap between Rod Stewart's older and younger children. Because they don't all have the same mother, they haven't always seen each other a great deal. Ruby Stewart gave a glimpse into these relationship dynamics in an interview with Look magazine (via Evening Standard).
"I love Kimberly to death, but there was a point when we were younger when we didn't talk," she said. "It was partly because of our ages, and we lived in a different place." They appear to have reconnected as adults, which is great for Rod because family time is incredibly important to him. He organizes events and holidays where his big, blended brood can come together.
The next planned meeting is set to take place in July 2023, when he tours in Spain. "I've rented a huge house there, so the whole family is coming," he told People in a 2023 interview. "So it's going to be wonderful. Dad has to work, of course. I have to go off and work every other night, but we'll all be together, which is difficult because they've all got their own lives now. But it may be the last time we do it."
His son, Liam, is the only child who wasn't rebellious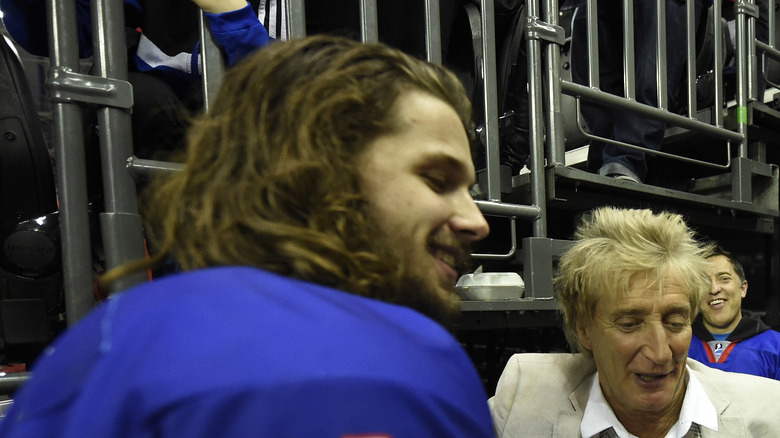 Michael Cooper/Getty Images
Liam Stewart is Rod Stewart's sixth child, whom he shares with ex-wife Rachel Hunter. Liam was born September 5, 1994, and, for a time, many fans likely assumed he would be the musician's last child because there is an 11-year age gap between him and his next brother, Alastair Wallace. Rod Stewart has admitted to having a unique bond with all his children, but one child stands out when it comes to making parenting easier for him — Liam.
In a 2021 interview with People magazine, the "Have I Told You Lately That I Love You" musician admitted while most of his children went through a wild and rebellious period, Liam was the exception.
"All the [older] kids went through their little bad period of drinking too much and dabbling in drugs — except for Liam; I don't think he ever did — but they all came out on the other side," Stewart said. "As a dad, I've learned to listen and not blow my top."
Rod Stewart has supported his son Liam's hockey career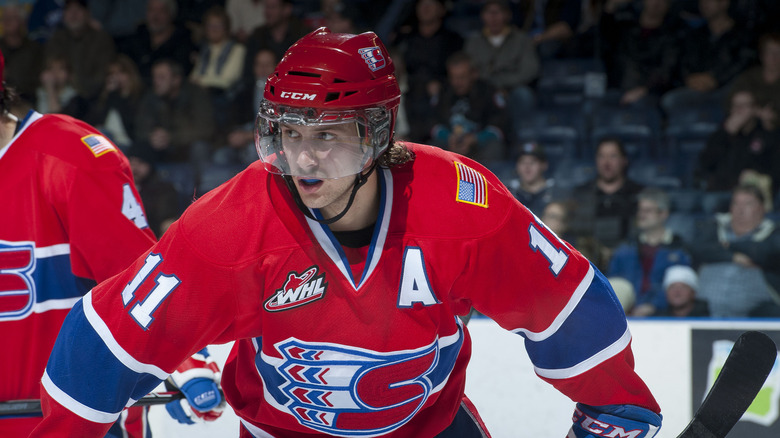 Marissa Baecker/Getty Images
Liam Stewart decided not to follow in his father's footsteps and instead chose an entirely different career path, one that would perhaps surprise fans. He has become a successful ice hockey player who has played for Washington's Spokane Chiefs and Alaska Aces. His love of the sport also made him an international player, at one point requiring him to relocate to the United Kingdom (where his father is from) to play for a number of British teams. 
Liam has Rod Stewart's full support and shared a photo of himself on the ice rink alongside his mom and dad. He noted in the caption that he "loved" having them attend his game. 
Rod Stewart may support his son's career, but does he understand the game? "All he knows is if my team scores. That's about it," Liam admitted to NHL.com. "I was like, 'Dad, that's all you need to know? If we win or if we score?'"
Rod Stewart is a surprisingly strict dad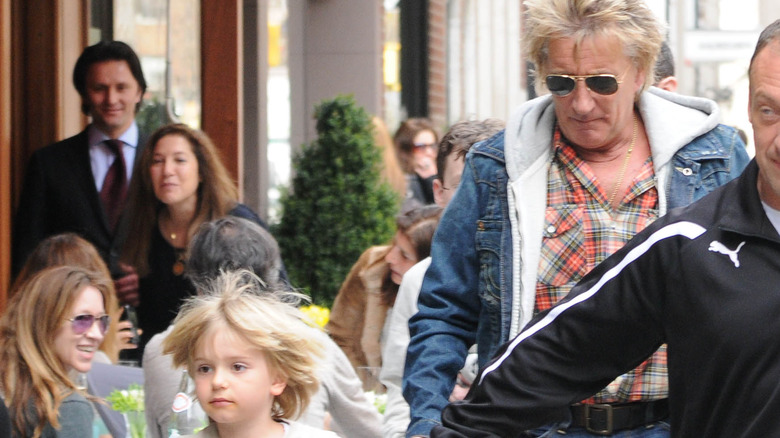 Arnaldo Magnani/Getty Images
Rock musicians aren't necessarily known for discipline and control, so it may surprise fans to learn that Rod Stewart is a strict dad. Don't believe for a second his children are allowed to do whatever they please or that there are no rules to follow at home. His wife, Penny Lancaster (whom he married in 2007), has revealed it's quite the opposite.
"Rod obsesses about keeping the house in order," Lancaster told Life magazine (via Daily Mail) in a 2018 interview. "The boys have an Xbox room on which he has put a lock and a cardboard sign which will say things like, 'No entry. You left the lights on' or 'You've been rude to Mummy.'" 
In the same interview, Penny Lancaster also spoke about her husband being a "very traditional man." While this may be hard for others to believe, given his star status, she claims "he's happiest at home with his kids around him, or lounging in front of the fire watching a war documentary." Lancaster's comments give fans a unique look into Stewart's life and his relationship with his family.
His teenager reminded him of the usefulness of the internet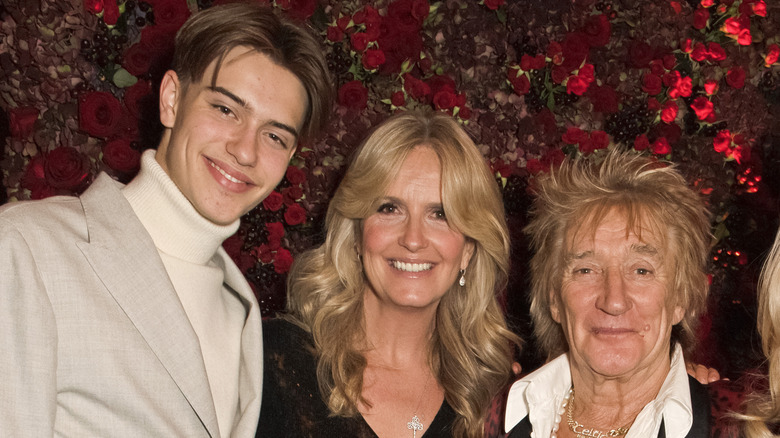 David M. Benett/Getty Images
Parenting has evolved in recent decades because of changes in technology and the younger generation's reliance on social media. So, how Rod Stewart may have parented his older children hasn't necessarily applied to his younger kids. For example, his teenage son Alastair Wallace Stewart, whose mother is Rod's wife, Penny Lancaster, has reminded Rod that the internet can be a fantastic source of information. 
But this hasn't stopped Rod from talking with his son about sexual education, as he touched on in his 2021 interview with People. "For instance, my 15-year-old is dating girls, so I had to give him a sex lesson," he said. "I just told him what he should and shouldn't do, but he's on top of it. He was like, 'Dad, I've got the internet. I know everything.'"
Alastair was born on November 27, 2005, and his generation is known its tech-savviness. However, the important takeaway is how adaptable Rod Stewart is and how willing he is to focus on each child's specific needs.
Rod Stewart has made more time to be with his younger kids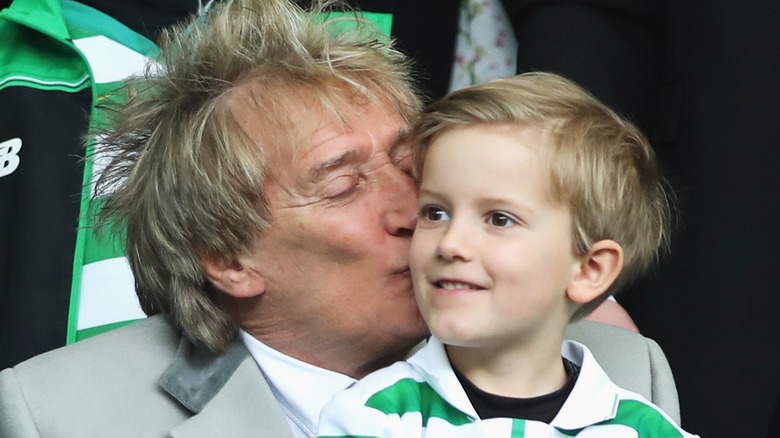 Ian Macnicol/Getty Images
Despite his still-youthful looks, Rod Stewart is almost 80 (born on January 10, 1945). He is a long-established and well-respected musician known and loved worldwide, but in his younger years, his career was more demanding. Unfortunately, pursuing his dreams and providing for his family also meant he was less available for his older children — something that has changed significantly since becoming a father again later in life.
"I'm trying to make more time now that I've carved out my career," he told People around when his last child, Aiden, was born. "I want to enjoy my kids. We're all planning a massive vacation somewhere. It's hard to get them all together because they are all off in different directions. But I am so proud of them."
While he has a special and individual relationship with each of his children, he does appear to be more hands-on with his younger children. Penny Lancaster has shared this about the "Da Ya Think I'm Sexy?" musician, as she revealed to Life magazine (via Daily Mail) that he's not afraid to change diapers. "Rod is a very hands-on dad. He changed the boys' nappies, he does the school run after a year of coming with me, so he knew what to do," she told the publication.
He feels he has been a better father to his two youngest sons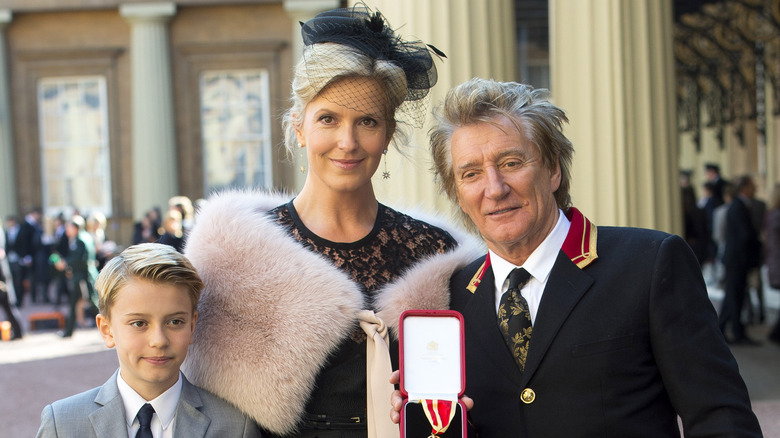 Wpa Pool/Getty Images
Rod Stewart feels he has evolved as a father. While raising children later in life has presented its challenges for the "Maggie May" musician, it has also been a blessing, as he explained in his 2018 interview with Rolling Stone.
"Children have always been important to me — very important. But I had Kimberly and Sean in the late '70s when I was considerably in debt, and I had to go out and work a hell of a lot, so I missed a great deal of their growing up," he explained. He also revealed that he had conversations with his older children about what he was doing at this time so they wouldn't feel he was leaving them to focus on trivial things like partying or women. Still, having established his career, Stewart has more time for the simpler things, like playing soccer with his younger sons, which he calls "the most wonderful thing ever."