Fans Tell The List Which Royal Couple Has The Best Style - Exclusive Survey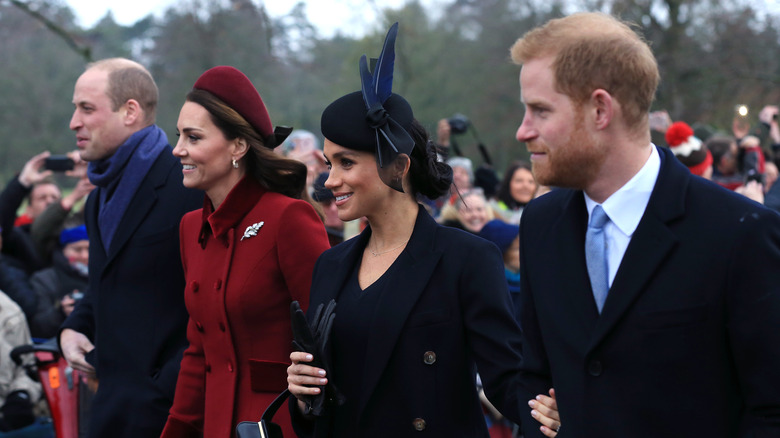 Stephen Pond/Getty Images
For the royal family, there's no shortage of events to attend. From coronations and birthday celebrations to weddings to funerals, each occasion requires the most royal of wardrobes. Add in official public appearances, red-carpet events, and just general everyday living, and it makes sense that fashion is an integral part of being a working royal. Of course, not everyone who's worn a tiara or a fascinator is looked at as a style guru.
In an exclusive survey, The List asked fans to vote on which royal couple they think has the best style. Choices included Prince Harry and Meghan Markle, Prince Edward and Duchess Sophie, Prince William and Princess Catherine, King Charles and Queen Camilla, and Princess Anne and Timothy Laurence. With over 35,000 votes cast in total, one couple garnered a whopping 82% of them. The duo who pulled away with a giant lead was Prince William and Kate Middleton. 
The Duke and Duchess of Cambridge and Cornwall have long been admired for their style sense. Prince William looks equally dapper in military uniforms as he does in a formal tuxedo or bespoke suit, while Kate Middleton's dress choices regularly sell out after she's worn them in public. Individually, they're stylish, but together, they are a powerhouse couple of coordinated fashion looks worth admiring.
Fans love Prince William's and Kate Middleton's style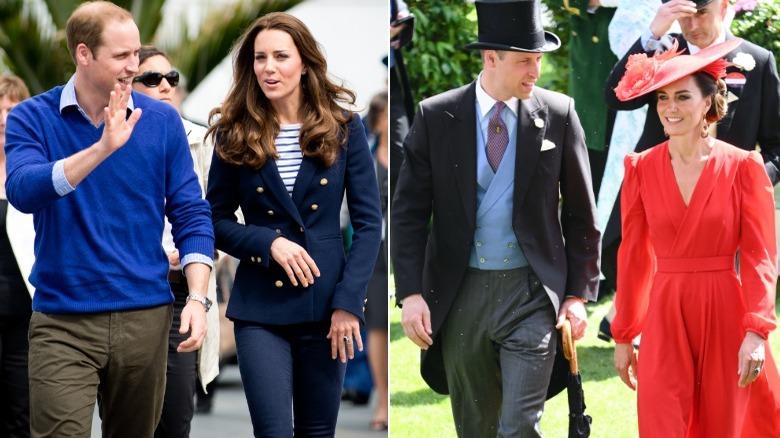 Karwai Tang/Getty & Shaun Jeffers/Shutterstock
Answering The List's exclusive poll, fans weren't shy about sharing their opinions of why they voted for Prince William and Kate Middleton. "The Prince and Princess of Wales without question," commented one pollster. "Catherine's style in particular has dramatically changed to high-end Princess since her promotion. She looks stunning all the time, and appropriately so." 
Indeed, while accolades were given to William, his wife was the favorite of the two. "William looks good suited and booted, but Kate takes things to a whole new level," one voter shared. "Stunning with style that oozes absolute perfection."
And although the Duke and Duchess were by far the favorite, several voters noted they were also fans of one other royal. "I voted William and Catherine because obviously. However, I will say Anne doesn't get enough style credit. She pulls out stuff she wore in the '70s and '80s, restyles it, and makes it work." Another commented, "If I'd answered this 20 years ago, I definitely would've said Anne, but it is William and Kate for today."