What Are BHAs And How Can You Add Them Into Your Skin Care Routine?
We may receive a commission on purchases made from links.
You've likely come across beta hydroxy acids, also known as BHAs, while shopping or browsing at a cosmetics store. Not sure what they are? According to Master Class, BHAs are plant-based acids commonly used in skin care to combat acne. Dermatologist Orit Markowitz, M.D., told Byrdie, "They are oil-soluble, so it's most often preferred for normal to oily skin that's prone to bumps, clogs, blemishes, and enlarged pores." Made from aspirin, salicylic acid is one type of BHA that can be found in several products at your local drugstore or retail chain.
Notably, BHAs are an ideal skin exfoliator and eliminate dead skin cells. If you struggle with oily skin and acne and want to incorporate BHAs into your skincare, try an exfoliator. An affordable option is the Inkey List's Beta Hydroxy Acid (BHA) Blemish + Blackhead Serum. You can use this day and night after you've washed your face. These exact instructions also apply to the extremely popular Skin Perfecting 2% BHA Liquid Exfoliant by Paula's Choice.
If you prefer a facewash rather than an exfoliator with BHAs, consider the Renewing SA Cleanser by Cerave or Neutrogena's Oil Free Ace Wash. Take note — Verywell Health reported that you should always use a BHA product that has a concentration of 1% to 2%, so check the label. And remember, although BHA's are renowned for clearing up blemishes, they are not the only thing they can treat.
BHAs can make you look younger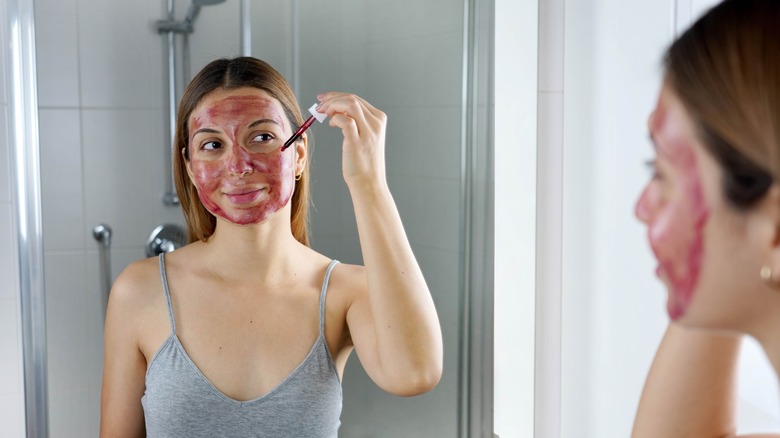 Zigres/Shutterstock
BHAs are said to have anti-aging properties because they rid the skin of dead skin cells. They can decrease the appearance of wrinkles and can reduce the damage done to the skin from the sun, per Verywell Health. They can also reduce hyperpigmentation. However, if you decide to incorporate BHA's into your skincare routine, having sunscreen on hand is a must. BHAs are notorious for making the skin susceptible to sunburns. Thus, you should always apply sunscreen after using BHAs during the day.
Deborah S. Sarnoff, M.D., president of the Skin Cancer Foundation, said individuals using BHAs should use sunscreen with SPF 30. Furthermore, if you have sensitive skin, BHAs might not be for you. If you think BHAs might irritate your skin, experts recommend you perform a patch test before going all-in on a product. NBC News also suggests you could try slowly incorporating BHAs into your skincare routine to prevent irritating sensitive skin. If you have dry skin, an alpha hydroxy acid (AHA) might be better for you. 
The difference between BHAs and AHAs
Unsurprisingly, AHAs act similarly to BHAs. "In the epidermis, AHAs have an exfoliative effect, increasing the shedding of dead skin cells retained at the surface. They do this by gently cleaving the retained bonds between dead skin cells. Once cut loose, those cells can then fall off, or exfoliate," said dermatologist Kenneth Howe, M.D. Like BHAs, AHAs are also great for reducing signs of aging. In addition, AHAs work well on acne-prone skin.
So how are these two different? Paula's Choice Skincare explains that AHAs are water soluble while BHAs are oil soluble. This means that AHAs are suited for individuals with dry skin because they can moisturize the top layer of the skin best. Examples of AHAs include lactic acid and glycolic acid. That said, if you have normal skin, either an AHA or BHA will work for you — and remember, individuals with acne-prone skin will benefit more from BHAs.
If you want to figure out what can work best for you, you could incorporate both products into your skincare routine. If you do this, Paula's Choice recommends you rotate using AHAs and BHAs daily. To make things easier, you could purchase a product with AHAs and BHAs, like the AHA/BHA Clarifying Treatment Toner by COSRX or the AHA/BHA Exfoliating Cleanser by Murad.