Whoopi Goldberg Was Accused Of Shading Mariah Carey On The View
Ron Adar/Shutterstock
Very few talk shows have had such interesting and impressive runs as "The View." Established in 1997 by the late Barbara Walters, renowned journalist and talk-show host, the program has enjoyed 26 seasons and endured the test of time. Although the show enlists hosts with differing opinions on entertainment news, current events, and social topics, there are some thoughts that seem to be just too scandalous for daytime TV. A number of those have been uttered by entertainment legend Whoopi Goldberg.
Goldberg and outrageous commentary go hand in hand, but even so, no one could foresee her shading Grammy-winning singer Mariah Carey in a 2019 episode of "The View" — when Carey wasn't even on the show. The drama started when the talk show invited actor Jerry O'Connell and he discussed his experience featuring in Mariah Carey's 1999 music video for her song "Heartbreaker." "The View" even posted a video clip on their official Twitter account as a twenty-year anniversary tribute to the video. That's when the conversation took a turn.
And while making out-of-pocket remarks isn't anything new to the "Sister Act" star, when Mariah Carey's name entered the chat, fans were quick to lash out in defense of their fave and accuse Goldberg of throwing shade at her.
Whoopi body-shamed Mariah from a 20-year-old music video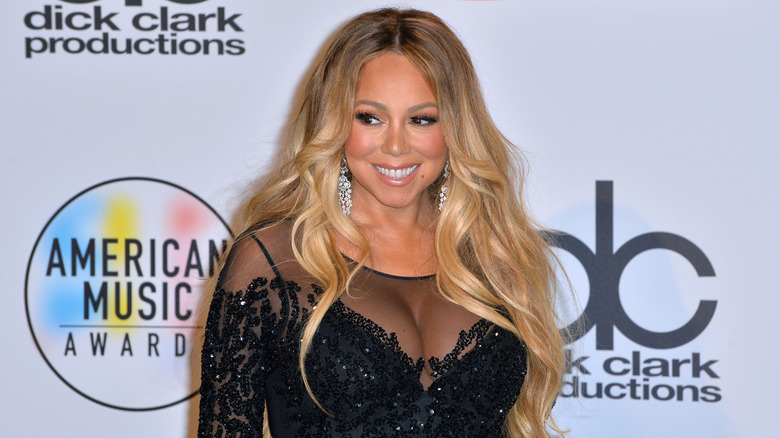 Featureflash Photo Agency/Shutterstock
As the hosts of "The View" bantered about Jerry O'Connell's experience on the "Heartbreaker" music video set, co-host Sunny Hostin, remarked in shock that it had been 20 years since the video was released. This prompted co-host Whoopi Goldberg to turn to co-host Ana Navarro and quip that it was "20 bodies ago" instead. This fueled a lot of heat from Mariah Carey's devoted fans online who were outraged at the seemingly blatant body shaming by the "For Colored Girls" actor.
Goldberg later told People that body shaming the "All I Want For Christmas Is You" singer was not her intention and that her fans misconstrued her statement. According to her, there is no bad blood with the singer. "This was just wistful thinking," she told the magazine. "I was not throwing shade or being snarky — just looking back on 20 years. She is a friend of mine. I just saw her Saturday night at the Barbra Streisand concert and we are good. We have no issue."
All in all, Goldberg has been under fire for many a controversial take on a variety of issues. The EGOT-winning actor and comedian has let loose some pretty scandalous statements since her time on the hit talk show and has even had to face suspension because of it. The "Ghost" actor has offended scores of people — from the national and international Jewish community to #MeToo activists and assault survivors — when she made comments about the Holocaust, defended Bill Cosby, and even stated that she liked blackface.
Whoopi has also experienced being body-shamed by Barbara Corcoran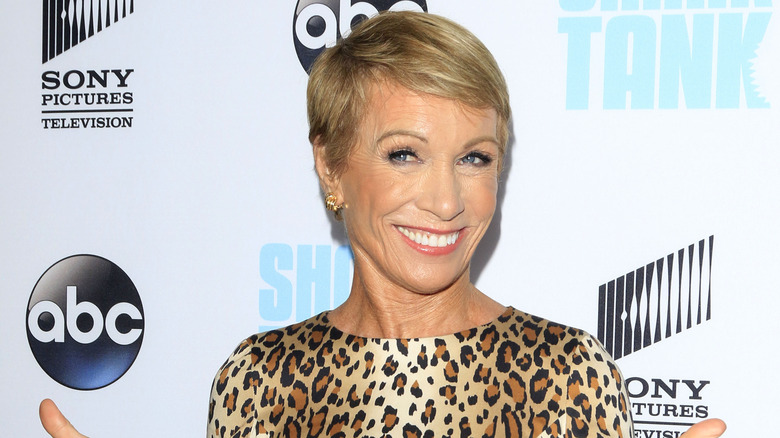 Kathy Hutchins/Shutterstock
The incident between Whoopi Goldberg and Mariah Carey wouldn't be the first time the "Sister Act" actor was in the middle of some body-shaming antics. She was on the receiving end of a fat-shaming joke made by "Shark Tank" investor Barbara Corcoran during a guest appearance on "The View." While discussing great jeans that come in all shapes and sizes, Whoopi wondered if they would fit her, to which Corcoran responded jokingly, "When you get finished with those jeans and decide you don't like them, give them to me, and I'm gonna make two pairs!"
Corcoran definitely clocked her wrong move and later apologized in a video after the show which she posted on Twitter and admitted that her comment was in bad taste. After commending Goldberg's sense of humor, she said: "I made a joke at Whoopi's expense which I now realize wasn't funny. For anyone who I may have offended unintentionally, I just want to say I really am very sorry."
The "Fatal Beauty" actor, however, took Corcoran's joke with a light heart. In a video posted by TMZ, after being questioned by a reporter, Goldberg made it clear that she was used to the shark's sense of humor. "So Barbara's always been funny and weird," she explained. "And that's who she is. And no, it takes a lot more to offend me. I've known her too long. We've known each other 25 years."