Stormy Daniels Made Her Feelings About Melania Trump Crystal Clear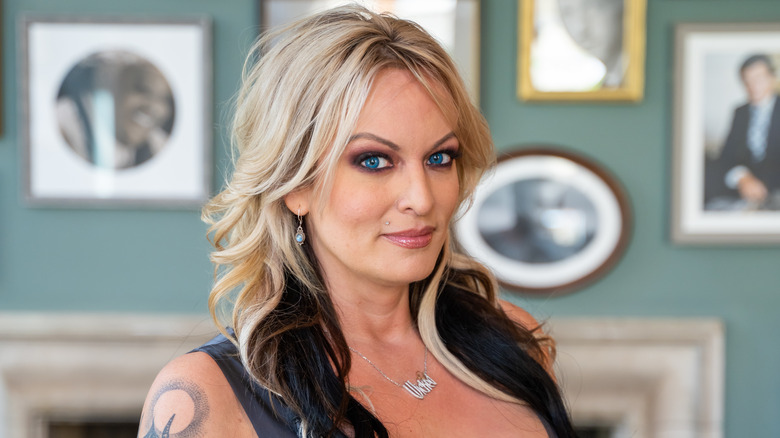 Nordin Catic/Getty Images
The adult film star-turned-director has no love for the Trump family. Stormy Daniels has a notoriously rocky relationship history — which includes none other than President Donald Trump himself. In the past, Daniels spoke only on her affair with the former president, who paid her $130,000 to keep her quiet after propositioning her. After coming clean, she's been quite vocal about her feelings for Trump, becoming a symbol of anti-Trump sentiment during his term.
His ongoing court case, where he's been accused of falsifying business records in order to pay off Daniels and others, has positioned her in the middle of yet another media frenzy. And this time, she isn't holding back — especially when it comes to her feelings on Donald's wife Melania Trump. Considering the tumultuous history between the two women, we doubt there's any love lost between the two, even though Daniels has kept quiet about her in the past. So, what's the deal with them?
What Stormy Daniels really thinks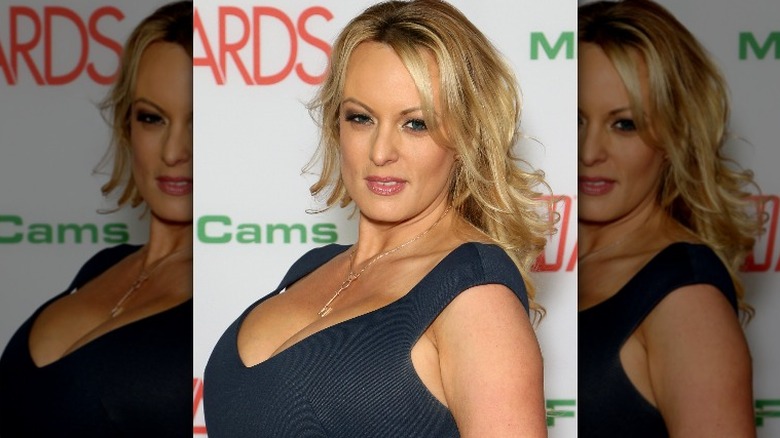 Gabe Ginsberg/Getty Images
Stormy Daniels, in an exclusive interview with 7NEWS, claims that she previously withheld her opinion on Melania because she had nothing to do with the affair. Daniels added, "She's a mom. She had a young child. I respect that." She also defends her short-lived affair with Trump by saying that "we don't know what [Melania and Trump's] arrangement was." However, in light of Trump's intentions to run for office in 2024, Daniels was no longer willing to stay silent about her opinions on the former first lady. Spoiler alert: they are far from positive.
Though she's kept quiet about Melania all these years, Daniels says her opinion of the first lady changed back in 2018, when Melania visited the New Hope Children's Shelter in Texas. A now-infamous image shows Melania wearing a jacket that reads "I really don't care, do u?" on the back, and is regarded as one of the most inappropriate outfits Melania Trump has worn. Though the Trumps have claimed that this was a statement against the opinions of left-wing media outlets, Daniels (and many others) believe it was a tasteless and thoughtless gesture.
When recalling this moment, Daniels called Melania a "terrible person" and a "vapid b****." It wasn't just this particular moment that Daniels took shots at, either. She criticized Melania's entire four-year run as first lady: "What did she do as a first lady that was of any sort of value at all?" Ouch.
What does Melania have to say?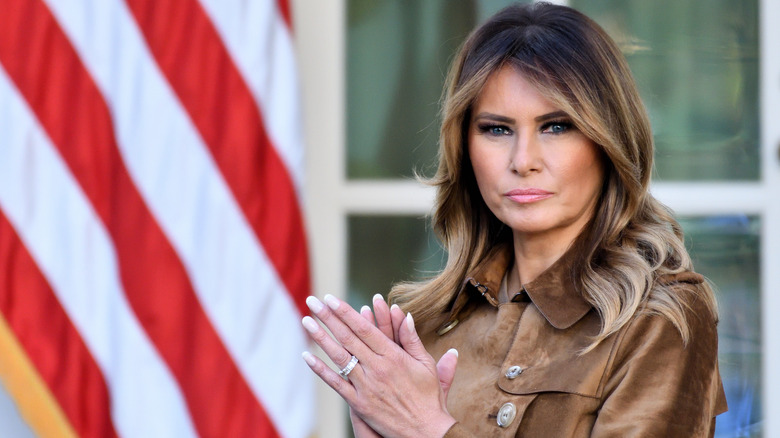 Evan El-Amin/Shutterstock
So, has Melania fired back? If we know anything from her time in the White House (or lack thereof), it's that she rarely shares her husband's penchant for drama. She tends to keep her distance from her husband, and prefers to spend her time at Mar-a-Lago. A source told People, "[Melania] can be aloof and not particularly friendly because she simply wants to be left alone." If that's the case, maybe we can chalk this all up to a misunderstanding ... though we seriously doubt that.
The anonymous source added that Melania is still understandably angry about her husband's affair with Stormy Daniels, which allegedly took place just months after she gave birth to her son, Barron Trump. She "doesn't want to hear" about any of it, and remains resentful of the scandal and its fallout. She has not recently made any public comments about the trial, or reacted to Daniels' insults.