Russell Crowe Used To Sleep On Naomi Watts' Couch Before Making It Big In Hollywood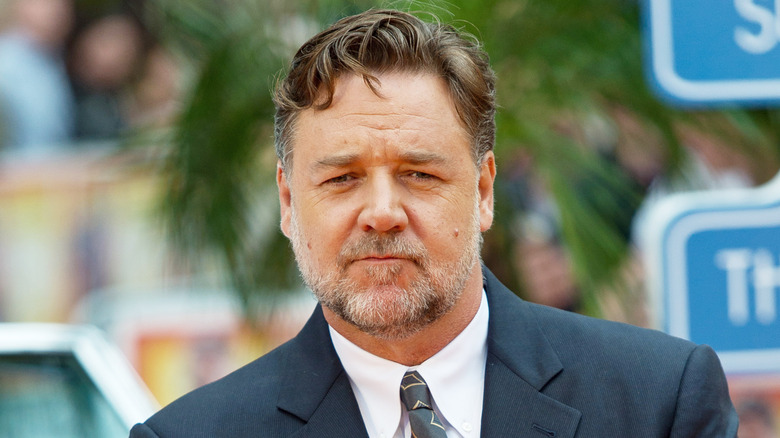 Ben Pruchnie/Getty Images
Russell Crowe was six years old when he dipped his toes in acting. Throughout his childhood, acting kept its appeal. At 12, he visited a TV studio on a class field trip. During his time there, he ran into an actor he knew, who then introduced him to the casting director. While the rest of his class was getting a studio tour, he was, essentially, auditioning. He landed a role on the Australian drama series "The Young Doctors."
After his time on the drama series, Crowe took on TV roles here and there; he also toured with a band and worked as a night DJ before diving into acting full-time. Now, Crowe is known for his roles in various films, most notably "Gladiator" and "A Beautiful Mind."  He's also starred in forgotten movies that Netflix viewers love, such as "The Next Three Days." His career's expanded over decades, and he has no current plans to stop. "All my wrinkles are earned. My gray hairs are all earned," he told Vanity Fair. "And now I play characters with wrinkles and gray hair."
Before the gray hairs grew and his career took off, he, like many young actors venturing into Hollywood with high hopes, needed a place to stay in between auditions and callbacks. He luckily had a friend in the area he could stay with, Naomi Watts.
Crashing on Naomi Watts' couch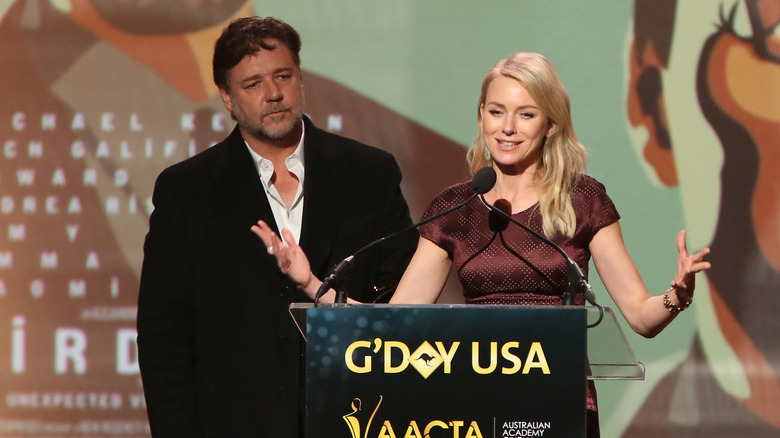 Jonathan Leibson/Getty Images
When Russell Crowe started taking on roles in the U.S., he needed to crash somewhere. His friend, British-born, Australian-raised, actor Naomi Watts, who's had a transformative career, was his solution. "He came and stayed when I had a place in Los Angeles," Watts said on B105's Stav, Abby and Matt, according to Daily Mail. "I was starting out and he was starting out there."
Crowe and Watts knew each other before either of them made it in their careers, making the request for Crowe to stay with Watts a natural one. "When I first was coming in and out of LA, . . . occasionally, I'd sleep on Naomi's couch," Crowe told Entertainment Weekly. "We have a long history together."
While the two may have known each other for years and started their careers at the same time, their work did not, for the most part, overlap. They were on the series "Brides of Christ" together in the early nineties, but nothing since then. That is, until 2019 when they each had key roles in the award-winning TV series "The Loudest Voice."
A love for the field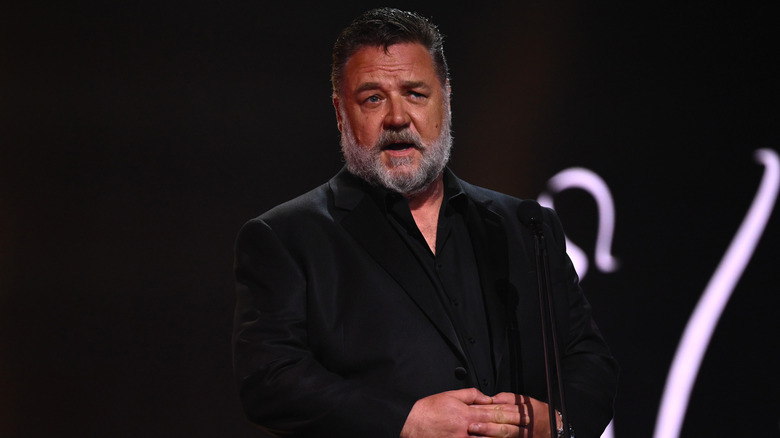 James Gourley/Getty Images
Since his days of crashing on Watts' couch, Crowe has made a name for himself. He's even won an Academy Award for his role in "Gladiator," a Golden Globe Award for his role in "The Loudest Voice,"and other awards for various performances. Crowe recently starred in the film "The Pope's Exorcist," which came out in early 2023. In addition to acting, Crowe tried his hand at directing and with the films "The Water Diviner" and "Poker Face." 
Of all of his accomplishments, the awards aren't what fills him with awe, rather, it's the fact he still enjoys his work. "The most amazing thing for me is that I still love my job, and I can genuinely say that," Crowe told Vanity Fair. "And I know when I'm forced to get up at four o'clock in the morning, it doesn't bother me because I know why I'm there."