Everything We Know About Prince Harry's Royal Beef With Camilla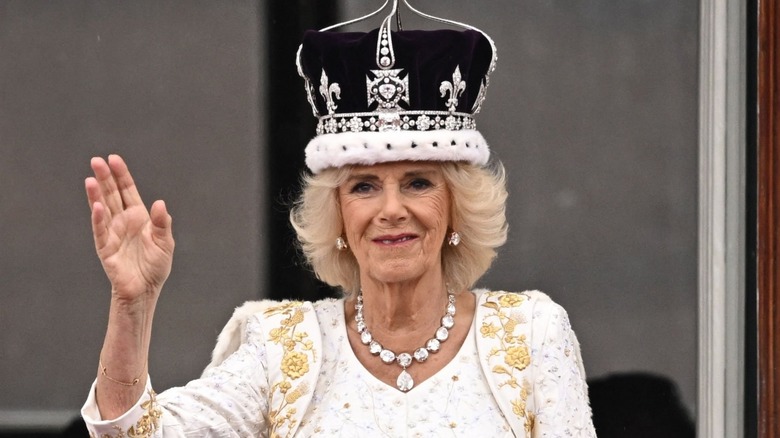 Salma Bashir Motiwala/Shutterstock
On February 10, 2005, King Charles III and Camilla, Queen Consort, announced their engagement to the world. The massive diamond ring was something right out of a fairy tale: As Vanity Fair notes, the gorgeous piece of jewelry, which was worth nearly $200,000 when they married, had once belonged to The Queen Mother, making it a symbol of Camilla's acceptance by senior royals.
While some royals were ready to accept Camilla, the same could not exactly be said about the British people. After all, much of the public maintained a sort of unwavering loyalty to Charles' first wife, Princess Diana, who had died in a tragic accident years before. Many of them still had not forgiven Charles and Camilla for seeing each other while the prince was still married to Diana. Writing in Vanity Fair, royal expert Penny Junor recalled interviewing a woman on the street, who had declared, "If Charles is going to marry that woman, he should never be king!" According to a 1997 BBC poll, two out of every three Brits agreed with her (via Time).
Interestingly, royal fans were not alone in harboring strong feelings toward Camilla; Prince Harry also seemed to struggle with his stepmother's complicated history. Indeed, the prince has long been said to resent Camilla for her role in his parents' turbulent marriage. What's more, it has even been suggested that Camilla's marriage to Charles may have fueled Harry's royal feud.
Prince Harry took his parents' divorce badly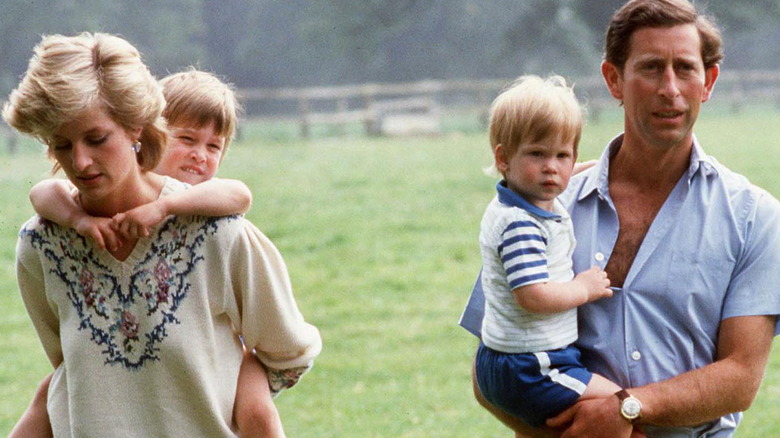 Tim Graham/Getty Images
In some ways, Prince Harry's drama with Camilla, Queen Consort, started way back in the 1990s. During this time, his parents, King Charles III and Princess Diana, were working through the details of their excruciatingly public divorce — no thanks to Charles' scandalous affair with Camilla. 
Unfortunately, like many young children of separated parents, Harry struggled to process the breakdown of his family life. According to the book "William and Catherine" by royal expert Andrew Morton, the prince barely understood what was going on. Apparently, when Diana headed to the Ludgrove School to explain the situation to her two sons, "Harry seemed bewildered and almost indifferent" (via Express). This initial confusion, however, was soon replaced by an all-too-deep sense of understanding. In "Spare," Harry recalled, "I could barely remember when Pa and Mummy weren't divorced, so writing to them without touching on their mutual grievances, their messy breakup, required the finesse of a career diplomat."
As Harry dealt with the blow-out of his parents' failed marriage, it seems that he grew to resent Camilla for her role in all that transpired. This was particularly evident during his "60 Minutes" interview. Reflecting on his history with his stepmother, Harry shared, "She was the villain. She was the third person in the marriage." These musings echoed similar sentiments that the prince had already expressed in "Spare" — including references to her as the "other woman."
Harry and William disliked Camilla early on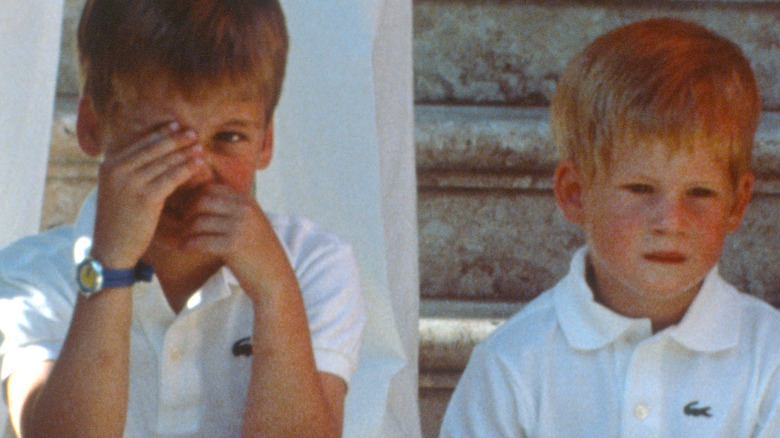 Anwar Hussein/Getty Images
Perhaps due to the way that Prince Harry suffered throughout his parents' separation, he harbored negative feelings toward Camilla, Queen Consort, from the very beginning. As royal expert Tina Brown wrote in her book "The Palace Papers," Harry apparently spent his younger years icing Camilla out. Brown divulged, "A member of the household told me when the younger boy was eventually prevailed upon to be in the presence of Mrs. Parker Bowles, he unnerved her with long silences and smoldering, resentful stares."
In "Spare," Harry opened up about the concerns he had regarding Camilla when he was a child. "I recall wondering ... if she'd be mean to me. If she'd be like all the wicked stepmothers in storybooks." Of course, Harry did, eventually, grow out of this idea. Nonetheless, it is clear that Harry's issues with Camilla started long before the two could forge an adult relationship. All that said, Harry and Camilla apparently keep it polite. As the prince shared on "Good Morning America," "When I see her, we're perfectly pleasant with each other. I don't look at her as an evil stepmother."
According to Harry, his older brother also fostered concerns over Camilla's influence on their father and her role in the family. Unlike his younger brother, however, William is understood to have moved on from these feelings. As Brown told The Telegraph, "William has accepted Camilla in terms of what she means to his father. He's been grown-up about it." 
The princes did not want Charles to marry Camilla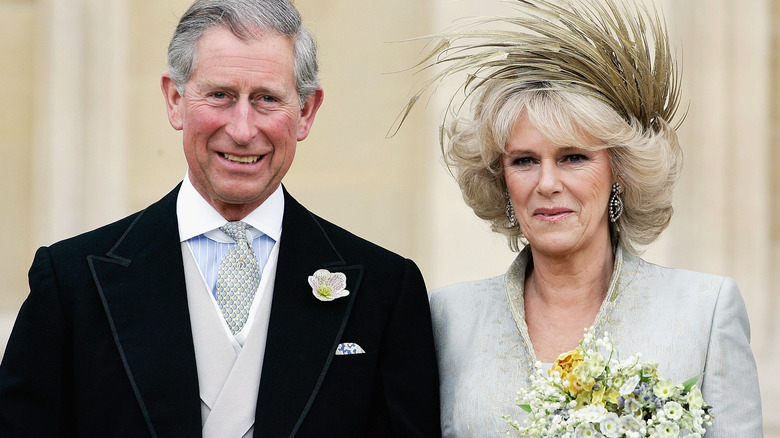 Tim Graham/Getty Images
It is not always easy to accept a new stepparent — just ask Prince William and Prince Harry. The respective heir and spare to the British throne were said to struggle with the idea of accepting Camilla, Queen Consort, as their father's wife, even as King Charles III had already started planning their engagement. According to Prince Harry's "Spare," the young princes begged Charles not to marry his longtime partner to no avail. Harry wrote, "Despite Willy and me urging him not to, Pa was going ahead. We pumped his hand, wished him well. No hard feelings. We recognized that he was finally going to be with the woman he loved, the woman he'd always loved."
Naturally, Charles never intended to ask William and Harry's permission to tie the knot with Camilla. The decision was the result of a much wider discussion within the palace about what to do about the couple's long-standing yet unofficial relationship. And, by the time he talked to the boys, the matter was essentially settled. However, the loving father did have the sense of decency to clue his sons into these plans before they actually took place. 
During that fateful Christmas of 2004, Charles kept busy speaking to his mother and two sons about the next steps in his relationship with Camilla. By New Year, Charles had proposed, and by February, the engagement was known to the world.
Harry did not understand why Charles had been allowed to get away with the affair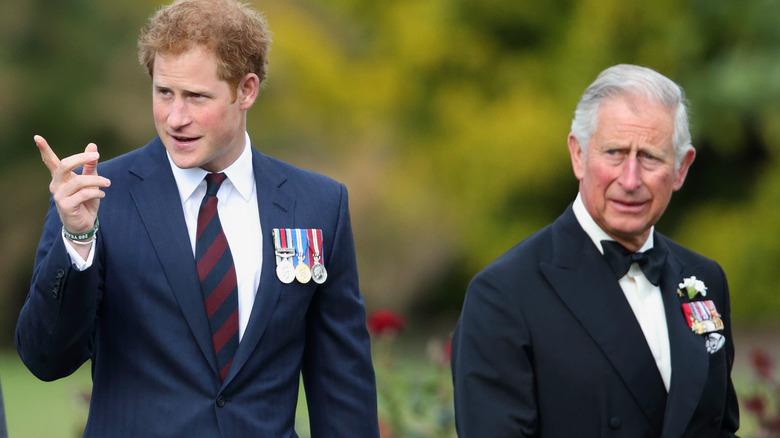 Max Mumby/indigo/Getty Images
It's no secret that British royals are expected to behave in a certain way. Royal dinner parties are packed with rules about how to hold a knife (in your right hand) and when to stop eating (whenever the monarch stops eating). Meanwhile, daily life is full of protocol, which dictates everything from which color nail polish is considered acceptable (beige) to how often you can use the word "toilet" (never). 
Given these rather intense standards, many of Prince Harry's adolescent antics were not viewed by the public as typical teenage rebellion. Instead, they were perceived as anti-royal. According to a written statement that Harry submitted in a lawsuit against the Mirror Group Newspapers, the press actively tried to portray him as a poorly-behaved teen (via The New York Times). At one point, though, the statement insinuates Harry found himself so overwhelmed by the criticism that he lashed out at his father.
During a blow-out argument, Harry said that he verbally attacked Charles, "telling my father that he had no right to lecture me on morals." Of course, this reference to Charles' affair reveals Harry's resentment towards the fact that his father had been permitted to commit adultery and still remain in relatively good standing with the public. Harry, meanwhile, was just a teenager, yet he was portrayed as a royal dud. 
Harry accused Camilla of leaking stories about other royals to the press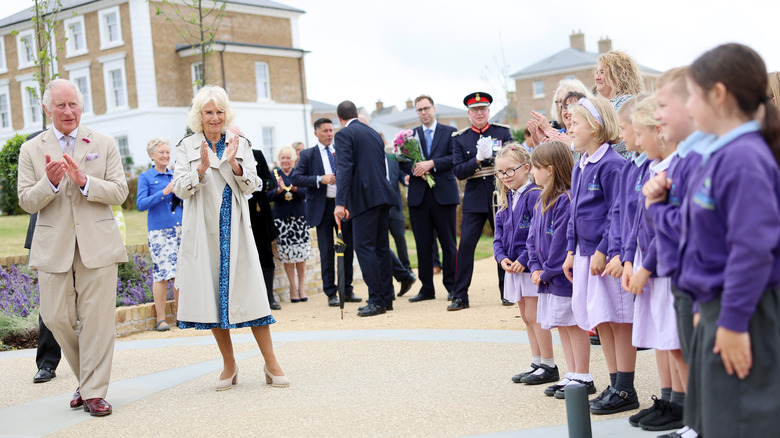 Chris Jackson/Getty Images
Prince Harry's hard feelings aside, the British people did eventually come to accept King Charles III and Camilla, Queen Consort. This, of course, was the result of a palace-wide campaign to improve Camilla's public image. As noted by Charles' former press secretary, Colleen Harris, the tabloid press had profited tremendously from this idea of Camilla as a sort of wicked witch. Speaking with Vanity Fair about this issue, Harris explained, "[The media] made a lot of money out of the story that Camilla was this evil, horrible person who ruined Diana's life and was ruining the children's lives, and they wanted that story to continue." To rectify this situation, Harris said, the palace worked to present Camilla in a more human, relatable light. Ultimately, this campaign was relatively successful.
Sadly, though, the strategy to improve the queen consort's reputation might have fueled Harry's feud with Camilla. According to the prince, his stepmother actually leaked negative stories about him and his brother to the press as a way to boost her image. Writing in his memoir, "Spare," the prince wasn't thrilled with Camilla's post-engagement interactions with the press: "A campaign aimed [at] marriage, and eventually the Crown, with Pa's blessing we presumed. Stories began to appear everywhere in all the papers about her private conversation with Willy, stories that contained pinpoint accurate details, none of which had come from Willy, of course."
Prince Harry implied that Camilla used him and Wiliam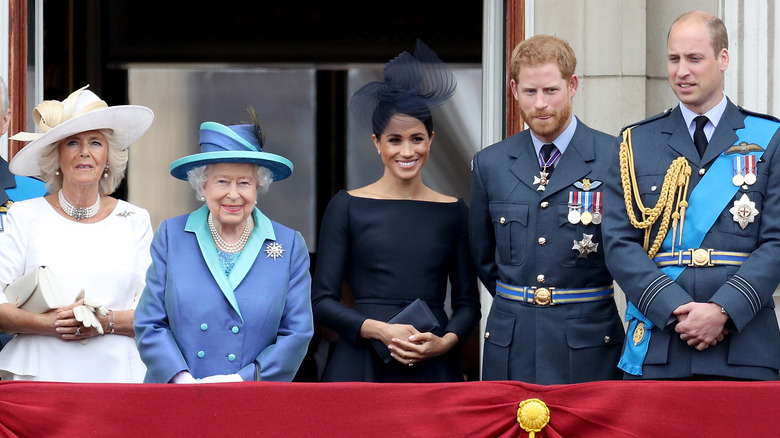 Chris Jackson/Getty Images
Because of the alleged leaking of stories to the press, Prince Harry felt that Camilla, Queen Consort, had used him as a tool for self-promotion. This element of Harry's feud with Camilla was particularly evident in "Spare" — when the prince accused his father and stepmother of exposing his history of drug misuse to the world. In his memoir, Harry claimed that, in 2002, King Charles III and Camilla decided to inform the press that the prince would be spending time at a drug rehabilitation center trying to get clean. Or, as the prince so eloquently put it, the couple threw him "right under the bus." Apparently, the idea was to help the public view Charles as a more sympathetic figure.
Compellingly, Harry also alleged that there were moments when his brother felt violated by Charles and Camilla's press strategy. As he divulged in "Spare," after Prince William hit on particularly memorable snag with their father and stepmother in 2019. "I gathered Pa and Camilla's people had planted a story or stories about him, and Kate, and the kids," Harry wrote. This reportedly infuriated the heir to the throne, who is said to have declared, "Give Pa and Camilla an inch ... they take a mile."
Ultimately, these interactions made Harry feel used. He wrote that Camilla's relationship with the tabloids impacted their relationship: "I had complex feelings about gaining a step parent who, I believed, had recently sacrificed me on her personal P.R. altar."
Camilla was hurt by Harry's accusations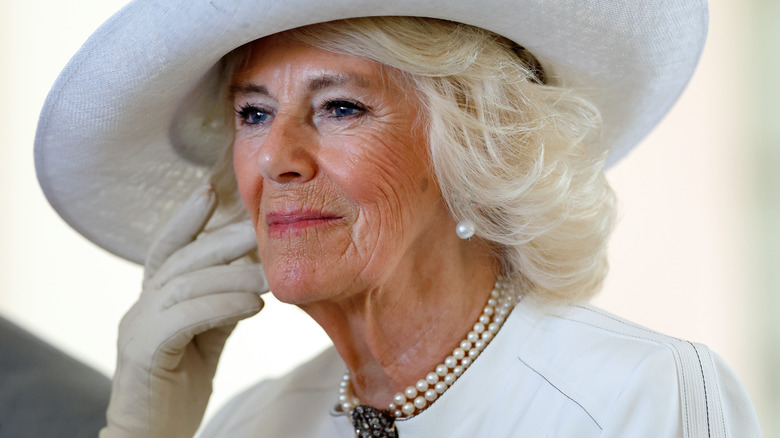 Max Mumby/indigo/Getty Images
Of course, there are two sides to every story, and one major contributor to Prince Harry's feud with Camilla, Queen Consort, is the reality that the King Charles III's second wife does not necessarily agree with her stepson's version of events. On the contrary, it is believed that Camilla was caught quite off-guard by the accusations that Harry made in "Spare." Some royal sources have even indicated that Camilla was emotionally injured by the way the prince portrayed her in his book. Her close friend, Fiona, the Marchioness of Lansdowne, even told the Sunday Times that the queen consort was "hurt" by Harry's comments. Speaking to the outlet, the marchioness shared, "Of course it bothers her, of course it hurts."
Unfortunately, Camilla was not the only person who suffered upon the publication of "Spare." Charles is said to be extremely hurt by the way that his son publicly attacked the woman he loves. As one royal insider told Us Weekly, "Charles is distraught. He's angry and outraged that Harry's aired so many embarrassing and damaging assertions, and it's put him in a terrible position with Camilla, of course, now that she's been dragged into the equation." To make things worse, it seems that Charles is overwhelmed by the sheer number of accusations that Harry has put forward. The same source claimed, "there are so many egregious comments and revelations from Harry that his father doesn't know where to start."
Harry was furious to learn Camilla would be crowned queen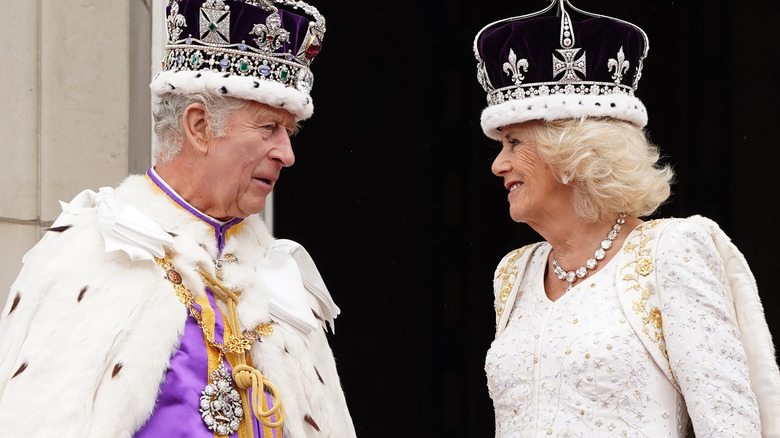 Wpa Pool/Getty Images
Considering the intensity of Prince Harry's feud with Camilla, Queen Consort, it is perhaps unsurprising that the redheaded rebel was less than thrilled to watch his stepmother be crowned queen. As noted by at least one royal insider, the prince has long struggled to accept Camilla's role in his father's life out of loyalty to his late mother, Princess Diana. After all, in Harry's eyes, it was Diana's destiny to become the queen of England — not Camilla's. One anonymous — yet highly-ranked — palace official told Page Six, "Harry will never truly love her, his mother was meant to be queen, and Camilla will always be the woman who led to his parents' divorce."
Although it is, in some ways, sweet that Harry continues to defend his mother's right to the crown, we must remember that Diana herself had conflicted feelings about taking her place on the throne. In fact, there is some evidence that Diana doubted her future as queen. In private tapes that she made for biographer Andrew Morton, Diana recalled the day that Charles proposed to her: "He sat me down. He said, 'Will you marry me?' And I laughed," she said. "I remember thinking, 'This is a joke.' So I said, 'Yeah okay.' And he was deadly serious. And he said, 'You do realize that one day you will be queen.' A voice said to me inside, 'you won't be queen.'"
The queen consort is said to want distance from Harry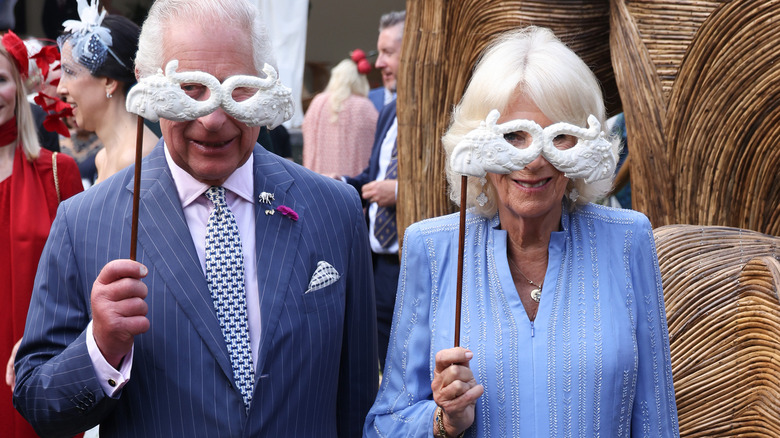 Tim P. Whitby/Getty Images
Prince Harry has made it clear that he is not one to sweep family drama under the rug, prompting Camilla, Queen Consort, to keep the prince at bay. Apparently, she was far from thrilled to learn that Harry would be attending the coronation, as her interactions with him have been quite tense. One royal insider even told Radar that Camilla disagreed with King Charles III's decision to invite his son to the grand event, telling the outlet, "Camilla agrees with Prince William, this [invitation] was a spineless move and Charles should have banished Harry and Meghan from the kingdom instead — sending the clear message their traitorous poison won't be tolerated." The insider also went on to divulge that Camilla was concerned for how Harry's attendance would impact the image of the monarchy, stating, "She believes Charles' decision has weakened their popularity."
Unfortunately, Camilla's drama with Harry may have had a negative impact on her marriage. After all, it has been reported that Charles has grown displeased with his wife's strong stance on the Harry issue. The same unnamed source claimed, "Charles finds her behavior disruptive and disrespectful. He's sick and tired of people questioning his decisions and trying to undermine him." Overall, this supposedly has contributed quite a bit of tension to the couple's relationship. As the source claimed, "Charles and Camilla are testy with each other. They can't sit and have a meal without arguing."
Camilla may have been happy Harry didn't attend the 2023 Royal Ascot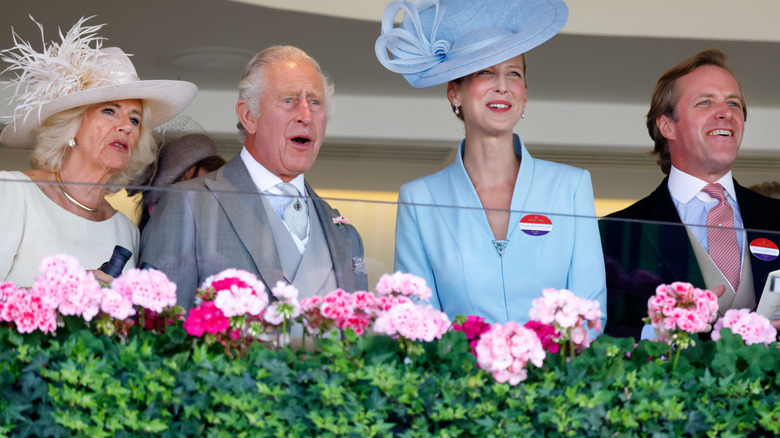 Max Mumby/indigo/Getty Images
Prince Harry and Meghan, Duchess of Sussex, did not show up at the Royal Ascot in 2023, and Camilla, Queen Consort, was likely not too miffed about it. An anonymous source alleged to Page Six, "The gossip in the royal enclosure was how happy everyone was that Meghan and Harry weren't here." 
It is understood that the palace wanted the Royal Ascot to be a dignified occasion, separate from all the scandals that have rocked the royal family since Harry published his incendiary memoir, "Spare." The queen consort may have been particularly at peace with Harry and Meghan's absence. Speaking to Page Six, a separate source divulged, "Camilla's friends say she remains furious at Harry and Meghan." Apparently, King Charles III has chosen to support his wife in her choice to distance herself from the couple. The same royal insider shared, "Camilla tells Charles [the Sussexes] make her uncomfortable, and Charles loves her unconditionally — he made her queen and will choose her well-being over them every time."
In the past, Harry and Meghan have created drama at the Royal Ascot, even breaking protocol at the event. One clear example of this occurred in 2018, when the duchess was seen turning her back on Queen Elizabeth II mid-way through their conversation. Members of the royal family are not expected to commit this type of faux pas.
Camilla is trying to take the situation with a grain of salt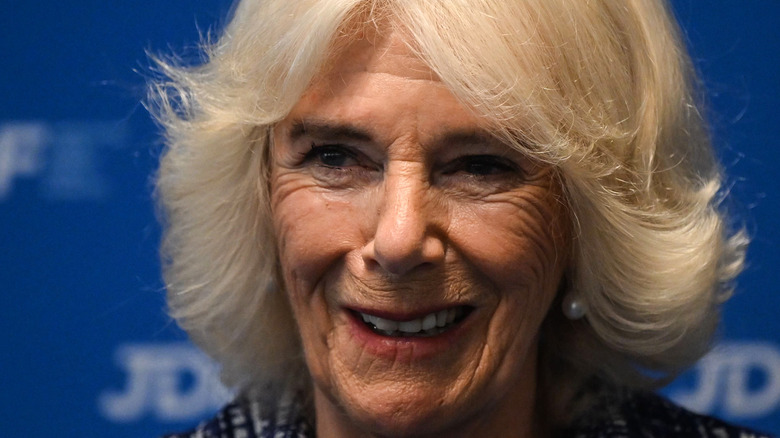 Wpa Pool/Getty Images
While Prince Harry's feud with Camilla, Queen Consort, may seem intense, the latter is said to take the whole thing with a grain of salt. The reality is that this is not the first time that Camilla has faced bad press, and she has developed the mental toughness to deal with it all. During Princess Diana's divorce from King Charles III, Camilla was likely one of the most despised women in the United Kingdom. But, as one of her employees told the Express, the queen knows how to keep calm and carry on: "If you think of all the years when she nearly had a bread roll thrown at her — how did she respond throughout that period? She was just really stoic."
These days, Camilla tries to bring that same sense of stoicism to her approach to the Harry and Meghan situation. Speaking to the Sunday Times, the queen consort's dear friend, Fiona, the Marchioness of Lansdowne, explained Camilla's thought process: "Her philosophy is always, 'Don't make a thing of it and it will settle down — least said, soonest mended.'" In other words, it seems that Camilla will do nothing to fan the flames when it comes to the Sussexes. Instead, she will wait for the drama to die down and then move on with her life.