What Is Kelly Clarkson's Relationship With Reba McEntire Like?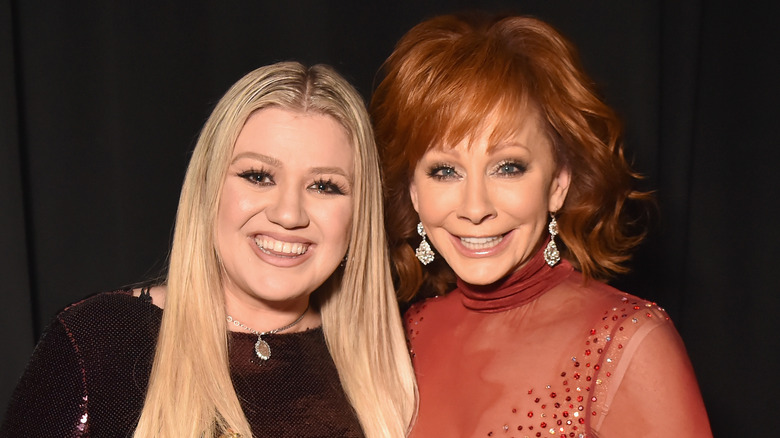 Jeff Kravitz/ACMA2018/Getty Images
Kelly Clarkson and Reba McEntire are two of the biggest names in music. However, the two women share a bond that goes deeper than their careers and are very close in their personal lives as well. Clarkson and McEntire first met in 2002, the same year that Clarkson won "American Idol" and shot to fame. That year, the two singers took the stage together to sing the duet "Does He Love You." During the performance, Clarkson revealed that McEntire was a huge inspiration to her growing up, and that she owned all of the singer's albums.
"This is the first time I sang with her," McEntire told Country Living of the performance. "They told her when she won the very first 'American Idol' that at the finals she could sing with her idol, and she chose me. So that's the first time we got to meet," she added. Of course, the two women could never imagine that they would eventually become family members by marriage years down the road. "Little did we know we'd be relatives, we'd be in the same family," the country music legend said.
Eventually, McEntire became a stepmother-in-law to Clarkson after Clarkson married McEntire's stepson. 
Kelly Clarkson and Reba McEntire became family members in 2013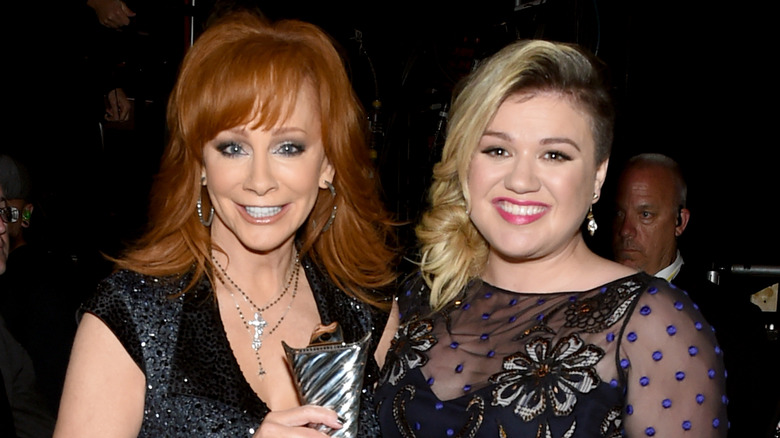 Larry Busacca/ACM2015/Getty Images
Kelly Clarkson and Reba McEntire got closer than they ever thought when they became in-laws. In 2013, Clarkson married Brandon Blackstock, the son of McEntire's husband, Narvel Blackstock. McEntire served as a stepmother to Clarkson and her husband, and as a grandmother of sorts to the couple's children, River Rose and Remington Alexander. In 2018, Clarkson admitted that cultivating a close relationship with her childhood icon had been a dream come true for her. "Sometimes when we meet our heroes, it doesn't always pan out how you hope. But meeting Reba, being friends with her, and eventually becoming family has been one of the highlights of my life, truly," the "Miss Independent" singer gushed.
However, McEntire and Clarkson are technically no longer family-in-law. In 2015, McEntire and Narvel Blackstock ended their marriage after more than 25 years together. "Kelly urged them not to split and she's the reason they didn't split earlier," an insider told Us Weekly at the time. "She was really fighting for them to make it work and stay together." In 2021, Clarkson followed suit, divorcing Brandon Blackstock and later suing his father Narvel for unpaid commissions (via OK! Magazine).
However, despite all of the divorce and bad blood that has occurred, Clarkson and McEntire are still tight.
Kelly Clarkson and Reba McEntire are still close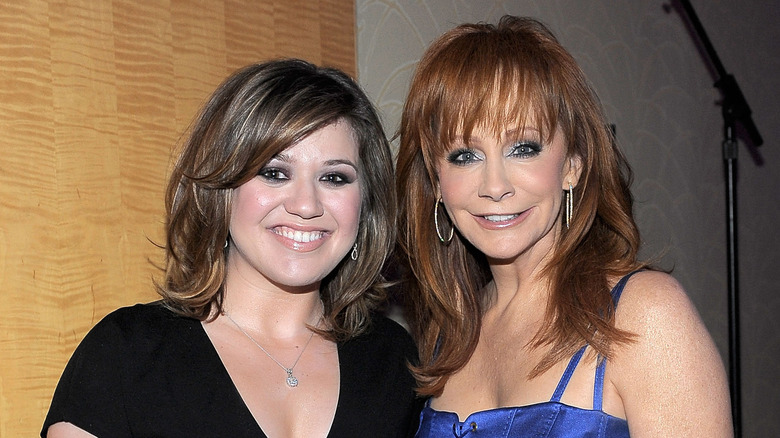 Charley Gallay/Getty Images
In June 2023, Kelly Clarkson appeared on "Watch What Happens Live with Andy Cohen," and opened up about where her relationship stands with her former stepmother-in-law Reba McEntire. "We were friends before [Blackstock and I] even got together," the "American Idol" alum said. "As a matter of fact, literally, we were talking about before she signed up to 'The Voice,' we were texting each other about that and we text each other all the time," she added. Clarkson also went on to add that the two women are strong-minded and that there are "no hard feelings" about the divorce. In fact, the two still continue to work together.
For her part, McEntire told Entertainment Tonight in 2021 that she's stayed out of the drama and that she loves both Clarkson and her former stepson, admitting that she couldn't choose between them. "Kelly and I do talk, we text and I love them both, and so I can't play favorites because I've been a friend of Kelly for a long time," the singer stated.
Despite all that's happened between them, Clarkson and McEntire have cultivated a strong friendship and bond that seems to be unshakable.