Andy Cohen Regrets Asking Oprah Winfrey About Her Sexuality After Getting An Awkward Answer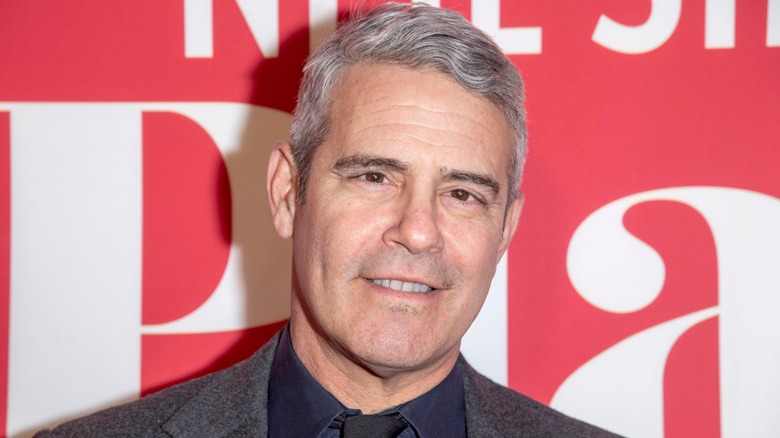 Ron Adar/Shutterstock
2022's BravoCon was full of celebrities, show reveals, stories of romance and drama, a book announcement, and more. The weekend-long annual event took place in New York City's Javits Center and featured the stars of the television network speaking on panels, performing, and interacting with fans. "BravoCon is about celebrating our Bravoholics, whose impassioned commitment and loyalty continue to raise the bar on what it means to be a fan," Consumer Engagement & Brand Strategy at NBCUniversal, Ellen Stone, EVP, said in a statement.
Host and executive producer of the Emmy-winning "Watch What Happens Live," Andy Cohen, had his own panel, "Ask Andy," during 2022's BravoCon. As the name suggests, people were invited to ask Cohen anything, and people took advantage of the opportunity to find out what they didn't know about Andy Cohen. Someone asked what his most regretted interview question was, and Cohen answered, revealing that he launched the question back in 2013 with television star Oprah Winfrey.
A racy question and immediate regrets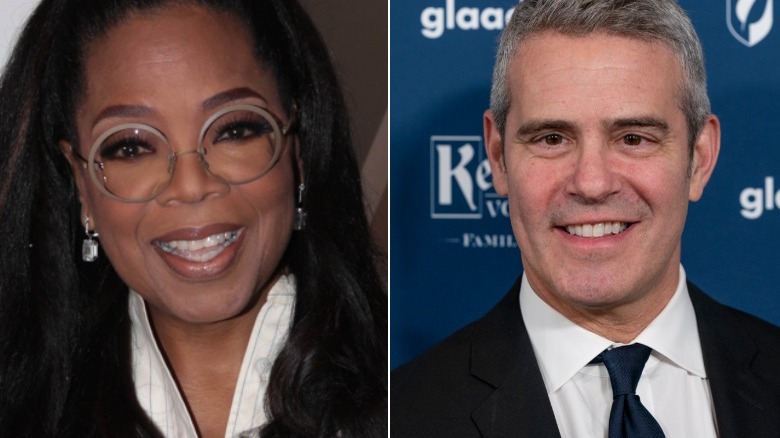 Davide Aichino/Getty & undefined & lev radin/Shutterstock
Oprah Winfrey was the guest on "Watch What Happens Live with Andy Cohen" back in 2013, but she hasn't been back since. During her time on the show, Andy Cohen asked her a question regarding her sexuality. Normally, such questions take place during Plead the Fifth, a game where he asks his guests three potentially private or embarrassing questions and they have to answer all of them. They can only "plead the fifth" and refuse to answer one. "I decided, 'Why don't I throw this out?" he said during "Ask Andy," according to People. "'Maybe I'll throw a bomb out.' And I asked Oprah, 'Have you ever swum in the lady pond?' And she was like, 'No.'" He not only regrets asking it, but also how he asked it. "I asked it so poorly," he said during the panel.
In a 2018 interview on "Today," he was asked if any of his questions were ever too racy. Cohen responded with the Oprah incident without hesitation.
A misunderstanding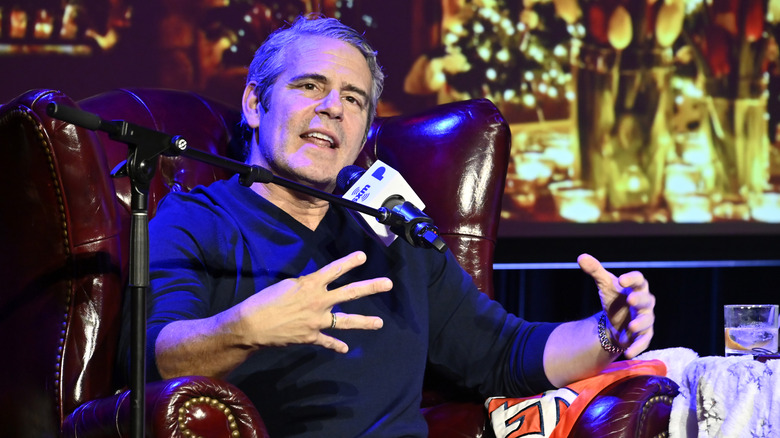 Astrid Stawiarz/Getty Images
While Andy Cohen hasn't had Oprah Winfrey back on his show, he did hear from her best friend Gayle King. In fact, King was the one who reached out to him. "[Oprah] didn't say anything, but I heard from Gayle the next day, and Gayle goes, 'Oprah didn't know what the lady pond was,'" he said during the panel, according to People. "And I was like, 'Well then I need to re-ask the question!' But [Oprah] hasn't come back."
While Cohen hasn't had the opportunity to ask Oprah the question, he has asked multiple other celebrities the same exact one — and other celebrities have borrowed the questions to ask others too.
As for now, Cohen is getting ready for the BravoCon happening this fall in Las Vegas. While there's no word on him hosting another panel during the convention, it has been confirmed that he'll be recording an episode of "Watch What Happens Live with Andy Cohen" during the event.