Vivienne Jolie-Pitt Scored A Hefty Paycheck For Her First Movie Role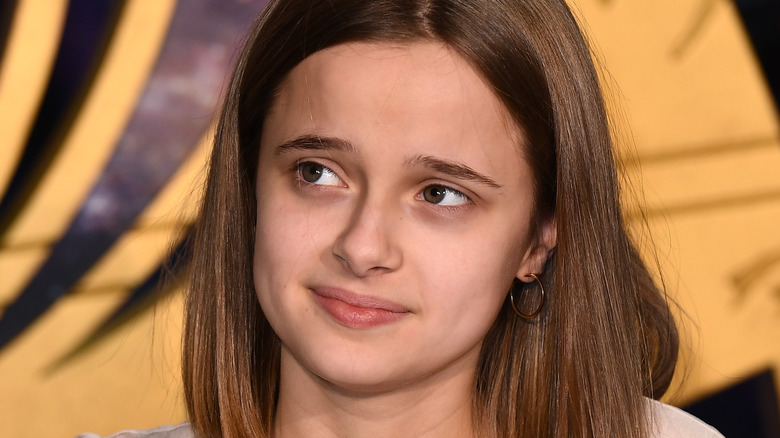 Dave J Hogan/Getty Images
The youngest daughter of Angelina Jolie and Brad Pitt made her acting debut in 2014 when she starred in "Maleficent" alongside her mom. At the time, Vivienne Jolie-Pitt was just 4 years old, and she earned quite a hefty paycheck for her role as Aurora. According to TMZ, Jolie-Pitt took home a whopping $3,000 per week for the gig, which included an additional $60 a day for per diem work. Of course, the youngster just had a small part in the film, but it wasn't bad for her first-ever movie job. For reference, Forbes reported that Jolie actually raked in some $33 million as the lead and she was named the outlet's highest-paid actress of 2013. 
In an interview with ABC News, Jolie revealed that she and Pitt would coach their daughter at home to prepare her for her big movie debut. "When we did it together, we had a good time, we played together. I was actually shocked that she was doing so well. She went back and hit her mark! It's frightening," Jolie said. Interestingly, Jolie-Pitt didn't even have to audition — and no, it wasn't nepotism, either. The real reason that Jolie-Pitt landed the role is actually kind of amusing.
Vivienne Jolie-Pitt landed the role because she wasn't afraid of her mom's costume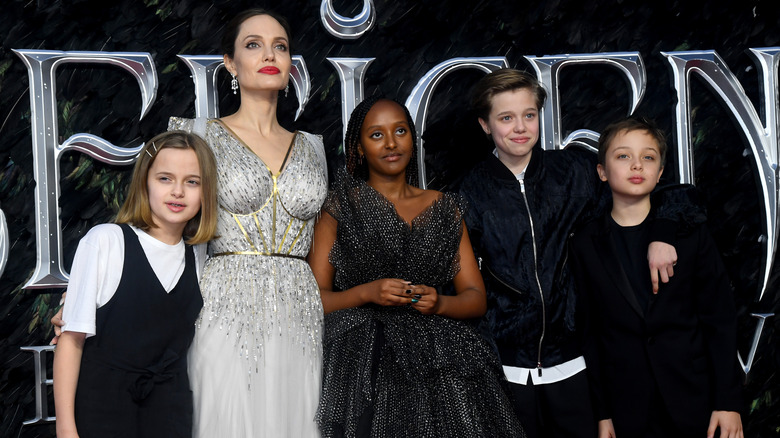 Dave J Hogan/Getty Images
In an interview with Collider, Angelina Jolie revealed that Vivienne Jolie-Pitt was cast in "Maleficent" because she wasn't scared of her mom's costume. "There were kids that would come to set and they would see me, and I would go up and say hi to them, and they would cry," Jolie explained. "We realized that there was no way that we were going to find a 4- or 5-year-old that I could be as strong with, that would not see me as a monster. Suddenly, there was Vivi, running around looking like little Aurora and everybody thought, 'Oh, the answer is right there.' But then, I had to go home and talk to dad. It's our kid, so it's so sweet. The idea of it was so cute to us, as mommy and daddy. But then, there was the fact that she would be in a film. All of that took us a second," she admitted.
Indeed, Jolie-Pitt didn't seem the least bit frightened of the big horns coming out of Maleficent's head in the very first photo from the film that was shared by E! News in March 2014. But the look didn't have the same effect on Pax Jolie-Pitt, who "ran away and got upset" when he saw his mom in costume. "I had to take off pieces in front of him to show him it was all fake and not freak out so much," Jolie told Entertainment Weekly (via E!).
Angelina Jolie & Brad Pitt aren't sure if they want their kids to be actors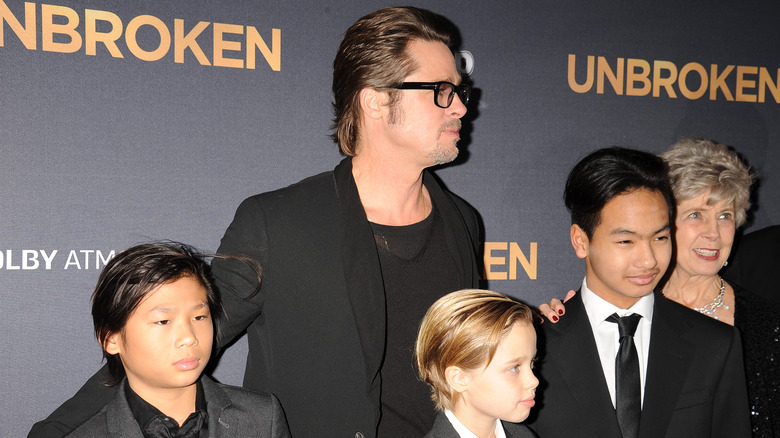 Frank Trapper/Getty Images
What some people may not even know is that two other Jolie-Pitt kids, Zahara and Pax, also appeared in small roles on "Maleficent." Vivienne Jolie-Pitt's older sibling Shiloh Jolie-Pitt also joined dad Brad Pitt on screen in a very small role in 2008. According to IMDb, Shiloh was the baby in "The Curious Case of Benjamin Button." In 2016, Shiloh voiced Shuai Shuai in "Kung Fu Panda 3" — Angelina Jolie voiced the Tigress in all three of the films. 
Despite the sweet payday, Vivienne didn't go on to make more movies and follow in her parents' footsteps — at least, not yet. The 15-year-old doesn't have any additional credits to her name on her IMDb page, but she could still pursue a career in the entertainment business, even if her mom may not be too keen on the idea. Angelina Jolie has expressed her hope that her kids venture out into the world and steer clear of acting. While chatting with Collider, Jolie explained further. "Well, Brad and I have never wanted our kids to be actors. We've never talked about it. But, we also want them to be around film and be a part of mommy and daddy's life, and for it not to be kept from it either. We just want them to have a good, healthy relationship with it," she said.