Kim Kardashian Testified In A Murder Trial When She Was Only 14 Years Old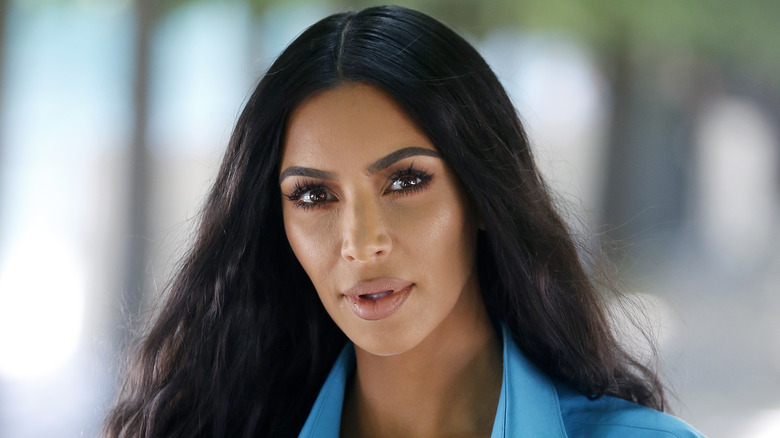 Chesnot/Getty Images
Kim Kardashian has a history of dating men in the spotlight, as she's been in serious relationships with athletes such as Reggie Bush and Kris Humphries, as well as rapper Kanye West. However, she was dating famous people before she became a household name. When she was just a teenager, Kardashian began dating Michael Jackson's nephew and Tito Jackson's son, TJ Jackson. Kardashian was even asked to testify at the murder trial for Jackson's mother.
Along with his two brothers, Jackson started the R&B group 3T. In 1996, Kardashian and Jackson began dating. Kardashian later admitted that she even had a birthday at the famed Neverland Ranch, calling it "the most magical place on earth." Kardashian and Jackson dated for two years while they were teenagers. During that time, Kardashian's former nanny Pam Behan revealed that the two got along well and that Jackson was respectful towards Kardashian. "He was kind of on the quiet, shy side, always very nice and polite. A good-looking kid, and as far as I could ever see, he treated Kim with great respect," she told the Reelz Channel show, "Scandal Made Me Famous," per People Magazine.
While it may have been the first love for Kardashian and Jackson, the teens were forced to deal with some heavy issues during the murder trial for Jackson's mother, Dee Dee.
Kim Kardashian remembers testifying in Dee Dee Jackson's murder trial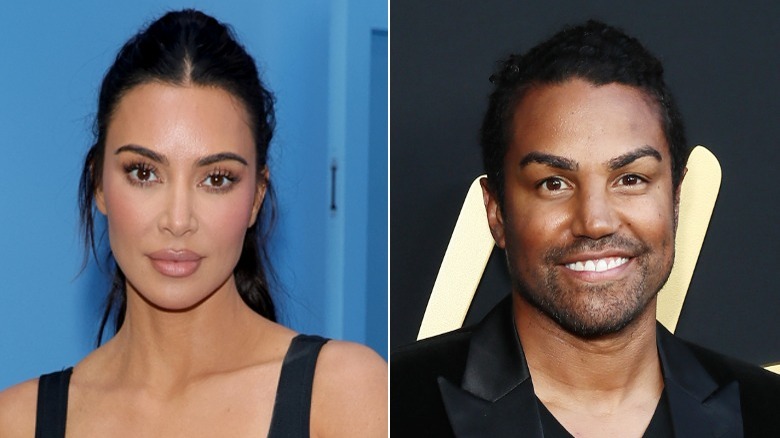 Kevin Mazur/Getty & Leon Bennett/Getty Images
In August 1994, Dee Dee Jackson was found dead in the swimming pool of Don Bohana's home. A murder investigation opened up and Bohana was charged with the homicide of TJ Jackson's mother. Bohana was ultimately convicted of second-degree murder and sentenced to 15 years to life behind bars, per Independent. In June 2023, Kim Kardashian recalled that intense time in her life while speaking with Vogue Italia. The reality star remembered being alongside Jackson during the trial and even testifying in the court case. "My boyfriend's mother whom I was really close with was murdered in 1994 and I had to be part of that trial," Kardashian said. "I had to testify and was there every day with my boyfriend. I was just 14, you know," she added.
Kardashian went on to explain that during that time in her life things were very stressful. Although she was just a teenager, she was dealing with a lot of heavy situations. In addition to Dee Dee Jackson's death in 1994 and the eventual murder trial, the teen also learned that her parents' close friend Nicole Brown Simpson had been brutally murdered that same year. Kardashian family friend and Nicole's husband, OJ Simpson, was accused of the murder and put on trial as well. Of course, Kardashian's father, Robert Kardashian Sr., was famously part of Simpson's defense team.
Kim Kardashian recalls OJ Simpson's murder trial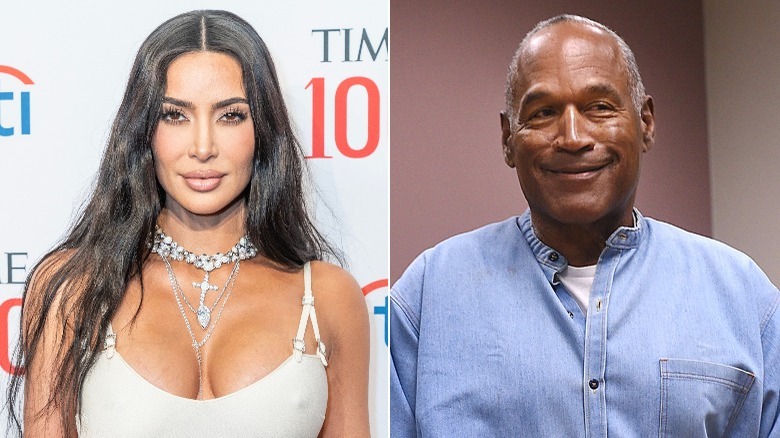 lev radin/Shutterstock & Bloomberg/Getty
Kim Kardashian says that her young teenage years were "hectic" due to all of the intense and heartbreaking situations going on around her at the time. "My dad was going through all those trials and it was pretty intense in my life," she told Vogue Italia. "To have that experience at such a young age was insane," Kardashian said of TJ Jackson's family crisis. "And it was also back-to-back with the OJ trial, there was just a lot of layers there," the SKIMS founder added.
Meanwhile, Kardashian's memories of OJ Simpson's murder trial were also confusing for her during those years. "My mom was extremely vocal on her feelings — she believed that her friend was murdered by him and that was really traumatizing for her," Kardashian previously told David Letterman during an interview. "And then we'd go to my dad's house and it was a whole other situation there," she stated, adding that she and her sisters didn't really know what to believe as her parents were on different sides of the fight, admitting that it tore her family apart in some ways.
Over the years, Kardashian has dealt with a lot of loss in her life. However, she followed in her father's footsteps when she began studying law herself, and she has worked closely on issues such as prison reform. It seems that Kardashian's history with the justice system may have sparked a passion inside her.